SCHRÖDER, Ernst.
Abriss der Algebra der Logik. Bearb. im Auftrag der deutschen Mathematiker-Vereinigung von dr. Eugen Müller. In drei Teilen. Erster Teil Elementarlehre.
Leipzig and Berlin, B.G. Teubner, 1909.
8vo, pp. vi, 50 [2] publisher's advertisements; scattered spotting throughout, more so to the title, old ink-stamp to title; uncut and largely unopened in the original printed wrappers, edges chipped, a few spots and other marks, spine perished in places.

£200

Approximately:
US $274
€234
Added to your basket:
Abriss der Algebra der Logik. Bearb. im Auftrag der deutschen Mathematiker-Vereinigung von dr. Eugen Müller. In drei Teilen. Erster Teil Elementarlehre.
First edition of the first of two parts of Schröder's Abriss, edited by E. Müller and published posthumously in 1909 and 1910. Committed to the reform and development of logic, Schröder debuted in this field with a fundamental revision of Boole's logic of classes, which emphasized the notion of the duality in logical multiplication and logical addition introduced by W. S. Jevons in 1864. 'Although Jevons and Frege complained of what they saw as the "mysterious" relationship between numerical algebra and logic in Boole, Schröder announced with great clarity: "There is certainly a contrast of the objects of the two operations. They are totally different. In arithmetic, letters are numbers, but here, they are arbitrary concepts." He also used the phrase "mathematical logic"' (Encyclopaedia Britannica). Schröder's declared aim in the field of logic was to facilitate the exact manipulation of relative concepts, and pave the way for a scientific 'universal language' built on signs rather than sounds.

The second volume of the Abriss, containing the second (and last) part Aussagentheorie Funktionen Gleichungen und Ungleichungen, was published the following year.

Risse II, p. 167.
You may also be interested in...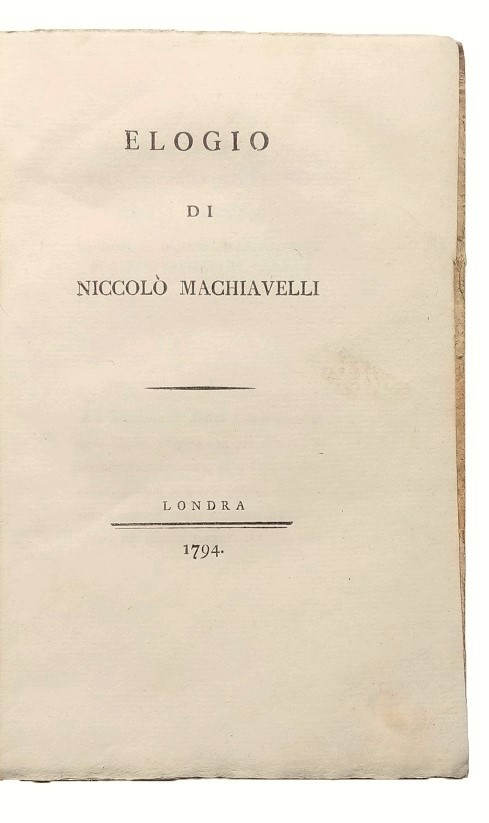 [BALDELLI, Giovanni Battista].
Elogio di Niccolo' Machiavelli.
Uncommon first edition of this speech in praise of Machiavelli, given to the Reale Accademia Fiorentina on August 7th 1794 by the Florentine soldier, politician, and historian Giovanni Battista Baldelli Boni (1766–1831).
KEYNES, John Maynard.
A treatise on probability.
First edition, an early issue without the errata slip at p. 423, of this mathematical-philosophical work, in which Keynes sought to establish a mathematical basis for probability theory as Russell and Whitehead had done for symbolic logic. Russell wrote of this work "the mathematical calculus is astonishingly powerful, considering the very restricted premises which form its foundation... the book as a whole is one which it is impossible to praise too highly" (quoted in DSB). The Treatise grew out of Keynes' fellowship dissertation and represents a contribution of the first importance in its field, tackling the problems of induction and the analysis of statistical inference. A further admirable feature of the work is the wealth of historical information supplied; the bibliography listing 600 works updates the earlier treatments of Todhunter and Laurent.