THE ROSSETTIS' SHELLEY
SHELLEY, [Percy Bysshe].
Poetical Works.
London. Charles Daly … [c. 1839].
2 vols. in one, 16mo., engraved frontispiece portrait of Shelley, title-page with lyre vignette; a good copy in contemporary brownish-green binder's cloth, hinges cracked, front cover reattached; inscribed by William Michael Rossetti, 'This was the first Shelley wh. Gabriel & I got & read – It has been re-bound since then', this inscription dated 1844 retrospectively in accordance with his practice of 'regularly insert[ing] into his volumes signed annotations detailing the provenance, history or significance of a particular book' (Fredeman).
£2000

Approximately:
US $2790
€2316
Added to your basket:
Poetical Works.
Undated variant (presumably a later reissue) of Daly's collected edition of 1839, read to pieces by the young Dante Gabriel Rossetti.

This volume has a well-documented history. Dante Gabriel consciously 'adopted a nonchalantly bohemian lifestyle, rejecting his mother's evangelical Anglican traditions' (Oxford DNB). 'Doughty records her alarm on hearing that he (aet. 16) "was reading indecent books". Gabriel strenuously denied the accusation, which was due, he discovered, to his having expressed the intention to purchase a copy of Shelley's poems. In spite of his mother's suspicions, however, he bought the Shelley, and, as William Michael writes elsewhere, "surged through his pages like a flame"' (Fredeman). William Michael and Christina, Dante Gabriel's close juniors, would perforce have been party to his enthusiasm.

This was their first encounter with the 'ever-glorious Shelley', who was to become W. M. Rossetti's literary hero. 'When Moxon, towards 1869, projected a new edition of Shelley, he could think of no one fitter than Rossetti to edit it and write the prefatory memoir' (Garnett). His edition came to press in 1870, and was revised in 1878; between 1878 and 1895 he wrote many articles for The Athenaeum on Shelley and Italian literature, lectured on Shelley, and was a chairman of the Shelley Society.

A founder-member of the Pre-Raphaelite Brotherhood, William Michael had not inconsiderable artistic sensibilities, but because he was neither poet nor artist, these sensibilities found another escape through the 'role of amanuensis, garnerer and editor. In these areas he was indefatigable.' He 'seems from his youth to have been conscious of posterity. His family's heritage was scrupulously preserved, as were the records of his own involvement with the famous men and movements of his time' (Fredeman). He assiduously documented the careers of his siblings over a lifetime of literary achievement.

R. S. Garnett, 'Introduction' to Letters about Shelley, 1917; W. E. Fredeman, 'Introduction' to Books from the Libraries of Christina, Dante Gabriel, and William Michael Rossetti (Bertram Rota catalogue 180, 1973). The books in the Rota catalogue were largely acquired from W. M. Rossetti's granddaughter, Imogen Dennis; this was item 84.
You may also be interested in...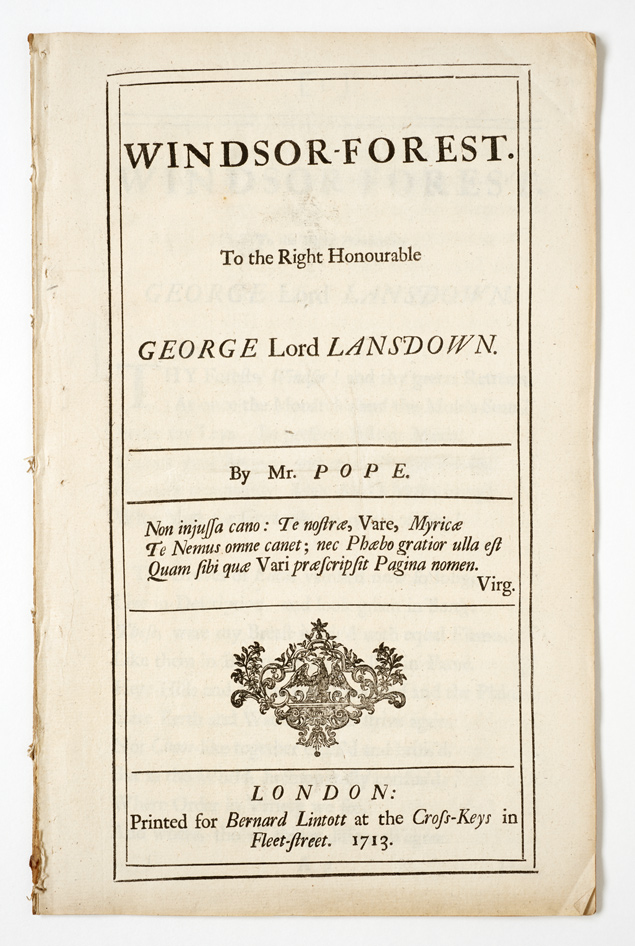 POPE, Alexander.
Windsor-Forest. To the Right Honourable George Lord Lansdown …
First edition of Pope's second separately published poem, preceded by An Essay on Criticism in 1711. Written in the tradition that young poets begin with pastoral verse, Windsor-Forest, with its epigraph from Virgil's Eclogues, was the poem that first won Swift's regard and laid foundations for the 'most celebrated literary friendship of the earlier eighteenth century' (Oxford DNB).
MANUSCRIPT POCKETBOOK OF POETRY SCHULENBURG, Graf von der (compiler).
'Poesies Francoises sur diverses sujets composée par plusieurs celebres auteurs et recuelly par D.C.G. C de Schoulenbourg à Förste l'ann 1742'.
A charming manuscript compendium of French poetry in an attractive binding and slipcase, compiled at Förste in South Lower Saxony by a member of the distinguished von der Schulenburg family. The selection of love poems, spiritual and satirical verse, epitaphs, and songs (including one poem titled 'Sur un livre donné à sa majesté Brittannique intitule Il gyro del mondo') is drawn from seventeenth-century writers including Boileau, Fénelon, Le Pays, Pavillon, Racine, and Scarron.