SIGONIO, Carlo.
De dialogo liber. Ad Ioannem Moronum cardinalem.
Venice, Giordano Ziletti, 1562.
£975

Approximately:
US $1199
€1137
Added to your basket:
De dialogo liber. Ad Ioannem Moronum cardinalem.
SIGONIO, Carlo. De vita, et rebus gestis P. Scipionis Aemiliani liber. Adiectis in fine, unde historia sumpta sit, locis. Index rerum memorabilium. Bologna, Giovanni Rossi, 1569.

Two works in one vol., 4to, ff. [iv], 57, [3, index]; 40, [2, index and errata]; engraved devices to titles, engraved initials; small light damp stain to upper inner margin of last few leaves of first work and first few leaves of second; a very good crisp and clean copy in contemporary limp vellum, title inked to spine; a little wear and cockling, a few marks; ownership inscription 'A. Fletcher' of Andrew Fletcher of Saltoun to both titles; an attractive volume.

First editions of these two important works by the Italian humanist and historian Sigonio (c.1524-84), from the library of the Scottish patriot Andrew Fletcher of Saltoun (1653?-1716). 'De dialogo liber is the first fully-fledged theory of dialogue to appear in the sixteenth-century; as such it stands as an important moment in both the history of thought about dialogue and the history of poetics in the late Italian Renaissance' (Jon R. Snyder, Writing the Scene of Speaking, 1989, p. 41). Sigonio's ground-breaking work influenced the two other major sixteenth-century Italian theorists on dialogue, Sperone Speroni and Torquato Tasso, who studied with Sigonio, praising him as a brilliant expositor of Aristotle's Poetics. The De vita is Sigonio's biography of the great Roman general, orator, and patron of literature and learning, Publius Scipio Aemilianus (c.185-129 BC), described by Cicero as the ideal statesman, published in competition to the biography issued by Sigonio's great rival Antonio Bendinelli.

Andrew Fletcher is remembered as an opponent of the 1707 Act of Union between Scotland and England but 'was also an extremely passionate and knowledgeable book-collector' (Willems p. xi). He probably started collecting around 1675 and over a period of forty years assembled a library of some 6000 books, almost certainly the largest private collection in Scotland at the time. According to Willems, he had 'a special liking for rhetoric and the biographies of great men', which fits neatly with the present volume, and the two manuscript catalogues of his books (in the National Library of Scotland) list a total of 13 works by Sigonio. His library survived intact at Saltoun until the late 1940s, many being sold by Sotheby's in 1966-7 and later by Deighton's of Cambridge.

I. Adams S1104; only copies at Oxford, Cambridge and Manchester on COPAC. II. Adams S1112; BL STC Italian p. 627; COPAC notes copies at the British Library, Oxford and Cambridge only. See P.J.M. Willems, Bibliotheca Fletcheriana, or, The extraordinary library of Andrew Fletcher of Saltoun (Wassenaar, privately published, 1999) p. 202.
You may also be interested in...
FROM RABBI TO ROMAN CATHOLIC GAZZOLI, Giacomo Maria.
Il Luminario de' Ciechi. Operetta diretta all'universale del Giudaismo da Giacomo M.a Gazzoli già Rabbino e Predicatore Ebreo poi Cattolico Romano.
A rare typographic marvel featuring three distinct Hebrew typefaces by Giambattista Bodoni (1740–1813), in which Rabbi-turned-Catholic-zealot Giacomo Gazzoli exhorts the Jews of Italy to 'emerge from a state of blindness into the light of Christianity'.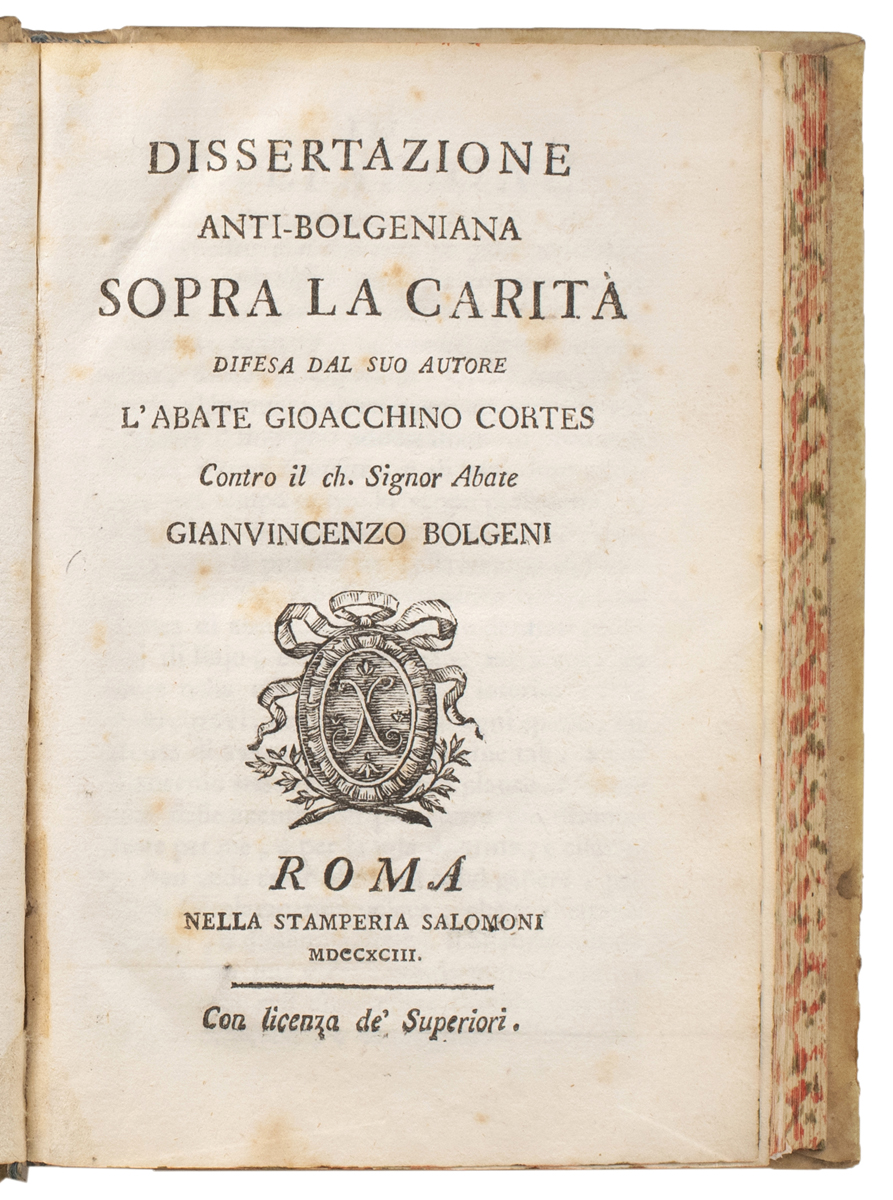 ON CHARITY CORTÈS, Gioacchino. 
Dissertazione anti-Bolgeniana sopra la carità difesa dal suo autore l'abate Gioacchino Cortes contro il ch. Signor abate Gianvincenzo Bolgeni. 
First edition of this response to and attempted refutation of Bolgeni's Della carità o amor di Dio by the Spanish Jesuit Joachim Cortès.  Della carità was the best-known work of the Jesuit theologian and controversialist Gianvincenzo Bolgeni, in which he had argued, against the Dominican de Rubeis, that the theological virtue of charity was rooted in the love of God due to God's goodness to us, rather than due to intrinsic and absolute goodness.  This approach unsurprisingly resulted in a series of responses, often from Bolgeni's former Jesuit confrères, among them Cortès, who published his Anti-Bolgeniana de Amore Dei dissertatio in 1790.  Here, Cortès responds to Bolgeni's reply, addressing Bolgeni's work in detail, quoting chapter and verse, and responding to each of Bolgeni's attacks on Cortès, in which the Italian had attempted to argue that Cortès was a defender of Jansenist doctrines.