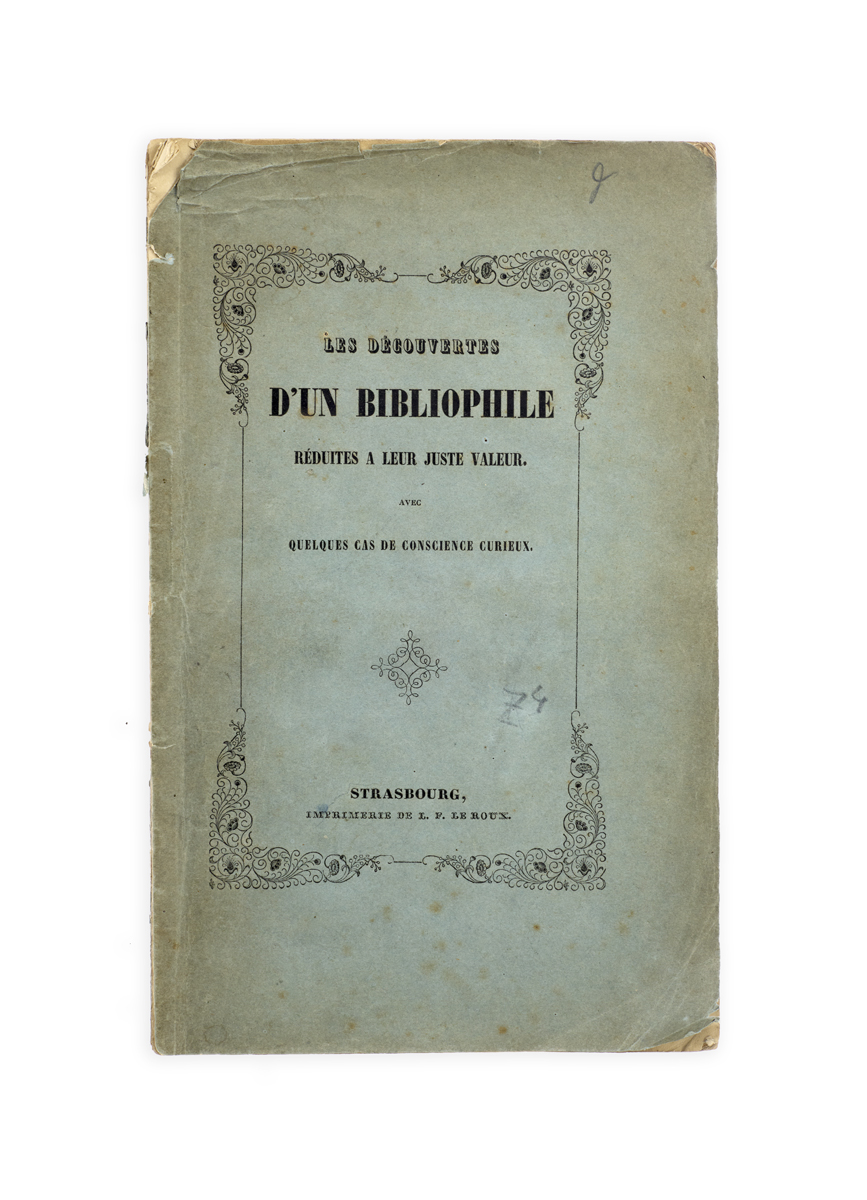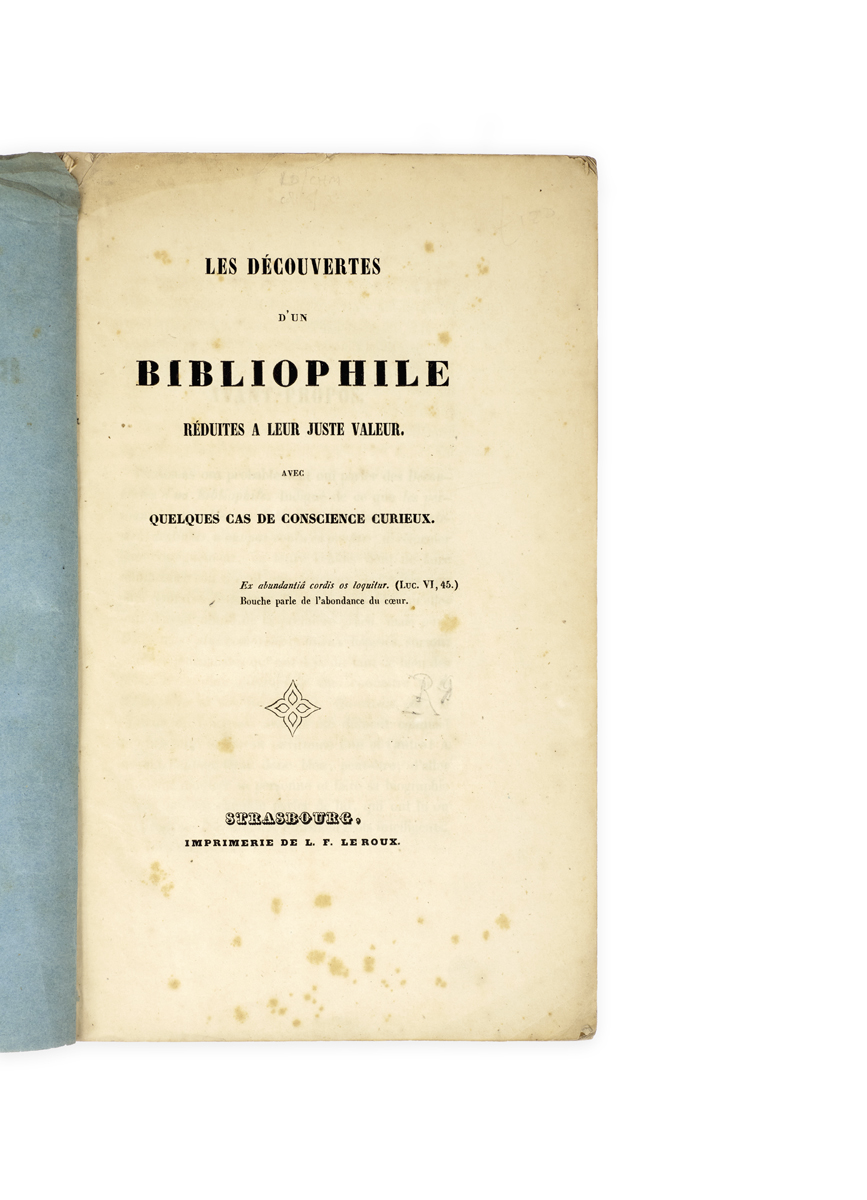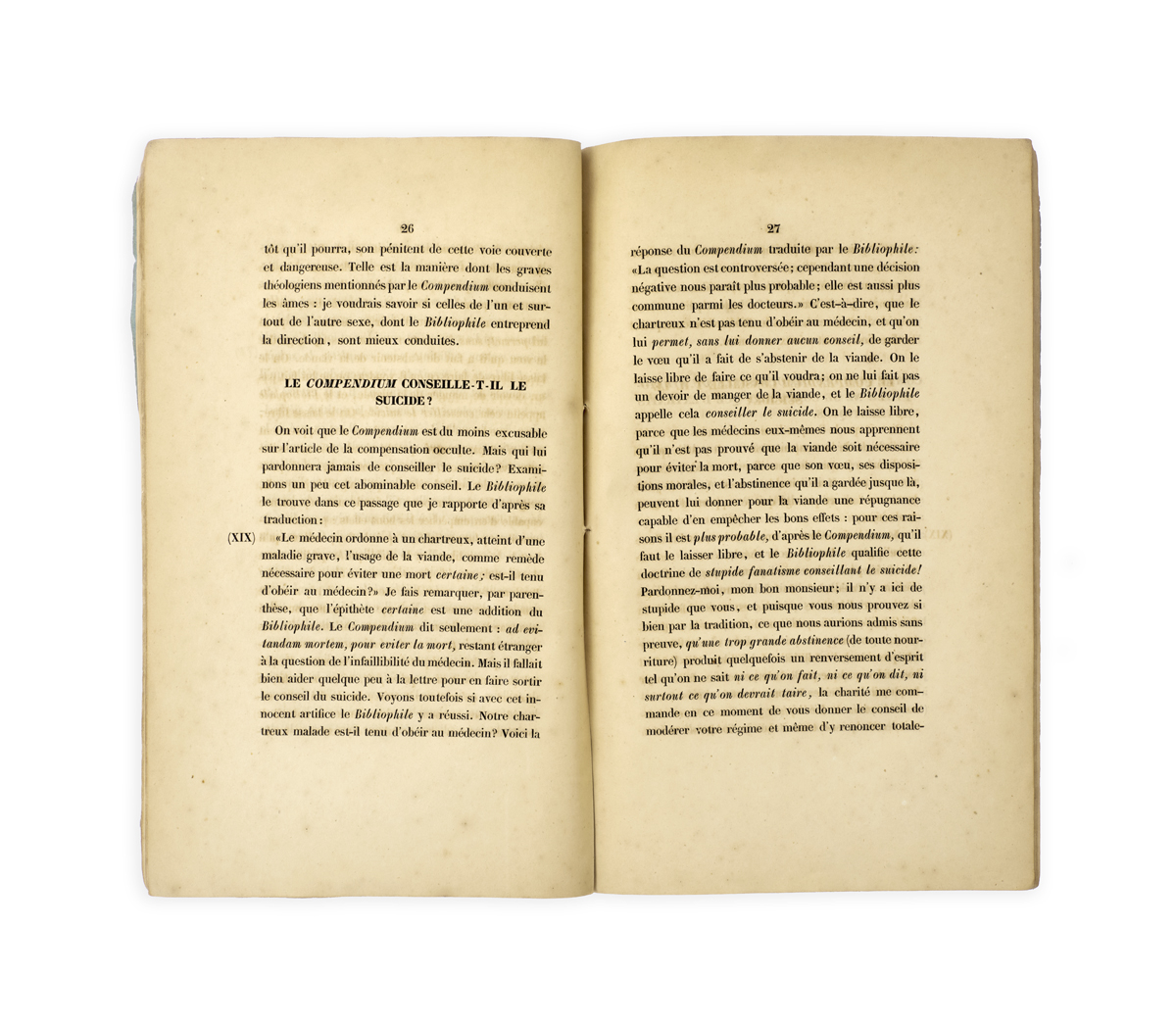 THE BIBLIOPHILE AFFAIR
[SOCIETY OF JESUS.] 
Les découvertes d'un bibliophile réduites a leur juste valeur.  Avec quelques cas de conscience curieux. 
Strasbourg, L.F.  Le Roux, [1843]. 
8vo, pp. 56; light spotting to first three leaves, but a good copy; stab-stitched in the original green printed wrappers; losses to spine, a few chips at extremities; twentieth-century ownership inscription 'J. Muthy' to inner cover.
£375

Approximately:
US $472
€437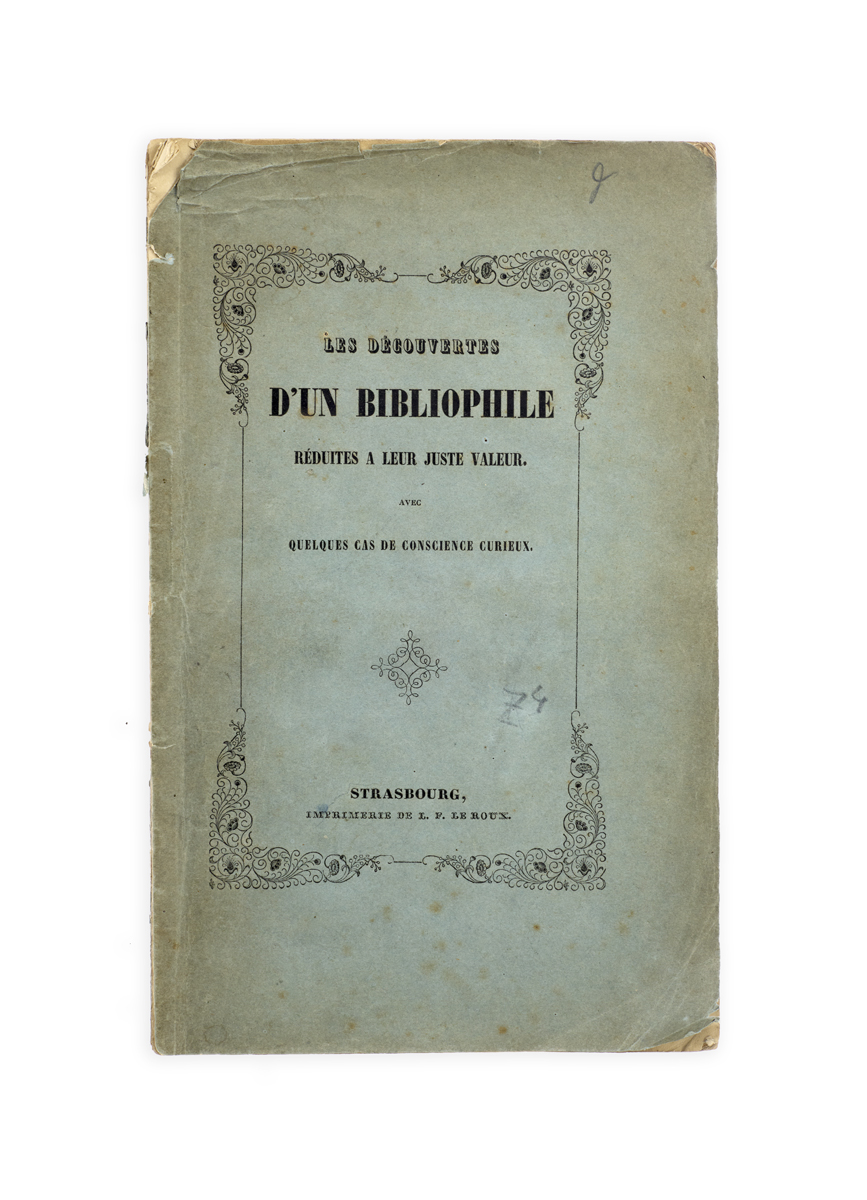 Added to your basket:
Les découvertes d'un bibliophile réduites a leur juste valeur.  Avec quelques cas de conscience curieux. 
First edition of this scathing response to Busch's anti-Jesuit Les découvertes d'un bibliophile, central to the highly polemical 'affaire du Bibliophile' which divided Strasbourg in 1843. 

Earlier in 1843 Frederic Busch (d. 1855), formerly deputy mayor of Strasbourg, had published a polemical denunciation of St Alfonso Maria de' Liguori's Compendium theologiae moralis, as edited by Professor Jean-Pierre Moullet of the Jesuit seminary, accusing him of 'excusing, by subtle distinctions, perjury, adultery, and suicide, all likely to "pervert the conscience and sully the imagination of future ministers" in their teaching of moral theology' (Les Églises protestantes de Strasbourg sous la monarchie de Juillet (1944), p. 28 trans.).  The Découvertes sparked a scandal which 'for several years stirred public debate in Alsace and had repercussions in the Parisian press and in Parliament' (ibid., p. 27 trans.). 

Highly provocative in tone, the present response turns Busch's own language against him, accusing him of probabilism, heresy, of using inauthentic extracts (adding his own embellishments to citations from the Compendium), and endorsing suicide.  It is the present work that prompted Busch to publish his Supplement aux Decouvertes d'un Bibliophile in 1843, a 154-page, paragraph-by-paragraph rebuttal of the accusations made against him; by this time, the polemic had caught the attention of local newspapers, which together brought a lawsuit against Busch for defamation. 

No copies traced in the UK or US.  OCLC finds only three copies in France (BnF, Montpellier, Strasbourg) and two elsewhere (Berlin and Saarland). 

Catalogue de l'histoire de France V, 4817; see Quérard 11, p. 75; Cubitt, The Jesuit Myth (1993), pp. 259-60; not in Vicaire. 
You may also be interested in...