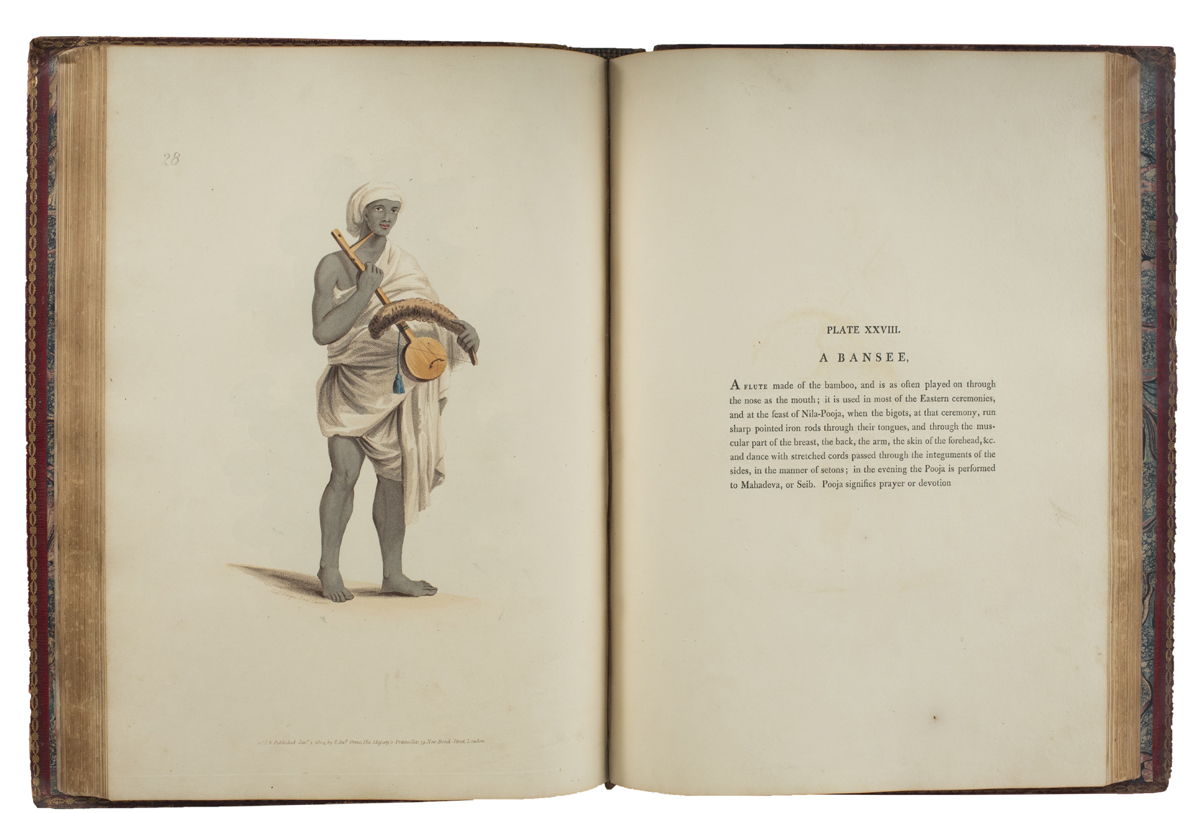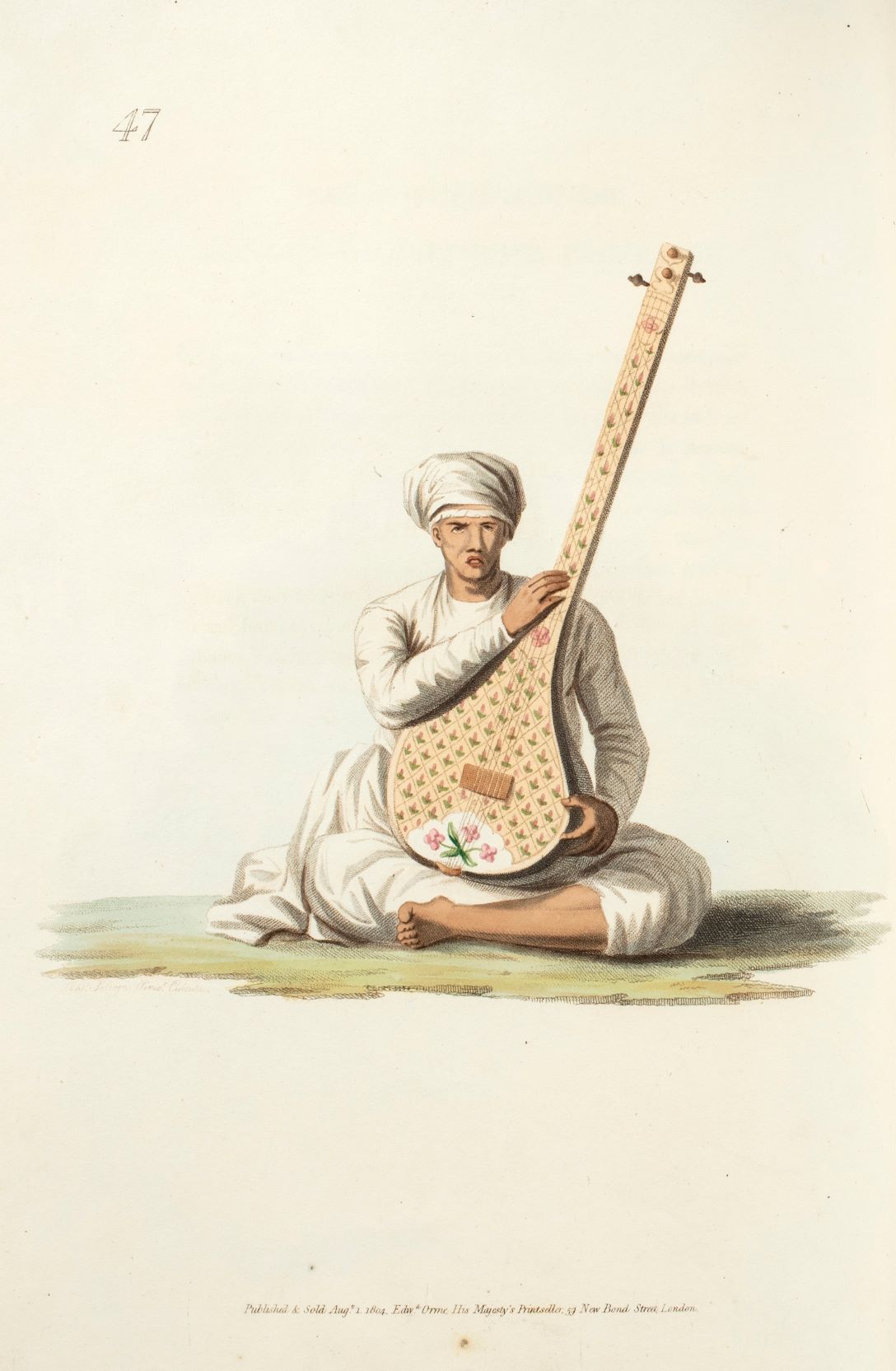 BENGALESE COSTUME
SOLVYNS, François Baltazard. 
The Costume of Hindostan, elucidated by sixty coloured engravings; with descriptions in English and French, taken in the years 1798 and 1799.  By Balt. Solvyns, of Calcutta. 
London, W. Bulmer and Co. for Edward Orme, 1804 [–1805]. 
Folio, pp. [132], with 60 hand-coloured engraved plates (4 soft-ground etchings, the remainder stipple and line, dated January 1804 to January 1805); text in English and French, paper watermarked 'J. Ruse 1800', '1801 J. Whatman', and 'E. & P. 1802'; occasional light spotting, a few marks, some offsetting from plates, small chip at foot of plate 32 text leaf, marginal marks to plate 43 and facing page, upper corners a little bumped; overall very good in contemporary red straight-grained morocco, gilt Greek key and foliate border to covers, spine in compartments lettered and richly decorated in gilt, gilt edges, marbled endpapers; small loss at foot of spine, some wear to joints and edges, corners bumped and worn, some abrasions to covers, hinges reinforced.
£4500

Approximately:
US $5494
€5042
Added to your basket:
The Costume of Hindostan, elucidated by sixty coloured engravings; with descriptions in English and French, taken in the years 1798 and 1799.  By Balt. Solvyns, of Calcutta. 
First edition in book form (originally issued in parts) of this superb record of the people of Bengal by the Flemish painter and ethnographer Solvyns (1760–1824), issued by the engraver and publisher Edward Orme (1775–1848). 

Originally a marine painter, Solvyns left Europe to seek his fortune in India, residing in Calcutta from 1791 to 1804.  He is best known for his commercially unsuccessful A collection of two hundred and fifty coloured etchings descriptive of the manners, customs and dresses of the Hindoos, published in Calcutta in 1799 in twelve parts.  Edward Orme – 'after Rudolph Ackermann, the most important publisher of illustrated books during the short golden age of the coloured aquatint' (ODNB) – had his brother William make watercolour copies from Solvyns originals, upon which the engravings for The costume of Hindostan are based.  'These copies are much better drawn than Solvyn's originals', and the plates here 'are correspondingly an improvement on Solvyn's etchings' (Abbey). 

The plates depict various musicians and soldiers, as well as, for example, a Brahmin, astrologer, weaver, porter, fisherman, hog-keeper, bird-catcher, hookah purveyor, barber, dancer, and a 'woman of distinction'.  The preface hopes that the work will contribute to 'abolishing the extremes of prepossession as well as of prejudice, that have prevailed for ages relative to these people'.  A second edition was published in 1807. 

For the 1807 edition, see Abbey Travel, 429. 

You may also be interested in...
VISSCHER, Nicolaes [I].
Avium vivae et artificiosissimae delineationes.
First and only edition of this rare set of ornithological prints by the famed cartographer Nicolaes Visscher I.
THE FIRST ILLUSTRATED PLUTARCH PLUTARCH [and Jodocus BADIUS Ascensius (editor)].
Vitae … novissime … longe diligentius repositae, majoreque diligentia castigatae, cum copiosiore verioreque indice, necnon cum Aemilii Probi vitis, una cum figuris suis locis apte dispositis.
First substantially illustrated edition of Plutarch's Lives, with signs of early reading. First published in this popular translation in Paris in 1514 by French scholar-printer Jodocus Badius Ascensius (1462–1535) in collaboration with Jean Petit, the text is here accompanied by seventy-eight splendid woodcut illustrations in the manner of Benedetto Bordone (1460–1531), all specifically engraved for this edition and appearing here for the first time.