SKETCHES IN THE SOUTH OF FRANCE
[SOUTH OF FRANCE.]
'Routes de Privas à Nîmes 1892'.
June-July 1892.
Oblong album (12 x 19 cm), 50 leaves of thick paper with 50 sketches in pencil, ink, wash, and occasional watercolour, captioned in ink, executed directly to paper or pasted on; a few leaves slightly loose; overall very good in original light grey cloth, title inked to upper cover; stains to upper cover; a few later ink notes.
£700

Approximately:
US $968
€811
Added to your basket:
'Routes de Privas à Nîmes 1892'.
A nice sketchbook, by an anonymous artist, recording a trip to the South of France in 1892, capturing the beauty of the landscape, as well as some of the historic monuments in the départements of Ardèche, Gard, and Vaucluse.

The talented artist handsomely captures the region's broad skies, landscapes and country roads, towns, streets and bridges, and the rivers Rhône and Ardèche. His journey takes in Remoulins, the Pont du Gard aqueduct, Pont-Saint-Esprit, Viviers (with a striking view of the cathedral), Bourg-Saint-Andéol, the ruined château at Rochemaure, the Roman theatre at Orange, Le Pouzin, Flaviac, Coux, and the square at Bagnols-sur-Cèze. The views of Nîmes are especially nice, showing the Roman amphitheatre, including one sketch of a bullfight, the jardins de la fontaine, and the military training ground ('champ de tir'), with a view of soldiers with their packs.
You may also be interested in...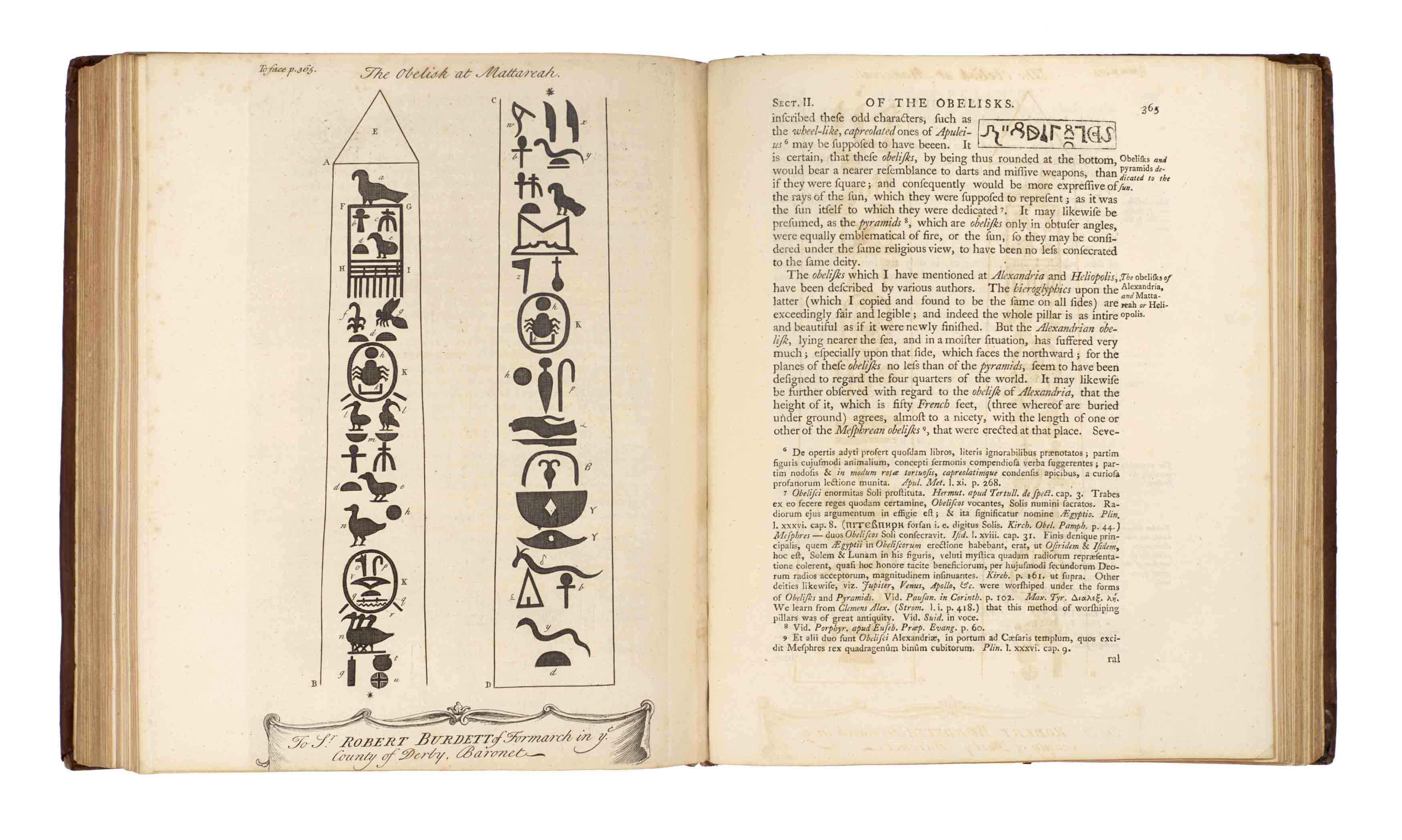 SHAW, Thomas.
Travels, or observations relating to several parts of Barbary and the Levant, illustrated with cuts, the second edition, with great improvements.
'Second and most valued edition' (ODNB) of Shaw's observations of North Africa and the Near East. Serving as Chaplain to the English factory at Algiers from 1720 to 1733, Thomas Shaw (1694–1751) travelled extensively in Egypt, Palestine, Cyprus, and North Africa, gathering extensive observations on local culture, antiquities, geography, and natural history. On his return to England he became a doctor of divinity and a fellow of the Royal Society in 1734, publishing his Travels in 1738, dedicated to George II and acclaimed for its accurate descriptions, fine plates, and detailed maps. The work proved successful and, when appointed principal of St Edmund Hall in 1740, Shaw used the profits of the publication to restore the north range of the front quadrangle of the college, at a cost of about £400. Though published posthumously, Shaw prepared this second edition before his death, including for the first time two controversial supplements of 1746 and 1747.
MANUSCRIPT POCKETBOOK OF POETRY SCHULENBURG, Graf von der (compiler).
'Poesies Francoises sur diverses sujets composée par plusieurs celebres auteurs et recuelly par D.C.G. C de Schoulenbourg à Förste l'ann 1742'.
A charming manuscript compendium of French poetry in an attractive binding and slipcase, compiled at Förste in South Lower Saxony by a member of the distinguished von der Schulenburg family. The selection of love poems, spiritual and satirical verse, epitaphs, and songs (including one poem titled 'Sur un livre donné à sa majesté Brittannique intitule Il gyro del mondo') is drawn from seventeenth-century writers including Boileau, Fénelon, Le Pays, Pavillon, Racine, and Scarron.