SKETCHES IN THE SOUTH OF FRANCE
[SOUTH OF FRANCE.]
'Routes de Privas à Nîmes 1892'.
June-July 1892.
Oblong album (12 x 19 cm), 50 leaves of thick paper with 50 sketches in pencil, ink, wash, and occasional watercolour, captioned in ink, executed directly to paper or pasted on; a few leaves slightly loose; overall very good in original light grey cloth, title inked to upper cover; stains to upper cover; a few later ink notes.
£700

Approximately:
US $977
€823
Added to your basket:
'Routes de Privas à Nîmes 1892'.
A nice sketchbook, by an anonymous artist, recording a trip to the South of France in 1892, capturing the beauty of the landscape, as well as some of the historic monuments in the départements of Ardèche, Gard, and Vaucluse.

The talented artist handsomely captures the region's broad skies, landscapes and country roads, towns, streets and bridges, and the rivers Rhône and Ardèche. His journey takes in Remoulins, the Pont du Gard aqueduct, Pont-Saint-Esprit, Viviers (with a striking view of the cathedral), Bourg-Saint-Andéol, the ruined château at Rochemaure, the Roman theatre at Orange, Le Pouzin, Flaviac, Coux, and the square at Bagnols-sur-Cèze. The views of Nîmes are especially nice, showing the Roman amphitheatre, including one sketch of a bullfight, the jardins de la fontaine, and the military training ground ('champ de tir'), with a view of soldiers with their packs.
You may also be interested in...
THE FOUNDATION OF STRUCTURALISM SAUSSURE, Ferdinand de.
Cours de Linguistique générale.
First edition. In general the study of language in the 19th century concerns philology. While great steps were made at the beginning of that century to put the study of language on a scientific basis, the vital distinction was not made between philology and non-historical linguistics. Saussure made this distinction and gave it its classic formulation. Consequently, for all subsequent linguistics, and especially structuralism, that linguistic theory in which freedom from the influence of philology is most enjoyed, Saussure's position is that of a major thinker and of a founding father.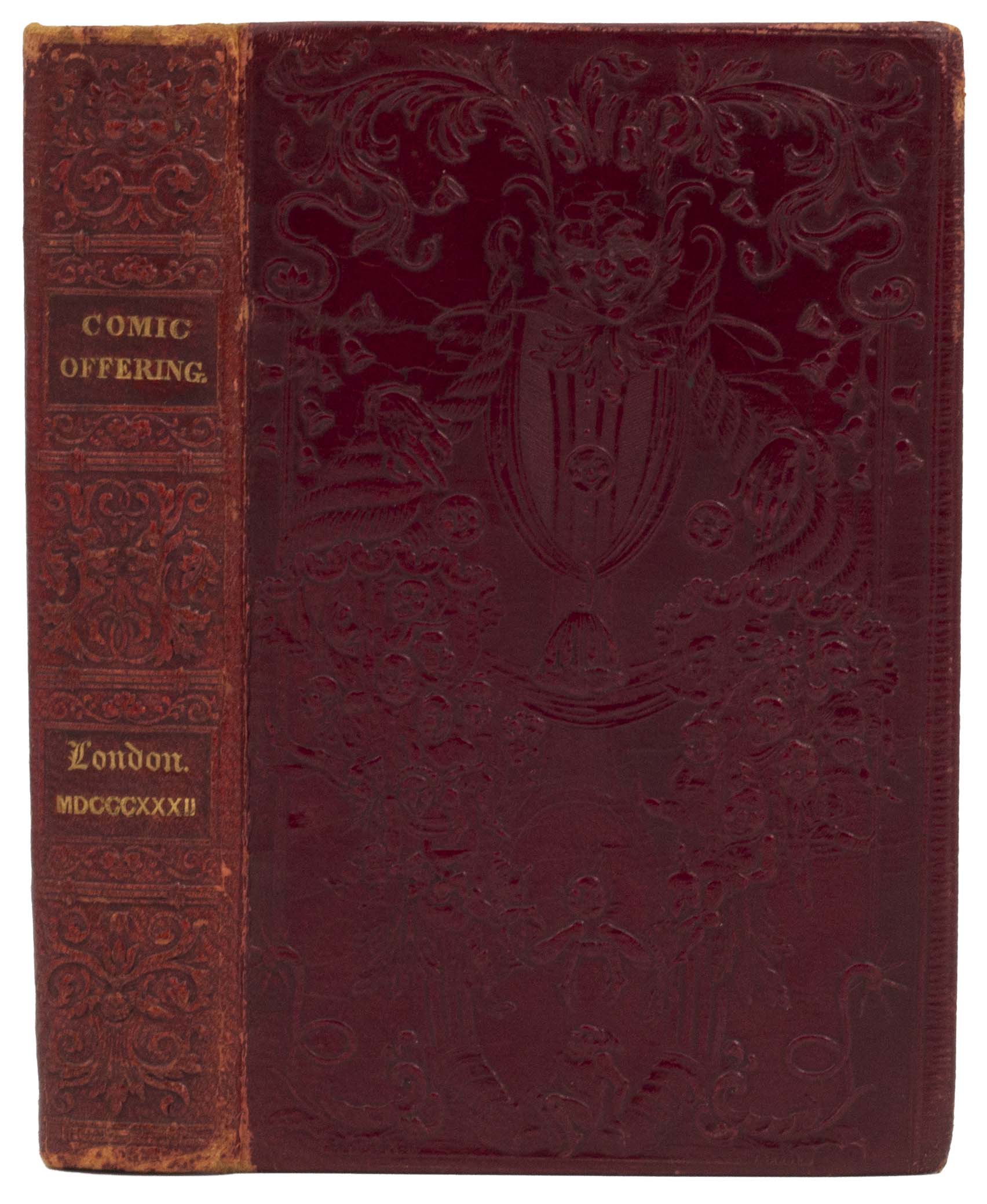 [EMBOSSED BINDING.] DE LA RUE, Thomas (binder). SHERIDAN, Louisa Henrietta.
The Comic Offering; or Ladies' Melange of Literary Mirth, for MDCCCXXXII.
An appropriately light-hearted embossed binding, on the second outing of this compendium of humorous stories, verses and vignettes to amuse the highly refined young ladies of the early nineteenth century. The publisher's advertisements mention other works that are in 'elegantly embossed' bindings.