SKETCHES IN THE SOUTH OF FRANCE
[SOUTH OF FRANCE.]
'Routes de Privas à Nîmes 1892'.
June-July 1892.
Oblong album (12 x 19 cm), 50 leaves of thick paper with 50 sketches in pencil, ink, wash, and occasional watercolour, captioned in ink, executed directly to paper or pasted on; a few leaves slightly loose; overall very good in original light grey cloth, title inked to upper cover; stains to upper cover; a few later ink notes.
£575

Approximately:
US $710
€663
Added to your basket:
'Routes de Privas à Nîmes 1892'.
A nice sketchbook, by an anonymous artist, recording a trip to the South of France in 1892, capturing the beauty of the landscape, as well as some of the historic monuments in the départements of Ardèche, Gard, and Vaucluse.

The talented artist handsomely captures the region's broad skies, landscapes and country roads, towns, streets and bridges, and the rivers Rhône and Ardèche. His journey takes in Remoulins, the Pont du Gard aqueduct, Pont-Saint-Esprit, Viviers (with a striking view of the cathedral), Bourg-Saint-Andéol, the ruined château at Rochemaure, the Roman theatre at Orange, Le Pouzin, Flaviac, Coux, and the square at Bagnols-sur-Cèze. The views of Nîmes are especially nice, showing the Roman amphitheatre, including one sketch of a bullfight, the jardins de la fontaine, and the military training ground ('champ de tir'), with a view of soldiers with their packs.
You may also be interested in...
EXAMINATIONS IN ELEGIAC COUPLETS [OXFORD.] 
Carmina quadragesimalia ab Aedis Christi Oxon. alumnis composita et ab ejusdem Aedis baccalaureis determinantibus in Schola Naturalis Philosophiae publice recitata [– volumen secundum]. 
First edition of humorous verses in Latin, composed by bachelors at Christ Church Oxford as part of scholastic Lenten disputations on natural philosophy.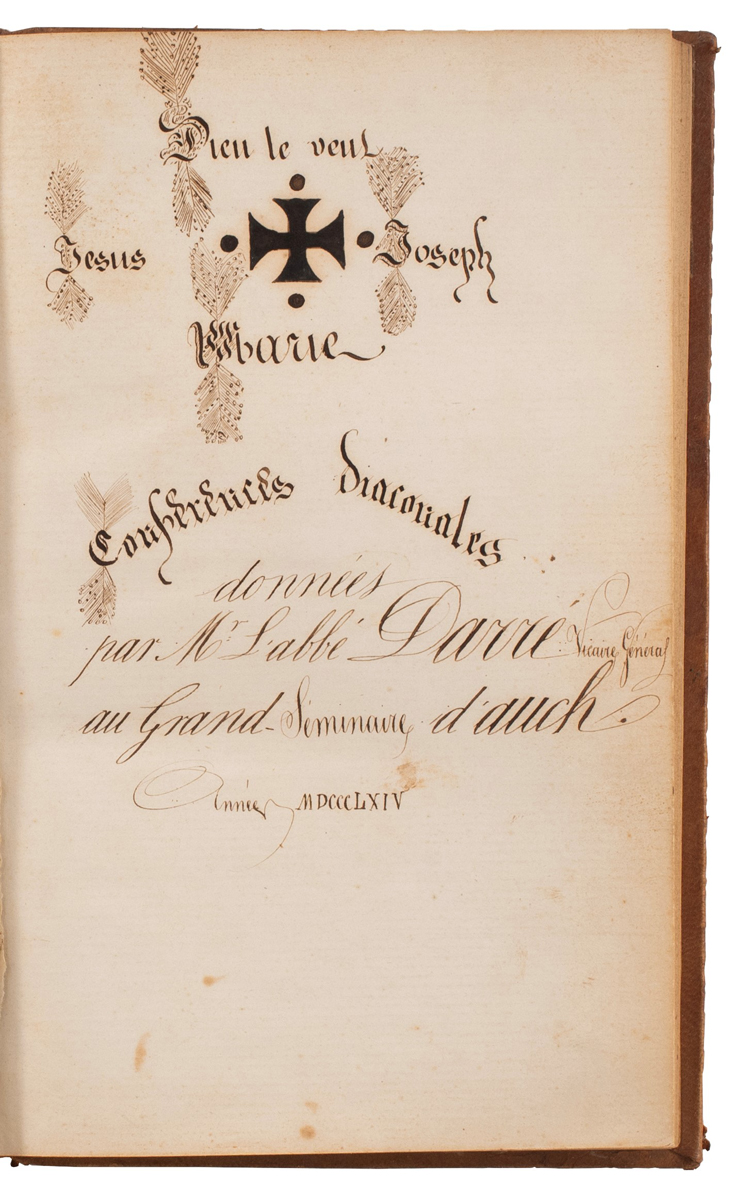 Prepping Priests: Pre-Publication DARRÉ, G.-G.
'Conferences diaconales données par Mr l'abbé Darré, Vicaire Général au GrandSéminaire d'Auch. Année MDCCCLXIV.'
An attractively written manuscript of Abbé Darré's practical manual for the use of young priests entering pastoral ministry, the text remaining unprinted, according to OCLC, until 1872.