SKETCHES IN THE SOUTH OF FRANCE
[SOUTH OF FRANCE.]
'Routes de Privas à Nîmes 1892'.
June-July 1892.
Oblong album (12 x 19 cm), 50 leaves of thick paper with 50 sketches in pencil, ink, wash, and occasional watercolour, captioned in ink, executed directly to paper or pasted on; a few leaves slightly loose; overall very good in original light grey cloth, title inked to upper cover; stains to upper cover; a few later ink notes.
£575

Approximately:
US $701
€662
Added to your basket:
'Routes de Privas à Nîmes 1892'.
A nice sketchbook, by an anonymous artist, recording a trip to the South of France in 1892, capturing the beauty of the landscape, as well as some of the historic monuments in the départements of Ardèche, Gard, and Vaucluse.

The talented artist handsomely captures the region's broad skies, landscapes and country roads, towns, streets and bridges, and the rivers Rhône and Ardèche. His journey takes in Remoulins, the Pont du Gard aqueduct, Pont-Saint-Esprit, Viviers (with a striking view of the cathedral), Bourg-Saint-Andéol, the ruined château at Rochemaure, the Roman theatre at Orange, Le Pouzin, Flaviac, Coux, and the square at Bagnols-sur-Cèze. The views of Nîmes are especially nice, showing the Roman amphitheatre, including one sketch of a bullfight, the jardins de la fontaine, and the military training ground ('champ de tir'), with a view of soldiers with their packs.
You may also be interested in...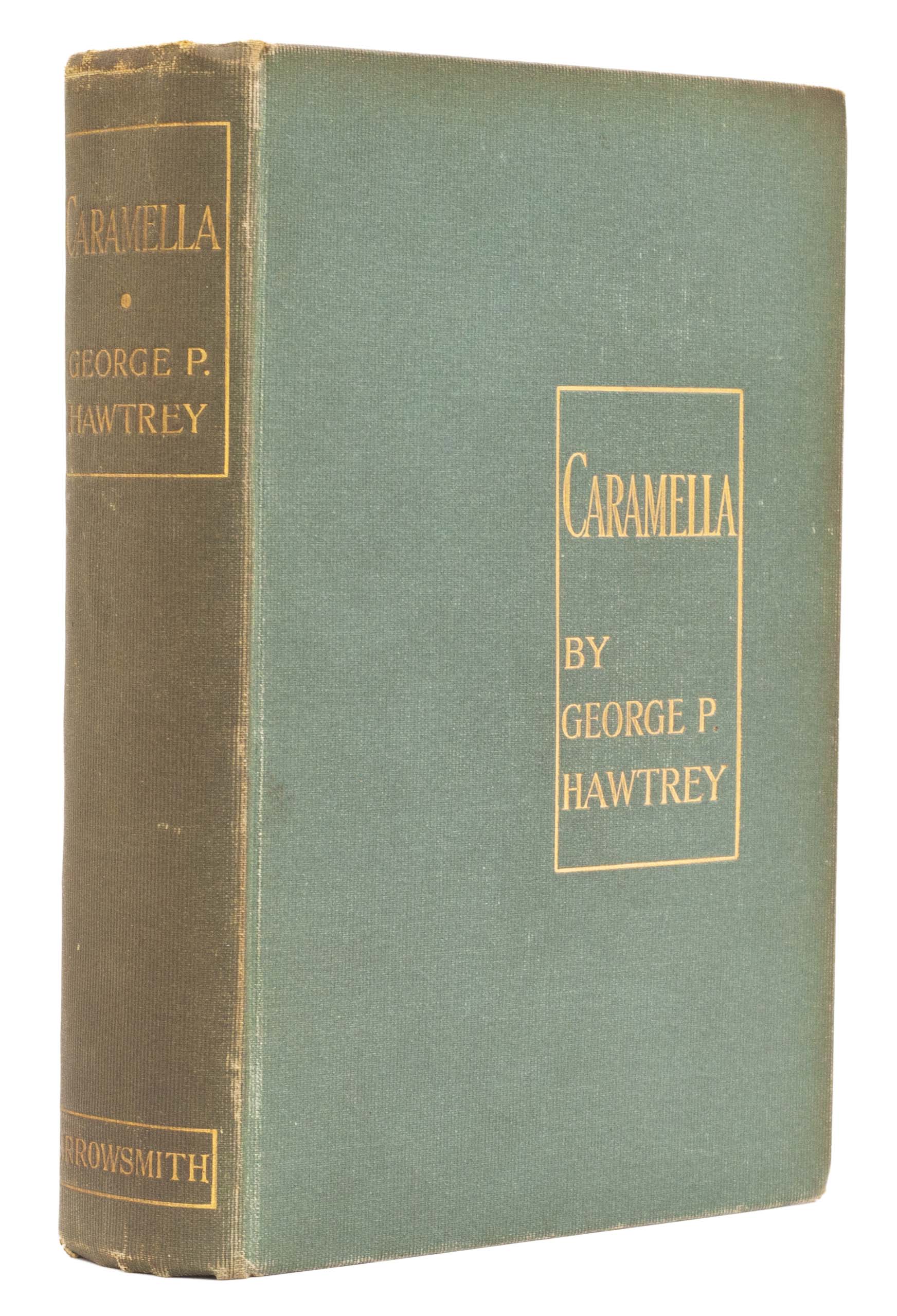 AN UTOPIAN PLACE OF LOTUS EATING AND PAPER MONEY HAWTREY, George Procter.
Caramella. A story of the lotus eaters up to date.
First edition of this utopian novel exploring the bliss of Caramella. Caramella is a land visited by Odysseus who sent crew members ashore, where they consumed the lotus fruit and became addicted, 'forgetting all thoughts of return' (Odyssey, book nine). In Hawtrey's novel, this fruit makes Caramella an island of utopian bliss, in which little work is required: 'the fruit-gatherers struck for a three hours' day, and of course claimed an hour for dinner in the middle'. This utopian world is used as a contrast to European society. Caramella thrives under a system of paper money separated from gold reserves - this removes the need for national debt or taxation as money is simply printed as required. Inflation is apparently unknown. Additionally, Hawtrey uses the island to attack militarism. The Caramese disdain soldiers, who are not received in polite society, as 'the very idea of strife was utterly repugnant to the national character'.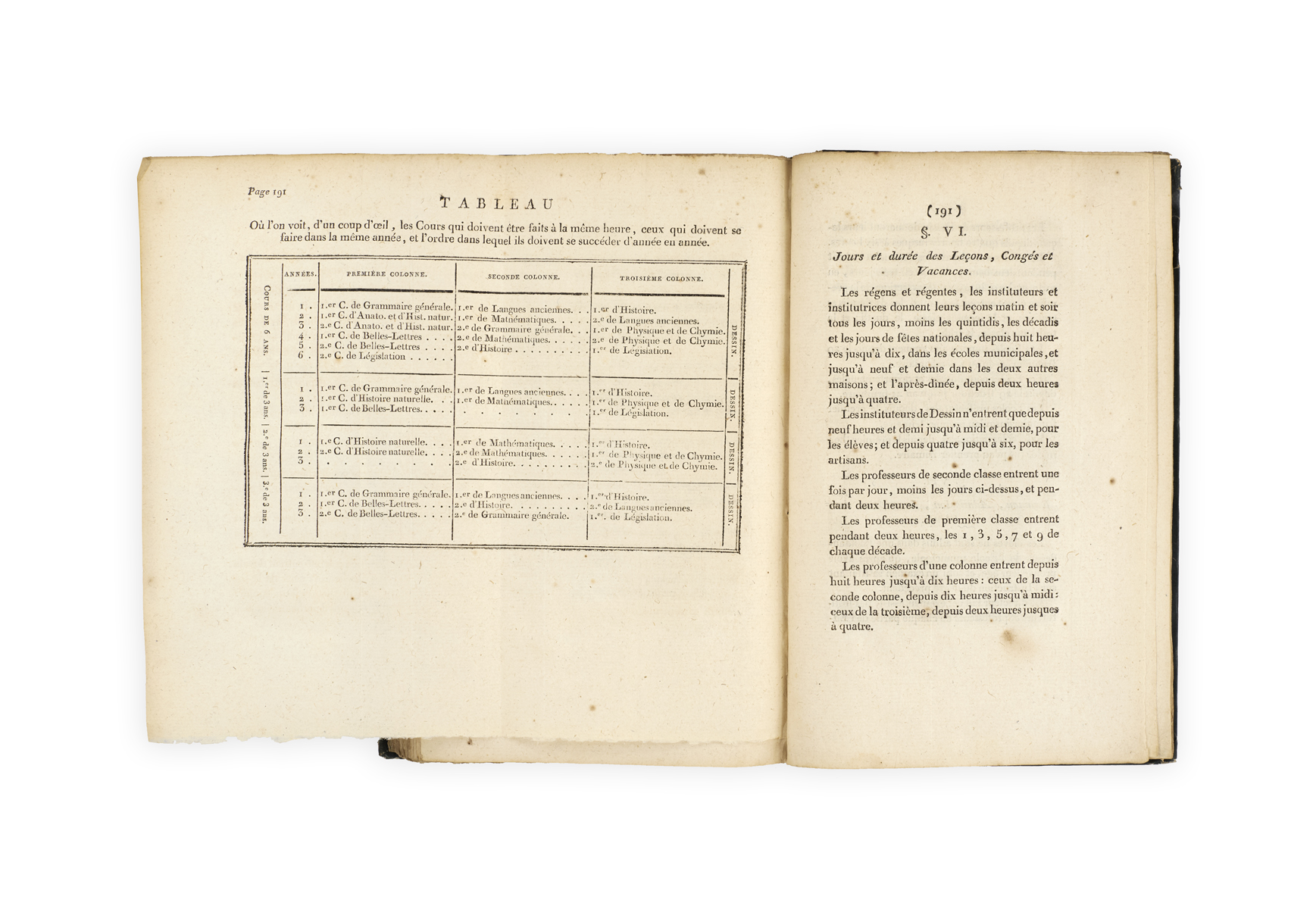 THREE TREATISES ON TEACHING GOSSELIN, Charles-Robert. 
Plan d'éducation, en réponse aux académies de Marseille et de Châlons, dont l'une a proposé pour sujet de prix, à distribuer dans le courant de cette année… 
A most interesting sammelband of three rare French works on education from the late eighteenth and early nineteenth centuries.
 
In the first work, Charles-Robert Gosselin (1740–1820) advocates a radical overhaul of the existing system of education in France through the destruction of most existing colleges and the expulsion of 'the crowd of mercenary teachers of which schools are full'. His Plan discusses the advantages of public over private education, recommends more women teachers, and presents his thoughts on suitable locations for schools, the appointment of teachers, and subjects for study.