[SPAIN – SANTIBANEZ DE BEJAR.]
Two documents in Spanish on the same sheet, concerning the sale of property by Alvar Gil to Diego de Çervantes.
Spain (Santibáñez de Béjar), October 1420.
36 and 20 lines written in a Spanish notarial hand, brown ink, notarial signatures and marks at foot of each document, several later endorsements; lightly creased and dust-soiled, but in very good condition. 387 x 378 mm.
£850

Approximately:
US $1039
€964
Added to your basket:
Two documents in Spanish on the same sheet, concerning the sale of property by Alvar Gil to Diego de Çervantes.
The documents concern the sale of a house, winepress ('lagar'), smaller winepress ('lagareta'), tank ('pilo') and cellar ('bodegas') by Alvar Gil, tailor ('alfayate'), to Diego de Çervantes, who is described as the servant of Fernando Bachiller, prior of the monastery of Our Lady at 'val parayso', i.e. the Ermita de Nuestra Señora de Valparaíso, Santibáñez de Béjar, in the province of Salamanca.
You may also be interested in...
CENSORED, AND WITH MANUSCRIPT VERNACULAR TRANSLATIONS TERENCE Afer, Publius. 
Comoediae: Andria, Eunuchus, Heautontimorumenos, Adelphi, Hecyra, Phormio, ex emendatissimis ac fide dignissimis codicibus summa diligentia castigate … 
A profusely annotated copy of an excellent illustrated edition of Terence's comedies.  The early owner and annotator clearly took issue with this edition's association with Protestant thinkers: Melanchthon's and Erasmus's names are struck through in ink in the preliminaries, which contain, respectively, their 'argumenta' and study of metre.  Moving to Terence's text, however, the annotator assumes a much more creative profile: while the marginalia in Latin are textual or philological in nature, or citations from other classics, the much more abundant marginalia in Italian are accomplished snippets of translation, and represent a considerable body of work which may add to our understanding of early vernacular renditions.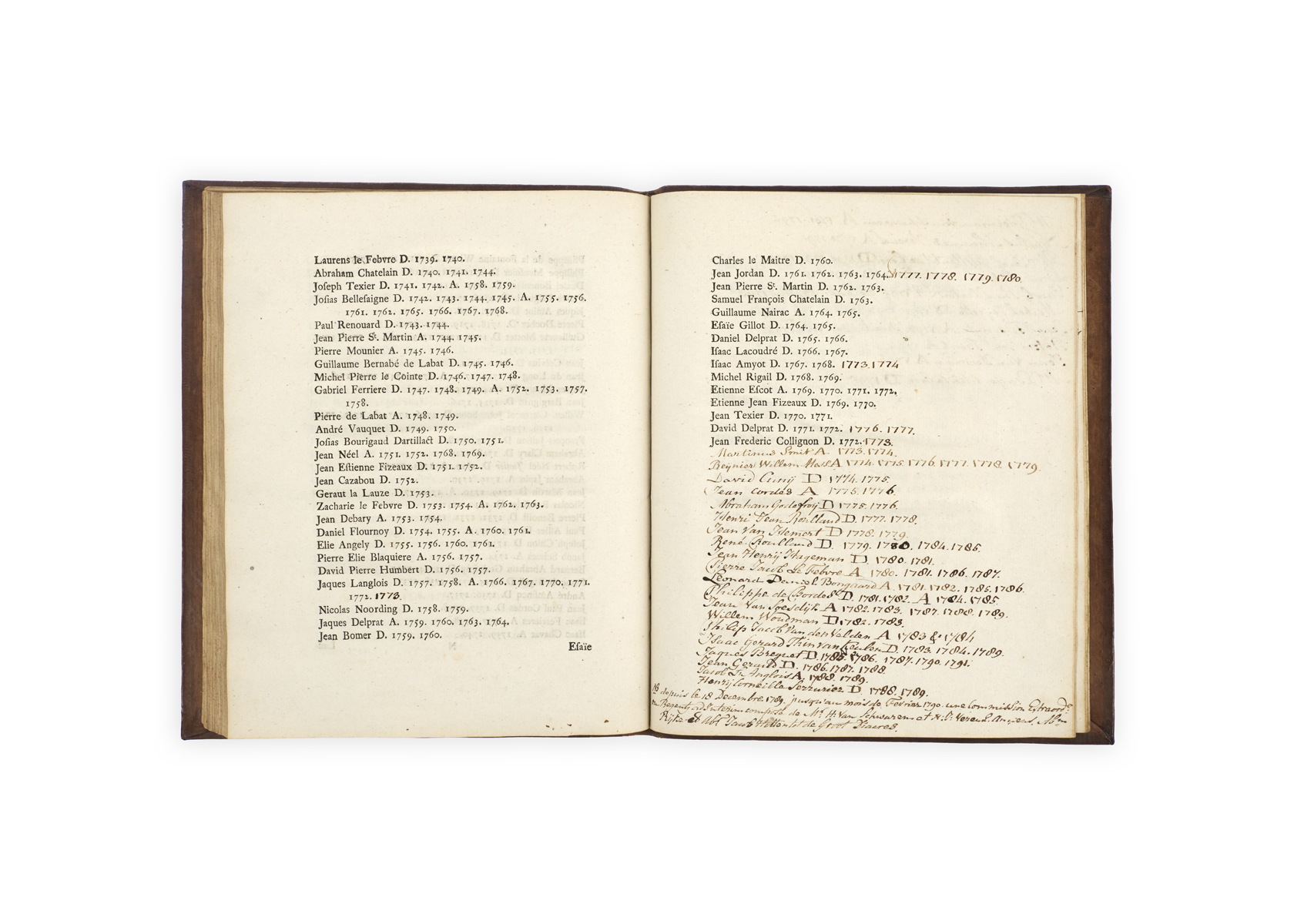 CARING FOR ORPHANS AND THE ELDERLY
IN EIGHTEENTH-CENTURY AMSTERDAM [WALLOON CHURCH AMSTERDAM.] 
Ordres et reglemens de la maison des orphelins, des vieillards, et des vielles femmes de l'eglise Walonne d'Amsterdam; avec des prières à l'usage de cette maison. Nouvelle edition.
Very rare set of regulations governing the charitable house for orphans and the elderly founded by the Walloon Church in Amsterdam in 1631, with manuscript additions updating the lists of its male and female governors up to 1795.