STATECRAFT AND THE PRINCE:A STRUCTURED TREATISE FROM THE GONZAGA COURT
SPONTONE, Ciro.
Dodici libri del governo.
Verona, for G. Battista Pigozzo and Andrea de Rossi, 1599 [colophon 1600].
4to, pp. [xlviii], 389, [1] + [2, errata]; with typographic tables, engraved initials, running titles; a very good, fresh copy in contemporary vellum, spine bearing the author's name and title in a large calligraphic hand; a very genuine and attractive book, from the Jesuit college of Alcalá (inscription on the title-page).
£4000

Approximately:
US $5461
€4492
Added to your basket:
Dodici libri del governo.
First edition of a rare - and in parts typographically striking - treatise on political science conceived as a comprehensive riposte to Machiavelli's Prince. Ciro Spontone (1552-1613) wrote his 'anti-Machiavelli' whilst serving as secretary to the Duke of Mantua Vincenzo I Gonzaga, with whom he would, in 1601, take part in the Hungarian war against the Turks.

Having already tried his hand at mirrors of princes theory nine years earlier with a work entitled 'La corona del Principe', which made ample use of iconic metaphors to illustrate the virtues of the ideal ruler, with the Dodici libri del governo Spontone adopts a more severe, comprehensive and theoretically structured approach to the science of statecraft. He explores it in all its implications: from royal prerogatives and obligations to the structure and domains of ministries, of governing and legislative bodies, of executive and policing institutions, to the classification of the people, the preserving of peace, the circumstances which lead to war and the possible consequences of war. His description is perhaps at its most effective and prescriptive in the initial 'table': ten pages given over to a graphic representation of the concepts, domains and actors of statecraft and the relations between them.

EDIT 16 52255; USTC 857390-1-2. Rare outside Europe: America only holds 3 copies (Brigham Young, Congress, Huntington).
You may also be interested in...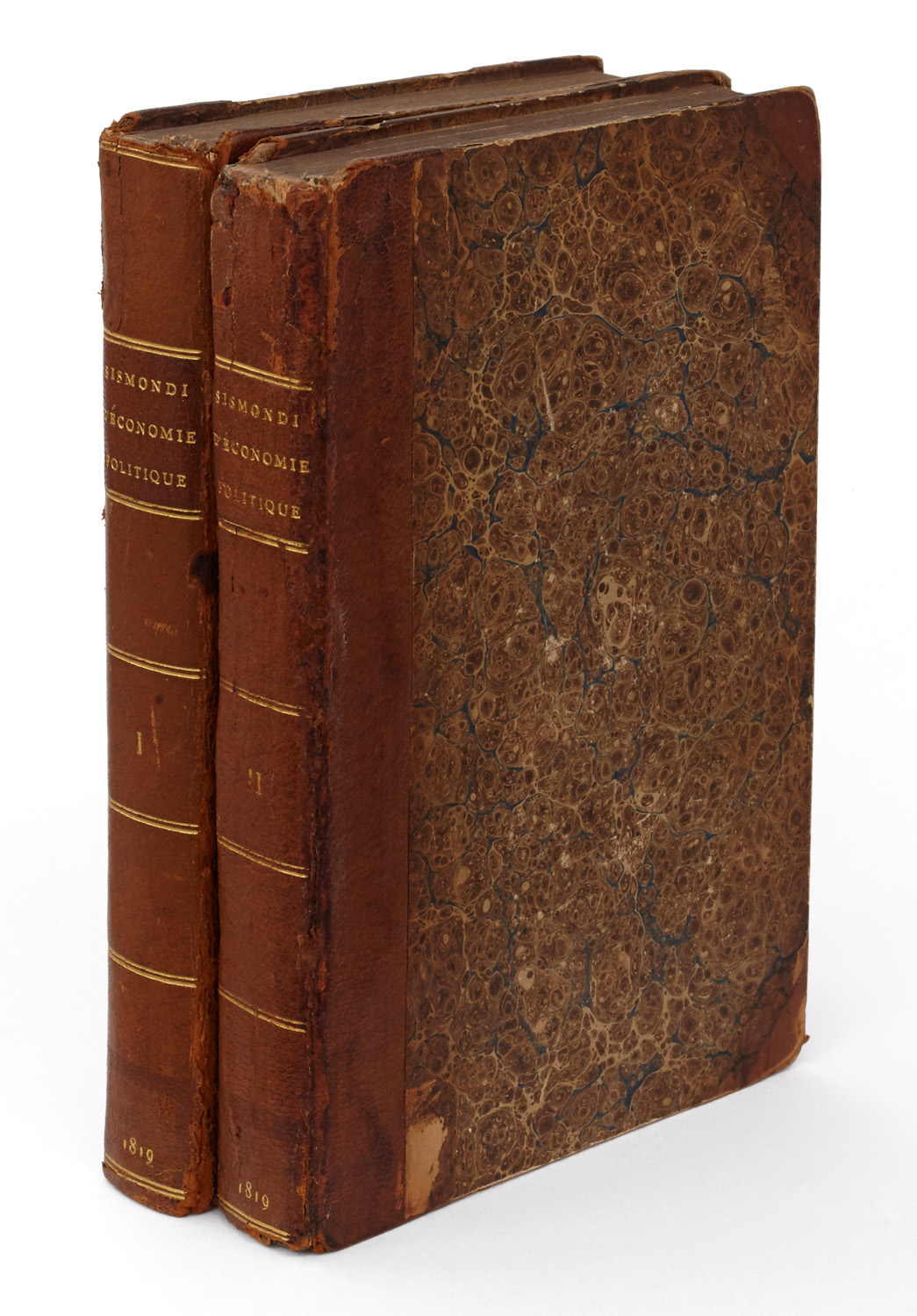 SISMONDI, J.
C. L. Simonde de. Nouveaux principes d'économie politique, ou de la richesse dans ses rapports avec la population ... Tome premier [- second].
First edition. 'A number of concepts and theories that later became important in the history of economics first appeared in the writings of the Swiss economist J. C. L. Simonde de Sismondi … Sismondi developed the first aggregrate equilibrium income theory and the first algebraic growth model. Yet both concepts had to be rediscovered and redeveloped by others before they entered the mainstream of economics, long after Sismondi's time' (The New Palgrave IV, 348 ff).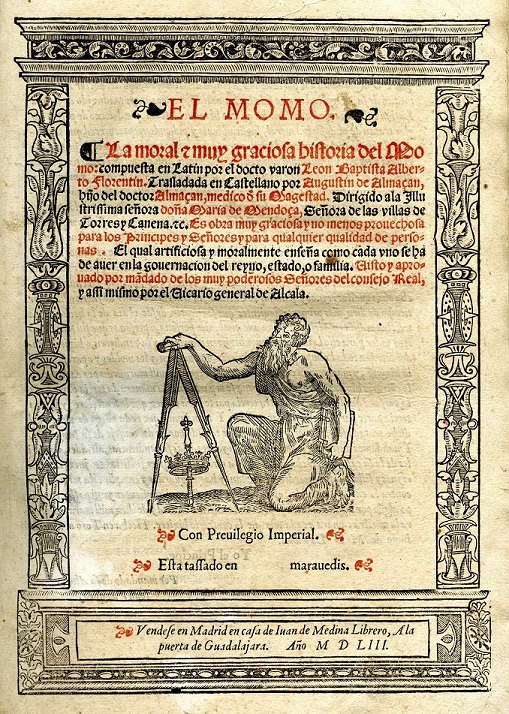 ALBERTI IN SPANISH ALBERTI, Leon Battista.
El Momo. La moral e muy graciosa historia del Momo; compuesta en Latin por el docto varon Leon Bapista Alberto Florentin. Trasladada en Castellano por Agustín de Almaçan ...
First edition in Spanish of Alberti's Momus [or De principe], translated by Augustín de Almaçan and with an introductory 8-page Exposición by the Toledo ascetic writer and scholar Alejo Venegas (1495?–1554?).