ON MATTERS METEORIC
STANHUF, Michael. 
De meteoris libri duo, quorum prior tradit de aethere et elementis.  Posterior complectitur omnium fere meteororum prolixam explicationem …   
Wittenberg, [Johann Krafft for Samuel Selfisch], 1578.
[bound with:]

FRITSCHE, Marcus and Johannes HAGIUS.  Meteororum hoc est impraessionum aerearum et mirabilium naturae operum, loci fere omnes, methodo dialectica conscripti … a M. Marco Frytschio Laubano, et nunc pluribus in locis aucti et emendati a M. Iohanne Hagio.  Wittenberg, Hans Lufft, 1581.

Two works in one vol., small 8vo, ff. [168], woodcut device to title and last leaf; [16], 182, woodcut initials; some chips to fore-edge of first title and paper flaw at foot of P7, small marginal wormholes at end of second work, some marginal damp staining, toned; overall very good in contemporary half blind-tooled pigskin over wooden boards partly covered with fragments from a mid-15th-century German gradual; wear to extremities, some staining, a little worming; a few early manuscript annotations in two hands, some underlining in green ink.
£2750

Approximately:
US $3364
€3187
Added to your basket:
De meteoris libri duo, quorum prior tradit de aethere et elementis.  Posterior complectitur omnium fere meteororum prolixam explicationem …   
An attractive sammelband of two scarce astronomical works, in an appealing contemporary binding and with some interesting annotations, opening with the second edition (first 1562) of the chief work of Michael Stanhuf (d. 1608), a student of Melanchthon at Wittenberg. 

Divided into two books, Stanhuf's De meteoris begins by considering the nature of the earth, stars and planets, and the question of their motions, as well as eclipses and the four elements, before proceeding to discuss, inter alia, meteors and comets, shooting stars, halos, rainbows, snow, thunder and lightning, and earthquakes.  Stanhuf shows himself to be a staunch opponent of the Copernican system and an ardent believer in celestial portents and prodigies. 

The second work (first published in 1555), edited by the Wittenberg professor of mathematics Johannes Hagius, tackles the nature, cause and effects of meteors, as well as comets, the Milky Way, parhelions, clouds, rain, frost, hail, winds, typhoons, and tides, amongst other meteorological matter. 

Two interesting manuscript annotations in the first work concern solar eclipses (F1v) and calamitous floods befalling various German towns in May 1613 (P3v).  Those in the second include Greek and Latin definitions (e.g. for clouds) drawn from Aristotle's De Mundo.  The attractive binding bears fragments from a gradual produced in Germany in the mid-1400s, including two lines of Latin chant opening Exurge domine with neumes resembling Hufnagel notation. 

I. Adams S1631; VD16 S8565; OCLC records only one copy in the US, at Harvard; Library Hub shows copies at the British Library, Lambeth Palace, Trinity College Dublin, and Trinity Hall.  II. Adams F1055; VD16 F3029; only one copy in the US on OCLC, at University of Wisconsin; Library Hub shows one copy, at Gonville and Caius College, with Adams adding another at Clare College. 


You may also be interested in...
UNIVERSAL HISTORY: FROM DE THOU'S LIBRARY LE MIRE, Aubert (editor).
Rerum toto orbe gestarum chronica a Christo nato ad nostra usque tempora. Auctoribus Eusebio Caesariensi episcopo, B. Hieronymo presbytero, Sigeberto Gemblacensi monacho, Anselmo Gemblacensi abbate, Auberto Miraeo Bruxell. aliisq[ue]. Omnia ad antiquos codices mss. partim comparata, partim nunc primum in lucem edita ...
First edition of this collection of chronicles, covering sixteen hundred years of world history from the birth of Christ to its publication, composed by the ecclesiastical historian Aubert le Mire of Brussels, this copy from the library of Jacques Auguste de Thou.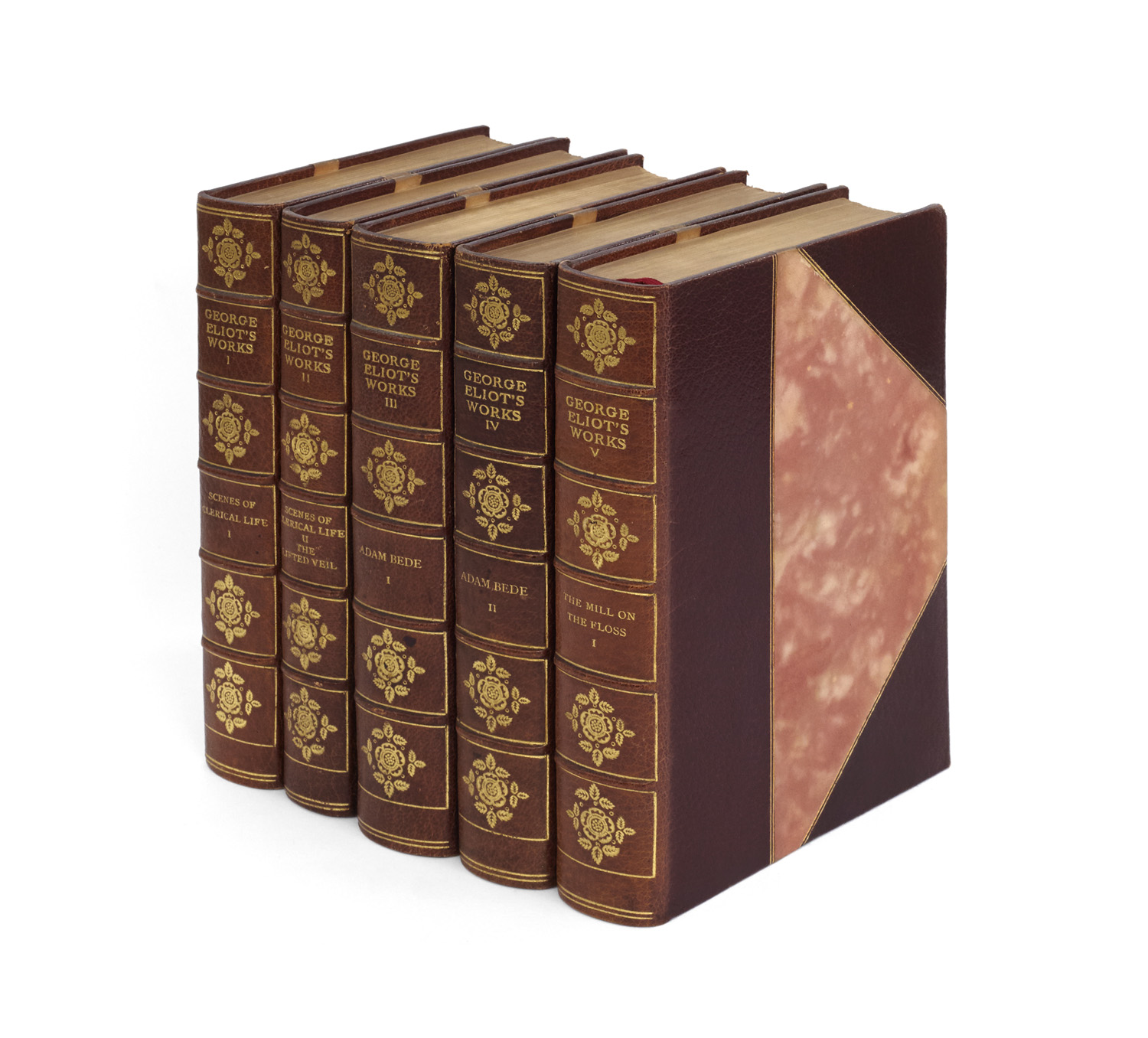 ELIOT, George.
The Writings …
The Large-Paper edition of Eliot's complete works, no. 184 of 750 sets.