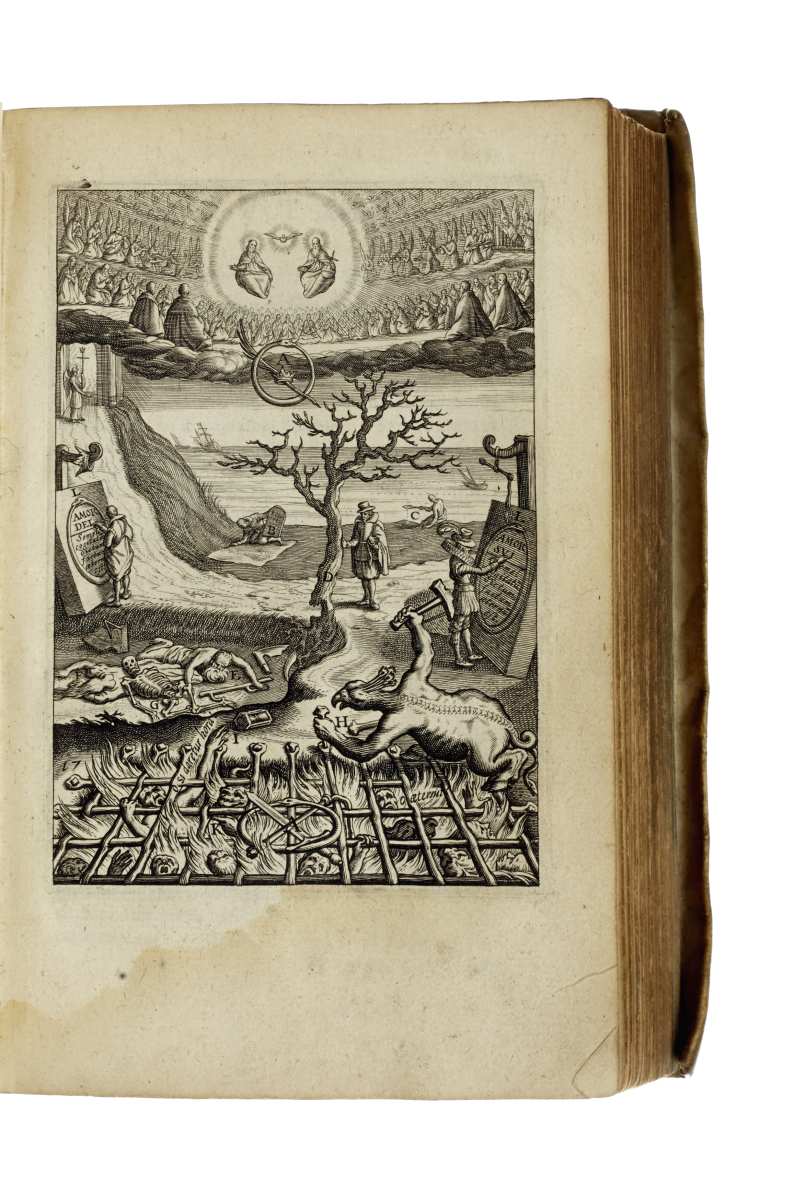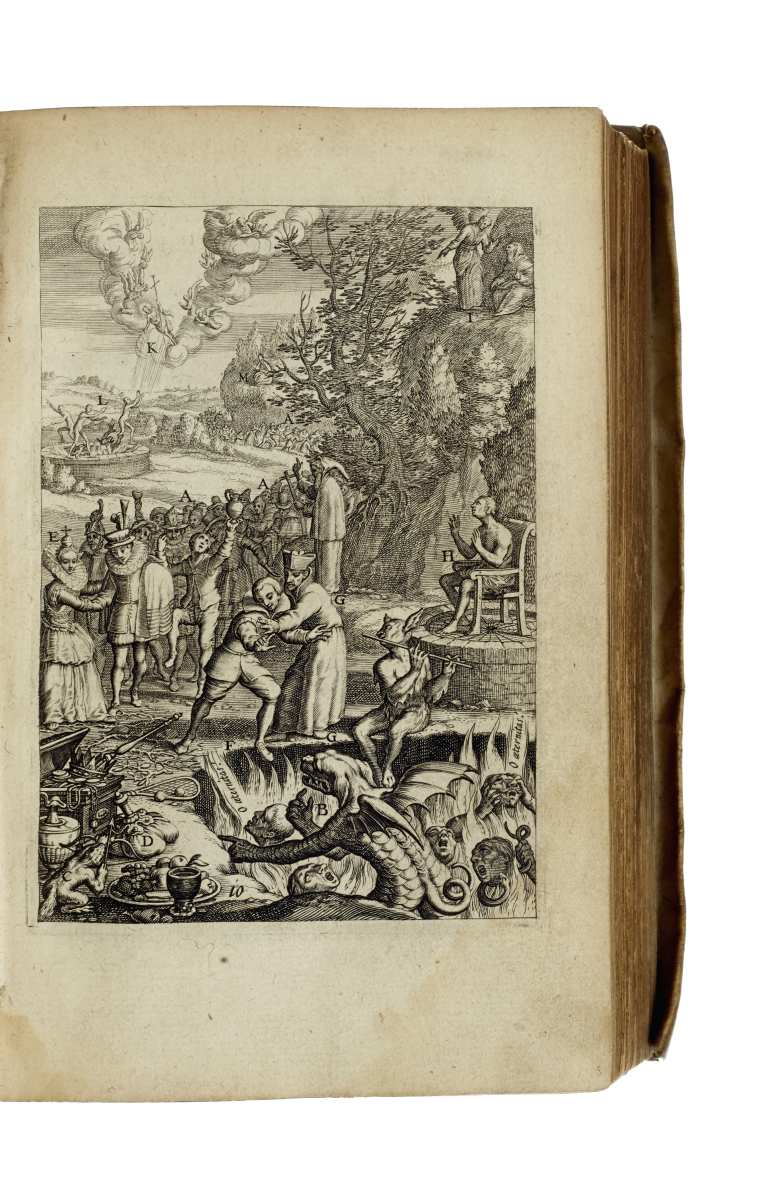 HEAVEN AND HELL GLIMPSED BY RUBENS' ENGRAVER
SUCQUET, Antoine.
Via vitae aeternae iconibus illustrata per Boetium a Bolswert.
Antwerp, Martin Nutius, 1620.
8vo, pp. [xvi], 875, [21]; with an emblematic engraved frontispiece and 32 engraved emblematic plates by Boetius a Bolswert; a very good copy in contemporary vellum, soiled, ties perished; nineteenth-century ownership inscription in the lower margin of the title (Joseph Haskell, 1844) and Haskell's dedication inscription to his 'beloved wife Anna Carolina' dated 1857 in the rear free end-paper.
£1500

Approximately:
US $1999
€1670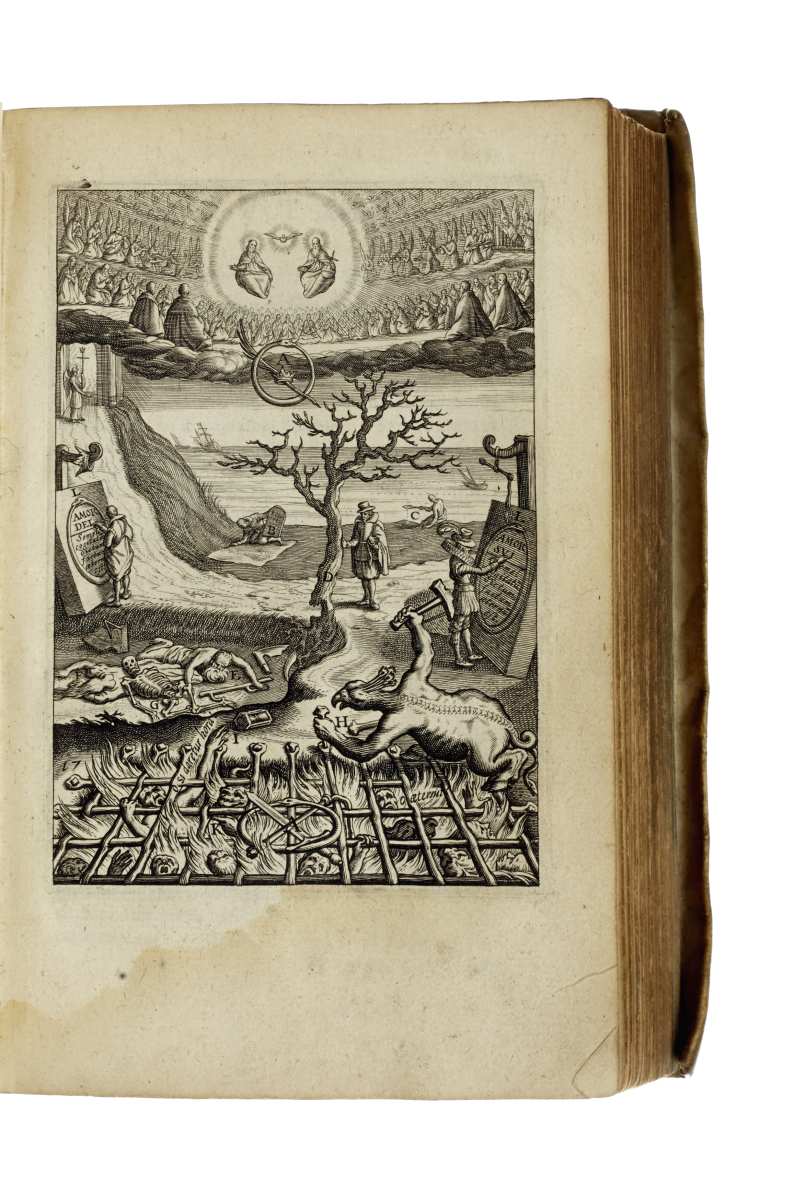 Added to your basket:
Via vitae aeternae iconibus illustrata per Boetium a Bolswert.
First edition, a very clean, attractive copy, of an emblem book which unites the spiritual meditations and practices of the Belgian Jesuit Antoine Sucquet with fine emblematic illustrations devised by the great baroque engraver Boetius a Bolswert (c. 1580-1633), called by Praz 'the illustrator of the sentimental and ecstatic states of the soul'. Boetius a Bolswert's exquisite refinement gives here, again in Praz' words, views of Hell and glimpses of Heaven. Man's worse drives are iconized in satyrs, ghouls, harpies, werewolves, semi-human lizards, his progress towards eternal life ever hindered by the multifarious and rapacious beast within. With his brother Schilte, Boetius was among the most sensitive and felicitous engravers to render Rubens' drawings. Sucquet's emblem book was extremely successful, with 177 editions in Latin within a decade, and many vernacular translations.

Brunet V, 577; De Backer-Sommervogel, VII, col 1690, no. 1; Praz, p. 506.
You may also be interested in...
MATTIOLI, Pietro Andrea, and Francesco CALZOLARI.
Compendium de plantis omnibus, una cum earum iconibus, de quibus scripsit suis in commentariis in dioscoridem editis, in eorum studiosorum commodum, atque usum, qui plantis conquirendis, ac indagandis student; accessit praeterea ad calcem opusculum de itinere, quo e Verona in Baldum montem plantarum refertissimum itur, iisdem studiosis utilissimum.
First edition of this scarce digest of Matthioli's commentaries on Dioscorides's Materia medica. A heavily illustrated compendium drawn from the author's earlier Commentarii (Venice, 1554), the Compendium offers a practical enchiridion to medicinal botany, with almost one thousand entries containing detailed woodcuts and notes on the form, location, and uses of each plant.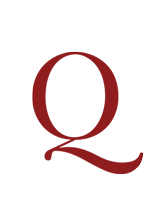 CAREY, Henry Charles.
Principles of social science.
First edition, a very attractive copy, of Carey's principal work. 'His treatment of social science was original, and led him to a series of supposed discoveries, the order of which he has stated in the introduction of his most important work The Principles of Social Science. His point of departure was a theory of value which he defined as the "measure of the resistance to be overcome in obtaining things required for use, or the measure of nature's power over man" - in simple terms the cost of reproduction. This theory Carey applied to every case of value - to commodities, services, and in some passages seemingly to man himself' (Palgrave).