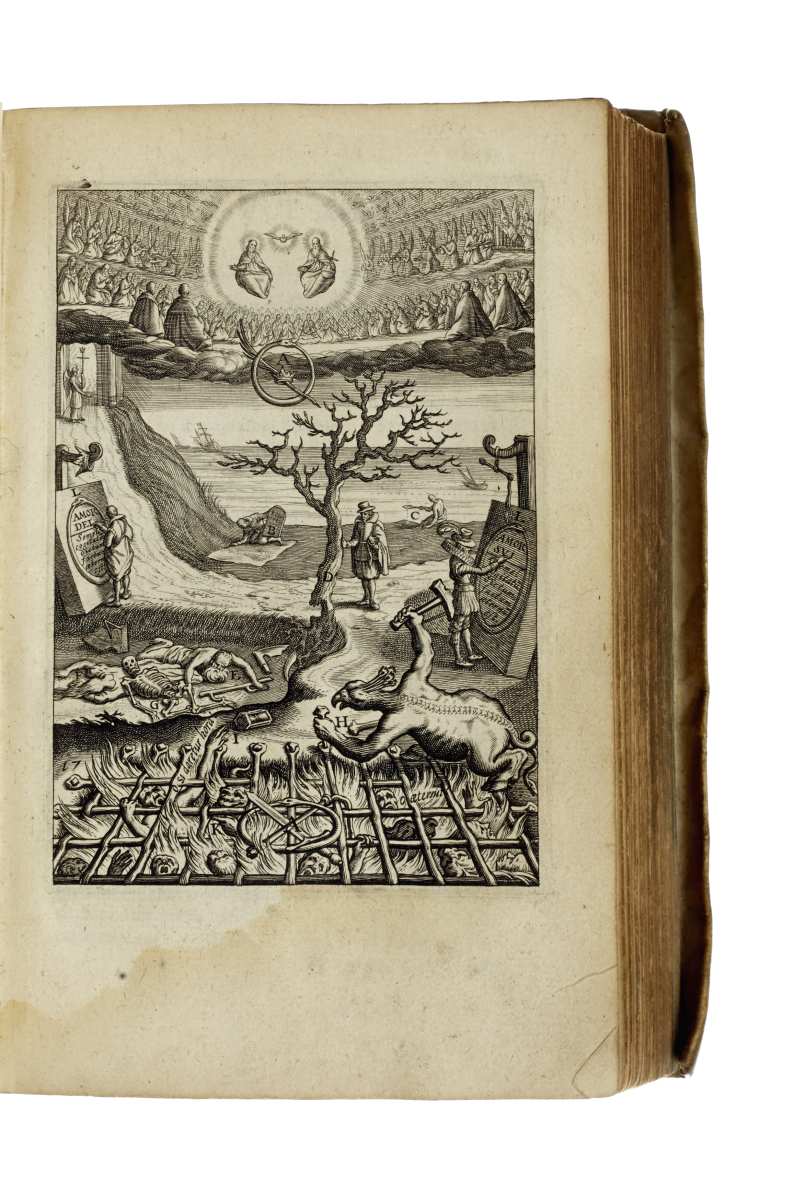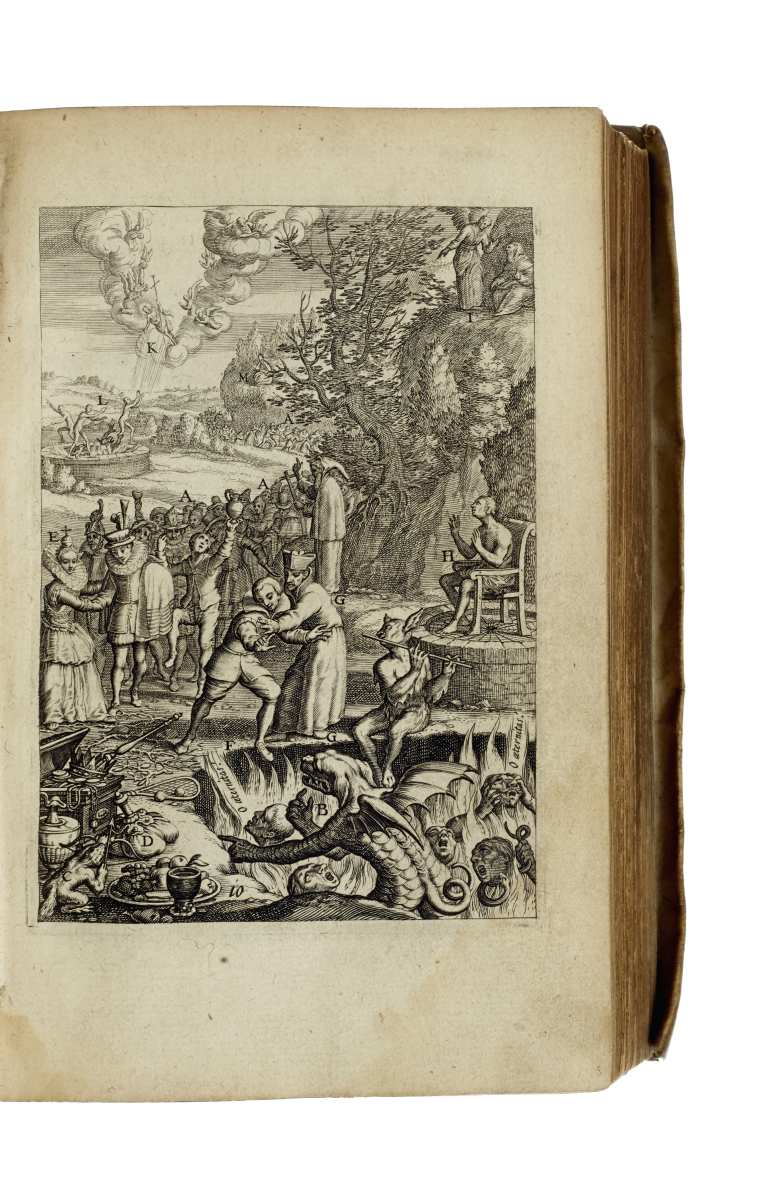 HEAVEN AND HELL GLIMPSED BY RUBENS' ENGRAVER
SUCQUET, Antoine.
Via vitae aeternae iconibus illustrata per Boetium a Bolswert.
Antwerp, Martin Nutius, 1620.
8vo, pp. [xvi], 875, [21]; with an emblematic engraved frontispiece and 32 engraved emblematic plates by Boetius a Bolswert; a very good copy in contemporary vellum, soiled, ties perished; nineteenth-century ownership inscription in the lower margin of the title (Joseph Haskell, 1844) and Haskell's dedication inscription to his 'beloved wife Anna Carolina' dated 1857 in the rear free end-paper.
£1500

Approximately:
US $2094
€1761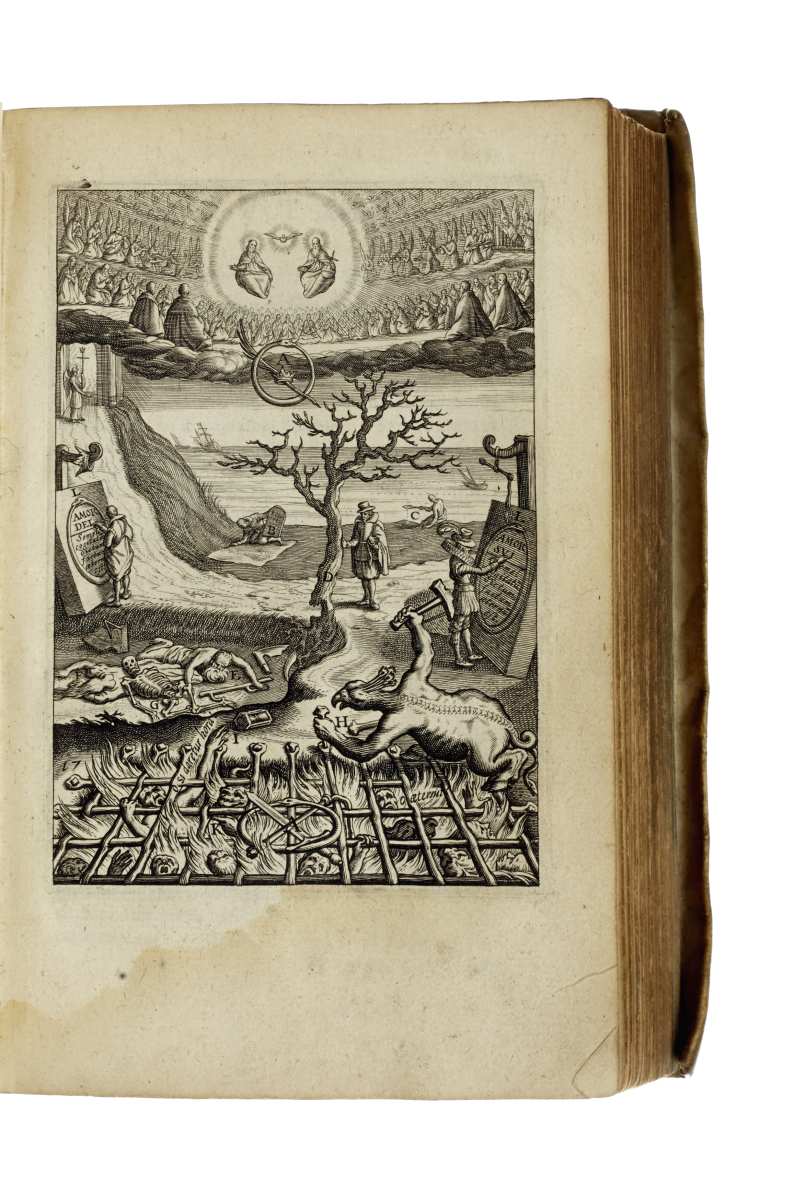 Added to your basket:
Via vitae aeternae iconibus illustrata per Boetium a Bolswert.
First edition, a very clean, attractive copy, of an emblem book which unites the spiritual meditations and practices of the Belgian Jesuit Antoine Sucquet with fine emblematic illustrations devised by the great baroque engraver Boetius a Bolswert (c. 1580-1633), called by Praz 'the illustrator of the sentimental and ecstatic states of the soul'. Boetius a Bolswert's exquisite refinement gives here, again in Praz' words, views of Hell and glimpses of Heaven. Man's worse drives are iconized in satyrs, ghouls, harpies, werewolves, semi-human lizards, his progress towards eternal life ever hindered by the multifarious and rapacious beast within. With his brother Schilte, Boetius was among the most sensitive and felicitous engravers to render Rubens' drawings. Sucquet's emblem book was extremely successful, with 177 editions in Latin within a decade, and many vernacular translations.

Brunet V, 577; De Backer-Sommervogel, VII, col 1690, no. 1; Praz, p. 506.
You may also be interested in...
MARKHAM, Gervase.
Markhams Maister-Peece, containing all Knowledge belonging to the Smith, Farrier, or Horse-Leech, touching the Curing of all Diseases in Horses, drawne with great Paine, and most approved Experience, from the publick Practise of all the forraigne Horse-Marshals in Christendome, and from the private Practise of all the best Farriers of this Kingdome, being divided into two Books, the first containing all Cures physical, the second all belonging to Chyrurgery, with an Addition of 160 principall Chapters, and 370 most excellent Medicines, never written of nor mentioned in any Author whatsoever, together with the true Nature, Use, and Quality of every simple spoken of through the whole Worke, now the sixt time newly imprinted, corrected, and augmented, with above thirty new Chapters, and above forty new Medicines that are most certaine and approved, and heretofore never published, which you shall finde noted thus, all which never was before made knowne, but concealed in the Authors Breast for his owne Credit.
Sixth edition of the first work on farriery by an Englishman since Blundeville's translation of Grisone. Published after his Discourse of Horsemanshippe (1593) and Cavelarice (1607), Gervase Markham (1568?-1637) likely wrote Maister-Peece (1610) to satisfy a popular demand for a work on cures for horses, though much of the material is unscrupulously drawn from Blundeville. Markham's prolific output of equestrian books, many covering similar subjects, led some to suggest he was writing purely for profit, Smith to dismiss him as a charlatan, and the Stationers' Company to force from him an agreement 'hereafter never to write any more book or books to be printed of the deseases or Cures of any Cattle, as Horse, Oxe, Cowe, Sheepe, Swine, Goates etc.'.
[WOEIRIOT de Bouzey, Pierre (engraver).] CLÉMENT de Treille, Nicolas.
Austrasiae reges et duces epigrammatis.
First edition of a scarce collection of portrait medallions of the kings of Austrasia and dukes of Lorraine, from Theuderic I to Charles III. A native of Lorraine, Pierre Woeiriot de Bouzey (1531–1596) practised as a goldsmith in Lyons before moving into painting and sculpture and becoming one of the most important engravers in sixteenth-century France. The sixty-three splendid portrait medallions in the present work are testament to Woeiriot's subtle attention to detail and finish, qualities also shown in his medals of Catherine de' Medici, Simon Costière, and Charles III of Lorraine (1572). He executed the present plates, of which many are likely derived from coinage and commemorative medals, around 1572-3: the dedication is dated 1573, but the death of Nicolas Clement delayed publication until 1591 when the manuscript and plates were rediscovered by Sieur de Blondefontaine and published.