ELEGANTLY BOUND
TACITUS, C. Cornelius; Justus LIPSIUS and Hugo GROTIUS (editors).

[Opera] C. Corn. Tacitus ex I. Lipsii editione cum not. et emend. H. Grotii [– Historiarum libri quinque et alia ejusdem quae extant].
Leiden, Elzevir, 1640.
One vol. in 4, 12mo, pp. i: [16], 218, ii: 219-400, iii: [401]-560, iv: 561-746, [16], [2 (blank)]; with folding letterpress table Stemma Augustae domus after p. 400, woodcut initials and ornaments, copper-engraved title and portrait (bound as *1.8), bound without the second final blank; very occasional minimal spotting, tear to table (subtly repaired); nonetheless an excellent set in early nineteenth-century blue straight-grained morocco, borders and spines ruled in gilt, spines lettered directly, board-edges and turn-ins roll-tooled in gilt, edges gilt, marbled endpapers, ribbon page-markers, sewn on 3 sunken cords; shelfmark and collation note initialled 'S.H.' and dated to 1820 to rear endpaper of vol. I, early nineteenth-century bookplate with initials 'F.M.' to upper pastedowns, twentieth-century private collector's bookplate to front free endpaper of vol. I.
£500

Approximately:
US $617
€576
Added to your basket:
[Opera] C. Corn. Tacitus ex I. Lipsii editione cum not. et emend. H. Grotii [– Historiarum libri quinque et alia ejusdem quae extant].
First edition with Grotius's notes, elegantly bound in early nineteenth-century English morocco. Elzevir had published an edition of Lipsius's Tacitus in 1634; Dibdin notes 'Of these elegant little editions [of 1634 and 1640], that of 1640 is preferred, on account of its having the notes of Grotius. It is one of the scarcest of the Elzevir classics.'

Dibdin II, p. 452; Graesse VI, pt ii, p. 9 ('édition jolie très estimée'); Willems 509.
You may also be interested in...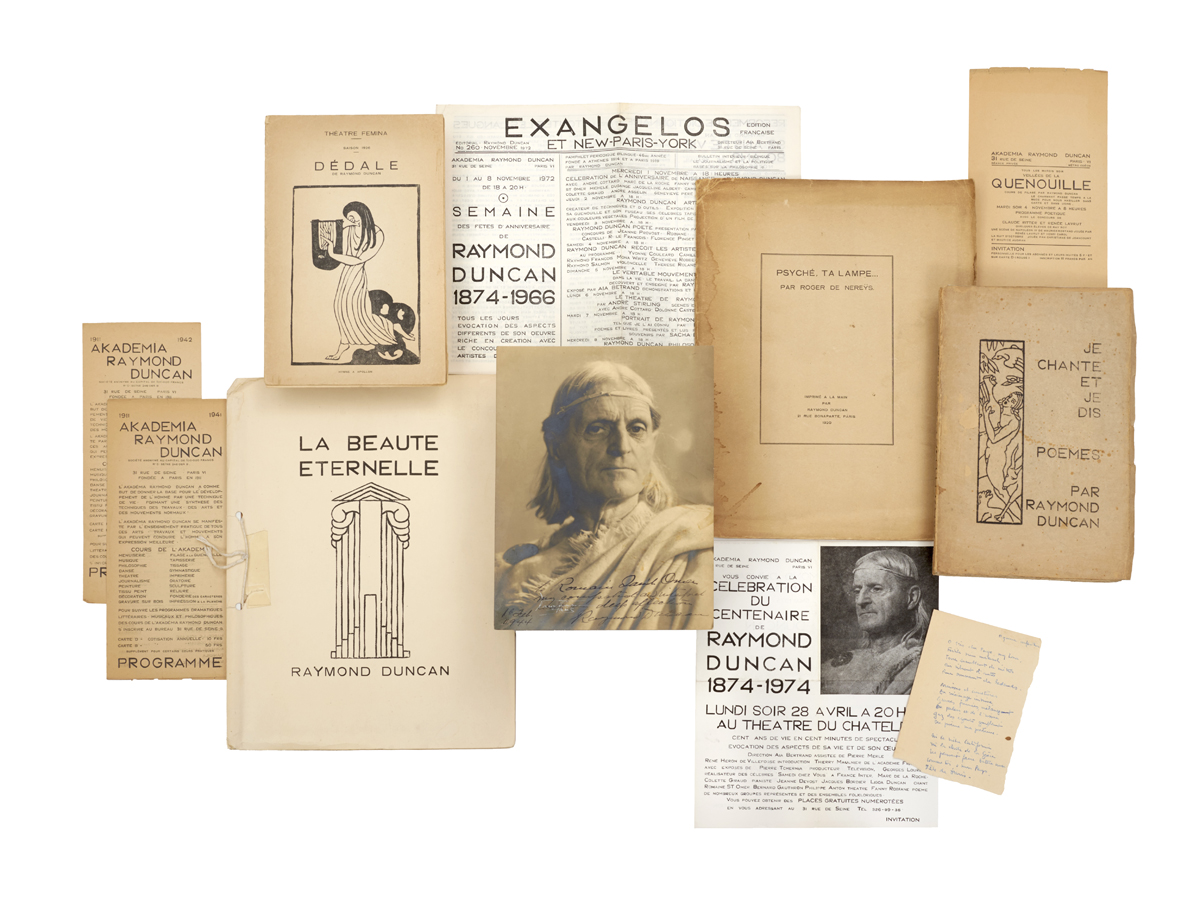 A CALIFORNIAN DANCER AND POET DUNCAN, Raymond. 
A small archive of printed and manuscript material relating to, and printed by, the dancer and poet Raymond Duncan. 
The present archive includes:
ALCHEMY MEETS MECHANICISM [GUYOT, Edme.]
Nouveau sistème du microcosme; ou, Traité de la nature de l'homme: dans lequel on explique la cause du mouvement des fluides; le principe de la cie, du sang et des humeurs; la generation, et les autres operations des parties du corps humain par le Sr. de Tymogue.
First edition. 'The author sought 'openly to re-establish the macrocosm-microcosm system based on the ancient philosophy. He discussed the four elements' and imagined a universal life spirit which 'contained a celestial seed that entered animals through respiration. The reviewer in the Journal [des Sçavans] was well aware that Guyot's work was based on ancient alchemical work, but he felt that Guyot had clarified the earlier works. For instance, Guyot did not believe that the soul excites the voluntary movements by means of the animal spirits. Rather, he argued that excitation is accomplished through a quintessence of the spirit contained within the globules of the blood, which can expand and contract, thereby affecting the muscular fibres. In short, this odd work was pictured by the Journal's reviewer as wedding the mystical world of Renaissance cosmology with that of the mechanist' (A.G. Debus, The French Paracelsians (Cambridge, 2002), p. 205).