ROMAN PRESENTATION BINDING BY ANDREOLI
TACITUS, C. Cornelius. (Marcus Zuerius van BOXHORN, editor).
[Opera] Quæ exstant.
Amsterdam, Caspar Commelin, 1664.
12mo, pp. [12], 767, [45], with folding letterpress table (Stemma Augustæ domus); additional copper-engraved title; worming to lower outer corner of quire B, not affecting text; a very good copy in contemporary Roman red morocco gilt by Andreoli, with Pamphili arms to each board, spine richly gilt in compartments, lettered directly, edges gilt; very little surface rubbing, shallow cracking to spine; ink library stamp of 'Libraria Colonna' to both titles; front free endpaper inscribed 'Philippus H. Howard ex dono Patris, Romæ 1819'; twentieth-century private collector's bookplate to front pastedown.
£1250

Approximately:
US $1730
€1441
Added to your basket:
[Opera] Quæ exstant.
Later edition of the complete works of Tacitus edited by Boxhorn, in a fine presentation binding by Gregorio and Giovanni Andreoli, the leading binders in Rome from around 1655 until 1699. Though dubbed the 'Rospigliosi bindery' by Hobson after one of its principal patrons (Cardinal Giulio Rospigliosi, later Clement IX), the workshop is known to have bound for the most prominent noble and papal families of the seventeenth century, including the Colonnas, the Medici, the Borghese, Queen Christina of Sweden, and Alexander VII, who is reported to have appointed Gregorio Andreoli 'Vatican Binder for life' in 1665.

With the Pamphili arms tooled to each board, the present example was most likely bound for Camillo Pamphili (1622–1666), Prince of San Martino al Cimino, before passing into the well documented library of his son Cardinal Benedetto Pamphili (1653–1730), patron of art and music, and Vatican librarian. 'Bibliophile and, one could say, "bibliophagist"' (Mercantini), Benedetto's acquisition of books, as of art, was voracious, gathering from around Europe some nine thousand volumes, for which the architect Carlo Fontano was commissioned to build a library and Carlo Nunzio Lulier was employed to serve as librarian. With the death of his heir Girolamo Pamphili in 1761, Benedetto's collection was transferred to the Colonna family.

Shortly after the dispersal of the Colonna library by auction in the second decade of the nineteenth century, the present Tacitus was acquired in Rome and given to the eighteen-year-old Philip Henry Howard (1801–1883) by his father, the antiquary Henry Howard (1757–1842). From the Howard family of prominent English Roman Catholics, Henry Howard spent much of his youth on the continent while unable to obtain a commission in the English army on account of his recusancy. Both he and his son benefited from his advocacy of Catholic relief: in 1795 he was finally accepted to the 1st York militia with the rank of captain, and Philip Henry Howard was elected Member of Parliament for Carlisle in 1830, only a year after this was permitted by the passage of the Relief Act.

Nijhoff V, col. 77; for a study of the Andreoli bindery, cf. Foot, Henry Davis Gift I, pp. 323-336; for an account of Cardinal Benedetto Pamphili's library, cf. Mercantini, '"Fioriscono di splendore le due cospicue Librarie del signor cardinal Benedetto Pamfilio": studi e ricerche sugli Inventari inediti di una perduta Biblioteca' in The Pamphilj and the Arts: Patronage and Consumption in Baroque Rome (2011), pp. 211-230.
You may also be interested in...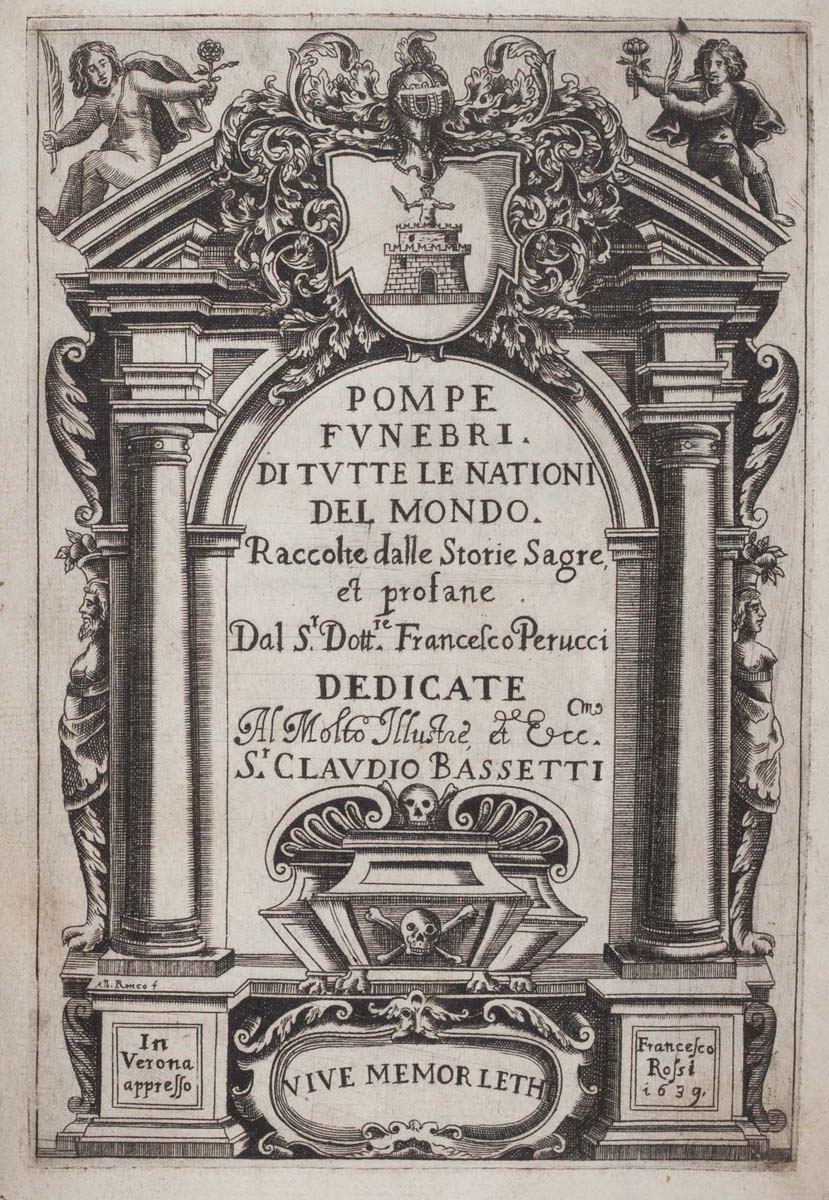 FROM THE LOST LOGIE LIBRARY OF WALTER BOWMAN PERUCCI, Francesco.
Pompe funebri di tutte le nationi del mondo, raccolte dale storie sagre et profane.
First edition of Perucci's extensively illustrated account of funeral practices, inscribed by a Scottish antiquary and documented book collector. A fellow of the Society of Antiquaries and later the Royal Society, Walter Bowman (1699–1782) travelled extensively over the course of five decades in Italy, where this book was most likely acquired, studying at the University of Padua for two years and accompanying Samuel Rolle, Simon Harcourt, and Francis Seymour-Conway as tutor on grand tours; his remarkably detailed notes on his travels and keen collecting survive, principally in the National Library of Scotland and the Biblioteca nazionale in Florence.
TURKISH GRAMMAR WITH DIALOGUES AND FABLES COMIDAS DE CARBOGNANO, Cosimo.
Primi principi della gramatica Turca ad uso dei missionari apostolici di Costantinopoli ...
The first complete Ottoman Turkish grammar published in Italian, compiled by the Catholic Armenian dragoman Cosimo Comidas de Carbognano (translator to Count de Ludolf, minister of the Two Sicilies to the Ottoman Porte in the late eighteenth century) and published by the Sacra Congregatio de Propaganda Fide. This grammar was written for the use of Franciscan missionaries in Istanbul, who sought to convert the Greek, Armenian, and Jewish residents of the city, as imperial edict banned them from proselytising Muslims.