ROMAN PRESENTATION BINDING BY ANDREOLI
TACITUS, C. Cornelius. (Marcus Zuerius van BOXHORN, editor).
[Opera] Quæ exstant.
Amsterdam, Caspar Commelin, 1664.
12mo, pp. [12], 767, [45], with folding letterpress table (Stemma Augustæ domus); additional copper-engraved title; worming to lower outer corner of quire B, not affecting text; a very good copy in contemporary Roman red morocco gilt by Andreoli, with Pamphili arms to each board, spine richly gilt in compartments, lettered directly, edges gilt; very little surface rubbing, shallow cracking to spine; ink library stamp of 'Libraria Colonna' to both titles; front free endpaper inscribed 'Philippus H. Howard ex dono Patris, Romæ 1819'; twentieth-century private collector's bookplate to front pastedown.
£1250

Approximately:
US $1706
€1403
Added to your basket:
[Opera] Quæ exstant.
Later edition of the complete works of Tacitus edited by Boxhorn, in a fine presentation binding by Gregorio and Giovanni Andreoli, the leading binders in Rome from around 1655 until 1699. Though dubbed the 'Rospigliosi bindery' by Hobson after one of its principal patrons (Cardinal Giulio Rospigliosi, later Clement IX), the workshop is known to have bound for the most prominent noble and papal families of the seventeenth century, including the Colonnas, the Medici, the Borghese, Queen Christina of Sweden, and Alexander VII, who is reported to have appointed Gregorio Andreoli 'Vatican Binder for life' in 1665.

With the Pamphili arms tooled to each board, the present example was most likely bound for Camillo Pamphili (1622–1666), Prince of San Martino al Cimino, before passing into the well documented library of his son Cardinal Benedetto Pamphili (1653–1730), patron of art and music, and Vatican librarian. 'Bibliophile and, one could say, "bibliophagist"' (Mercantini), Benedetto's acquisition of books, as of art, was voracious, gathering from around Europe some nine thousand volumes, for which the architect Carlo Fontano was commissioned to build a library and Carlo Nunzio Lulier was employed to serve as librarian. With the death of his heir Girolamo Pamphili in 1761, Benedetto's collection was transferred to the Colonna family.

Shortly after the dispersal of the Colonna library by auction in the second decade of the nineteenth century, the present Tacitus was acquired in Rome and given to the eighteen-year-old Philip Henry Howard (1801–1883) by his father, the antiquary Henry Howard (1757–1842). From the Howard family of prominent English Roman Catholics, Henry Howard spent much of his youth on the continent while unable to obtain a commission in the English army on account of his recusancy. Both he and his son benefited from his advocacy of Catholic relief: in 1795 he was finally accepted to the 1st York militia with the rank of captain, and Philip Henry Howard was elected Member of Parliament for Carlisle in 1830, only a year after this was permitted by the passage of the Relief Act.

Nijhoff V, col. 77; for a study of the Andreoli bindery, cf. Foot, Henry Davis Gift I, pp. 323-336; for an account of Cardinal Benedetto Pamphili's library, cf. Mercantini, '"Fioriscono di splendore le due cospicue Librarie del signor cardinal Benedetto Pamfilio": studi e ricerche sugli Inventari inediti di una perduta Biblioteca' in The Pamphilj and the Arts: Patronage and Consumption in Baroque Rome (2011), pp. 211-230.
You may also be interested in...
VERLAINE, Paul, and Léon LEBÈGUE (illustrator).
Fêtes gallantes.
Limited edition on vélin teinté d'Arches, numbered 430 of 500 copies, with etchings by Lebègue. First published in 1869, Verlaine's Fêtes gallantes are here exquisitely printed and illustrated by Léon Lebègue (1863 – 1944) and finely bound by Flammarion.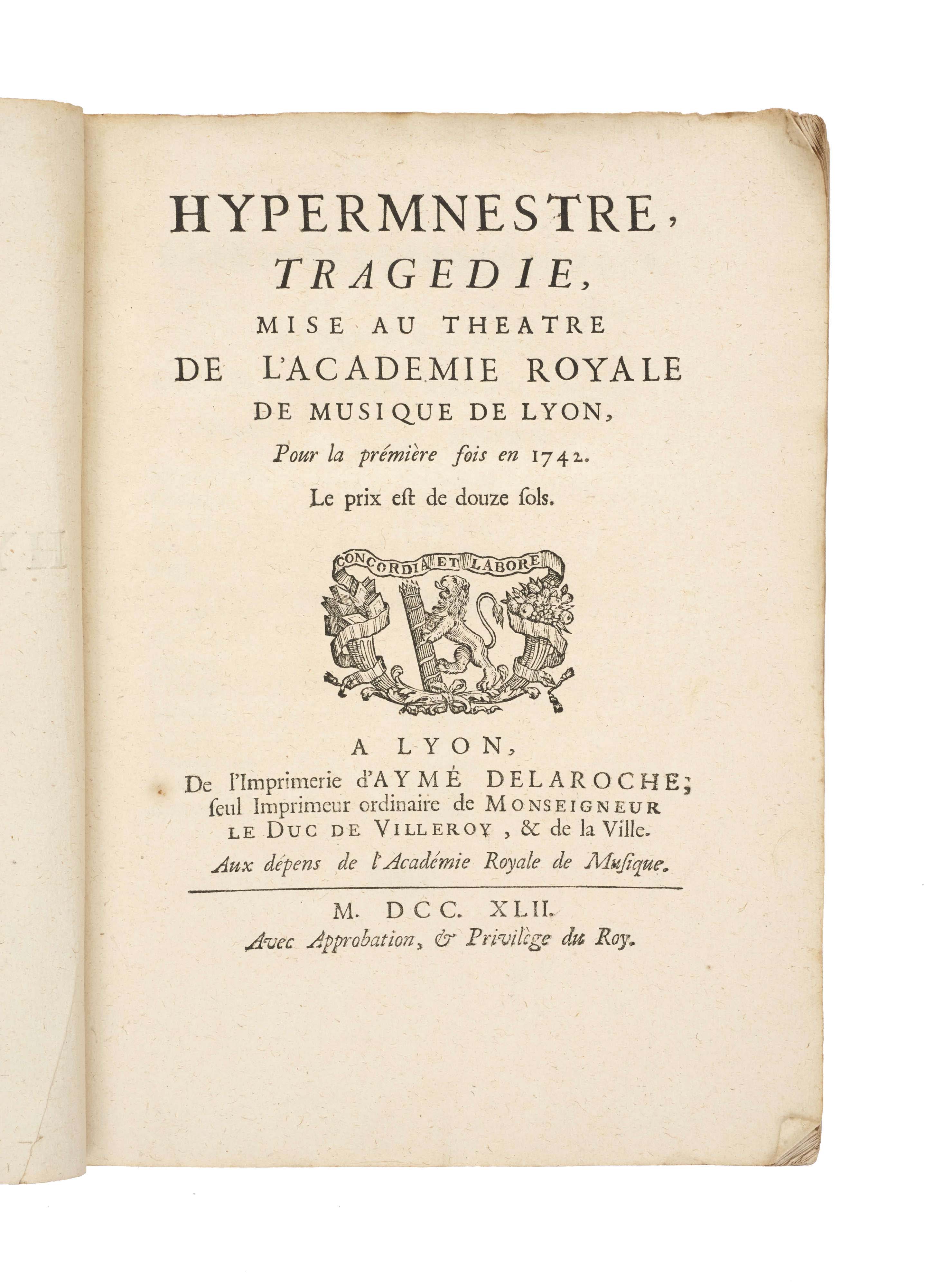 [LAFONT, Joseph de.]
Hypermnestre, tragedie, mise au theatre de l'Academie Royale de Musique de Lyon, pour la prémière fois en 1742. Le prix est de douze sols.
Very scarce Lyon edition of the libretto for the tragedy Hypermnestre by the French playwright Joseph de Lafont (1686-1725). First performed in 1716, with music by Charles-Hubert Gervais, the play was initially criticised for its fifth act, but after rewriting by abbé Simon-Joseph Pellegrin enjoyed considerable success both with the public and at court. Lafont died at the age of 39, succumbing to his affection for wine.
In 1742 Hypermnestre was performed for the first time at the Royal Academy of Music in Lyon, and this edition gives the names of the singers, actors and actresses who performed. The title role was played by Mlle Louise Jacquet (b. 1722) who began her singing career at the Paris Opera in 1738 and subsequently moved to Aix-en-Provence. An attractive portrait of her was painted by Jean-Etienne Liotard.
In Greek mythology, Hypermnestra was one of the fifty daughters of Danaus, king of Argos, who defied her father by refusing to kill her husband Lynceus.
We have traced only 3 copies, at the BnF, BM Lyon, and the Library of Congress.