TEMPESTA'S ENGRAVINGS CYCLE
TASSO, Torquato.
Il Goffredo overo Gierusalemme liberata del sig. Torquato Tasso. Con le figure intagliate in rame dal Tempesta.
Rome, Filippo de Rossi, 1657.
12mo, pp. [xvi], 521, [1]; woodcut cartouche title, 21 full-page engravings by Tempesta, head- and tail-pieces; small marginal loss to the upper corner of title, not touching text or woodcut, else a very good, clean, unsophisticated copy in contemporary vellum, ink titling to spine, edges sprinkled blue; bookplate of Eric Underwood (1912–1952, Oxon., Christ Church), a barrister, an advocate of Anglo-American relations, and a journalist who wrote under the pseudonym of Peter Simple.
£400

Approximately:
US $551
€472
Added to your basket:
Il Goffredo overo Gierusalemme liberata del sig. Torquato Tasso. Con le figure intagliate in rame dal Tempesta.
Attractive copy of the 1657 illustrated pocket Gerusalemme Liberata, reprinting the successful Rome edition of 1607. It includes Tasso's Allegoria del poema, printed as introduction to the poem, and is enlivened throughout by one of the famous cycles of engravings produced by Tempesta.

Tasso's epic poem first appeared in 1581, portraying a real (albeit with large additions of fictional and fantastical elements) conflict between Christians and Muslims, thus resonating with contemporary readers at a time when the Ottoman Empire was advancing through Eastern Europe. Its engaging combination of warship, the erotic and the exotic was vastly successful, with scenes borrowed in all arts throughout. In England, Edmund Spenser honoured Tasso as an 'excellente poete' and employed elements from the poem in The Faerie Queene. The Liberata was also a source for Milton's portrayal of Satan and the demons in the first two books of Paradise Lost.

See Gamba, 948. IT\ICCU\LO1E\002036.
You may also be interested in...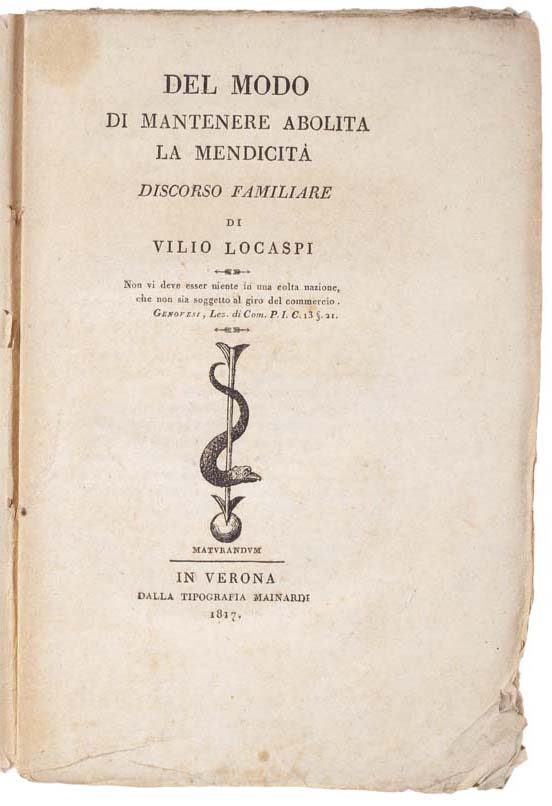 THE ABOLITION OF POVERTY [PASCOLI, Livio.] 'Vilio LOCASPI'.
Del modo di mantenere abolita la mendicità, discorso familiare.
Only edition, very rare, of this proposal for the abolition of begging, and of poverty more broadly, by the poet and essayist Livio Pascoli.
FUHRMANN, Ernst.
China. Erster Teil: Das Land der Mitte.
First edition of two of the most celebrated works on Chinese religious architecture, published as volumes IV and V of Geist, Kunst und Leben Asiens, with hundreds of pictures of temples and Buddhist sculptures, some of which are now lost. The second volume deals in particular with the Lingyan Temple complex (靈巖寺), a Buddhist temple located in Changqing District, Jinan, and one of the main temples in China during the Tang and Song dynasties, famous for its Thousand Buddha Hall which houses forty painted clay life-size luohan statues from the Song dynasty.