RECOMMENDED BY JOHNSON
THICKNESSE, Philip.
A year's journey through France, and part of Spain . . . The second edition with additions.
London, William Brown, 1778.
Two vols., 8vo, pp. [xiv], [ii], xv-xix, 352; [ii], 316; with engraved frontispieces and eight plates, one folding, and one folding plate of music bound as two plates; some offsetting from the frontispieces, but a very good copy in contemporary speckled calf, spines delicately gilt, a bird motif in the compartments, red and green morocco spine labels; lightly rubbed, spines slightly faded; from the library of Ian Robertson (1928–2020).
£450

Approximately:
US $551
€523
Added to your basket:
A year's journey through France, and part of Spain . . . The second edition with additions.
Second, expanded edition, a subscriber's copy; first published the previous year. 'Disappointed in the expectation of falling heir to some property . . . [and] "driven out of his own country with eight children in his train," [Thicknesse] removed himself to Spain, where he thought he could live more cheaply than in England. This trip employed him until November, 1776, and produced the above book' (Cox). Although largely devoted to France, part of Thicknesse's idiosyncratic work describes his travels in Spain, which took him from La Junquera to Montserrat via Gerona and Barcelona. 'The travellers excited much attention . . . since their pet monkey, Jacko, insisted on riding postilion, dressed in a red jacket and boots. The family were made especially welcome by the monks at the hermitages and convent of Montserrat, where they also enjoyed the botanical richness of the landscape' (Oxford DNB). Boswell records that Samuel Johnson recommended the book to him on 3 April 1778.

Philip Thicknesse (1719–1792) has been described as 'the most irascible individual within the arena of late eighteenth-century print culture' (Oxford DNB). He travelled throughout his life and wrote widely about his experiences in Georgia, Jamaica and Continental Europe. He was also a friend and patron of Gainsborough, and credited himself with being the original discoverer of the artist's genius.

Provenance: John Loveday (probably the Younger, 1742–1809), lawyer and antiquary, according to a pencilled note ('J L's subscription copy') on verso of front free endpaper (Loveday is listed among the subscribers); Edward, Baron Hawke (1774–1824), with bookplate (pasted over an earlier bookplate); Charles Henry Turner, with bookplate.

Cox I pp. 148–9. See Robertson, Los curiosos impertinentes (1992) p. 185.
You may also be interested in...
[DRESS – SUMPTUARY LAW.]
Ordonnance du Roy pour le reglement & reformation de la dissolution & superfluité qui est és habillemens, & ornamens d'iceux: & de la punition de ceux qui contreviendront à ladicte ordo[n]nance. Publié en Parlement de vingtneufiesme jour de Mars, l'an mil cinq cens quantre vingts trois.
A rare example of one of the early attempts by the French authorities at sumptuary law relating to clothing, prohibiting the wearing of certain types of adornment and dress by the vast majority of the population. Similar prohibitions had been made by Henri III's predecessors, and one of his first acts was to enforce these before proposing more, firstly in 1577 and finally the present ones in 1583; more were issued under Louis XIII in 1629 and 1633, although in all cases (as might be imagined from the repeated attempts) they were barely enforced and hardly observed.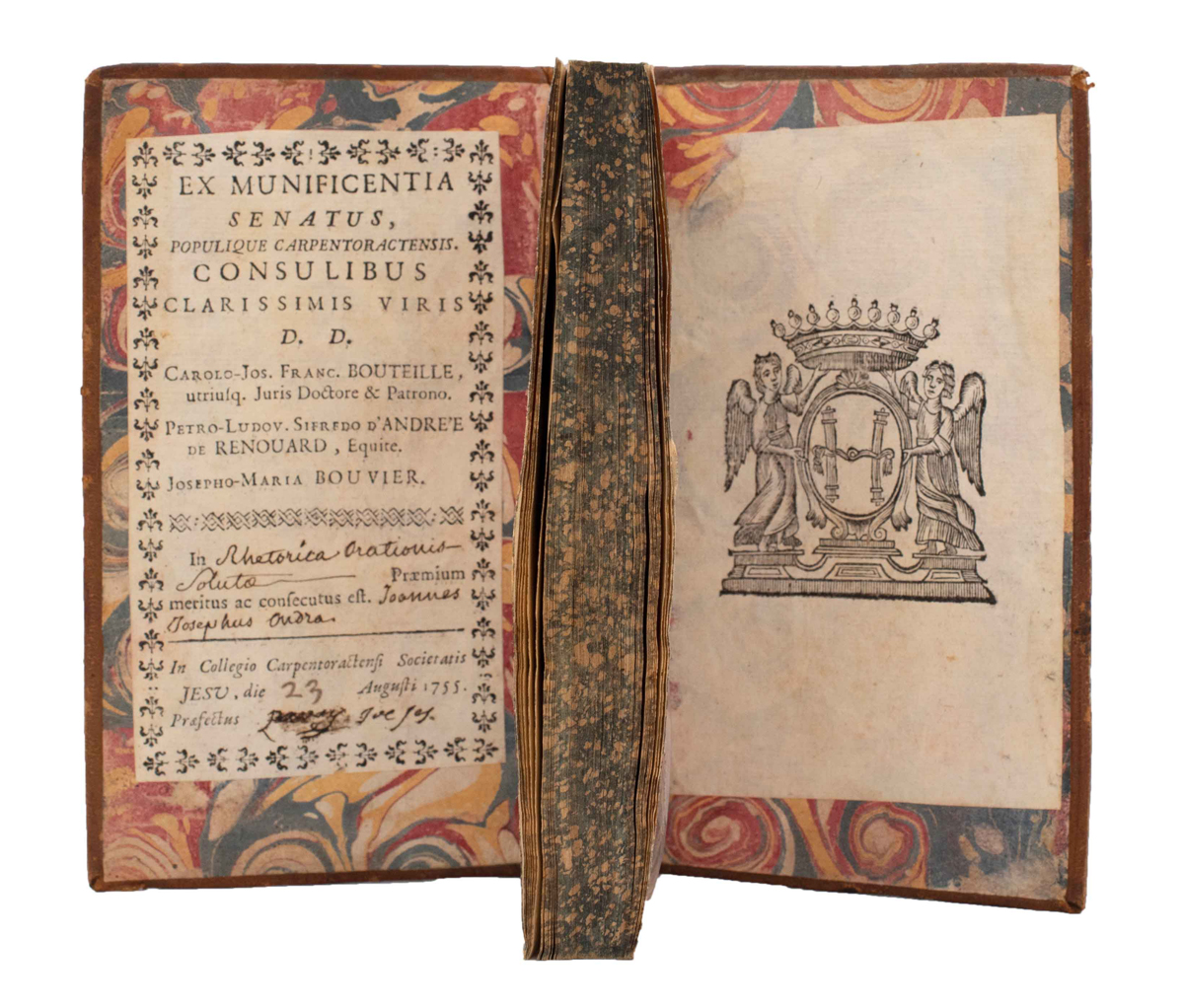 A PRIZED COPY PELLISSON, [Paul]. 
Histoire de l'Academie Françoise par M. Pelisson [sic], nouvelle edition, augmentee des deux discours de M. l'Abé [sic] de St. Pierre sur les travaux de l'Academie. 
An attractive prize copy of Pellisson's history of the Académie française, with a printed presentation label from the Jesuit college in the Occitan town of Carpentras, outside Avignon.