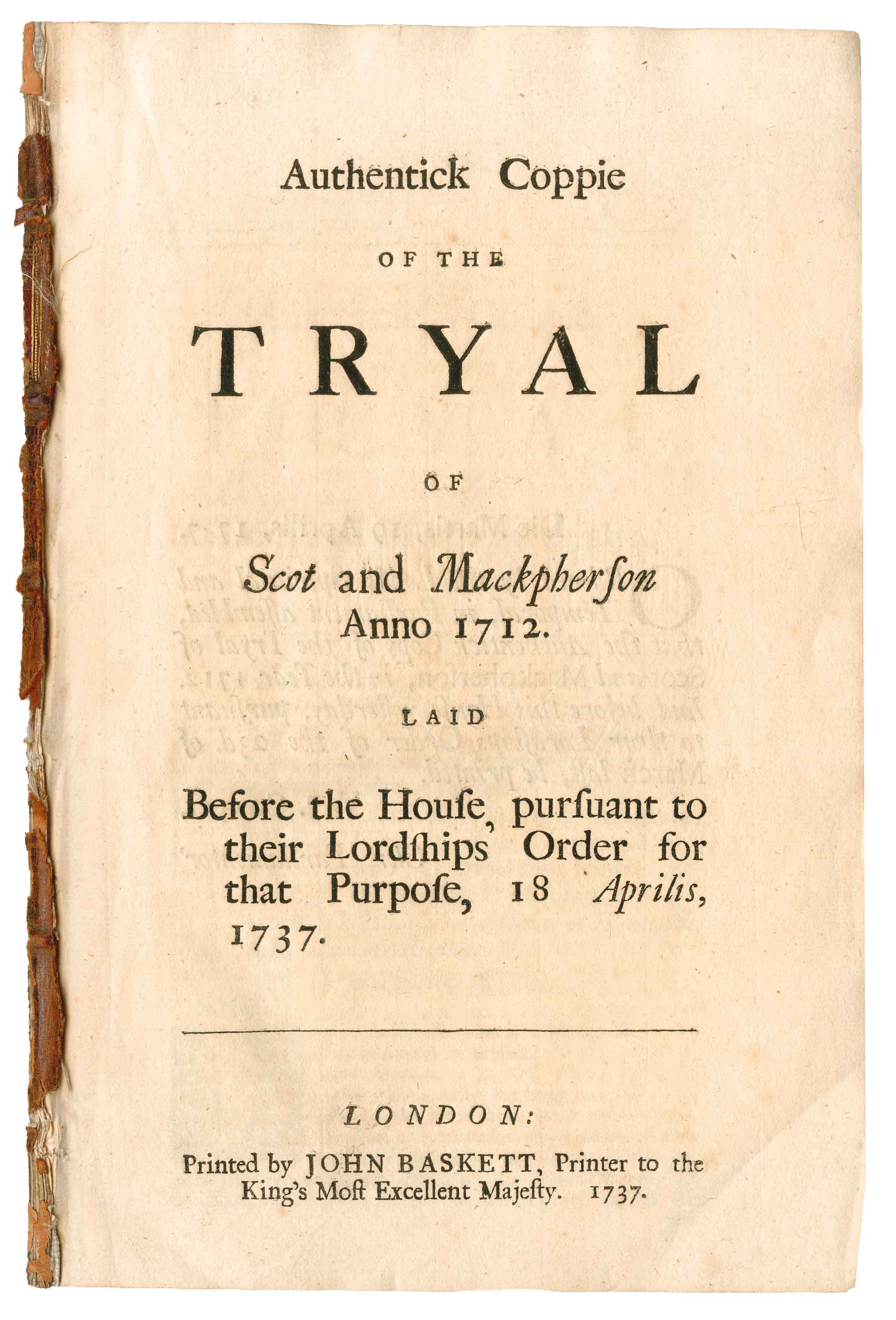 [TRIALS.]
Authentick Coppie of the Tryal of Scot and Mackpherson Anno 1712. Laid before the House, pursuant to their Lordships' Order for that Purpose, 18 Aprilis, 1737.
London: Printed by John Baskett, Printer to the King's Most Excellent Majesty. 1737.
Folio, pp. 33, [1 blank]; fold to lower corner, else a very good copy, disbound from tract volume, remains of leather spine.
£45

Approximately:
US $56
€50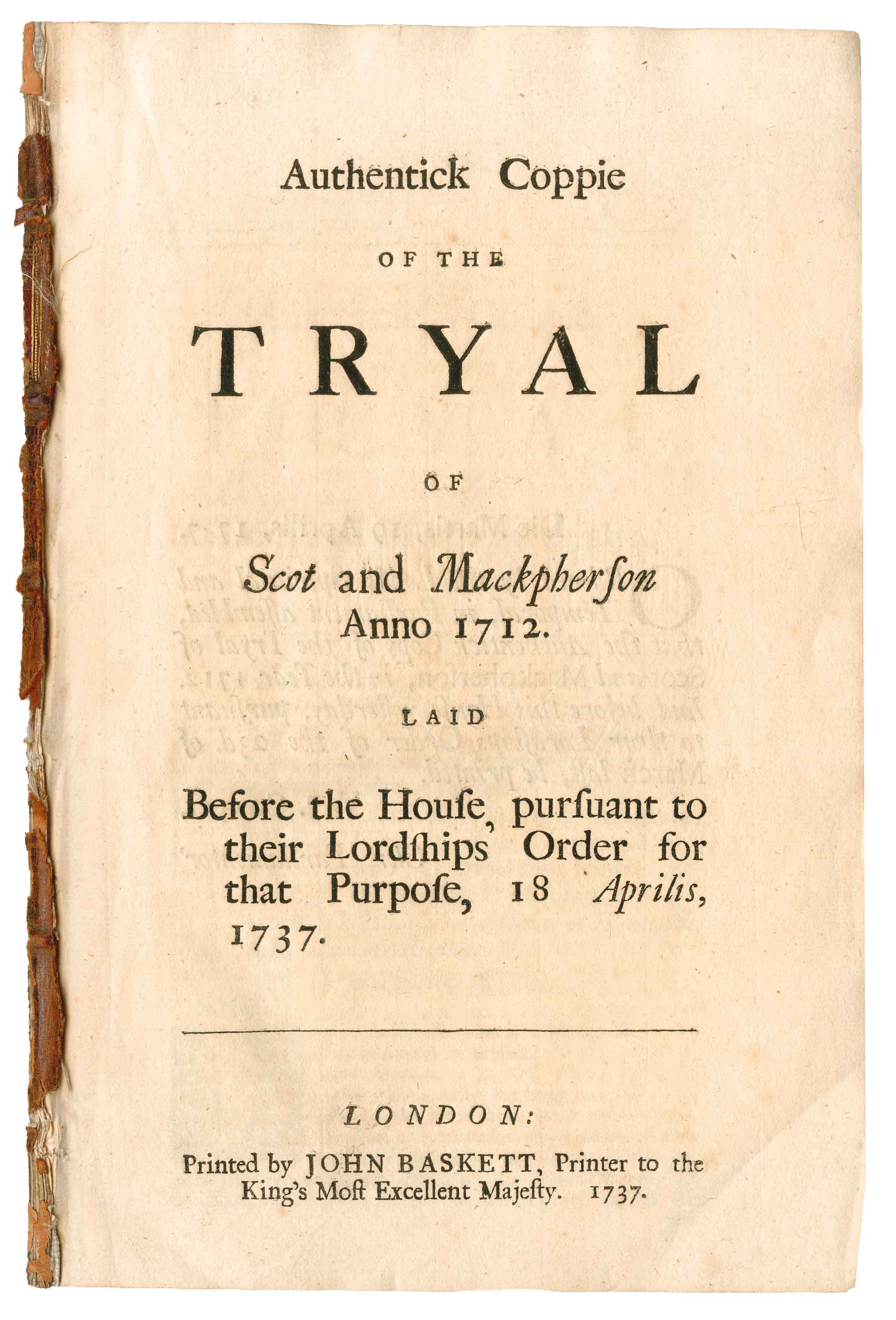 Added to your basket:
Authentick Coppie of the Tryal of Scot and Mackpherson Anno 1712. Laid before the House, pursuant to their Lordships' Order for that Purpose, 18 Aprilis, 1737.
First edition of this London trial of Scottish cattle-rustlers. Donald McPherson, a merchant drover, was driving black cattle from the North of Scotland into England, when he was attacked near the river Tweed by William Laidly, or 'Scot', his brother Walter and their gang. McPherson was dragged backwards from his horse by his hair and severely beaten with horse-whips, and his servant's finger was nearly severed with a shearing hook. The Laidlys proceeded to drive the cattle over rough terrain, laming a number of them.
The prosecutor was James Erskine, Lord Grange. The trial stated that several of the witnesses were unable to speak English, so one of the jurors is asked to translate. His fellow jurors include a watchmaker, a musician and William Paterson, a bookbinder.
You may also be interested in...
ORDINAL.
'Prieres et ceremonies de l'ordination 1766'.
An attractive manuscript ordinal detailing the ceremonies to be followed and the prayers to be employed in ordinations, covering the tonsure, admission to the minor orders of porter, lector, exorcist, and acolyte, and admission to the major orders of subdeacon, deacon, and priest.
Reference to Henri-Joseph-Claude de Bourdeilles (1720-1802), Bishop of Soissons from 1764 to 1790, indicates that our manuscript was employed in the diocese of Soissons, in the north of France.
On the tonsure the text states: 'On prepare des ciseaux pour couper les cheveux et un bassin pour les mettre'. Lectors are instructed by the bishop: 'Appliquez vous donc à prononcer la parole de Dieu, c'est à dire les lectures saintes, d'une maniere distincte et intelligible, et sans aucune alteration ou falsification , afin que les fidéles en soient instruits et édifiés.' And exorcists are told: 'vous recevez donc le pouvoir d'imposer les mains sur les possedés et par l'imposition de vos mains, par la grace du St Esprit, et par les paroles des exorcismes les esprits impurs sont forcés de sortir des corps qu'ils possedoient.'
[GRAY'S INN WINE ESTABLISHMENT].
Printed price list.
An attractive price list for one of our neighbours, the Gray's Inn Wine Establishment, established by George Henekey in the early nineteenth century. An introduction tells us of the improvents and expansions that had been made to the premises to meet the increase in demand, while giving notice of some of the new additions, in particular the Rota Tent communion wine, which had previously 'almost fallen into disuse from the substitution of an article of British manufacture', but was now, thank the Lord, available once more, and supplied to almost all London churches. The price list, divided into wines in wood, wines in bottle, draught wines, French wines, wines of curious and rare quality, spirits of curious and rare quality, and foreign and British spirits, contains some 90 items, and is an unwitting insight into the limits of British trade at the time: the French wine section contains 7 wines, whereas the rest come almost exclusively from Spain, Portugal, and South Africa.
The building, at 23 High Holborn, is now the Cittie of Yorke pub; the cellar room depicted is still in use.