VALENTINELLI, Giuseppe.
Specimen bibliographicum de Dalmatia et agro Labeatium ... pro praefecto Bibliothecae S. Marci Venetiarum.
Venice, typis Caecinianis et soc., 1842.
8vo, pp. [7], 10-126, [2]; title neatly repaired at inner margin, some light foxing, last (blank) page browned; overall good in recent drab wrappers.
£275

Approximately:
US $379
€324
Added to your basket:
Specimen bibliographicum de Dalmatia et agro Labeatium ... pro praefecto Bibliothecae S. Marci Venetiarum.
First edition of this bibliography of works on Dalmatia (Croatia) and Montenegro by the librarian and bibliographer Giuseppe Valentinelli (1805–1874), dedicated to Frederick Augustus II of Saxony.

Valentinelli served as librarian of the Seminario Vescovile in Padua (1837-1841) before moving to the Biblioteca Marciana in Venice, as deputy librarian (1842) and then director (1845). The Specimen was his first bibliographical work, inspired by a visit to the region undertaken two years earlier. Arranged by place name, the detailed entries cover both printed works and manuscripts, in both public and private collections. Valentinelli published further bibliographies on the same region in 1845 and 1855.

OCLC finds 3 copies in the UK (Oxford, Cambridge, London Library) and 4 in the US (Columbia, Indiana, Newberry Library, Wisconsin).
You may also be interested in...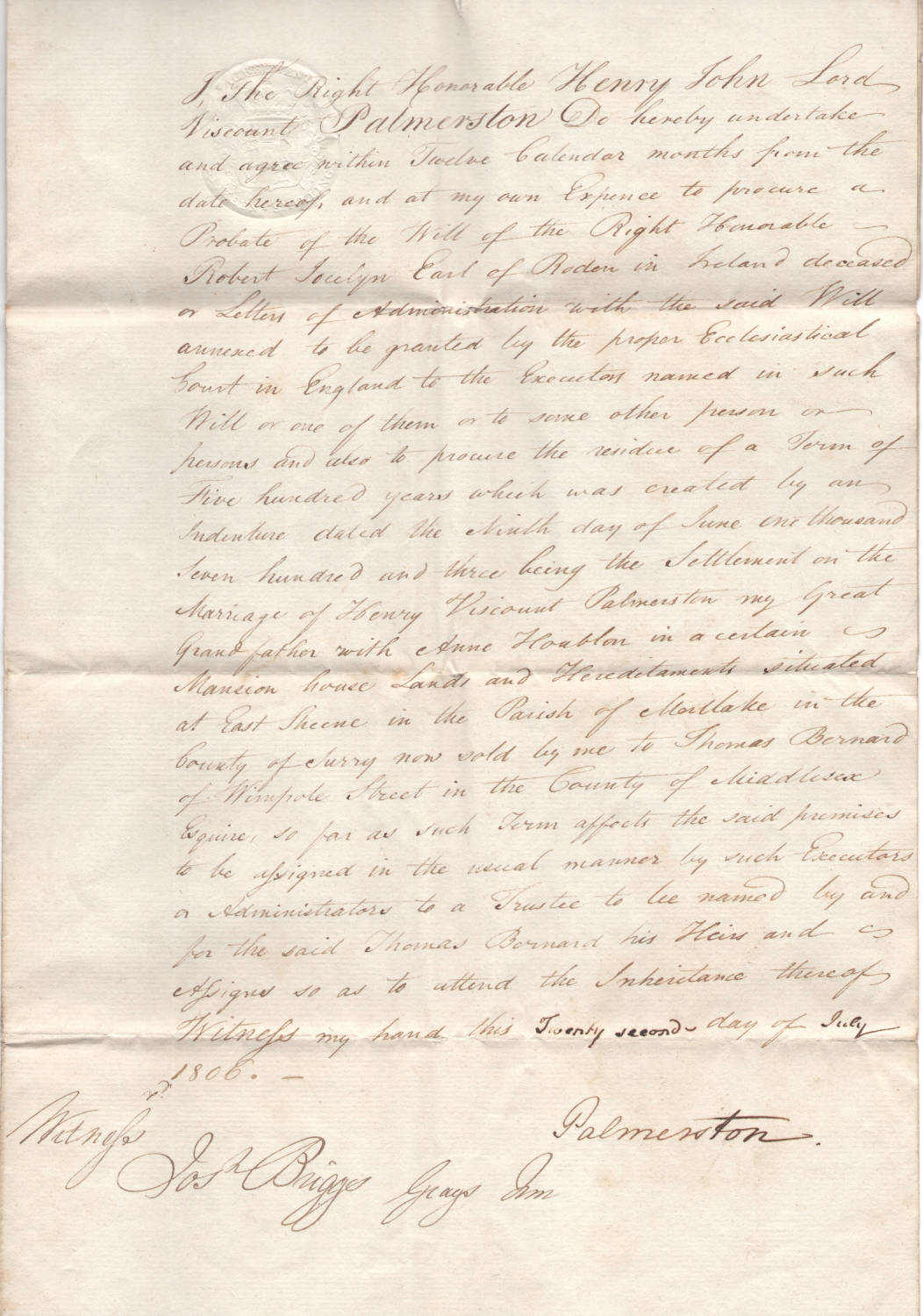 PALMERSTON, Henry John Temple, third Viscount.
Signed undertaking to procure an Assignment of Term from the Executors of the Will of the Earl of Roden.
Document signed by the young Palmerston, arising from the sale of his property at East Sheen, near Mortlake, to Thomas Bernard of Wimpole Street in 1805.
PIERTZ, Leonhard (Praes.) and Johann Ernst SCHLERETH (Resp.).
De sacramentis in specie, Eucharistia et Poenitentia quaestiones academicae, quas ad majorem Dei gloriam, praeside R.P. Leonardo Piertz, e Soc Jesu, … Defendendans [sic] suscipiet pro secunda baccalaureatus theologici laurea Joannes Ernestus Schlereth… In auditorio theologico…
A good copy of this rare Würzburg dissertation on the sacraments of the Euchasist and Penance, under the Jesuit professor Leonhard Piertz (1662–1741). The dissertation discusses when the Eucharist was instituted, what verbal formulae are necessary for consecration, whether the Eucharistic sacrifice was for the benefit of the living or the dead, and some of the philosophical questions surrounding the real presence; it then turns to Penance, examining its purpose and limits, and the extent to which it can be considered a public good. The printing is notable for the verso of the title-page, with its ornamental surround to the Sickingen arms.