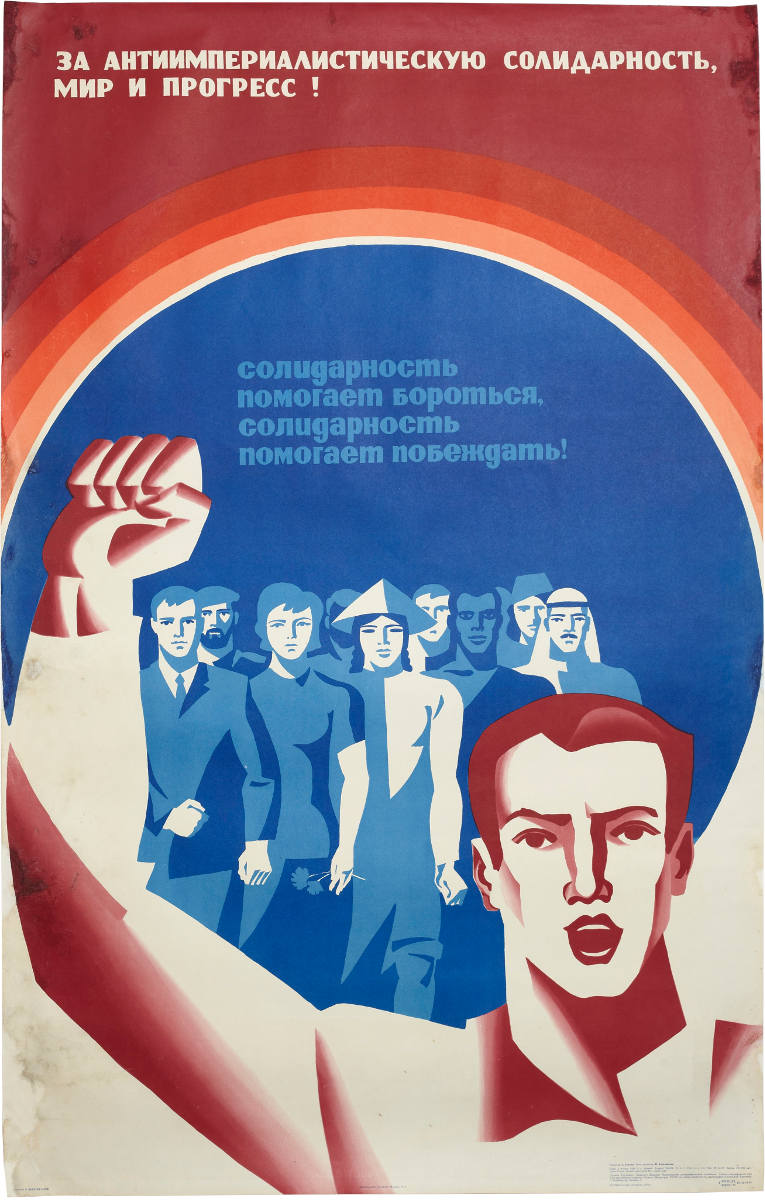 VERTOGRADOV.
За антиимпериалистическую солидарность, мир и прогресс! [For anti-imperialist solidarity, peace and progress!]
Moscow, Izdatelstvo Plakat, 1975.
106 x 67cm, lithographed poster in full colour, backed on linen, restoration to sides, still good (B).
£250 + VAT

Approximately:
US $322
€298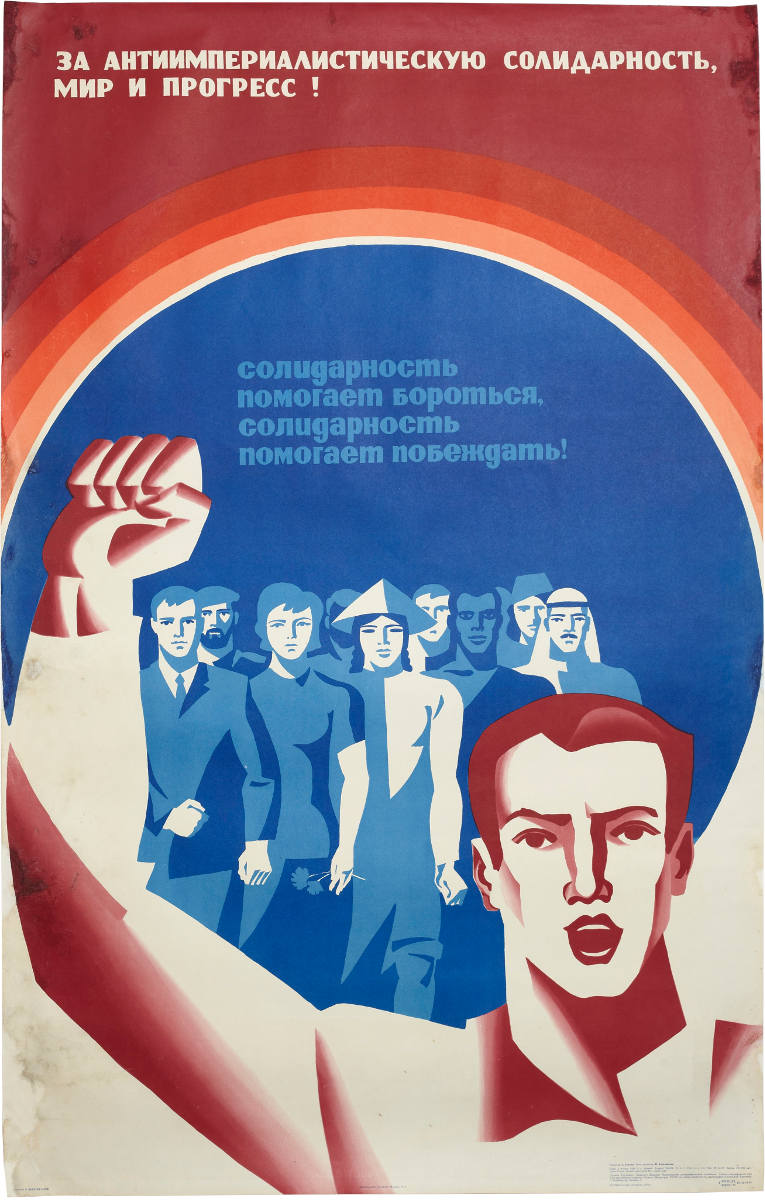 Added to your basket:
За антиимпериалистическую солидарность, мир и прогресс! [For anti-imperialist solidarity, peace and progress!]
A dramatic manifestation of the Soviet Union's claim to be the foremost enemy of imperialism, and a vehement supporter of independence movements throughout the third world, as demonstrated here by the traditional dress of some of the figures in the background.

Intriguingly, in spite of this anti-imperialist profession, the Soviet Union had a fairly antagonistic attitude towards any nations that did not support its aims, suppressing Afghanistan, Eastern Europe, the Baltic States and the Caucasus, as well as offering support to insurgent groups overseas.
You may also be interested in...
[ARP]
County of the Isle of Ely, Public Air Raid Warning.
A very rare survival from the Second World War. During the war, Cambridgeshire and the Isle of Ely were strategic positions as home to 28 airfields for both the RAF and the USAAF. The flat topography, proximity to the coast and continental Europe made it an ideal location for runways and bases.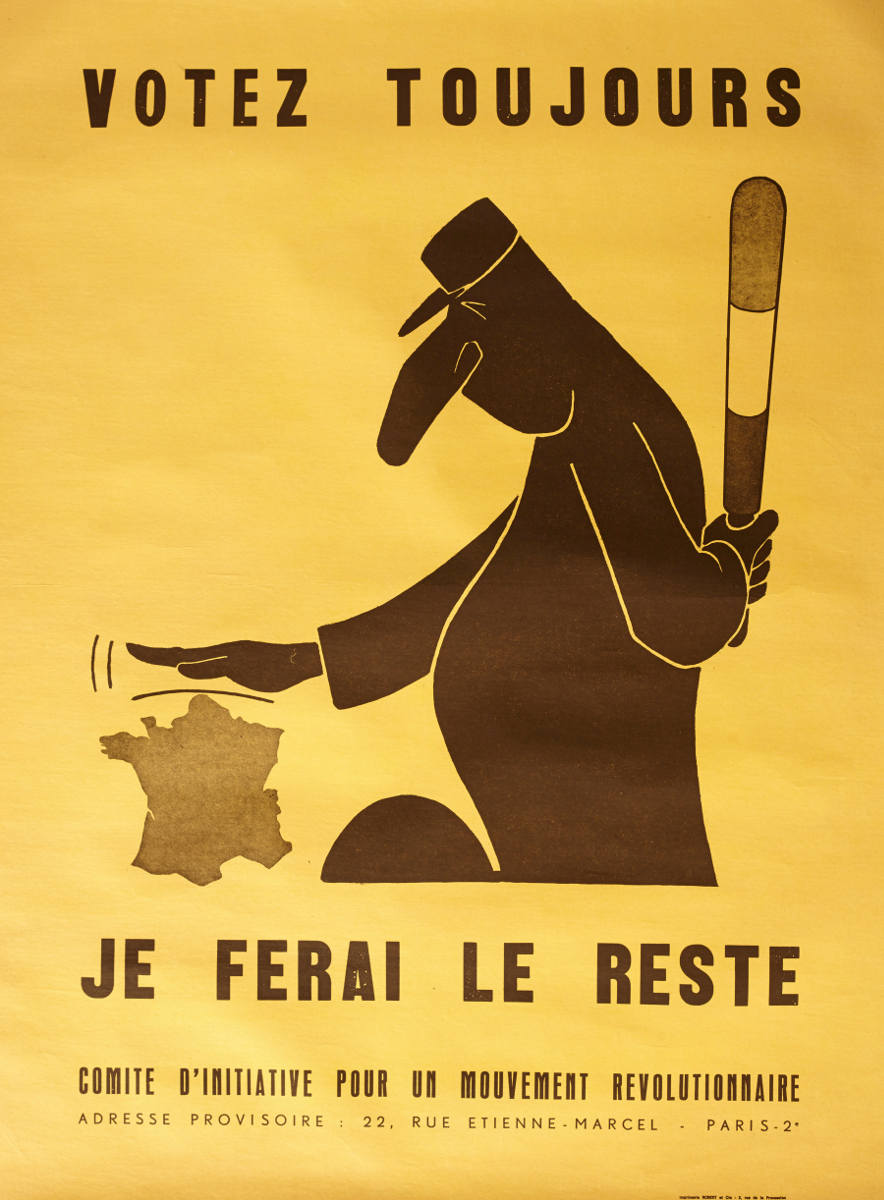 [PARIS UPRISING].
Votez toujours. Je ferai le reste [Always vote. I'll do the rest].
First edition. A striking image of General De Gaulle patting France on the head for obediently voting, a baton cunningly concealed behind him. 1968 was a year when passions were flying high in France. The communist and socialist parties had formed an alliance in February with a view to replacing the De Gaulle administration. The ensuing student occupation protests coupled with wildcat general strikes of over 20% of the French population seriously destablized De Gaulle's government, and for some time it seemed likely that it would fall. Having fled briefly to Germany, however, De Gaulle called elections for June 1968, and emerged with an increased majority.