'ALL OF IT IS BUT A CHRISTMAS LETTER'AGAINST IDLENESS, PRIDE, INTEMPERANCE,LUST, GAMING, SWEA
[VICES.]
An Address to the hopeful young Gentry of England in some Strictures on the most dangerous Vices incident to their Age and Quality … By a perfect Honourer of their Worth.
London, Printed by E. C. for G. Walbanke … 1669.
8vo, pp. [16], '114' [i.e. 141], [3]; small paper flaw in K3 with loss of a few words (supplied in contemporary manuscript), else a very good, crisp copy in contemporary sheep, covers ruled in blind, front joint cracked but cords sound, spine chipped at head and foot.
£1600

Approximately:
US $2206
€1888
Added to your basket:
An Address to the hopeful young Gentry of England in some Strictures on the most dangerous Vices incident to their Age and Quality … By a perfect Honourer of their Worth.
First edition of a very scarce, and immensely engaging, treatise on the vices that might ensnare a young gentleman of the Restoration, whose 'birth was in the midst of busie and tumultuous Times' during the Commonwealth.

In language convolute yet vivid, drawing on sources from Galen to Don Quixote, the author first conjures a vision of the Idle man, like a 'common hackney' ready to hire himself out the next amusement – 'A Play, a Ball, a Mistress, a Glass of Wine'. But there is no idleness in nature: 'That Coloss of Life, the Elephant, has its understanding, strength and service apportioned to its bulk'; likewise the 'Fly and Ant make a supplement to their close dimensions, in their wonderful agility and industry'.

'I do not much admire to see the Theatres crowded with our Idle Spectators; [but] the hours here spent are a tolerable exemption from lewder diversions, and with some obtain the credit of a School discipline … I may not envy the Dramatic Ingeniosos the Empire they here sway over Wit, nor the Models they give of the world … [yet] may the Stage never want a florid Laureat to chastize predominant Vices, and troublesome Follies'. Even so, and supposing 'that every day the Stage brought forth a work as consummat as Father Ben's [Jonson]: Yet I would advize them against their common frequenting Plays'.

As for pride, 'Is it not a splenetic divertisement to behold two Gallants as formally rigged forth, as London, Amsterdam, or Venice can equip them, attaquing each other with a full bearing up to the salute, sometimes veiling down every inch of their sails, streaming out all the loose colours and pendants, and suddenly closing with whole Broadsides of embraces?'. Meanwhile the tyranny of 'Supreme Legislative Fashion' can 'enforce an Uniformity' in dress and behaviour. Under the heading 'Intemperence' there are some graphic evocations of gluttony ('Into an unshapen bulk have we seen many extended, whose parts are as useless to them as if growing in another Countrey; like the unvisited rooms of some great Houses … that Vermin have come to nestle and burrough in the wide tenements of their Flesh'), and a particularly vehement attack on drunkenness, and the violence and loose tongues that tend thence. But perhaps the most vituperative section is that devoted to Lust: 'I want dirt enough to cast on these seeming Viae Lacteae. Who have rubb'd on so exquisite a dealbation, that my very Ink looseth its blacks upon them'. It is unclear if the author means only women who feign innocence to ensnare a man, or whether he believes this is the nature of all women, though he does briefly acknowledge the value of pure conjugal love, and virtuous friendship.

Gamblers are no better, walking by 'with the countenances of those that had just pass'd a Tryal at Bar. The famous Painter Angelo might from their looks have finisht his last Judgment' - their faces bearing 'gulfs of despair' or the 'high spring-tides of exhilient Joy'; they are 'less worthy our commiseration' than 'he that filcheth or robbs on the high-way'. And 'I will joyn to this Quixotry its inseparable Sancho … I mean the Swearing that attends Gamesters'. Which in turn leads inevitably to Atheism, the 'Generalissimo of the Powers of darkness'

Rare. There are two variants, this with 'Walbanke' in the imprint (All Souls, Oxford, only in ESTC, not in Wing), the other with 'Walbancke' (BL, Bodley, Sheffield; Huntington, Clark Library and Yale only in ESTC).

Cf. Wing A565.
You may also be interested in...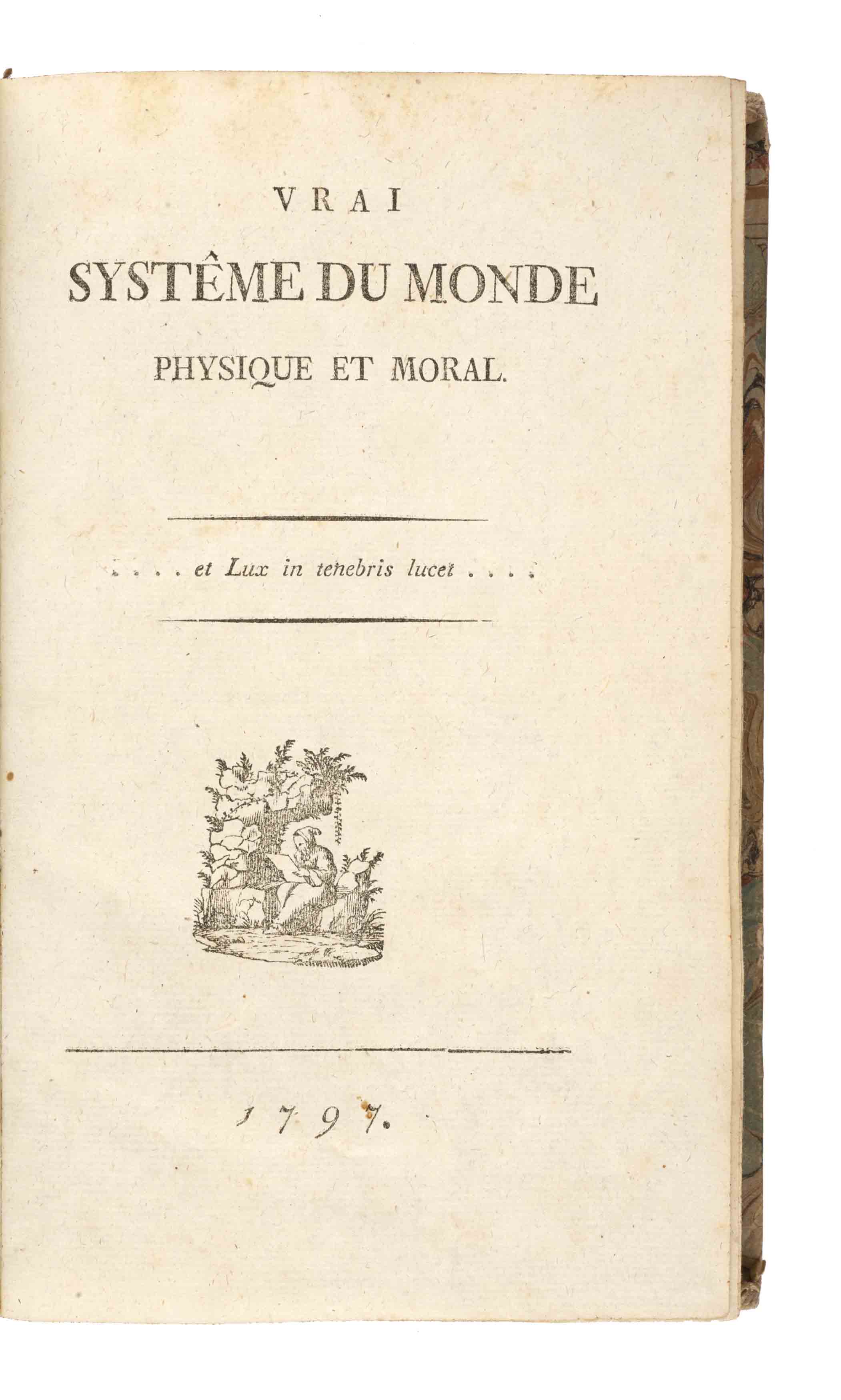 FLORENT DE SALES [pseudonym].
Vrai systême du monde physique et moral. [s.n., s.l., but Switzerland], 1797.
Only edition, rare, of this utopia, the identity of whose author, and even of whose printer, remains unknown.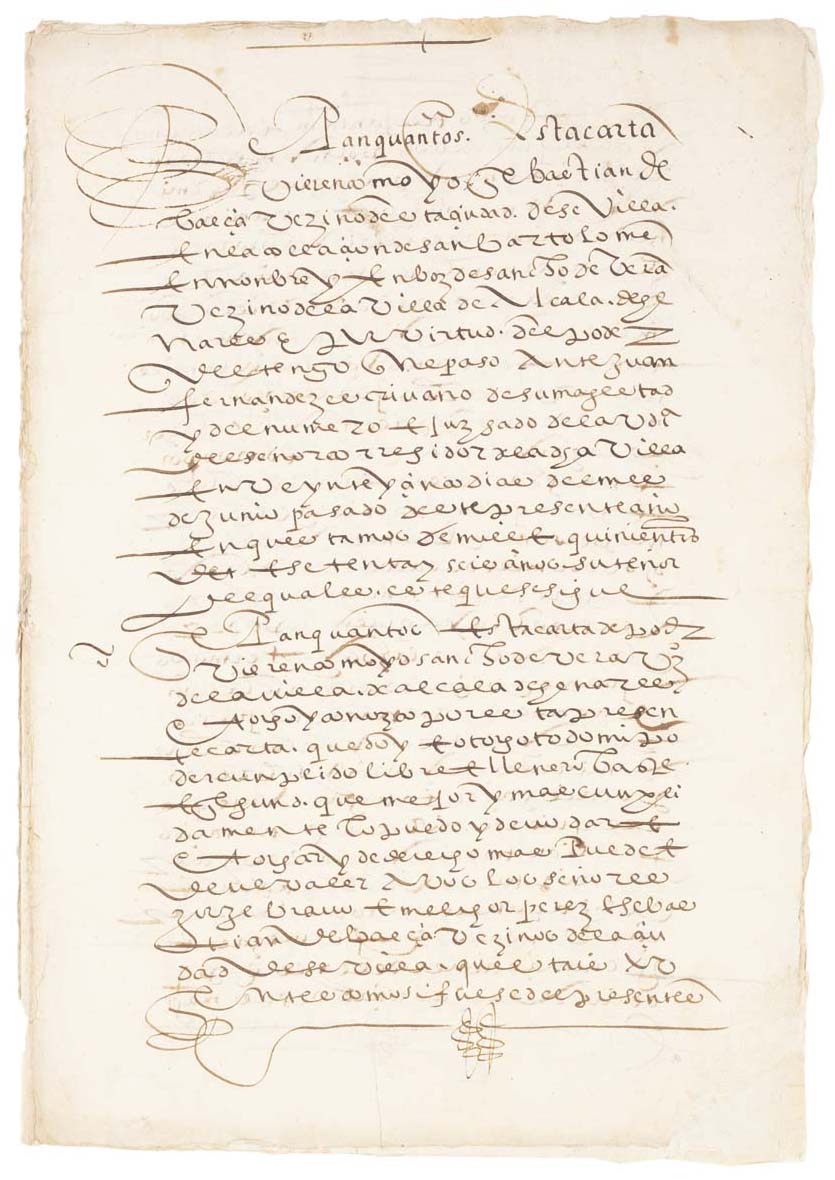 SPANISH TRADE WITH THE INDIES [SEVILLE.]
Mercantile contract between Sebastián de Baeza of Seville and Hernán López de Segovia, almost certainly relating to trade with the Indies.
A commercial document from the heyday of Seville's trade with the Indies. Drawn up for Sebastián de Baeza, a resident of the barrio of San Bartolomé in Seville, the document recapitulates a previous agreement of 25 June 1576 between, on the one hand, Hernán López de Segovia and, on the other, Sebastián de Baeza and two fellow Sevillians, Jorge Bravo and Melchor Pérez de Cervantes (these last apparently in the capacity of witnesses). It is endorsed in a contemporary hand 'la oblig[acion] hizo Sebastian de baeca a Segobia pasada', below which a different hand has written '= Negozios de yndias'.