WITH LETTERS FROM JOHN DONNE
WALTON, Izaak.
The Life of Mr. George Herbert … To which are added some Letters written by Mr. George Herbert, at his being in Cambridge: with Others to his Mother the Lady Magdalen Herbert: written by John Donne …
London: Printed by Tho: Newcomb, for Rich: Marriott, sold by most Booksellers. 1670.
8vo., pp. 146, [2], with an engraved portrait of Herbert (A1v); the title-page is a cancel on a stub; a very good copy in early nineteenth century polished calf by Charles Smith (rebacked) for George Daniel, with his purchase note ('Bought of Thorpe 1843') and a few other inscriptions ('exquisite impression of the portrait' etc), traces of old booklabels removed from endpapers.
£950

Approximately:
US $1343
€1088
First edition, second issue, with a cancel title-page adding mention of the Letters. There are four letters from Donne, one including a sonnet, and a poem at the end by Crashaw. The life, 'a tissue of paraphrase and quotation, more Herbert than Walton' (Oxford DNB), would also appear later in the year in the first collection of Walton's Lives, along with those of Donne, Wotton and Hooker.

Daniel (1789-1864) was a writer and collector of English literature and drama (he owned all four Shakespeare folios and a number of quartos), whose library was sold over ten days in 1864, the books fetching over £14,000. This was lot 1730. Daniel noted that this Life was 'an uncommon book', and it is still so.

Wing W 669; Keynes, Donne, 60; Pforzheimer 1055.
You may also be interested in...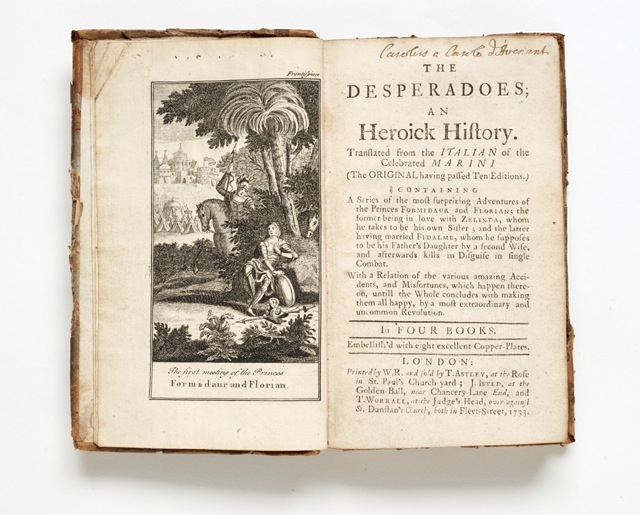 MARINI, Giovanni Ambrogio.
The Desperadoes; an heroick History. Translated from the Italian of the celebrated Marini (the Original having passed ten Editions.) Containing a Series of the most surprizing Adventures of the Princes Formidaur and Florian … In four Books. Embellish'd with eight excellent Copper-Plates.
First and only edition in English of Le gare de' disperati (1644), the second of three romances by Marini (1596-1668). Inevitably, 'It was necessary to omit many Things that were contrary to our Morals; to Decency, and to the Purity of the English Tongue …'. But the general scheme of events is the same as the original, and is outlined on the title-page: 'A Series of the most surprizing Adventures of the Princes Formidaur and Florian; the former being in love with Zelinda, whom he takes to be his own Sister; and the latter having married Fidalme, who he supposes to be his father's Daughter by a second Wife, and afterwards kills in Disguise in single Combat. With a Relation of the various amazing Accidents, and Misfortunes, which happen thereon, until the Whole concludes with making them all happy, by a most extraordinary and uncommon Revolution.'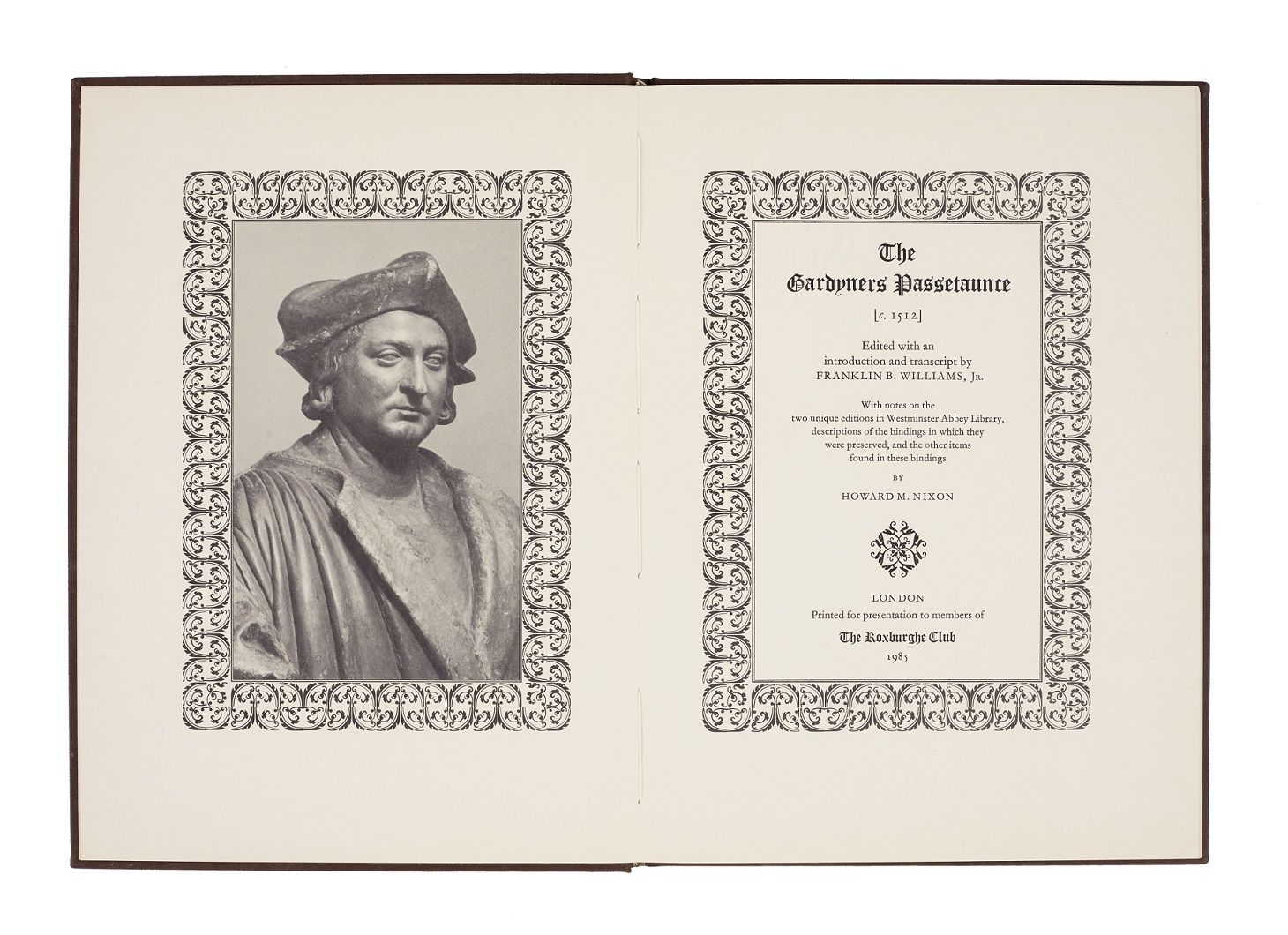 WILLIAMS, Franklin B., ed., with introduction and transcript by.
The Gardyners Passetaunce (c. 1512). With notes on the two unique editions in Westminster Abbey Library by Howard M. Nixon.
The book contains notes on the two unique editions in Westminster Abbey Library, descriptions of the bindings in which they were preserved, and the other items found in these bindings by Howard M. Nixon. I t has an image of a bust of Henry VIII by Torrigiani as frontispiece, facsimiles of the Pynson edition in full and the existing fragments of the Goes edition, images of bindings and other fragments in the text.