[WARREN, Samuel.]
Ten Thousand a-Year.
Edinburgh & London, Ballantyne & Hughes for William Blackwood & Sons, 1841.
3 vols, 8vo, with one plate; half-titles, without final advertisement leaf to vol. III; slight spotting and thumbing in places; a very good set in early 20th-century half red morocco with marbled sides, spines lettered directly in gilt, top-edges gilt, marbled endpapers; slight dust-staining, short split to upper joint vol. I; ink ownership inscription 'James Moffat 1858' with occasional notes
£750

Approximately:
US $1030
€878
Added to your basket:
Ten Thousand a-Year.
First English (and first authorised) edition of an influential legal novel, a satire in which a young upstart, Tittlebat Titmouse, discovers he is worth the massive endowment of the story's title, and must defend himself against a host of avaricious villains of the legal profession bearing equally ridiculous names, such as Bloodsuck, Grizzlegut and, more simply, Grab.

A lawyer at Inner Temple, Warren 'repeatedly tells the reader that the English legal system is close to perfection, but the actual workings of the law in Ten Thousand a-Year/i> paint a more negative picture' (ODNB). An immediate success, Ten Thousand a-Year/i> may have borrowed parts of Dickens's Bardell v. Pickwick case, and in turn Dickens appears to adopt legal characters and imagery from the novel for his later work, Bleak House.

The work was first published serially in Blackwood's Magazine, from 1839 to 1841, and was pirated in Philadelphia in 1840-41, in six slim volumes; the present edition is the first authorised issue of the whole text.
You may also be interested in...
A VISION OF CHRIST AFONSO I, king of Portugal.
Iuramento com que el rey dom Afonso Henriquez confirmou a visao de Christo nosso saluador.
Rare first edition of this account of Afonso I's vision of Christ on the cross on the eve of the Battle of Ourique, with a magnificent narrative woodcut to the title. On 25 July 1139 Afonso defeated Muslim forces under the Almoravid commander Muhammad Az-Zubayr Ibn Umar at Ourique, and was immediately proclaimed as the first king of Portugal.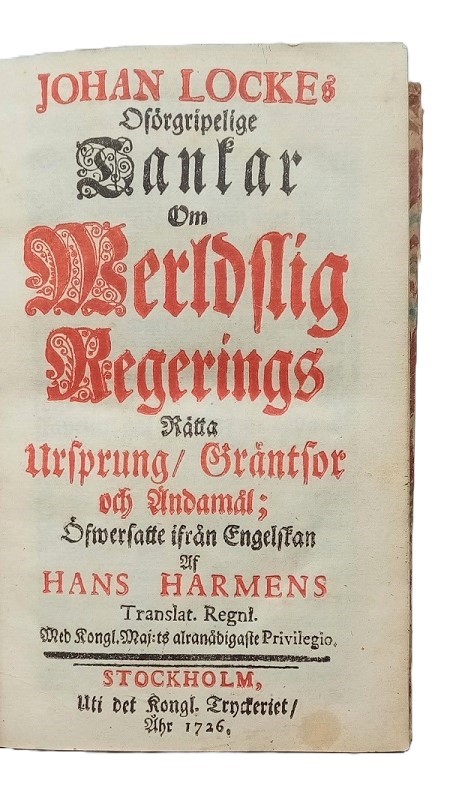 LOCKE, John.
Johan Lockes oförgripelige tankar om werldslig regerings rätta ursprung/gräntsor och ändamål.
First edition in Swedish. The first translation into Swedish of Locke's Two Treatises of Government, this edition – of the Second treatise – was translated, following order of the Swedish Ricksdag, by Hans Harmens from Mazel's 1691 French edition. It was only the second time that any of Locke's work had been translated into Swedish. Significantly, the Ricksdag's interests focussed on the part of Locke's work which addressed the topics of natural rights and the social contract.