[WIDDRINGTON, Samuel Edward, formerly COOK.]
Spain and the Spaniards, in 1843. London, T.
& W. Boone, 1844.
Two vols., 8vo, pp. [ii, advertisements], ix, 436, 8 (advertisements); vii, 398, [2, blank], [4, advertisements]; some minor spotting at the beginning of vol. I, but a very good copy, untrimmed in the original brown cloth; slightly rubbed and stained, cloth split along lower joint of vol. I, spines sunned; from the library of Ian Robertson (1928–2020).
£600

Approximately:
US $669
€682
Added to your basket:
Spain and the Spaniards, in 1843. London, T.
First edition. Samuel Widdrington (1787–1856) had a distinguished career in the Navy, rising to the rank of captain. On retiring from the Navy he took up his interests in botany and mineralogy. He was accompanied for part of the tour described here by the Oxford professor of chemistry and botany Charles Daubeny. The two of them visited Burgos, Madrid, Talavera, Trujillo, Guadalupe, Pueble de Alcocer, Fuenteovejuna, El Pedroso, Seville, Ronda, Marbella, Málaga, Alhama, Granada, Jaén, Valdepeñas, and Aranjuez before returning to Madrid. They then travelled to Valladolid, where they parted company, Widdrington continuing on to León, Oviedo, Ribadeo, Villalba, La Coruña, Santiago, Pontevedra and Vigo. Volume I contains an appendix on geology, the forests of Spain (oak, pine and ash in particular), zoology, ornithology, and agriculture. A final section, 'Hints for travellers', begins by noting that the author 'should have given some directions to travellers in this country in the Appendix, but as a full and elaborate guide-book by Mr. Ford will shortly appear, it is unnecessary, for no doubt that will contain all the requisite information'.

Richard Ford, reviewing the work in the Quarterly, wrote that 'Captain Widdrington did not sit down in his study at home to depreciate objects which he had never seen, nor to dogmatise on subjects which he did not understand, but devoted many years to personal investigation, visiting every site, sketching and measuring every monument. His style portrays the author: while the language is unpretending, concise, and unadorned even to a fault, every page discovers good sense, observation, and earnestness, a love of the beautiful and a single-hearted desire to obtain and impart correct information. His publication details the results of a subsequent visit to the Peninsular after a ten year interval, and like the former, must ever be reckoned among the classical works on Spain'.

Alberich 1124; Palau 375130. See Robertson, Los curiosos impertinentes (1992) pp. 120–7.
You may also be interested in...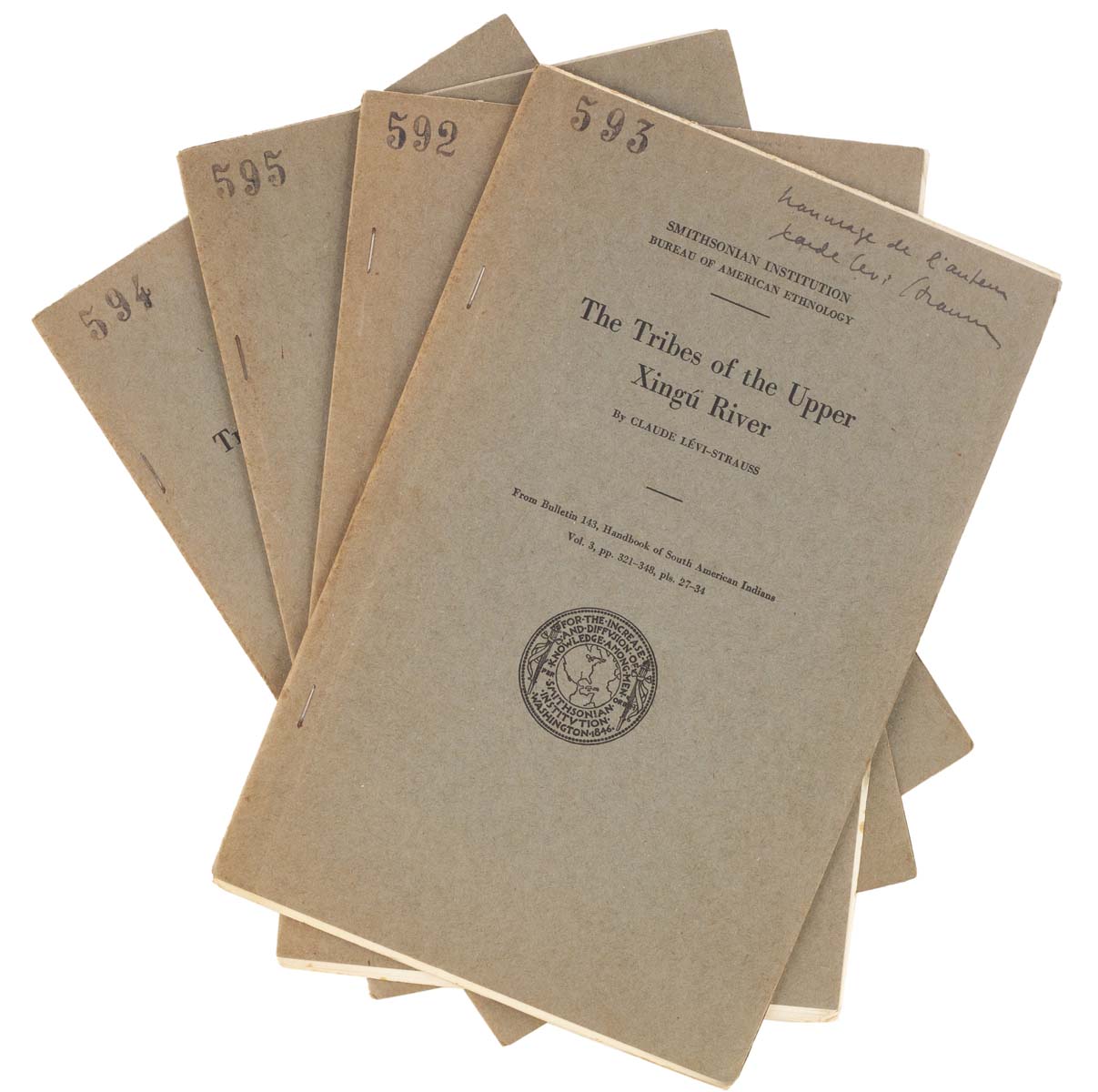 INSCRIBED BY THE AUTHOR LÉVI-STRAUSS, Claude.
The Tupí-Cawahíb.
A set of offprints of four articles by Lévi-Strauss from the Smithsonian's Handbook of South American Indians, inscribed by the author. In each article Claude Lévy-Strauss (1908–2009) provides an illustrated introduction to an Amazonian group, recording their history, social and political customs, religion, dress, food, and manufacture, as well as critically discussing earlier anthropological accounts. In exploring familial and marital structures, the articles are important texts in the development of Lévy-Strauss's structural anthropology.
TO THE SOUTH SEAS SNOW, William Parker.
A two years' cruise off Tierra del Fuego, the Falkland Islands, Patagonia, and in the River Plate: a narrative of life in the southern seas ...
First edition, with attractive coloured lithographed plates after drawings by the author.