WILKES, John and John Horne TOOKE.

The controversial Letters of John Wilkes … John Horne, and their principal adherents, with a supplement, containing material anonymous pieces, &c. &c. &c.
London, Sherlock for Williams, 1771.
8vo, pp. [2], 320; first and last leaves slightly dusty, some scattered foxing, else a very good copy in twentieth-century library half morocco over straight-grain cloth, rubbed; spine with raised bands, gilt; two engraved portraits mounted to front free endpapers, ink borders; inkstamps and bookplate of Norwich Public Libraries; presentation inscription dated 1900 signed by member of the Tooke family; notes in ink to title-page, one or two further annotations to text.
£150

Approximately:
US $207
€172
Added to your basket:
The controversial Letters of John Wilkes … John Horne, and their principal adherents, with a supplement, containing material anonymous pieces, &c. &c. &c.
First and only edition thus. Letters charting the friendship and quarrels of John Wilkes (1725–1797) and John Horne Tooke (1736–1812). Tooke was a member of the Society of Supporters of the Bill of Rights, which existed to pay of Wilkes's debts in the name of the radical cause, but he later fell out with Wilkes over the use of these funds.
You may also be interested in...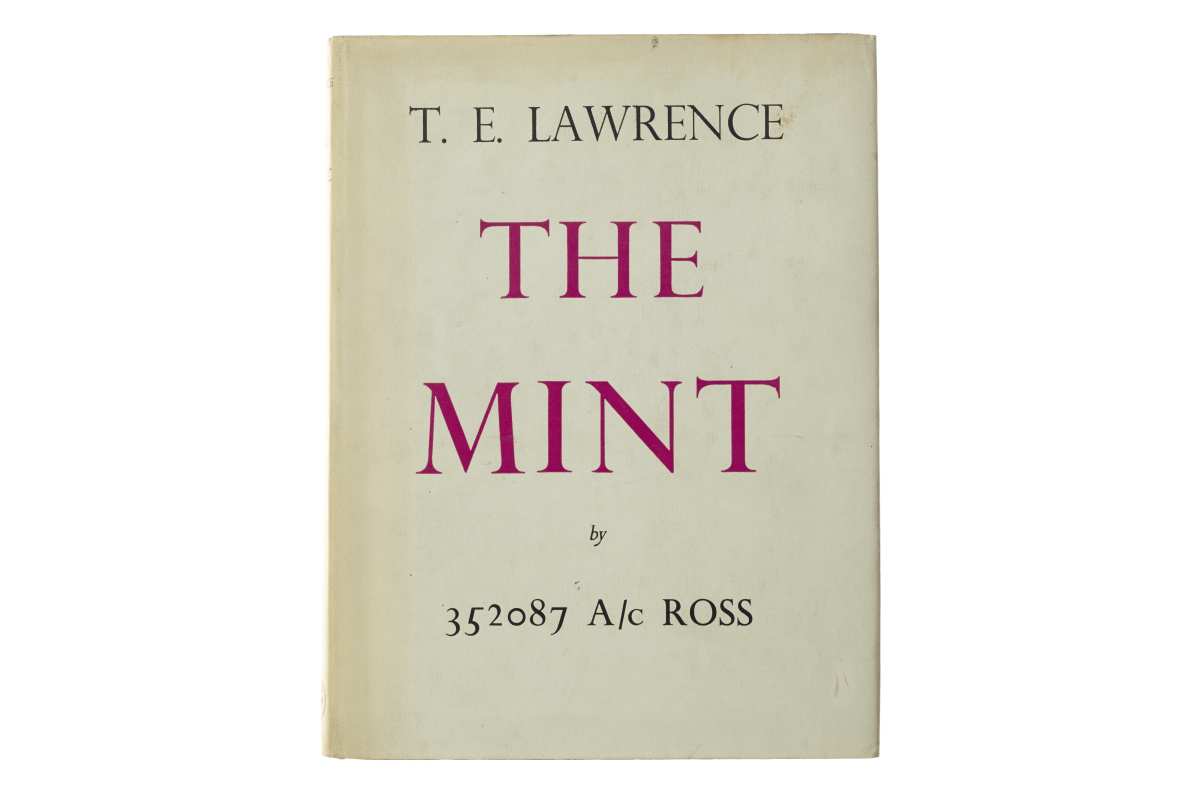 LAWRENCE, Thomas Edward.
The Mint. A Day-Book of the R.A.F. Depot between August and December 1922 with Later Notes, by 352087 A/c Ross. Edited by A.W. Lawrence.
First British edition, the trade issue. 'One of Lawrence's avowed purposes in joining the RAF, though not the only one, was to write of the ranks from the inside. He began immediately making notes when he enlisted in 1922. With his dismissal in January 1923, because of unfavourable publicity, the project was set aside, not to be taken up again until he was posted to India in 1927 [...] While in India he edited the text of his earlier notes and began revisions. In March 1928 he sent a clean copy of the revised text to Edward Garnett. Garnett had copies typed which were circulated to a small circle, among them Air Marshal Trenchard [...] Trenchard's concerned response led Lawrence to guarantee that it would not be published at least until 1950. Later revisions were made by Lawrence in the last months of his life with a possible view to publication in a private edition on a handpress' (O'Brien, pp. 119-120). Although an American edition was printed in 1936 to forestall a possible piracy, the present edition was printed from a later, revised version of the text and the type was set up by Cape in 1948. However, publication was delayed until 1955, when an officer described unfavourably by Lawrence died. The British edition appeared in two issues: the limited issue and the present trade issue 'which had all objectionable words lifted out of the text, leaving blank spaces' (loc. cit.).
EDITED BY THOMAS HOLLIS SYDNEY, Algernon.
Discourses concerning Government … with his Letters, Trial, Apology, and some Memoirs of his Life.
Second Millar edition of Sidney's important Discourses, accompanied by other works. A prominent political theorist opposed to monarchy, Algernon Sidney (1623–1683) wrote the Discourses between 1681 and 1683, argues for armed resistance to oppressive government; the text, which 'places Sidney alongside Milton as the master of republican eloquence' and 'includes the only explicit seventeenth-century defence of "rebellion"' (ODNB), was found in manuscript on Sydney's arrest and unprecedentedly used as a second witness at his trial for high treason, with Jeffreys's justification that 'screbere est agere'. Convicted on the evidence of these Discourses, Sidney was executed, and his Discourses left unpublished for fifteen years.