WILLIS, George Brandor.
View of Bayonne, taken from the sand hills on the left of the Adour, when occupied by the British forces on the 12 of March 1814, by Lieutenant George B. Willis, of the Royal Artillery. Dedicated with permission to the Rt. Hon. Earl Mulgrave, Master General of the Ordnance, &c. &c. &c. This print is intended to commemorate the illustrious return of Field Marshal the Duke of Wellington, and that proud period, when after a glorious career of victory, and the deliverance of Spain and Portugal by British valour and perseverance, the English standard was planted before the walls of Bayonne, and the legitimate sovereign of France recalled to add his seal to the general peace of Europe!
London, Edward Orme, 24 June 1814.
530 x 680 mm, coloured aquatint.
£850

Approximately:
US $1094
€973
On his return from the Peninsular campaign, Wellington first took his seat in the House of Lords and was officially welcomed by the Queen at Buckingham House on 28 June, four days after the publication of this tribute by Edward Orme.

Ogilby 680 [7].


T2880
You may also be interested in...
ROBINSONADE [DUCRAY-DUMINIL, François Guillaume].
Ambrose and Eleanor; or, the Adventures of two Children deserted on an uninhabited Island. Translated from the French. With Alterations, adapting it to the Perusal of Youth, for whose Amusement and Instruction it is designed. By [Lucy Peacock] the Author of the Adventures of the six Princesses of Babylon, Juvenile Magazine, Visit for a Week, &c. Second Edition.
Second English edition (first 1796), a translation of Lolotte et Fanfan (1788). Lucy Peacock kept a shop on Oxford Street which stocked her own and other juvenile tales. Lolotte et Fanfan (1788) evidently appealed for its didactic potential, but required significant editing: 'many characters and scenes woven into the original, could neither afford pleasure nor advantage to a juvenile reader'.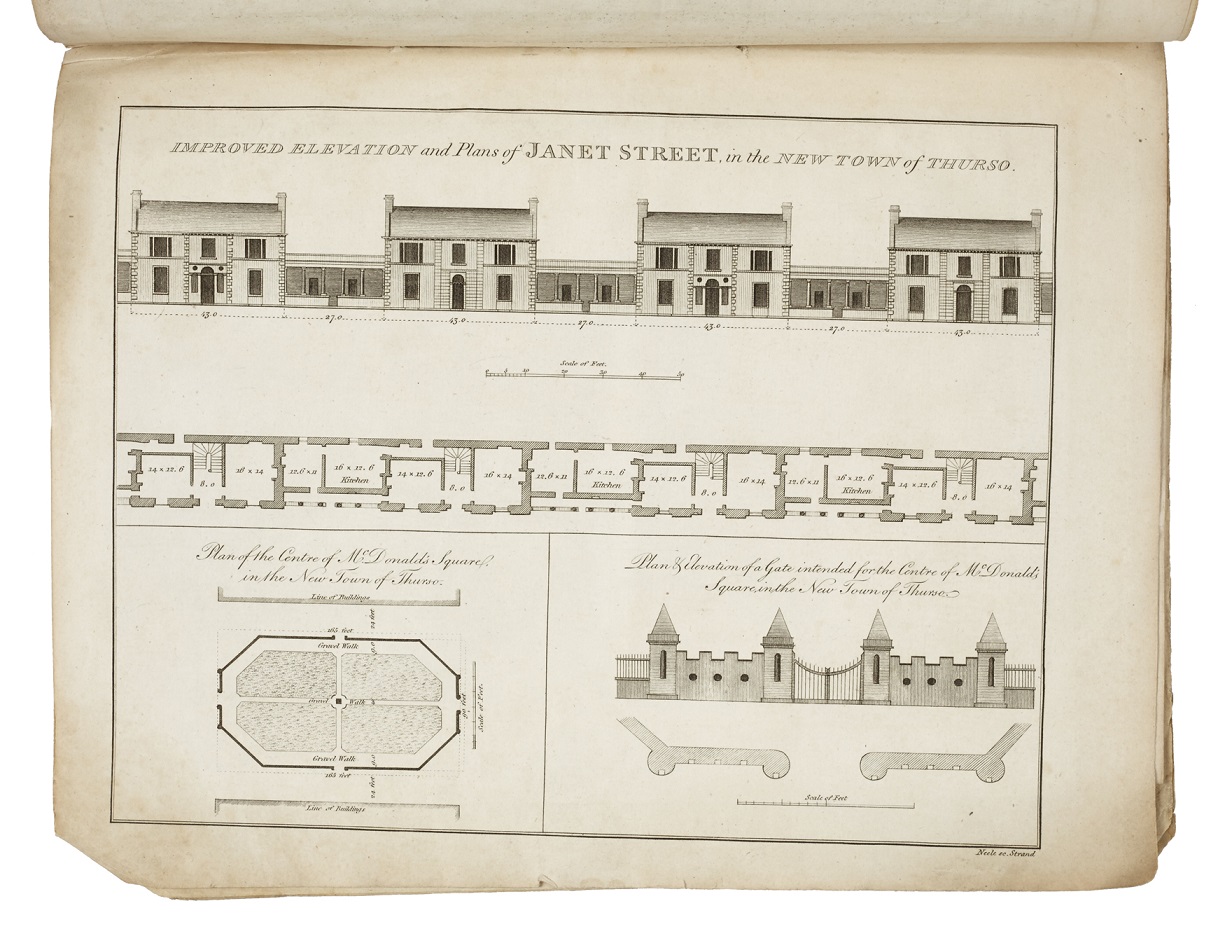 AGRICULTURAL IMPROVER SINCLAIR, John, Sir, first baronet.
A sketch of the improvements, now carrying on by Sir John Sinclair, Bart. M.P. in the county of Caithness, North Britain.
First edition, presentation copy, with attractive engravings showing a 'Plan of the new town of Thurso', an 'Improved elevation and plans of Janet Street in the new town of Thurso', a 'Plan of certain farms on the river Thurso ... intended partly to be let in small lots on improving leases to new settlers', and 'Sketch of the fishing village of Brodiestown intended to be created at Sarilet'.