WISTAN, Aden.
Lucy, Francis and Cousin Bill. A novel in three Volumes ...
London: Eden, Remington & Co. ... 1892.
3 vols., 8vo., with the half-titles; original bright red cloth, boldly decorated and lettered in black on cover, spines lettered in gilt; minimal, uniform fading to spines, otherwise a fine copy.
£650

Approximately:
US $852
€727
First edition, rare. The preliminary leaves in each volume, though clearly correct, are not as called for in Wolff and the binding is more elaborate than his maroon coarse morocco cloth blocked in blind. Here there are only two preliminary leaves (half-title and title page) in each volume; Woolf, however, specifies pp. [x], [vi], and [vi]. Presumably his copy was a later issue, however, as a review of the novel is inserted into the prelims of volume I.

'Verdant, unsuspicious' Lucy Fairplay – a young woman whose physical beauty is matched only by her piety and moral fortitude – emerges from a genteel yet impoverished orphan's childhood, only to be driven by the 'remoseless hands of fate' through two further volumes of frustrated hopes and adversity before being reunited with Francis Beaumont, the lover of her youth. The tale is set in Scotland in the years 1847-78, with particular attention to the Crimean War. The preface claims it is all true. Two copies only on OCLC; Wolff 7252.
You may also be interested in...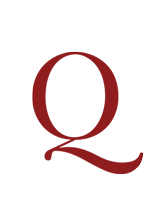 [WHITE, Charles].
The Adventures of a King's Page. By the Author of "Almack's Revisited." ... In three Volumes ...
First edition of a witty novel by the author of Almack's Revisited (that marvellous parvenu's manual disguised as a satire on parvenus). The Adventures of a King's Page has a wider scope than the social hothouse of the silver fork novel, featuring a pageant of (among others) military men, foreigners, royals, hotel-keepers, colonials, and clergymen, alongside the fashionable aristocrats one expects to find lining the pages of a novel of this date. The plot is driven forward by a colourful but controlled rush of event, character and location, and concerns the difficult but ultimately triumphant adventures of Arthur Beverley, a 'young man of peculiar character, and most delicate constitution', the son of an English expatriate General in France (and, after the Revolution, Italy), and the victim of 'a romantic turn' in early youth. Wolff 7171; Garside, Raven, Schöwerling 1829:81.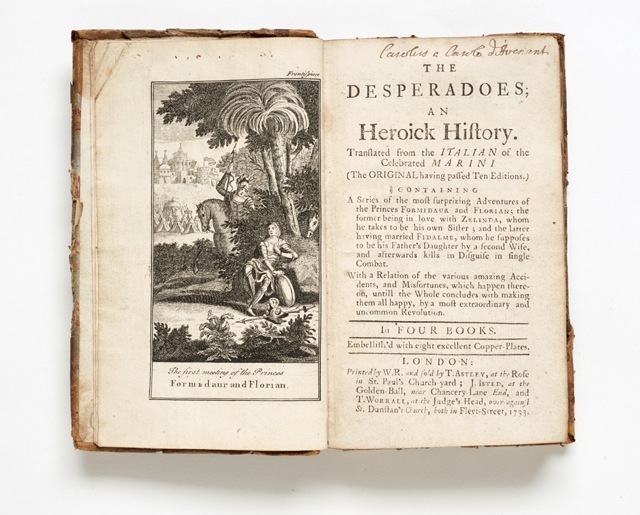 MARINI, Giovanni Ambrogio.
The Desperadoes; an heroick History. Translated from the Italian of the celebrated Marini (the Original having passed ten Editions.) Containing a Series of the most surprizing Adventures of the Princes Formidaur and Florian … In four Books. Embellish'd with eight excellent Copper-Plates.
First and only edition in English of Le gare de' disperati (1644), the second of three romances by Marini (1596-1668). Inevitably, 'It was necessary to omit many Things that were contrary to our Morals; to Decency, and to the Purity of the English Tongue …'. But the general scheme of events is the same as the original, and is outlined on the title-page: 'A Series of the most surprizing Adventures of the Princes Formidaur and Florian; the former being in love with Zelinda, whom he takes to be his own Sister; and the latter having married Fidalme, who he supposes to be his father's Daughter by a second Wife, and afterwards kills in Disguise in single Combat. With a Relation of the various amazing Accidents, and Misfortunes, which happen thereon, until the Whole concludes with making them all happy, by a most extraordinary and uncommon Revolution.'