WORDSWORTH, William [and Samuel Taylor COLERIDGE].
Lyrical Ballads, with other Poems. In two volumes … second Edition. London: Printed for T. N. Longman and O. Rees …
by Biggs and Co. Bristol. 1800.
2 vols., 8vo., pp xlvi, [2], 210, [6]; [4], 227, [1]; scattered foxing in volume II; a very good copy in modern calf by Zahensdorf.
£5000

Approximately:
US $6870
€5859
Added to your basket:
Lyrical Ballads, with other Poems. In two volumes … second Edition. London: Printed for T. N. Longman and O. Rees …
Second, definitive, and first complete edition of Lyrical Ballads. To volume I (first published at Bristol in 1798, reissued in London in the same year) Wordsworth added his famous preface, the manifesto of the Romantic movement – calling for, among other things, a poetry of 'common life', adopting the 'language too of these [rustic] men ... (purified indeed from what appear to be its real defects, from all lasting and rational causes of dislike or disgust) because such men hourly communicate with the best objects from which the best part of language is originally derived'. Here too is the definition of poetry as 'the spontaneous overflow of powerful feelings' derived from 'emotion recollected in tranquillity'. Among the poems in volume I are 'Expostulation and Reply', 'We are Seven', 'Tintern Abbey', and the first version of Coleridge's 'Rime of the Ancient Mariner'. Volume II is entirely new and includes 'The Brothers', 'Lucy Gray', 'A slumber did my spirit seal', and 'Michael'.

George Harris Healey describes this edition of Lyrical Ballads as 'bibliographically the most complex of Wordsworth's books'. Our copy exhibits the following readings and states. In volume U [a]3, the first leaf of the preface, is cancelled as usual to remove a reference to Christabel, which Coleridge had not finished. There are two settings of the cancellans, ours the setting that begins 'The first Volume ...'. This volume also contains the bifolium cancellans I3.4 and the uncorrected readings on the following page, 'becn' instead of 'been' and 'te' instead of 'to' in lines 9 and 13. The cancel and these misprints are always found together. Probably the errors were discovered and corrected while sheet I was going through the press, and the cancel 'was ordered ... with the view of replacing the offending page in the sheets already printed'; through some error they 'reprinted the wrong set of pages and hence missed the mark' (Healey). Page 196 has the misprint 'That agency (for 'agony') returns'.

In volume II page 64 has the reading 'Oft I had heard' and the correct reading 'wild (instead of 'wide') Moor', page 83 has a comma after 'last days' in line 6, page 92 has 'the skill which he', and page 129 has normal spacing in the word 'they' in line 11. In a very small number of copies – but not here – O1-2 in volume II are cancelled to rectify an 'infamous blunder', the omission of 15 lines in 'Michael'.

Healey, Wordsworth, pp. 5-8; Tinker 2330-1; Reed A4.
You may also be interested in...
TYRTAEUS and CALLINUS.
Les chants...traduits en vers par Firmin Didot.
One of only 100 copies - all hors de commerce - of this deluxe folio Didot edition of some of the oldest martial elegy verses of the Western tradition: the surviving works of the Spartan poet Tyrtaeus and the Ephesian poet Callinus (7th-6th century BC). The text is preceded by an engraved Lettre to Firmin Didot by his three sons, with an appraisal of the achievements of his printing house in his absence (during a tour of Spain). It was in the same year, 1827, that Firmin Didot passed the managing of his business on to Ambroise, Hyacinthe and Frédéric to devote himself to public affairs. Two years later he officially resigned.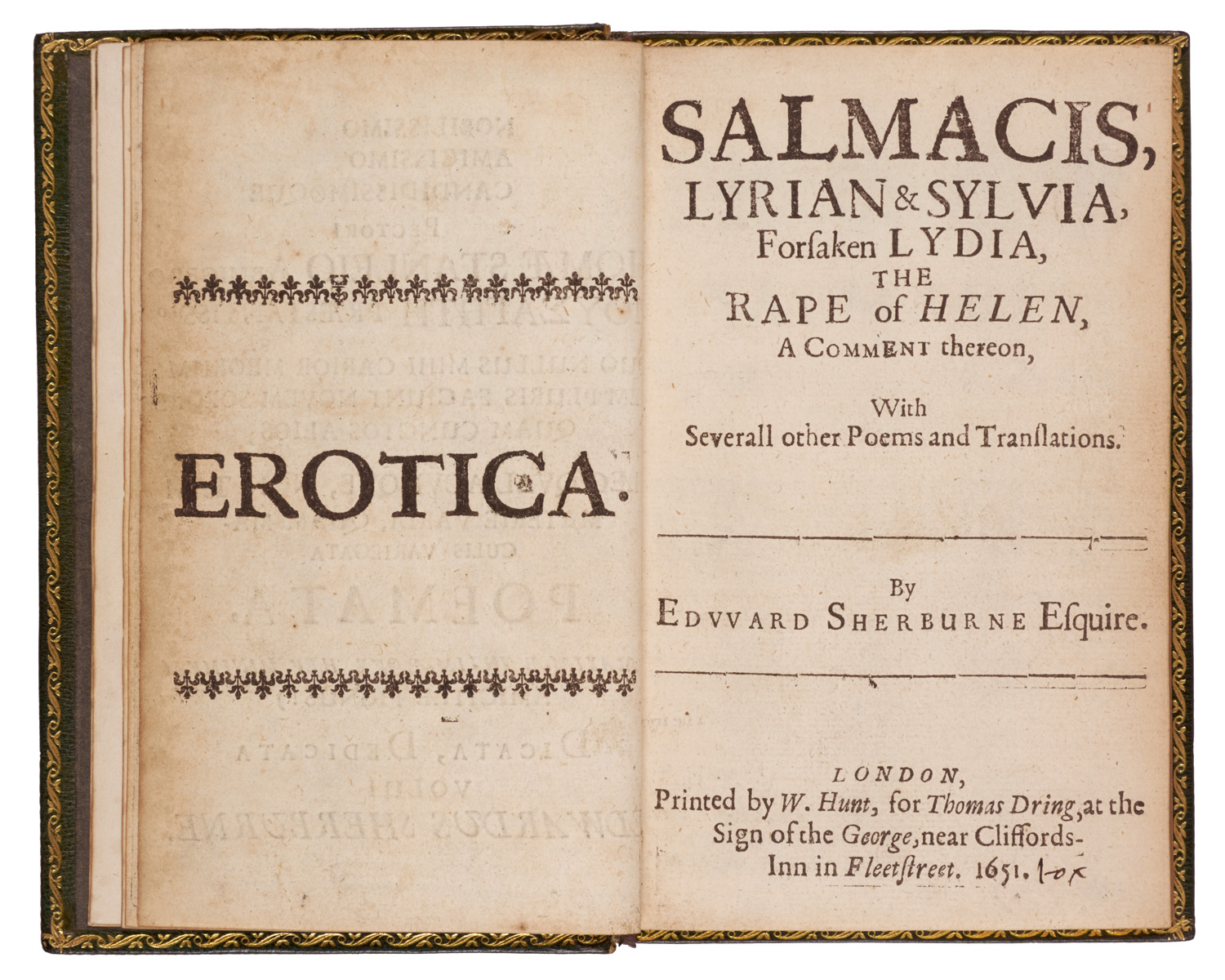 SHERBURNE, Sir Edward.
Salmacis, Lyrian & Sylvia, Forsaken Lydia, the Rape of Helen, a Comment thereon, with severall other Poems and Translations ...
First edition of a charming book of Caroline poetry, original and translated, in a most sympathetic and well-preserved collector's binding. This is the first issue; it was reissued in the same year under the title Poems and Translations, amorous, lusory, morall, divine, reflecting the divisional titles here: 'Erotica', 'Ludicra', 'Ethica', 'Sacra'.