WREE, Olivier de.
Sigilla comitum Flandriae et inscriptiones diplomatum ab iis editorum, cum exposition historica.
Bruges, Jan-Baptiste van den Kerchove, 1639.
Folio, pp. [8 (of 12)], 308, [96]; partially printed in blackletter; copper-engraved seal to title, with copper-engraved map, family tree, chart of coat of arms, and illustrations of seals (of which 2 full-page) in text; bound without (:)3.4 (dedication); light damp-stain to later leaves, a few tears (seldom affecting text) with old repairs, occasional marginal paper-flaws; otherwise an attractive copy in contemporary Dutch vellum with central gilt block, spine gilt in compartments, yapp fore-edges with vestigial ties, gilt edges; lightly bumped with a little dust-staining; early nineteenth-century inscription of Jan-Jacques Lambin to title, 'Lambin, archivist van Ypres'.
£750

Approximately:
US $1045
€881
Added to your basket:
Sigilla comitum Flandriae et inscriptiones diplomatum ab iis editorum, cum exposition historica.
First edition of de Wree's authoritative catalogue of Flemish seals, an attractive copy in contemporary vellum gilt. Exquisitely engraved by Samuel and Adriaen Lommelin and François Schelhaver the elder and younger, the illustrations offer an accurate and elegant record of the seals of the counts of Flanders from Baldinus in the ninth century to the contemporary Philip IV.

An earlier edition is almost certainly fictitious: a single copy dated 1630 is recorded at the National Library of Scotland, likely an erroneous transcription.

USTC 1004367; STCV 6687928.
You may also be interested in...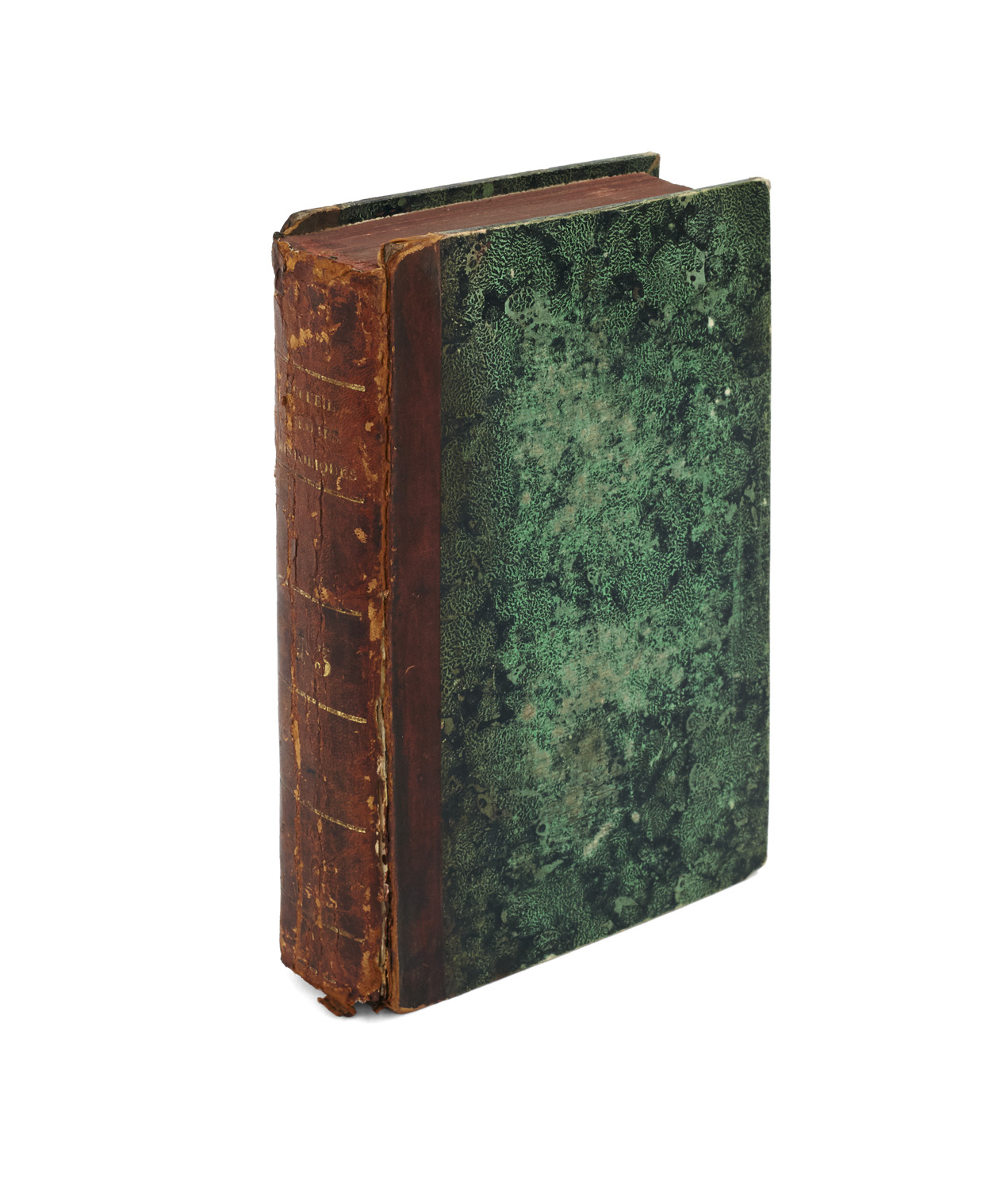 EULOGY AS MANIFESTO [NECKER, Jacques.]
Eloge de Jean-Baptiste Colbert, Discours qui a remporté le prix de l'Académie Françoise, en 1773.
First edition of Necker's first work. Necker (1732–1804) was the opponent of Turgot (whose position he was to take over in 1777) in action as well as in theory, agreeing with Forbonnais on the side of State-regulation. The encomiastic function of this work, his first book, is in fact a thin cover for what is effectively Necker's first exposition of his 'interventist' sensibility in economics. Here as in his later works Necker loses no opportunity of emphasising his dissent from 'laissez-faire' and the Tableau économique. His declamatory appeals to the rights of humanity and attacks upon landed property, though probably incited by political ambitions, bring him into close harmony with State-socialists, who, like himself, favoured substantial government intervention; and the Physiocrats had always to reckon with him as a determined adversary.
A PRELUDE TO L'ESPRIT DES LOIS MONTESQUIEU, Charles de Secondat.
Histoire véritable publiée d'après un nouveau manuscrit avec une introduction et des notes par L. de Bordes de Fortage.
Second edition of Montesquieu's philosophical, quasi-oriental tale, a prelude to his great work L'Esprit des lois. Written in the 1730s and again in 1754, and influenced by Lucian and the 18th-century vogue for oriental fiction, the Histoire véritable remained unpublished until 1892. This 1902 second edition is based on a manuscript written prior to that used for the first. The Histoire is a fabulous account of the numerous animal and human incarnations experienced by its narrator: as a little dog he is persecuted by his mistress, while as an ox he is worshipped by the Egyptians; as a human his soul occupies the bodies of a hangman, a cuckolded husband, an underfed poet, a courtier, a fop, a virtuous woman, a eunuch, an African chief, a king's fool, among many others. 'The different reincarnations are so many opportunities to expose human turpitude from the inside and to underscore, from the vantage point of a single conscience, retrospectively enlightened, the corruption and wickedness of men ... Montesquieu's originality is to create, based on conventional processes of narrative fiction at the time, a philosophical tale inducing meditation about the conditions of virtue and happiness ... The Histoire véritable would also raise, in the story's framework, questions to which L'Esprit des lois would try to respond: how to reconcile relativism and norms of universal justice, articulate uniformity and diversity, find constancy in change? To this degree, the work would be, as Alberto Postigliola put it, an "epistemological prelude" to its author's major work' (Carole Dornier in Dictionnaire Montesquieu).