WYCHERLEY, William.
Miscellany Poems: As Satyrs, Epistles, Love-Verses, Songs, Sonnets, &c ...
London, Printed for C. Brome ... J. Taylor ... and B. Tooke ... 1704.
Folio, pp. xlvi, [2], 64, 63-438, with a fine impression of the mezzotint portrait by Smith after Lely; some slight foxing but a fine copy in full red straight-grain morocco by Lloyd, gilt, bookplate of C. L. F. Robinson.
£875

Approximately:
US $1176
€968
Added to your basket:
Miscellany Poems: As Satyrs, Epistles, Love-Verses, Songs, Sonnets, &c ...
First edition of a substantial collection of previously unpublished poems, edited from Wycherley's manuscripts in a last-ditch attempt to relieve him from debt. 'It was badly misjudged. Poems on a womans's "Fair Back-Side" and on another's "Fine Breasts" were entirely at odds with the new, chaster sensibility' (Oxford DNB). To make matters worse, Wycherley's Preface showered abuse on his critics, though it received appreciation from at least one contemporary reader, who has annototed the first page here: 'A very fine (but somewhat too Prolix) Satyr upon resolved Criticks and Wou'd-be-Wits', and marked several passages.

The final page optimistically concludes 'The End of the First Volume', but none further followed.

Hayward 138; Pforzheimer 1101, Foxon p. 907.
You may also be interested in...
BORLASE, William.
The natural History of Cornwall: The Air, Climate, Waters, Rivers, Lakes, Sea, and Tides; Of the Stones, Semimetals, Metals, Tin, and the Manner of Mining; The Constitution of the Stannaries; Iron, Copper, Silver, Lead, and Gold, found in Cornwall; Vegetables, rare Birds, Fishes, Shells, Reptiles, and Quadrupeds; Of the Inhabitants, their Manners, Customs, Plays or Interludes, Exercises, and Festivals, the Cornish Languages, Trade, Tenures, and Arts; illustrated with a new Sheet Map of the County, and twenty-eight Folio Copper-Plates from the original Drawings taken on the Spot.
First edition of Borlase's monumental survey of Cornwall. Though aged over sixty at the time of publication, William Borlase (1696 – 1772), rector of Ludgvan, toured central and eastern Cornwall between 1752 and 1757, gathering material for his Natural History. The result, though less ambitious than intended, provides a detailed account of the county, its flora, fauna, geology, and culture, elegantly illustrated with large copper plates.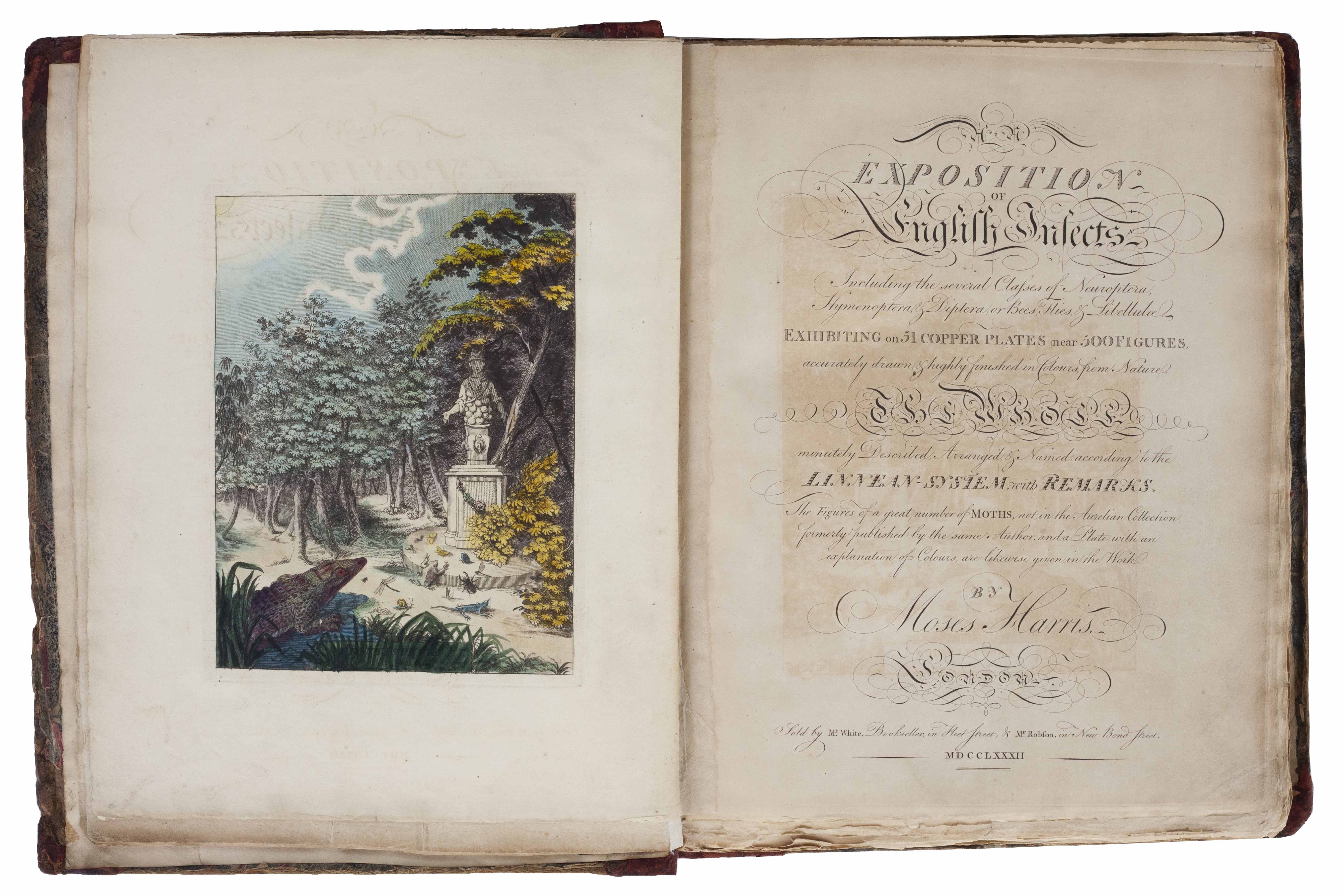 HARRIS, Moses.
An Exposition of English Insects, including the several Classes of Neuroptera, Hymenoptera, & Diptera, or Bees, Flies, & Libellulae, exhibiting on 51 Copper Plates near 500 Figures, accurately drawn, & highly finished in Colours, from Nature, the whole minutely described, arranged, & named according to the Linnean System, with Remarks; the Figures of a great Number of Moths, not in the Aurelian Collection, formerly published by the same Author, and a Plate with an Explanation of Colours, are likewise given in the Work.
Second edition of Harris's 'principal scientific work' (ODNB), incorporating his important treatise establishing the classification of insects by wing venation. 'I have kept so far as this method was agreeable to, and did not interfere with the plan, which I have adopted, of a strict adherence to a Natural System, separating the classes by such nice though strong distinctions, that the observer at first sight of an insect (if it be of the Diptera or Hymenoptera) shall be capable of not only knowing the class it refers to, but at the same time to what order and section of that class, and this by the wings only' (preface).