WYCHERLEY, William.
Miscellany Poems: As Satyrs, Epistles, Love-Verses, Songs, Sonnets, &c ...
London, Printed for C. Brome ... J. Taylor ... and B. Tooke ... 1704.
Folio, pp. xlvi, [2], 64, 63-438, with a fine impression of the mezzotint portrait by Smith after Lely; some slight foxing but a fine copy in full red straight-grain morocco by Lloyd, gilt, bookplate of C. L. F. Robinson.
£875

Approximately:
US $1148
€978
First edition of a substantial collection of previously unpublished poems, edited from Wycherley's manuscripts in a last-ditch attempt to relieve him from debt. 'It was badly misjudged. Poems on a womans's "Fair Back-Side" and on another's "Fine Breasts" were entirely at odds with the new, chaster sensibility' (Oxford DNB). To make matters worse, Wycherley's Preface showered abuse on his critics, though it received appreciation from at least one contemporary reader, who has annototed the first page here: 'A very fine (but somewhat too Prolix) Satyr upon resolved Criticks and Wou'd-be-Wits', and marked several passages.

The final page optimistically concludes 'The End of the First Volume', but none further followed.

Hayward 138; Pforzheimer 1101, Foxon p. 907.
You may also be interested in...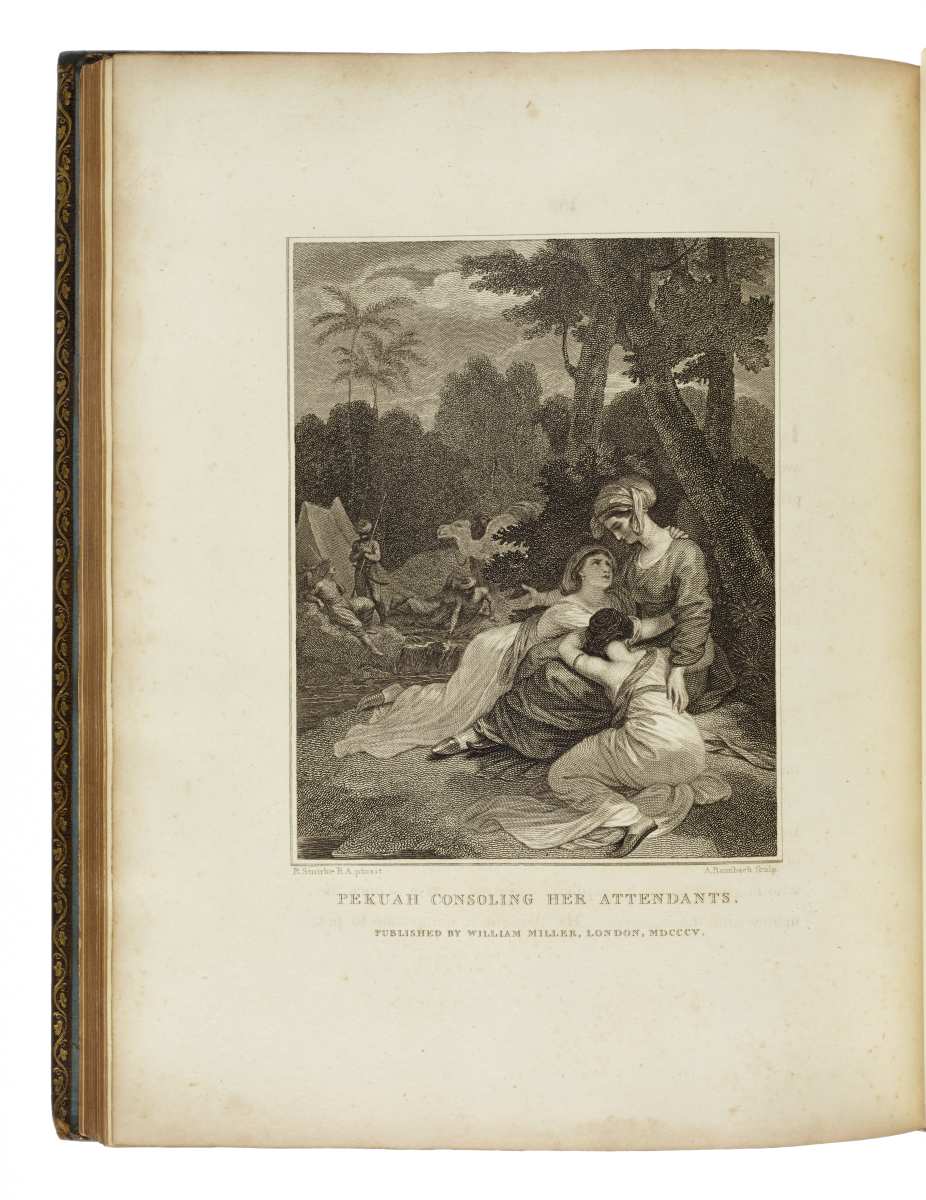 [JOHNSON, Samuel].
Rasselas.
Third Smirke edition, ordinary-paper issue. 'All travel has its advantages,' the lexicographer, essayist and critic Samuel Johnson (1709-84) wrote in his Journey to the Western Islands of Scotland. 'If the passenger visits better countries, he may learn to improve his own, and if fortune carries him to worse, he may learn to enjoy it.' Although Johnson himself never travelled more than five hundred miles from his London home, he was an indefatigable planner of distant voyages; his writings on travel began with the translation from the Fench edition of Father Jerónimo Lobo's A Voyage to Abyssinia in 1735 (first published in French as Voyage historique d'Abbysinie, 1728), followed by numerous articles and essays on the subject in his middle years, and culminated in the publication of his own description of the Highlands. Johnson's attitude towards travel literature itself was a complex one; in his preface to Lobo's Voyage, Johnson showed a dislike for fantastical accounts of far-off locations published merely for entertainment, and repeatedly praised Lobo for not yielding to 'romantick absurdities or incredible fictions'. Johnson scorned the unsophisticated travel literature foisted upon an naïve public, noting that it was the kind of writing that could be done by those who had not journeyed beyond their booksellers' stalls.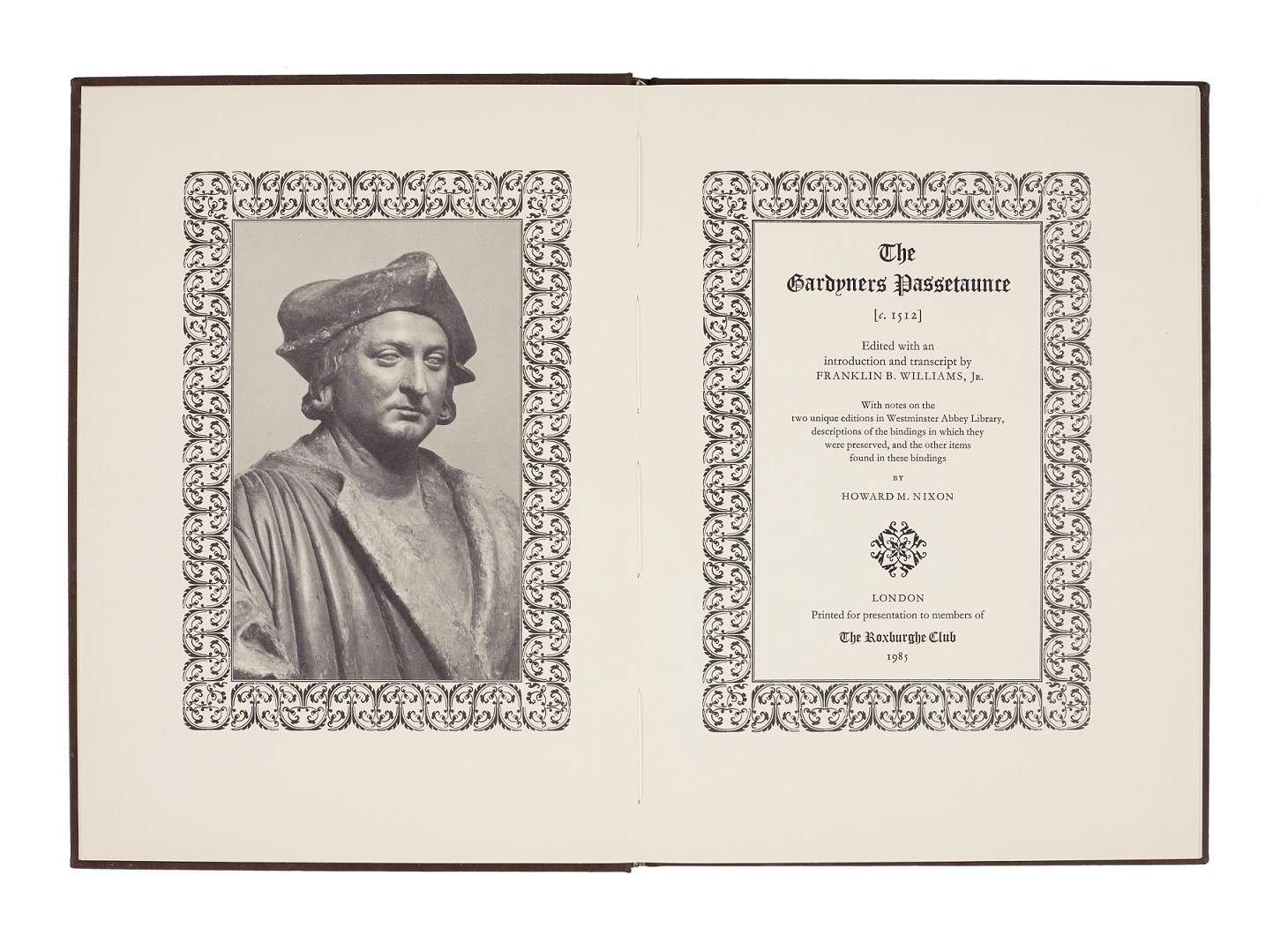 WILLIAMS, Franklin B., ed., with introduction and transcript by.
The Gardyners Passetaunce (c. 1512). With notes on the two unique editions in Westminster Abbey Library by Howard M. Nixon.
The book contains notes on the two unique editions in Westminster Abbey Library, descriptions of the bindings in which they were preserved, and the other items found in these bindings by Howard M. Nixon. I t has an image of a bust of Henry VIII by Torrigiani as frontispiece, facsimiles of the Pynson edition in full and the existing fragments of the Goes edition, images of bindings and other fragments in the text.