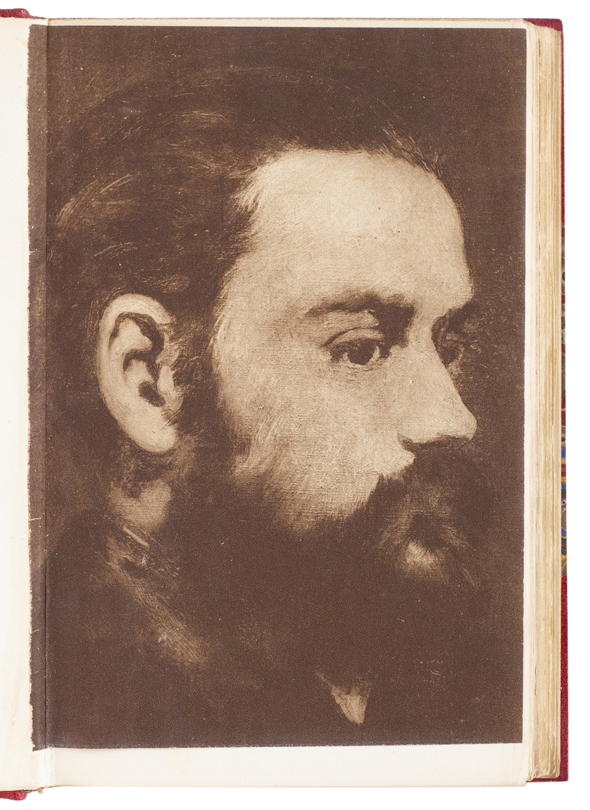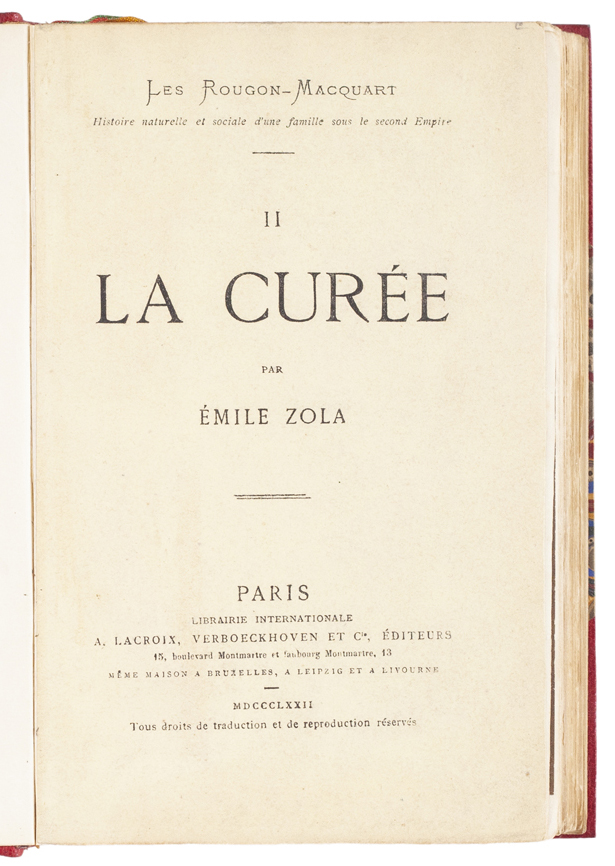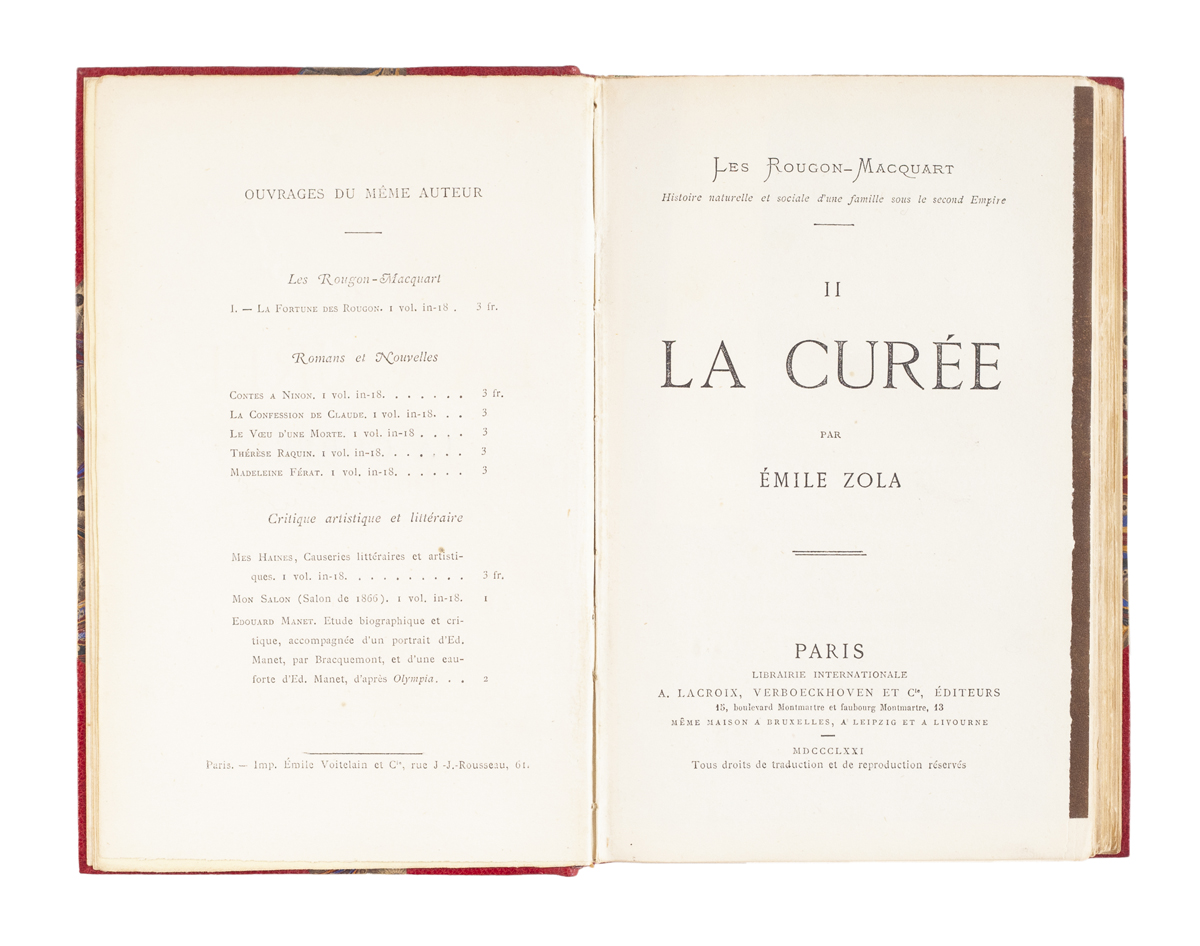 ZOLA, Émile.
La Curée.
Paris, A. Lacroix, Verboeckhoven et Cie, 1871.
8vo, pp. 360, with a photogravure portrait of Zola after Manet bound in; in very good condition, edges uncut, in contemporary or near-contemporary half red morocco signed by Émile Carayon (1843–1909), flat spine lettered in gilt; the original pale yellow wrappers (dated 1872 as always) and spine bound in.
£3000

Approximately:
US $3679
€3485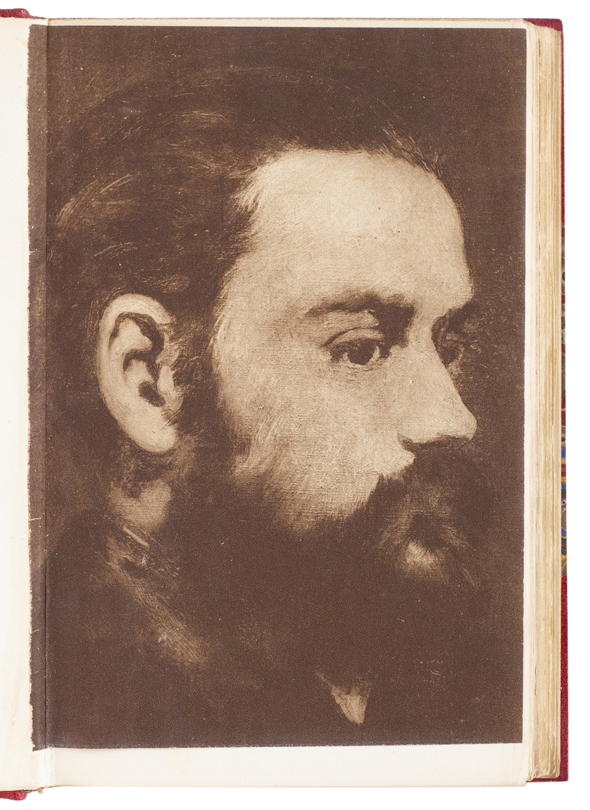 Added to your basket:
La Curée.
First edition of the second novel in Zola's Rougon-Macquart series, La Curée. The first six volumes of the series were printed on ordinary paper only (no grand papier issue) and are all very rare.

Carteret II, 480.
You may also be interested in...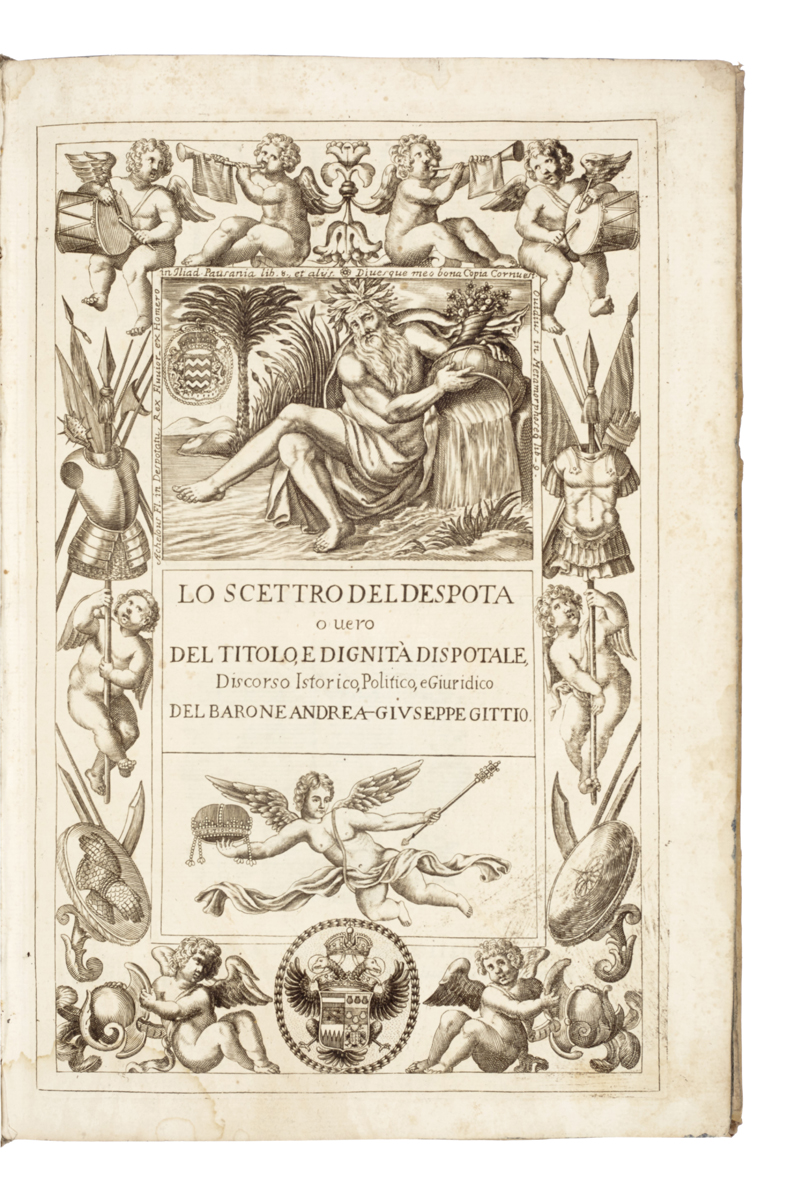 GIZZI [or GITTIO], Andrea Giuseppe.
Lo scettro del despota, overo del titolo, e dignità dispotale, discorso istorico, politico, e giuridico.
Only edition of this extraordinary and rare study of legal, ceremonial, and political roles of the despot, a class of prince akin to a king and beneath an emperor in the power structures of both the Byzantine world and Renaissance Italy, and thus a title used both in Venice and throughout the Balkans and Greece. The work of the Neapolitan nobleman Andrea Giuseppe Gizzi (or Gittio), and dedicated to Silvestro Valiero, Doge of Venice (and thus a despot himself), Lo scettro del despota draws on legal and historical sources ranging from the ancient (Aristotle, Justinian) to the medieval and modern (Aquinas, Molina, de Soto, Botero, and others) to present a full survey of the origins and uses of the title (and related titles such as infante – the 'despot' originally referred to the heir-apparent of the Byzantine emperor), the ways in which the role diverges between West and East, the ceremonials attached to the title, and its use throughout Italy, and especially in the Kingdom of Naples (it was not until the next century that the term acquired the negative connotations it has today). Of particular interest is the Catalogo degli autori cited in the margins; this takes up an entire quire and lists some 350 sources, and can reasonably be said to be the earliest bibliography on the subject.
PALLADIO'S VITRUVIUS VITRUVIUS, and Daniel BARBARO.
De architectura libri decem, cum commentariis … multis aedificiorum, horologiorum, et machinarum descriptionibus, & figuris, una cum indicibus copiosis, auctis & illustratis.
First Latin edition of Barbaro's influential commentary, written in collaboration with and finely illustrated by Palladio; 'the culmination of the Renaissance tradition of Vitruvian studies' (Cellauri, p. 57 trans.) which 'served as a foundational text into the next century, as well as marking the culmination of more than a century of intense scrutiny and application of Vitruvius by other architects and editors – possibly for almost two decades by Palladio' (D'Evelyn, p. 25).