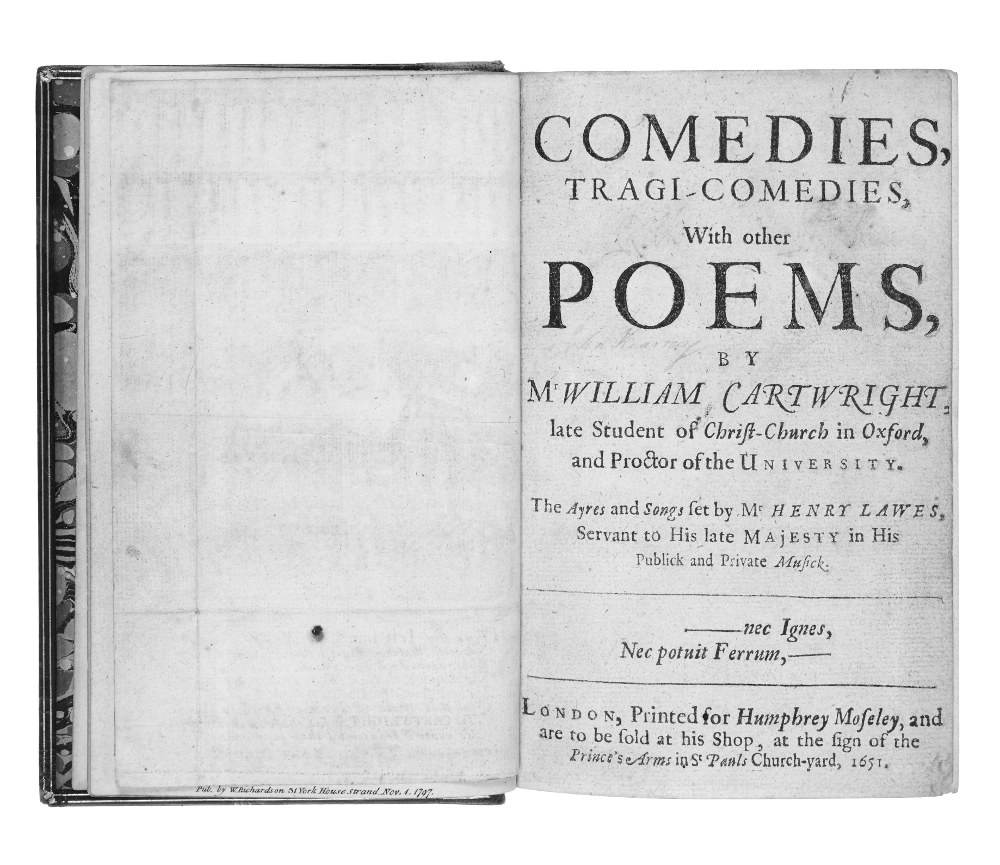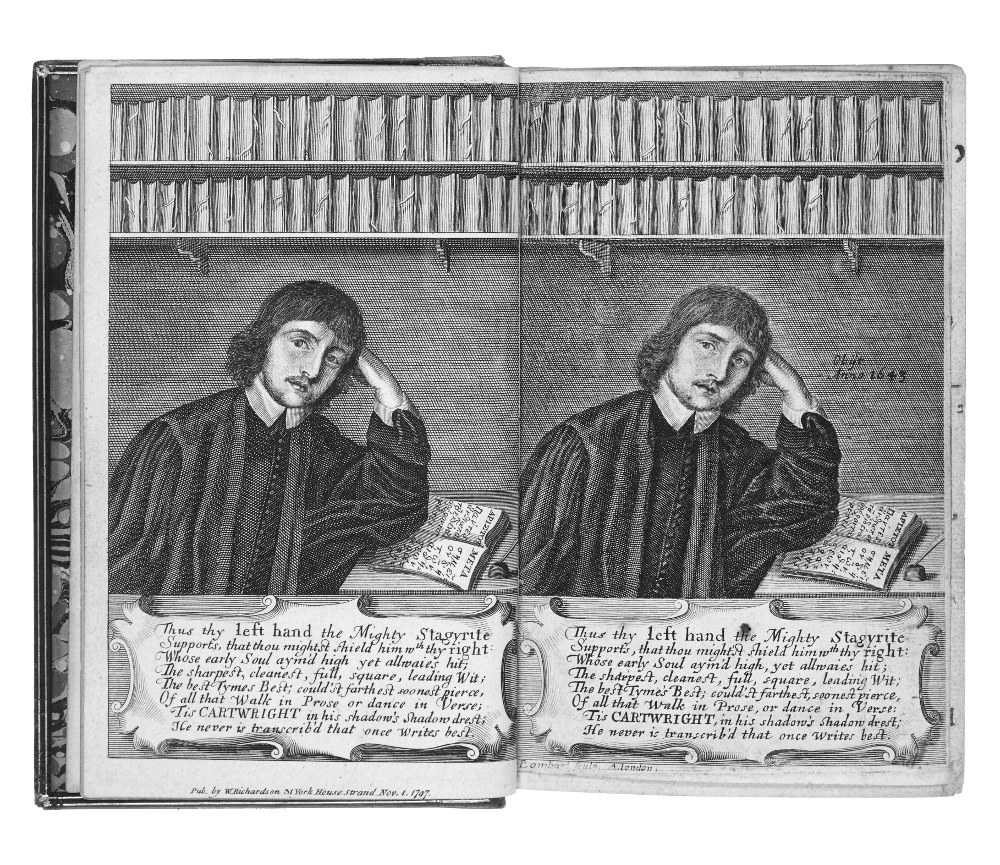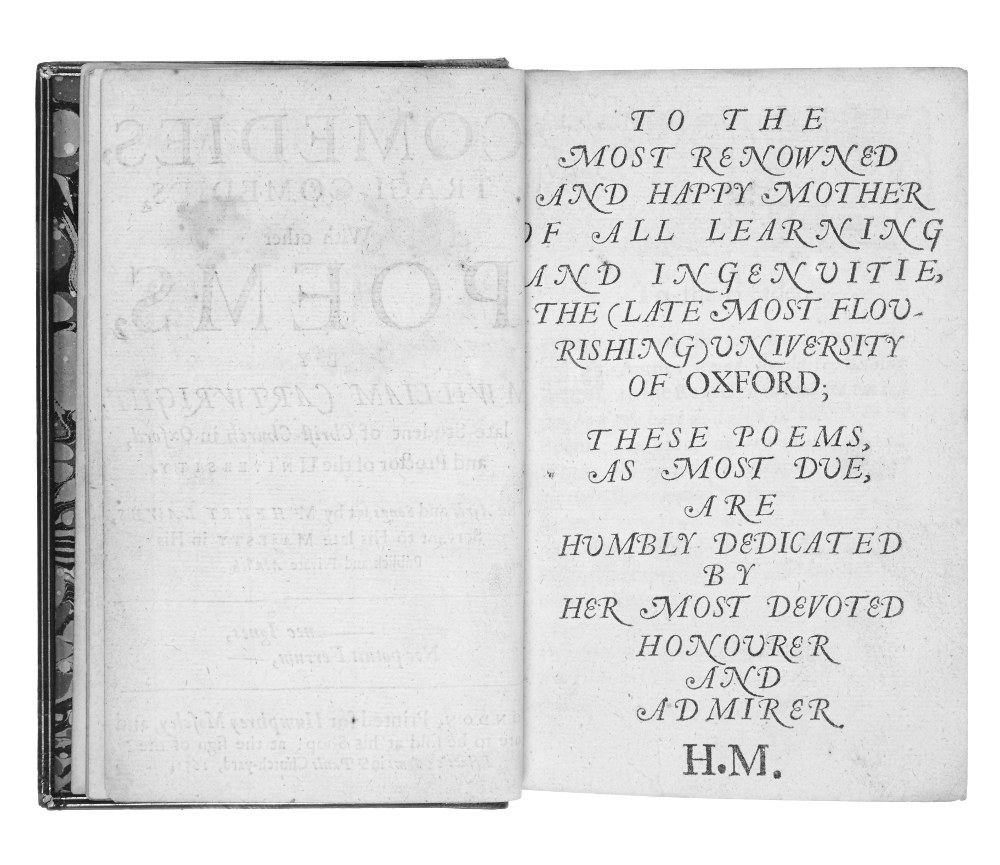 A FAVOURITE OF CHARLES I
CARTWRIGHT, William.
Comedies, Tragi-comedies, with other Poems … the Ayres and Songs set by Mr Henry Lawes, Servant to his late Majesty in His public and private Musick …
London, Printed for Humphrey Moseley … 1651.
8vo., pp. [122, wanting the blank leaf **8], 148, [4], 306, 301-320, with the very scarce copperplate portrait frontispiece by Lombart (supplied), facing an eighteenth century copy by Richardson; neat repair to blank lower corner of I2; a fine copy with good margins although the side-note on b2 has been cropped; late nineteenth-century panelled calf, rebacked with original spine, edges gilt, morocco labels.
£1750

Approximately:
US $0
€0
First edition of the witty and elegant drama and verse of a celebrated 'son of Ben', who said 'My son Cartwright writes like a man'. According to Evelyn, Charles I reckoned The Royall Slave 'the best that was ever acted' after he saw it as the main entertainment on the royal progress to Oxford in 1636. When Cartwright died young of camp fever at Oxford in 1643, he was mourned personally by Charles, who wore black on the day of his funeral. No fewer than fifty-six commendatory poems by Katherine Philips, Henry, Thomas and Francis Vaughan, Izaak Walton, John Fell, James Howell et al. preface the work.

This volume 'is the sole authority for three of the four plays and for about half of the minor poems', and it forms the basis of the standard modern edition (ed. G. Blakemore Evans, Madison, Wisconsin, 1951). Evans provides an elaborate bibliographical introduction (modified in part in 1957 by W. W. Greg), for a 'perplexing' book which underwent considerable adjustment and correction in the press. Our copy, with the exception of the missing blank **8, is complete and includes the duplicate leaves U1-3 with blank spaces where 18 royalist lines were removed. The directions to the binder (usually cropped) are present at the foot of ¶1r and ****1r.

Wing C 709; Hayward 104; Greg, III, 1029-31.
You may also be interested in...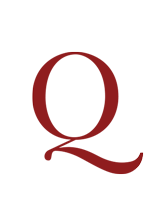 [SWIFT, Jonathan].
On Poetry: a Rapsody.
First edition. On Poetry, one of Swift's most important productions in verse, was early recognized as a masterpiece and would have achieved considerable favour for Swift at court had not Lord Hervey 'undeceived Q[ueen] C[aroline] and taken some pains to teach her the use and power of irony' (Dr. William King's Political and Literary Anecdotes). The essential theme is the contrast between the true poet (Pope, Gay) and the writer dependent on patronage (e.g. Cibber).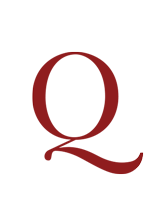 COLERIDGE, Samuel Taylor.
Christabel: Kubla Khan, a Vision; the Pains of Sleep …
First edition of all three celebrated poems.