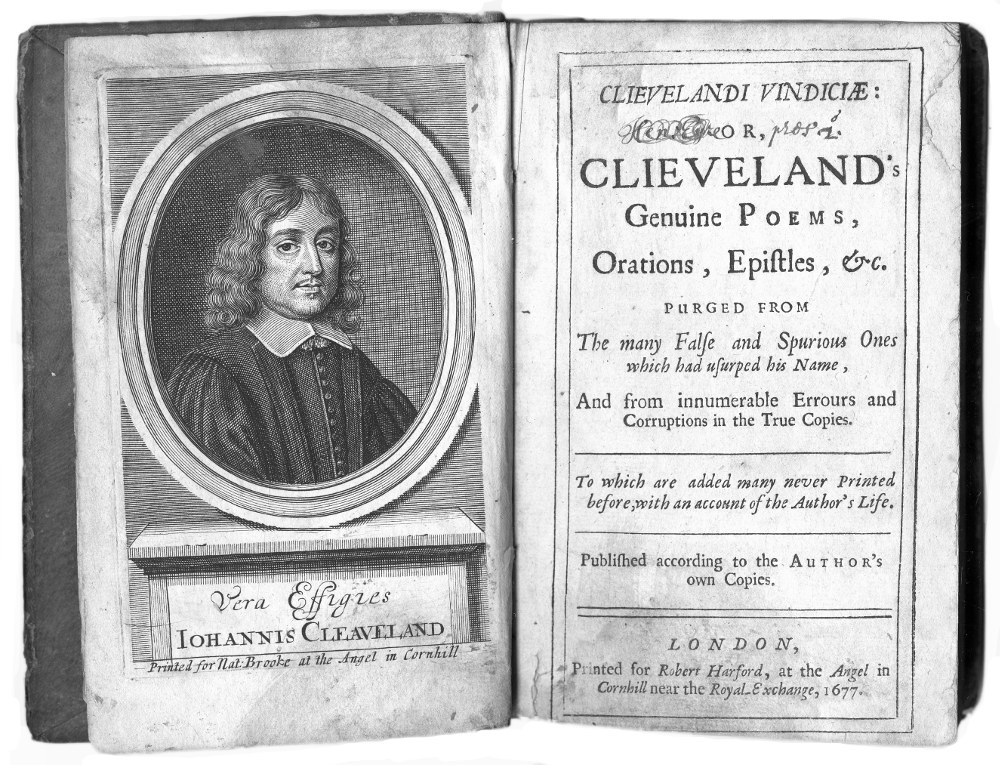 THE ROYALIST POET OF THE CIVIL WAR
CLEVELAND, John.
Clievelandi Vindiciae: or, Clieveland's Genuine Poems, Orations, Epistles, &c. purged from the many false and spurious ones which had usurped his Name, and from innumerable Errours and Corruptions in the true Copies. To which are added many never printed before, with an Account of the Author's Life ...
London, Printed for Robert Harford ... 1677.
Small 8vo., pp. [22], 239, [1], with frontispiece portrait (soiled) but wanting the half-title; a little soiling to title-page and a name (Hen. Eyre) partly scribbled out, one nick to blank fore-edge; ink-stain on B8, otherwise a very good copy in contemporary sheep, rebacked.
£950

Approximately:
US $0
€0
First edition, the issue with Robert Harford's imprint. This 'vindicatory' text was prepared by Cleveland's former students John Lake and Samuel Drake from authentic manuscripts to restore true readings to poems that had degenerated through six editions of The Character of a London-Diurnall (1647), seventeen successive editions of Poems (1651-69), and, worst of all, Cleaveland revived (1659-67), where only two of thirty-seven poems in the first printing were genuine.

The royalist poet John Cleveland (1613-1658) was 'the first champion that appeared in verse for the King's cause against the presbyterians' (Anthony à Wood). At Cambridge his time at Christ's partly overlapped Milton's. Both contributed to the elegiac miscellany Justa Edouardo King (1638), Milton memorably (Lycidas), Cleveland less so ('I am no Poet here; my Pen's the Spout / Where the Rain-water of mine eyes runs out'). After the outbreak of the Civil War he joined the King's camp at Oxford, and in 1646 he was at Newark when the garrison fell. Like many royalists he lived obscurely for some years, although he was imprisoned briefly at Yarmouth in 1655.

Clievelandi vindiciae is divided into three parts: Love Poems, Poems on State-Affairs, and Miscellanies. The State Poems include 'Smectymnuus, or the Club Divines', 'The Mixt Assembly' (a satire on the Westminster Assembly), 'The Rebel Scot', 'The King's Disguise', and 'Rupertismus'. Miscellanies, mainly in prose, includes The Character of a London-Diurnall, written at Oxford, satirizing the false news and feeble intelligence of the London news sheets.

'Only chronologically was he the contemporary of Milton; the two poets lived in different worlds'. Cleveland's world was that of a poet 'fighting to defend a crumbling order' (Morris), 'the most sophisticated satirist writing during the war' (C. V. Wedgwood). Though read more today for historical interest than for his verses, Cleveland's brisk, mordant manner was wildly popular in its time; his poems went through more than twenty-five separate editions between 1645 and 1700, during which time Milton's shorter Poems were published twice. But by 1700 Cleveland's reputation had sunk almost without trace, never to be revived.

Morris distinguishes three issues of Clievelandi vindiciae, identical apart from the imprint for Nathaniel Brooke, Obadiah Blagrave, or Robert Harford; presumably the Brooke issue takes priority as the engraved portrait bears his imprint as well.

Wing C 4671; Brian Morris, John Cleveland a Bibliography 27.
You may also be interested in...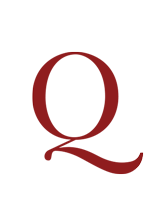 TENNYSON AND THE HALLAMS TENNYSON, Alfred, Lord.
Timbuctoo. A Poem, which obtained the Chancellor's Medal at the Cambridge Commencement, 1829. [Cambridge, John Smith, 1829.] [bound with:] LUSHTON, Franklin and Henry Sumner MAINE. Memoir of Henry Fitzmaurice Hallam. For private Distribution: [London: Spottiswoode and Shaw, c. 1851].
First editions. Timbuctoo, extracted from Prolusiones Academicae, is Tennyson's first named appearance in print. It is bound here with the rare Memoir of Henry Fitzmaurice Hallam, the second son of the historian Henry Hallam. His brother Arthur had died in 1833 at the age of 22, and became the subject of Tennyson's In Memoriam. Seventeen years later, just months after the publication of that work, Henry Fitzmaurice also died, in similarly tragic circumstances, at the age of 26.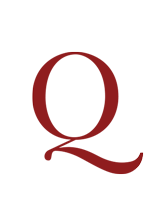 AN ACCIDENTAL DEFOE RARITY HALIFAX, George Savile, Marquis of.
Miscellanies … viz. I. Advice to a Daughter. II. The Character of a Trimmer. III. The Anatomy of an Equivalent. IV. A Letter to a Dissenter. V. Cautions for a Choice of Parliament Men. VI. A rough Draft of a new Model at Sea. VII. Maxims of State, &c.
First edition, the issue without the two rows of ornaments to the title-page, and with Q4-R3 uncancelled. Defoe's Letter to a Dissenter (first published 1688) rather than Halifax's was printed in error on leaves Q4-R3, and these leaves are cancelled in later issues (in the present copy Q4 is torn for cancellation). Halifax's actual Letter is printed on two final gatherings (leaves Q-q8).