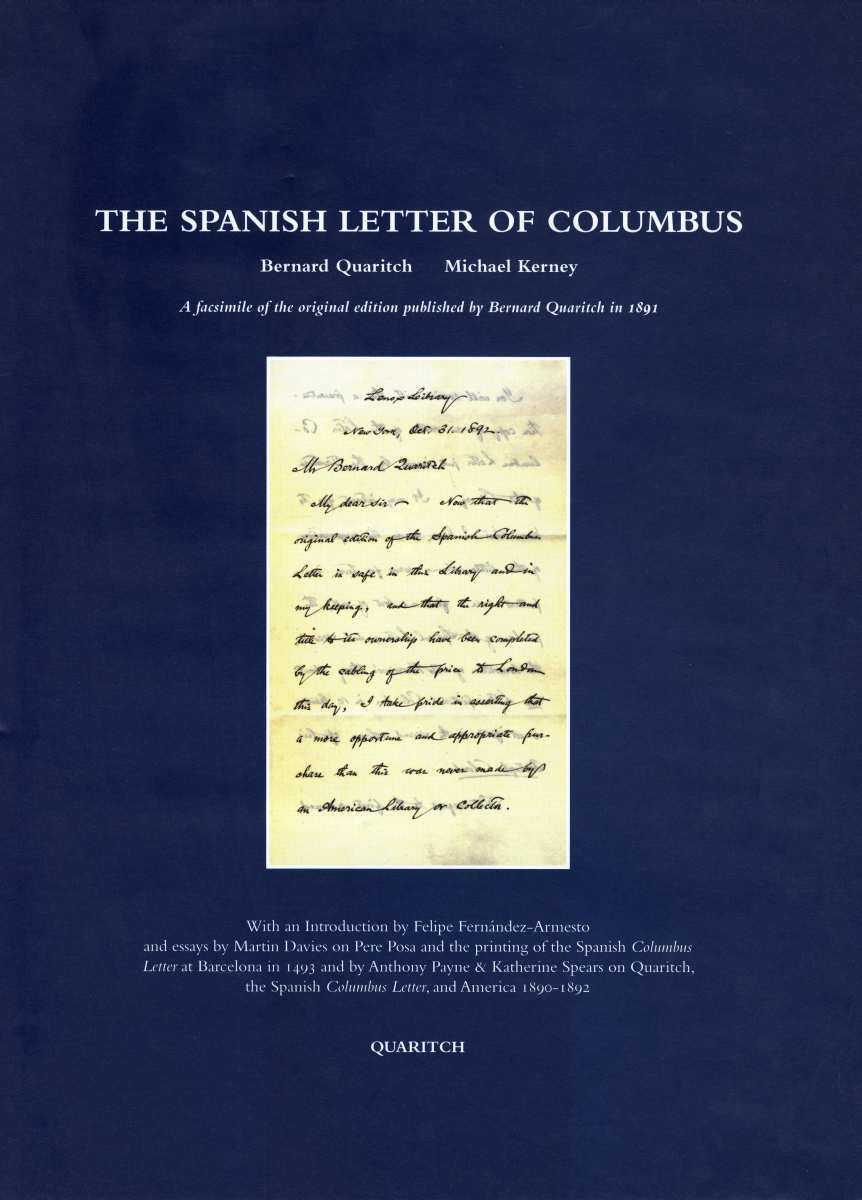 [COLUMBUS.] QUARITCH, Bernard, and Michael KERNEY.
The Spanish Letter of Columbus . . . A facsimile of the original edition published by Bernard Quaritch in 1891. With an Introduction by Felipe Fernández-Armesto and essays by Martin Davies on Pere Posa and the printing of the Spanish Columbus Letter at Barcelona in 1493 and by Anthony Payne & Katherine Spears on Quaritch, the Spanish Columbus Letter, and America 1890–1892. Edited by Anthony Payne.
[London], Quaritch, 2006.
Small folio (350 x 255 mm), pp. li, [3], 33, with 10 coloured illustrations and a reproduction of the original Columbus Letter; blue cloth, pictorial dust-jacket.
£60

Approximately:
US $0
€0
Over the centuries, booksellers have contributed much to the elucidation and sometimes to the falsification of historical documents. The story of the first printed account of the New World, usually known as Christopher Columbus's Letter to Santángel or simply the Columbus Letter, illustrates both themes.

The version of it which the London bookseller Bernard Quaritch bought in 1890 and sold in 1892 was and is, by common acclaim, the most valuable item of printed Americana ever to have appeared on the market. No other copy of this, the earliest edition, a folio printed in Spanish at Barcelona in 1493, is known. Samuel Eliot Morison, the enormously influential scholar who long occupied the chair of American history at Harvard, called it 'the single most important document on the discovery of America'. Quaritch and his able assistant, Michael Kerney, were responsible for an enduring contribution to scholarship, producing in the Spanish Letter of Columbus – republished here in an edition limited to 500 copies – the first authoritative study of the document. But, as Felipe Fernández-Armesto recounts in his Introduction, it nearly got dismissed as a forgery.

Quaritch's Spanish Letter of Columbus, appearing in the thick of contention and in the midst of forgeries, was therefore more than just the usual bookseller's publicity material. It was an important piece of scholarly claim-staking on behalf of a genuine text against unwarranted assertions. Despite some errors – most of which were the result of assumptions common at the time or deficiencies of knowledge unremedied until later – Quaritch's Spanish Letter of Columbus did its job effectively. It demonstrated, correctly, that the folio in question was printed at Barcelona in 1493 and that all other known editions of the Columbus Letter followed it. This was a service to his firm and to the Lenox Library (now part of the New York Public Library), which purchased the item – and to the whole world of learning, which has been able, ever since, to return with confidence to a precious and intriguing text: the first piece of printing to reveal to the Old World the existence of the New.

Besides Felipe Fernández-Armesto's extensive Introduction, this new edition of Bernard Quaritch's Spanish Letter of Columbus includes an account of the printing of the original Spanish Columbus Letter in 1493 and, drawing on materials surviving in the Quaritch Archive, the story of how Quaritch, and his son, Alfred, marketed it in America.

ISBN 0-9550852-2-5.
You may also be interested in...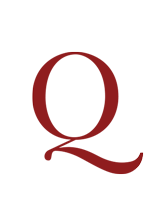 ROBERTSON, John Parish and William Parish.
Letters on Paraguay: comprising an account of a four years' residence in that republic, under the government of the dictator Francia . . . Second edition.
First published in two volumes in 1838. The present edition is a reissue of these two volumes with an additional volume entitled Francia's reign of terror, being the continuation of Letters on Paraguay. 'In December 1806 [John] Robertson, aged fourteen, sailed from Greenock for the River Plate to make his fortune. On arrival he found Buenos Aires recaptured by the Spanish but Montevideo about to be taken by British forces under General Auchmuty, on 3 February 1807. He witnessed the occupation, later boasting of acting as a "powder monkey", distributing cartridges to British troops. The British victory allowed Robertson to land and to begin trading. Sent home when Montevideo was retaken by the Spanish, Robertson returned to South America in 1808 to work as a clerk in Rio de Janeiro. He then went to Buenos Aires, where he remained for two years before moving on to Paraguay, reaching Asunción in 1812, where he opened trade with Buenos Aires. Save for a deserter from the British army, called Pedro Campbell, he reckoned himself the first Englishman to visit this isolated and unexploited country. He was joined by his brother and lifelong business associate William Parish Robertson (d. 1864), in 1814, and both became well known to Paraguay's notorious and eccentric tyrant, Dr José G. R. de Francia . . . . [John] Robertson's writings included numerous articles and papers, but he is best remembered for Letters on Paraguay' (Oxford DNB).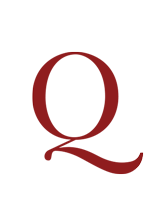 PECCHIO, Giuseppe.
Storia della economia pubblica in Italia, ossia epilogo critico degli economisti italiani, preceduto da un' introduzione …
Third edition (first, Lugano, 1829) of a companion piece to Custodi's monumental Scrittori classici italiani di economia politica, published in 50 volumes, 1803–16. With this work Pecchio supplies a biographical account of each author, as well as a historical introduction, chapters devoted to the Tuscan and the Neapolitan schools, and one chapter on the economic reforms of the eighteenth century. 'Though written with a strong national bias, it may on the whole be reckoned a pretty fair, as well as a rapid and spirited, sketch of the works of the Italian economists' (McCulloch, p. 31).