CONVERSATIONS WITH GOETHE
[GOETHE.] ECKERMANN, Johann Peter.
Razgovory Gete sobrannye Ekkermannom. Perevod s nemetskago D[mitriia] V[asil'evicha] Averkieva. Chast' pervaia [– vtoraia] [Conversations with Goethe, collected by Eckermann. Translated from the German by D[mitry] V[asilievich] Averkiev. First [– second] part].
St Petersburg, A. S. Suvorin, 1891.
2 vols., 8vo, pp. xix, [1], 358; [2], 416, xxvi; plus twelve pages of advertisements at the end of volume I, and sixteen pages at the end of volume II; slightly browned, titles a little spotted, a couple of short marginal tears, but generally a very good copy in the original light grey-blue publisher's cloth, blocked in black and lettered gilt (much rubbed away), bevelled edges, some light soiling and abrasion; prize label of Elizaveta Nikolaevna Popova of the Tambovskii Aleksandrinskii Institut for girls, dated 1892.
£1500

Approximately:
US $0
€0
Rare first edition in Russian of Eckermann's famous Gespräche mit Goethe (1836/48); a second edition followed in 1905.

A professor of English and German at the University of Jena, and later librarian at Weimar, Eckermann was Goethe's companion and unpaid secretary from 1823 until Goethe's death in 1832, and he actively assisted in the preparation of the definitive edition of his works, the Ausgabe letzter Hand. He records conversations with Goethe over the last nine years of his life, documenting the poet's thoughts about drama, poetry, music, painting, philosophy, prominent figures of the day, and much else. Nietzsche famously described the Gespräche mit Goethe as 'Das beste deutsche Buch, das es gibt'.

Not in OCLC; the Library of Congress has volume II only (volume I supplied from the second edition), and KVK shows a copy at the Anna Amalia Bibliothek, Weimar.

Goedeke IV/2, 503, η (second edition).
You may also be interested in...
FIRST EDITION OF COLLIE'S IMPORTANT WORK, FROM THE LIBRARY OF HIS FELLOW CHEMIST AND MOUNTAINEER, COLLIE, John Norman.
Climbing on the Himalaya and other Mountain Ranges.
First edition. The organic chemist and mountaineer Collie (1859-1942), was educated at Charterhouse and Clifton College, before studying chemistry at University College, Bristol and at Queen's College, Belfast. A series of teaching and research positions at Würzburg University, the Ladies' College, Cheltenham, and University College, London followed, which culminated in his appointment as professor of chemistry at the College of the Pharmaceutical Society, London in 1896 and then professor of organic chemistry in the University of London at University College in 1902.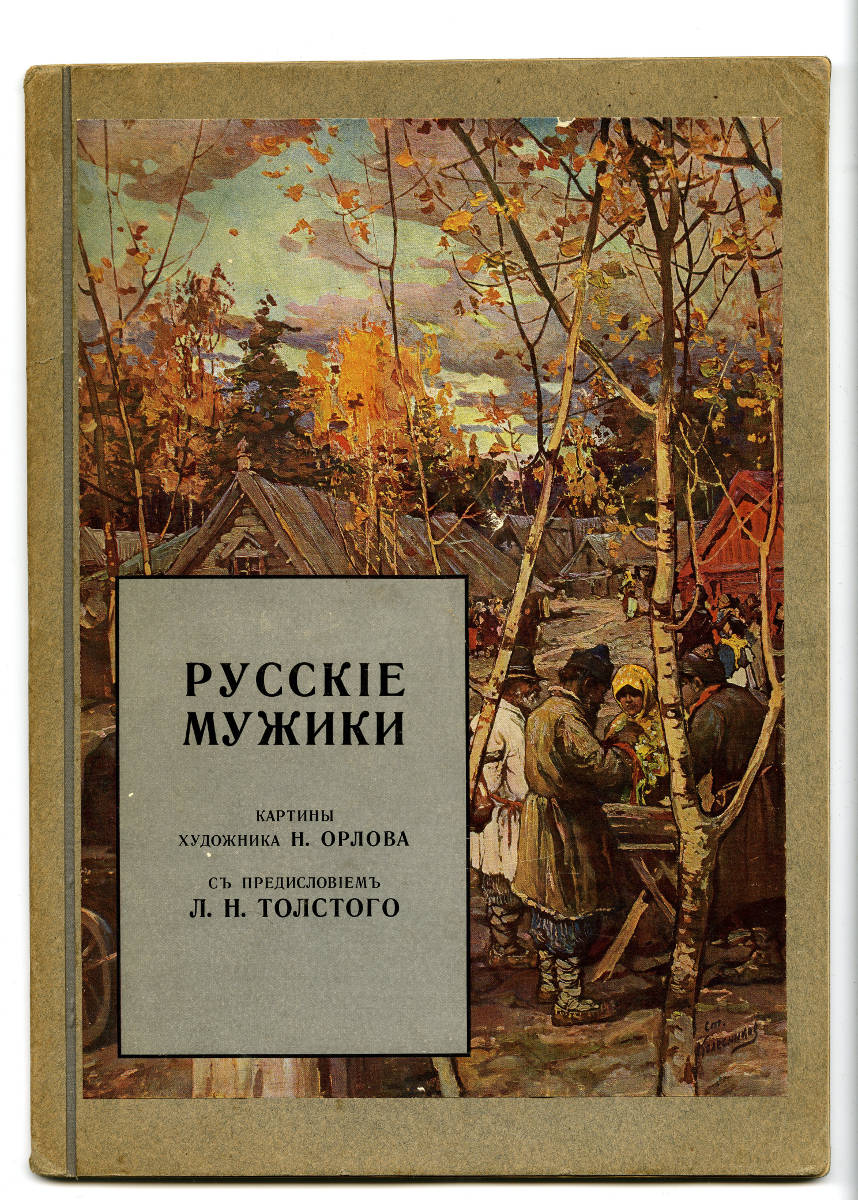 'THE REAL RUSSIAN SALT-OF-THE EARTH PEASANT PEOPLE' [TOLSTOY, Lev Nikolaevich.] ORLOV, Nikolai.
Russkie Muzhiki. Kartiny khudozhnika N. Orlova, s predisloviem Leva Nikolaevicha Tolstogo [Russian Peasants. Pictures painted by N. Orlov, with a preface by Lev Nikolaevich Tolstoy].
First and only edition of this album of nine black and white reproductions of folk-art paintings by the peasant artist Nikolai Orlov, prefaced by an 8-page introduction by Tolstoy. The realistic portrayal of Russian society, especially of the peasantry, was a cause beloved by Tolstoy, and is a key feature of many of his most famous works, including The Cossacks and Anna Karenina.