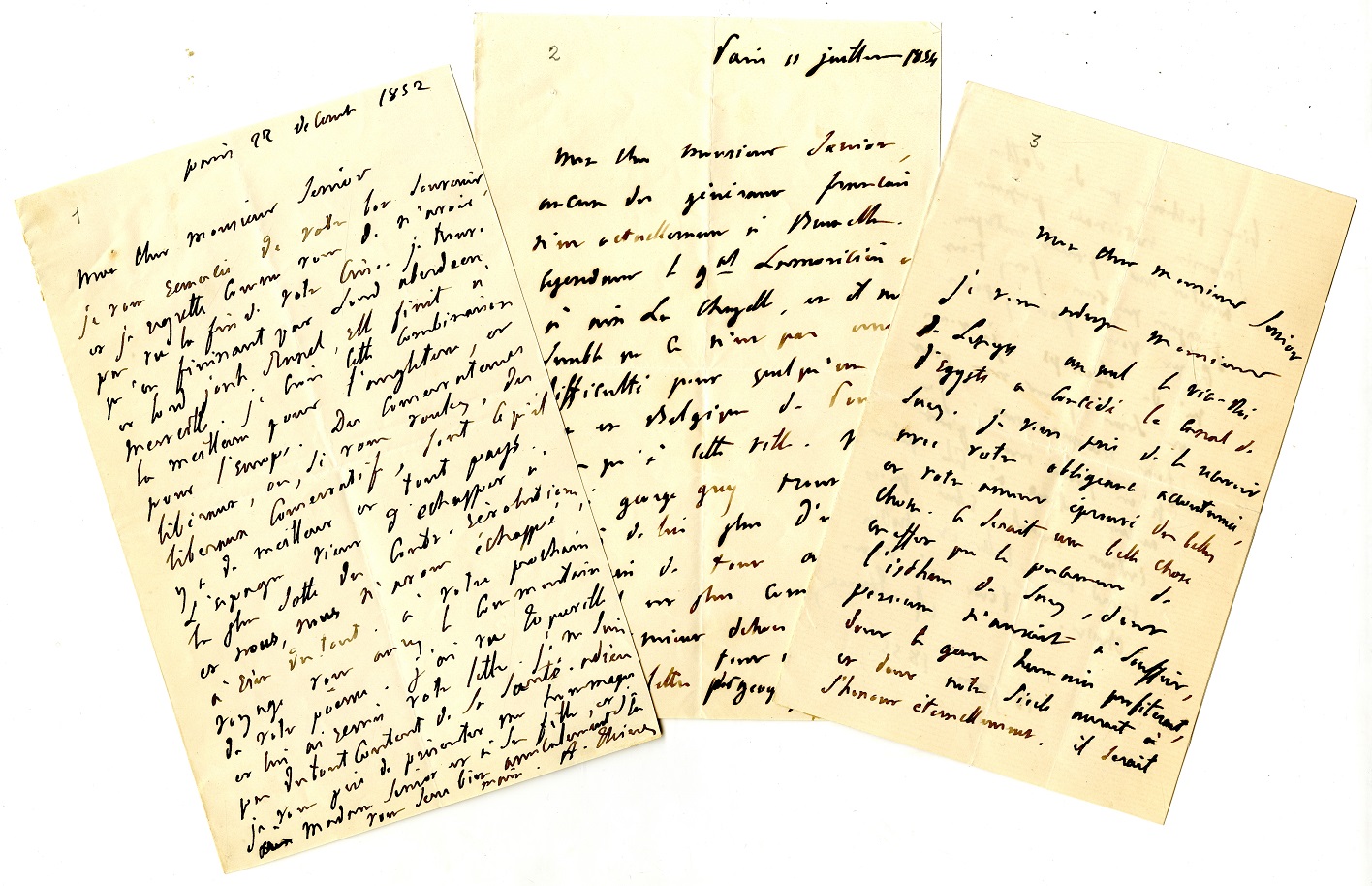 Discussing European politics and the Suez Canal
THIERS, Adolphe (1797-1877), French politician and historian.
Three autograph letters signed ('A Thiers') to Nassau Senior.
Paris, 22 December 1852, 11 July 1854, 18 June 1855.
8vo bifolia, pp. 1 + 3 blank; 1 + 3 blank; 2 + 2 blank; small tears and traces of mounting to last blank leaves, creases where folded, otherwise good.
£200

Approximately:
US $255
€228
A set of interesting letters from Thiers to the English economist Nassau Senior. Thiers was a French politician and historian who served as prime minister under Louis Phillipe. Following the overthrow of the Second Empire he again came to prominence as the French leader who suppressed the revolutionary Paris Commune of 1871.

The first letter was written soon after the fall of the Earl of Derby's government in December 1852 and the formation of a coalition under Lord Aberdeen. Thiers remarks that the combination of Lord Aberdeen and Lord Russell is 'la meilleure pour l'angleterre et pour l'europe', and expresses his belief that liberal conservatives are the best 'en tout pays'. Moving on to Spanish politics, Thiers remarks that Spain has just escaped from a foolish counter-revolution, an apparent reference to Juan Bravo Murillo's attempts to establish an absolutist constitution before his removal from power. Thiers ends by saying that he has seen Alexis de Toqueville and is concerned about his health.

In the second letter, Thiers tells Senior that there are no French generals in Brussels at present and that it should be possible to go there. He ends with mention of Senior's friend George Grey, possibly the Whig politician who was then acting as Colonial Secretary.

In his third letter, Thiers introduces Senior to 'Monsieur de Lesseps' to whom 'le Vice-Roi d'Egypte a concédé le canal de Suez', asking him to do all he can to help him. Thiers describes the canal project as 'une belle chose' which will profit the human race, bring honour to their age, and be one in the eye for 'sottes jalousies nationales'. Ferdinand de Lesseps (1805-1894), the former French consul in Cairo, had obtained a licence to construct and operate the Suez Canal in November 1854. Construction started in 1859 and finished, in spite of British opposition, ten years later.
You may also be interested in...
OSTRICH FARMING IN SOUTH AFRICA MARTIN, Annie.
Home Life on an Ostrich Farm.
First edition. Mendelssohn describes Home Life on an Ostrich Farm as an 'account of life in the Karoo, in the "Zwart Ruggens" country near Port Elizabeth. The writer accompanied her husband to South Africa in 1881, and they resided there for several years engaged in ostrich farming. Many details are given respecting the climate and flora of this part of the continent, and there is a good deal of information on the subject of ostrich breeding' (Mendelssohn). The book was evidently successful, and a second UK edition appeared in 1891 and a third in 1892, while an American edition was issued in New York in 1891.
UNRECORDED EDITION POMEY, François-Antoine.
Les particules reformées augmentées, & rangées en meilleur ordre. Avec un abregé tres-clair des genres des declinaisons, des heteroclites, des preterits, & de la syntaxe. Ajoûté à cette nouvelle edition par le R.P. F. Pomey de la Compagnie de Jesus.
An apparently unrecorded Douai edition of Pomey's popular, frequently reprinted French-Latin grammar and dictionary-cum-phrasebook. Pomey (1618-73) was a Jesuit teacher of humanities and rhetoric who served, from 1644, as Préfet des basses classes at the Collège de la Trinité in Lyon. Perhaps best known for his Dictionnaire royal des langues françoise et latine (1664) and Pantheum mythicum (1659), Pomey was one of several important lexicographers to occupy the Préfet's post. Dictionaries were indispensable pedagogical tools for the Jesuits, who believed, like Erasmus, that knowledge of words was an essential precursor to knowledge of things. Pomey's Particules was intended to facilitate a mastery of spoken and written Latin in young students.