A[RNOLD, Matthew].
The Strayed Reveller, and other Poems. By A.
London: B. Fellowes …1849
Small 8vo., pp. viii, 128; a very good copy in the original green fine-ribbed cloth, covers and spine stamped in blind, spine lettered in gilt.
£600

Approximately:
US $837
€704
Added to your basket:
The Strayed Reveller, and other Poems. By A.
First edition of Arnold's first book, apart from the Rugby and Oxford prize poems Alaric at Rome and Cromwell. To conceal his authorship as 'A.' suggests a certain reticence about the volume, even though it contains a number of his finest early poems, including 'The Forsaken Merman'. Only 500 copies were printed, but while it may have sold badly, the traditional statement that the book was 'withdrawn from circulation before many copies were sold' (W. F. Prideaux) cannot be true as copies were still advertised for sale in Empedocles on Etna in 1852.

Hayward 256; Tinker 128.
You may also be interested in...
THE APOSTLE OF LIBERTY PRIESTLEY, Joseph.
A discourse on occasion of the death of Dr. Price; delivered at Hackney, on Sunday, May 1, 1791.
First edition of this moving tribute to the philosopher, demographer, and political radical Richard Price (1723-1791), by his close friend Joseph Priestley. 'The most august assembly in the world, by which I wish to be understood the National Assembly of France, have justly styled him the apostle of liberty', Priestley writes (p. 8). The work ends with a short biography of Price and an account of his publications.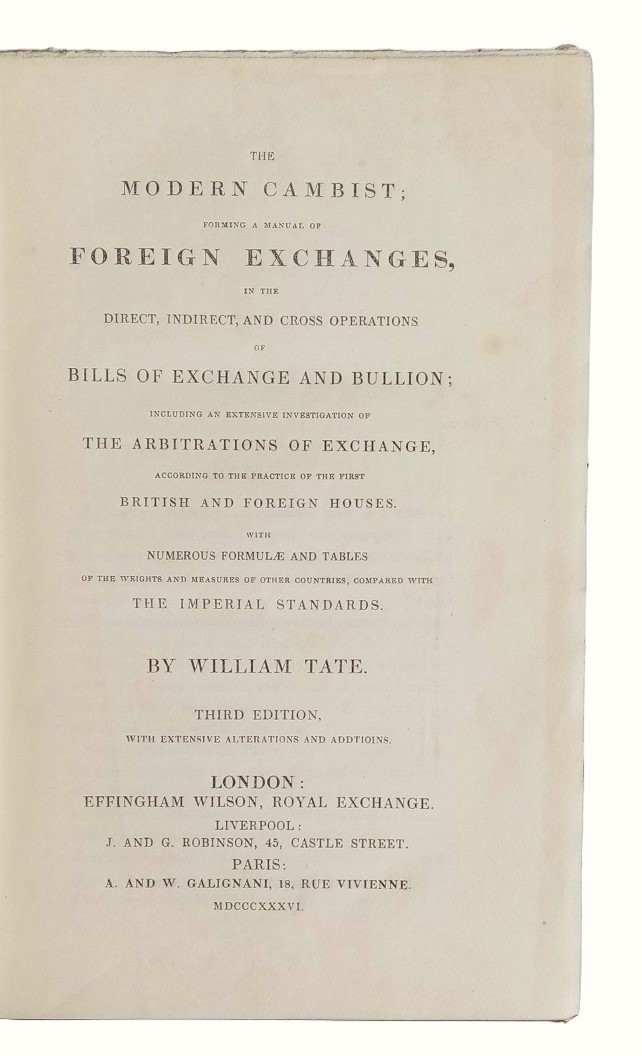 TATE, William.
The modern cambist; forming a manual of foreign exchanges, in the direct, indirect, and cross operations of bills of exchange and bullion; including an extensive investigation of the arbitrations of exchange, according to the practice of the first British and foreign houses. With numerous formulae and tables of the weights and measures of other countries, compared with the Imperial standards. Third edition, with extensive alterations and addtioins [sic].
Third edition, corrected and expanded to reflect changes in the monetary systems of Portugal and Geneva, a new coinage introduced by the East India Company and the opening of trade with China. There is also a new appendix which discusses the mintage regulations for the coins of the United States, reflecting the increasing importance of currency exchanges between the United States and the United Kingdom. The section on trade with China is of particular interest as the Canton system described by Tate only lasted another six years before the Treaty of Nanjing, signed on 29 August 1842, ended the First Opium War and laid the foundation for a new system of Chinese foreign relations and overseas trade that lasted for over one hundred years.