THE NATURE OF ANTISEMITISM AND PREJUDICE
ADORNO Theodore W. Else FRENKEL-BRUNSWIK Daniel J. LEVINSON and R. Nevitt SANFORD.
The authoritarian personality.
New York, Harper Brothers, 1950.
8vo, pp. [iv]-xxxiv, 990; a clean, faultless copy, bound in the original blue cloth, spine direct-lettered gilt; in the original dust-jacket; some wear to the corners and edges of the dust-jacket and bumping to the top corner of the back cover.
£225

Approximately:
US $310
€265
Added to your basket:
The authoritarian personality.
First edition. Theodore Adorno is well known as having been a leading light of the Frankfurt School of critical theory. Less known, but nevertheless worthy of note, are his co-authors, each of whom made notable contributions to the field of psychology. The authoritarian personality is itself a groundbreaking work of social psychology, a study into antisemitism and the development of prejudice. Antisemitism made a significant mark on the lives of two of its authors: both Adorno and Frenkel-Brunswik were made refugees by the Nazi regime.
You may also be interested in...
JESUIT LOGIC AND PHYSICS [LALANDE, Fr.]
[Philosophy course.]
Fair manuscript copy of a course of philosophy for the use of clerical students offering a systematic treatment of Aristotelian Logic and Physics. The initial inscription states that this course was given by a Jesuit, Fr. Lalande, to Jacques Becheau of Périgord in 1681. The course is articulated in the disputationes dealing in depth with logics and metaphysics at first, then physics and astrology in the second part. A fair example of Jesuit Aristotelianism with significant departures from Aquinas's interpretation, this manuscripts offers an insight into the Jesuit order's agility in adapting the received 'calculations' of syllogism and deduction to early-modern challenges coming from the emergence of experimental science in the age of Galileo.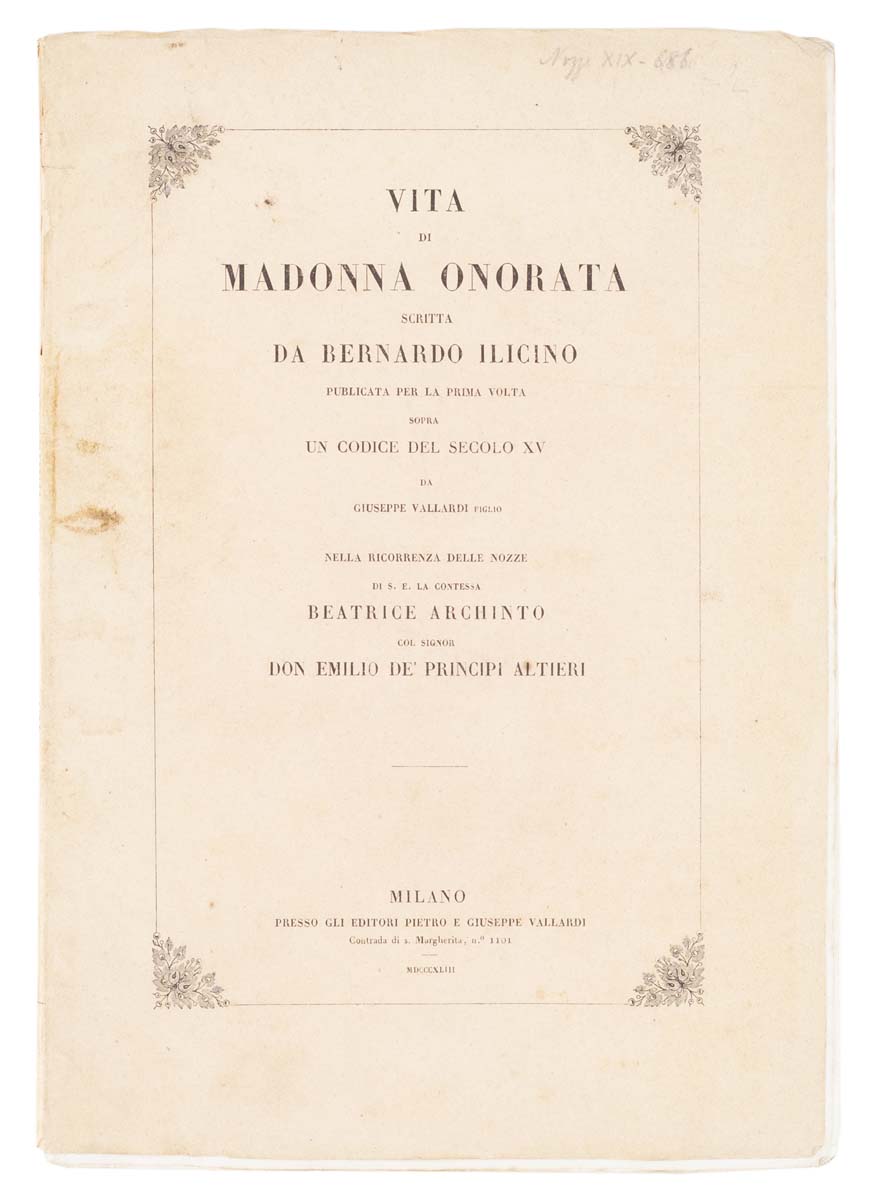 [LAPINI, Bernardo.]
Vita di Madonna Onorata scritta da Bernardo Ilicino publicata per la prima volta sopra un codice del secolo XC da Giuseppe Vallardi figlio.
First appearance in print of this life of the Sienese noblewoman Onorata Saracini (née Orsini, 1435–1457), by her contemporary, the late fifteenth-century physician and writer Bernardo Lapini (or Ilicini), here edited by the Milanese print and old master dealer Giuseppe Vallardi (1784–1863) and published to mark the wedding of Beatrice Archinto and Emilio Altieri, Prince of Oriolo and Viano. Vallardi offers a brief survey of the life and writings of Lapini, and copious notes on the text.