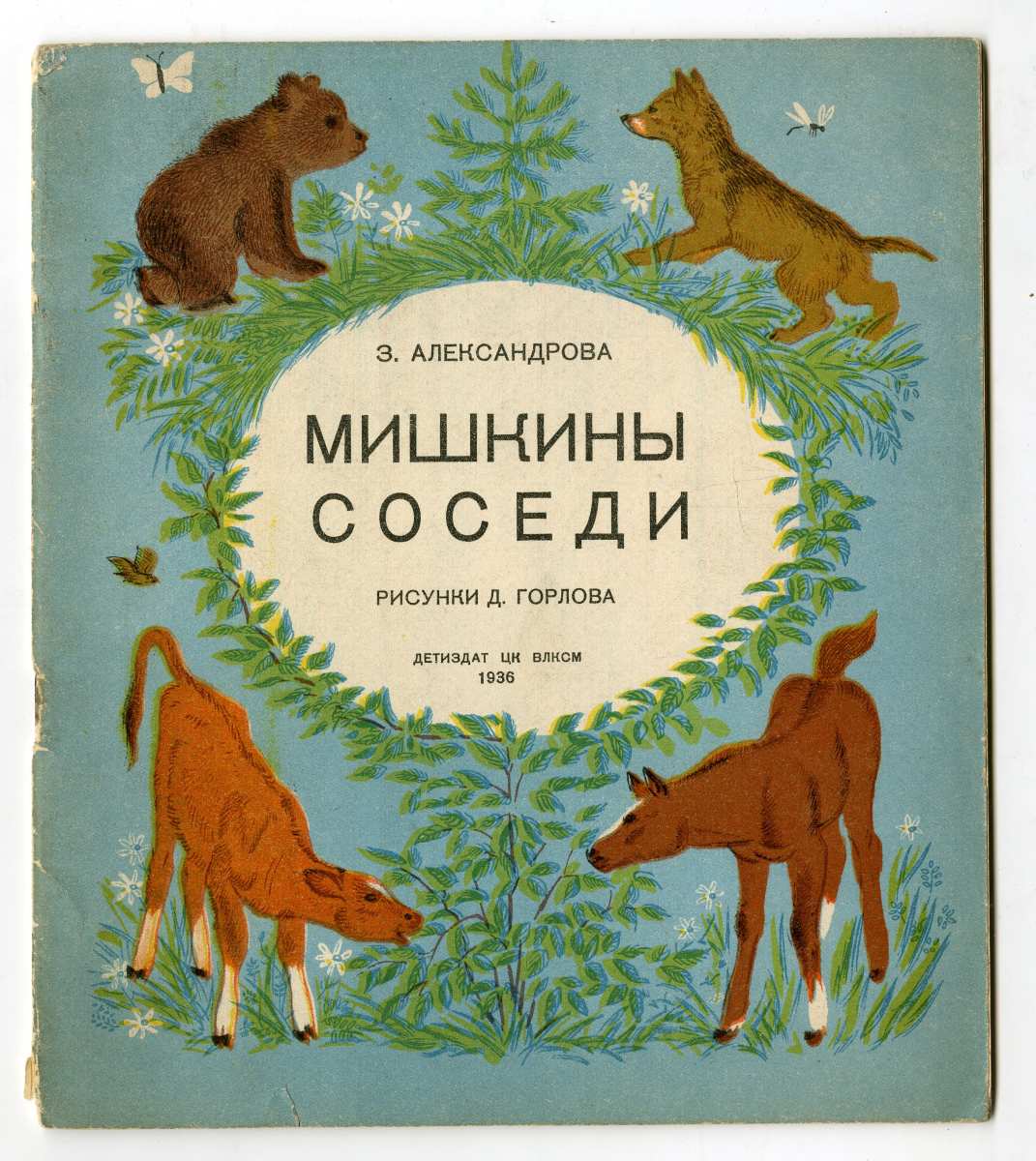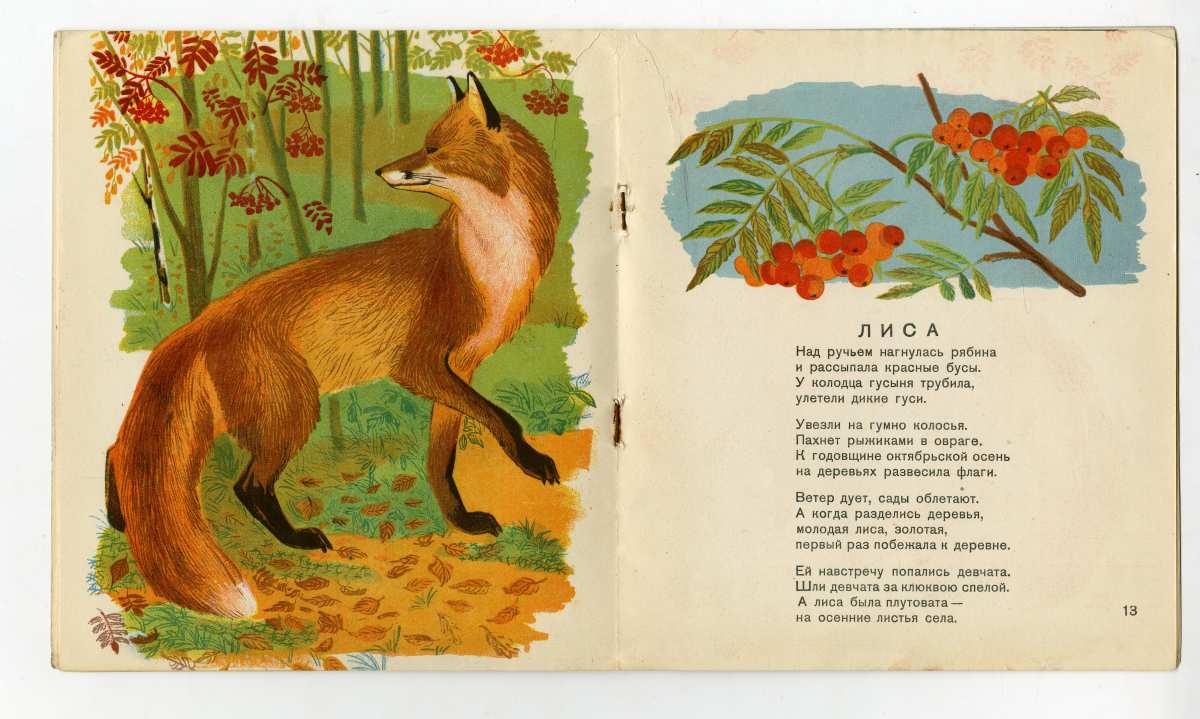 ALEKSANDROVA, Zinaida and Dmitry GORLOV.
Мишкины соседи [Little Bear's neighbours].
Moscow, VLKSM Izdatelstvo Detskoi Literaturi, 1936.
4to, pp. 24, including the original decorative paper wrappers, in full colour throughout, wire-sewn as issued, a few small marks, still very good, spine very lightly worn.
£350

Approximately:
US $451
€386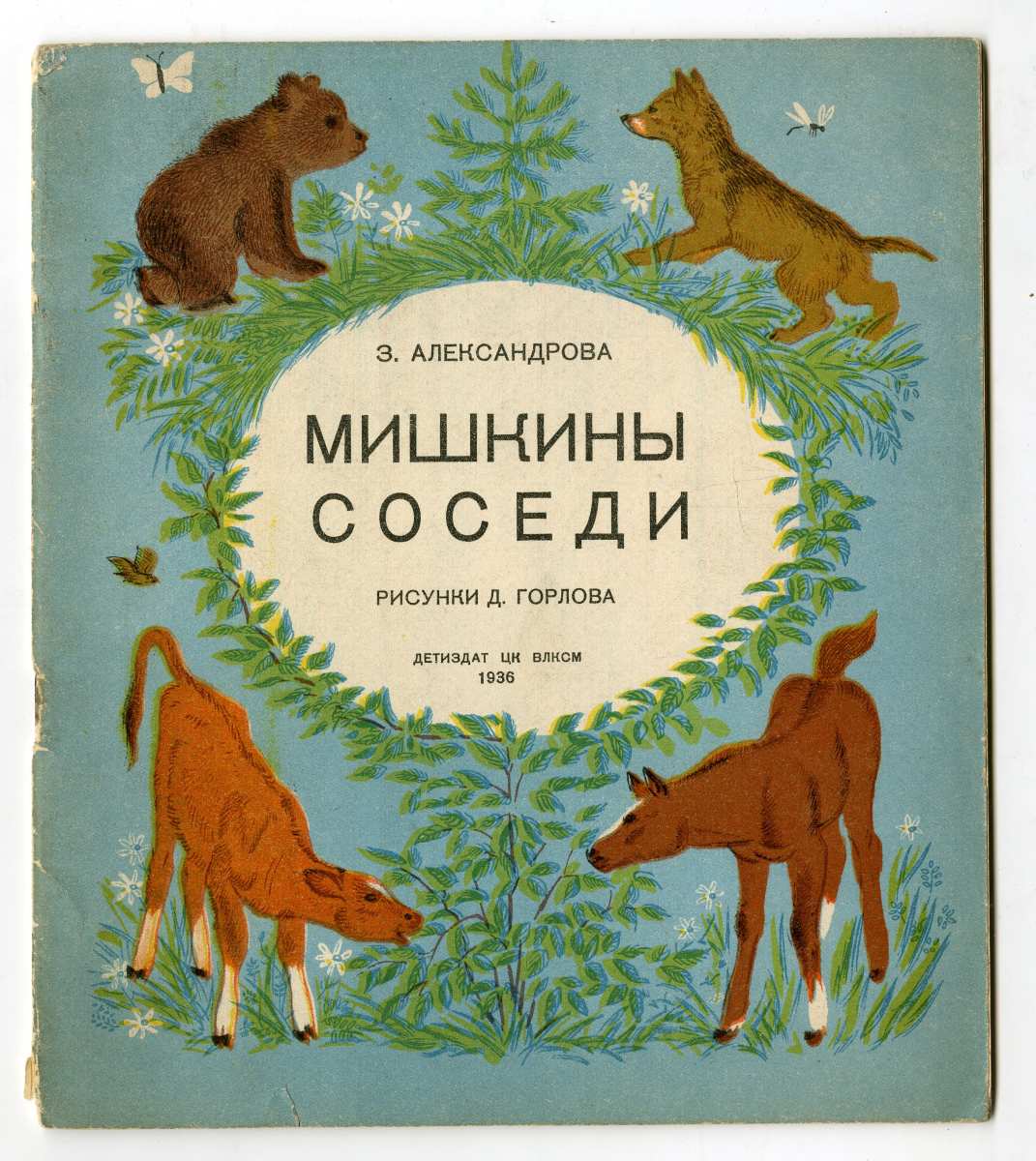 Added to your basket:
Мишкины соседи [Little Bear's neighbours].
First edition. A very nice copy of this collection of verses for young children, composed by one of the most prolific Soviet children's poets, and illustrated by one of the most prolific of Soviet children's artists. The tales tell of the lives of a selection of farm and wild animals, including a calf, a foal, a fox, a wolf-cub and the little bear of the title.

Zinaida Aleksandrova was the author of around seventy poetical works for children, many of which were repeatedly republished, or turned into songs. Dmitry Gorlov was a celebrated Soviet sculptor, graphic artist and animal painter. He worked as an illustrator of children's books from 1922 onwards, eventually going on to work as a ceramic designer from the famous Dmitrov factory in Gzhel.

Rare. Worldcat finds only a single copy, at Chicago.
You may also be interested in...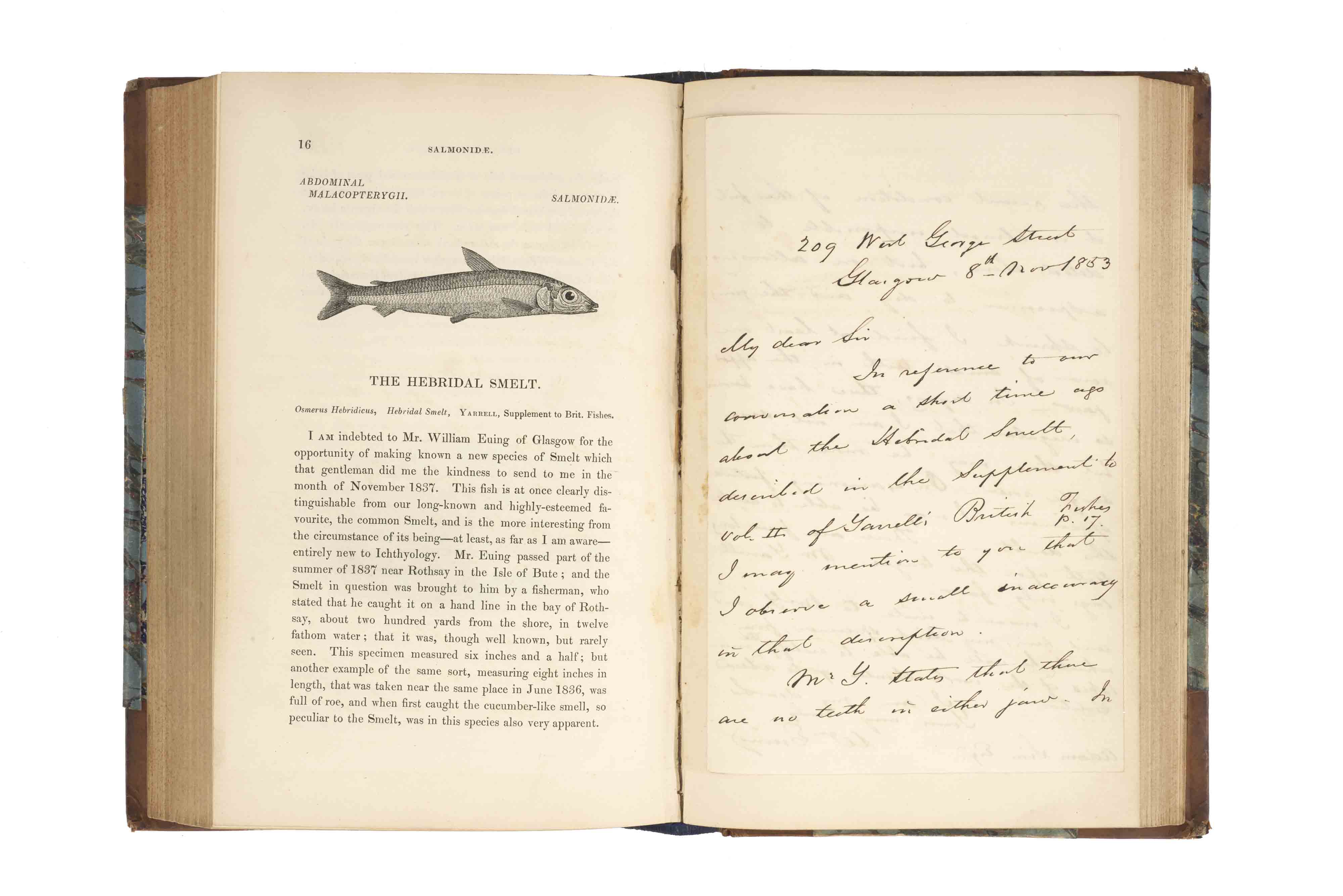 HEBRIDAL SMELT YARRELL, William.
A History of British Fishes … illustrated by nearly 400 Woodcuts.
First collected editions, with an autograph letter on the Hebridal smelt from the species' discoverer. Published serially from 1835 to 1836, Yarrell's History of British Fishes was reprinted within a year, and followed soon after by Thomas Bell's British Reptiles in 1839 and his own British Birds in 1843 published by van Voorst and together forming a comprehensive survey of British wildlife. Though noted for his careful observations, Yarrell is here corrected on several points in an autograph letter to the antiquarian Adam Sim (1805–1868) from William Euing (1788–1874), who had discovered the Hebridal smelt (first included in the Supplement) in November 1837.
Despite this contribution to Scottish ichthyology, Euing, a Fellow of the Royal Society of Edinburgh and President of the Glasgow Archaeological Society, is best remembered for his fine library, of which some twelve thousand volumes now belong to Glasgow University.
'B' IS FOR BOOK-BURNING [ALPHABET].
Tesoretto per l'infanzia ossia 1000 disegni delle principali cose a sapersi col relative vocabolo Italiano, Francese, Tedesco e Inglese. IV. Edizione nuovamente disegnata ed incisa.
A good copy of this very rare illustrated dictionary of the principal things a child should know in Italian, French, German and English, published by the Milanese educational bookseller Andrea Ubicini.Ubicini published a number of works on language, including an Italian-French dictionary, as well as conduct books, childrens' anthologies, and even editions of poetry by the likes of Andrea Maffei. The present work contains 1000 engraved illustrations of objects, arranged alphabetically by the Italian name, with the names in the three other languages also provided; these range from everyday items (coffee roasters, watering cans, grass) to natural phenomena (volcanic eruptions, lightning), actions (inflating balloons, extinguishing fires, teaching), animals, clothing, architectural terms, and more. Although this is the fourth edition, the whole book is newly drawn and engraved for this edition, with a number of alterations in the objects shown compared with the second, which is the only other edition traced.
This edition not in OCLC, which records only the second edition, and only at the BL.