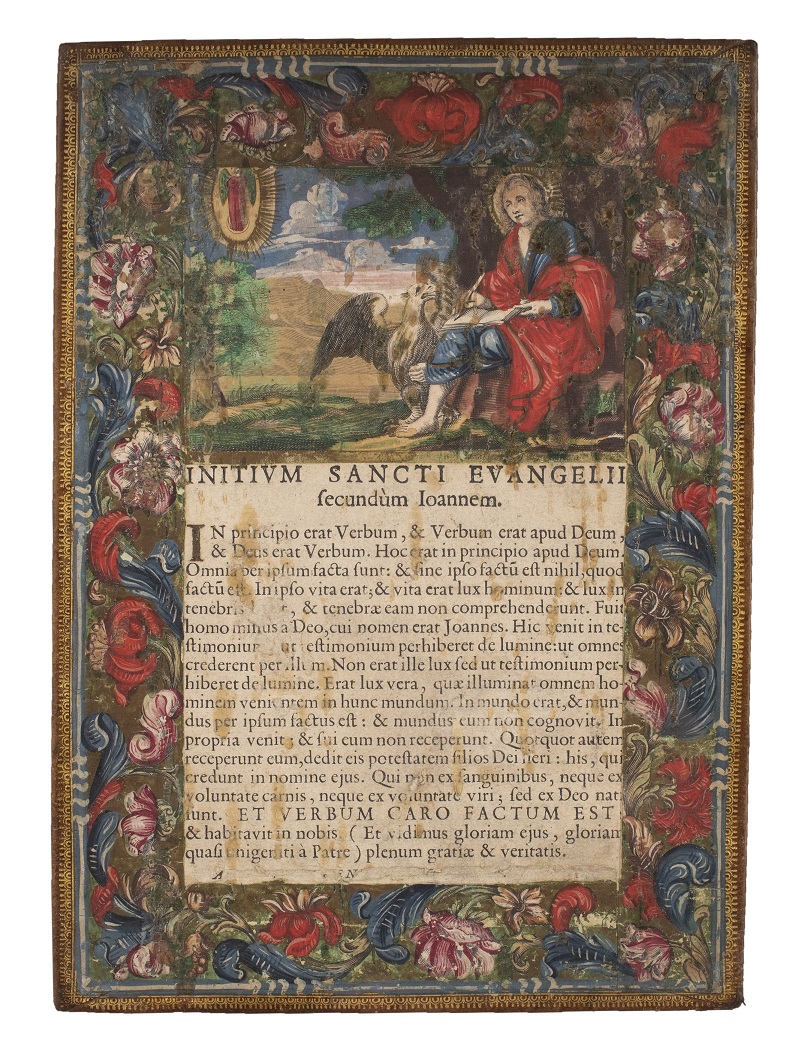 PRIESTLY PROMPTS
[ALTAR CARDS.]
Two altar cards with Latin text and images of Christ and St John.
'A Paris, chez I. Baudemont', second half of seventeenth century.
Two cards (30.5 x 21.5 cm) each comprising a hand-painted engraved image by J. Baudemont of Paris, with separate printed Latin text below (with imprint obscured by border), set within composite hand-painted engraved floral and foliate border, the whole pasted to board bound in polished calf, gilt border to verso, gilt dentelles to turn-ins; several drops of wax to both, a few small losses, some rubbing; a little staining to calf versos and rubbing to turn-ins.
£2750 + VAT

Approximately:
US $3357
€3081
Added to your basket:
Two altar cards with Latin text and images of Christ and St John.
Two seemingly unrecorded hand-coloured prompt cards for priests, bearing readings and prayers, and devotional images of Jesus and St John, comprising separately printed images, text and borders arranged together in collage fashion.

Carrying essential Latin texts for the celebration of the Mass, such altar cards – known as a canons d'autel in French and cartaglorie in Italian – were intended as a memory aid for priests officiating at the altar, and may also, given their essentially visual aspect, have served a secondary function for the purposes of private devotion. Most surviving examples date from the seventeenth century onwards and vary in appearance and format, being presented as triptychs or as individual cards. These examples are unusual in being composed of separate elements rather than image, text and border being printed as a single whole; the presence of an imprint on the printed texts, obscured by the borders, is proof that the sheets were purposely printed pieces of ephemera, rather than being cuttings from a devotional text. Both cards bear several wax marks, evidence of their repeated use in the proximity of candles.

The first card bears an image of St John with quill and ink pot writing into an open book resting upon his lap, his eagle by his side and a winged angel in a mandorla in the sky. The Latin text below comprises the first fourteen verses of St John's Gospel under the heading Initium Sancti Evangelii secundum Ioannem. The second shows Christ washing the feet of the Apostles below which are two Offertory prayers, Deus qui humanae substantiae dignitatem and Lavabo inter innocentes manus meas, under the heading Cibavit illum dominus panae vitae et intellectus. The illustrations are both signed by J. Baudemont, a Parisian engraver and print publisher active in the capital between 1635 and 1672 according to Benezit.
You may also be interested in...
APOCALYPTIC PLATES PEIL, Johann.
Tabula processum seu ordinem ultimi divini et criminalis judicii exhibens; cum adjunct eiusdem brevi demonstratione ex Biblicis textibus et rationibus, quibus figurae undecim tabulam illustrantes suo quaeque loco inseruntur, additurque cantio germanica, quae eandem totam continet.
First edition of this strange and rare treatise on the Apocalypse and the Last Judgement, illustrated with dramatic plates by Gillis van Scheyndel. It is the first book printed at Cleves in the Lower Rhine region of northwestern Germany. At the head of each plate appears a letter (or letters) which serve as a key to the relevant part of the text.
CONTEMPORARY MOROCCO WITH ONLAYS [PSALMS.]
The whole Booke of Psalmes, collected into English Meter by Tho. Strenhold, Jo. Hopkins, W. Whittingham, and others … with apt Notes to sing then withal …
A very attractive pocket psalm-book with tunes, ruled in red throughout and in a handsome binding. Such diminutive psalm books began to appear at the end of the sixteenth-century, printed for the Company of Stationers, who had the monopoly. The printer here was Thomas Cotes, most famous as printer of the Second Folio of Shakespeare in 1632, who became a Master of the Company in this year.