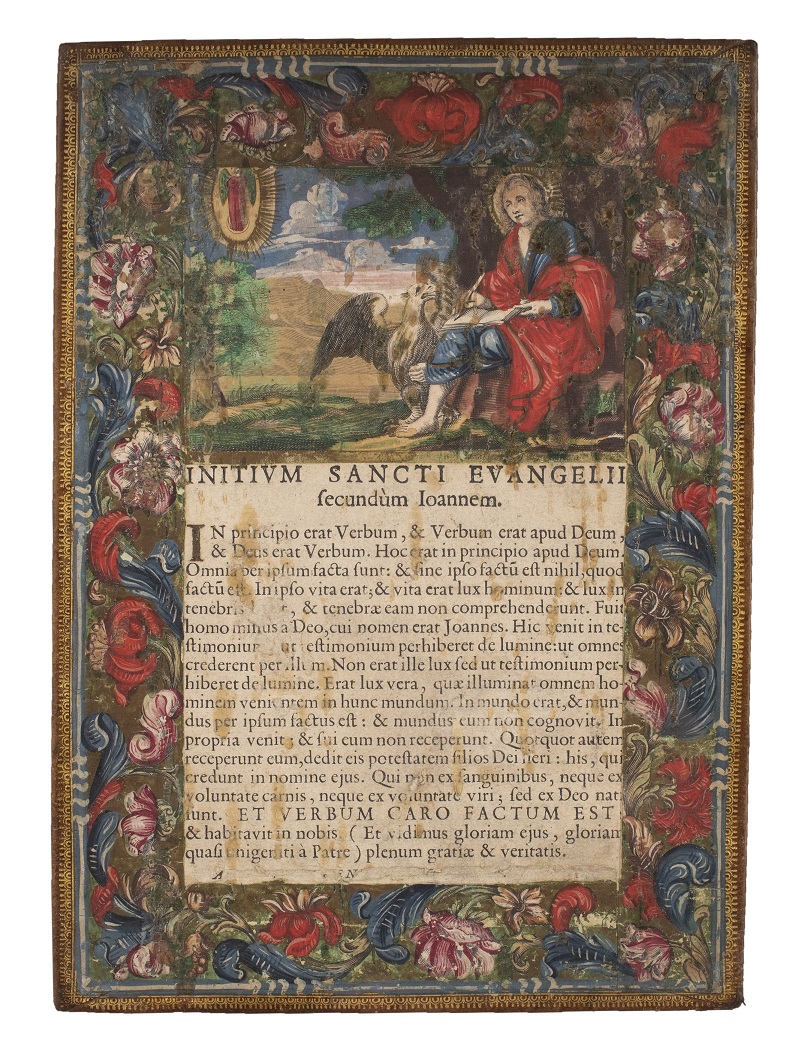 PRIESTLY PROMPTS
[ALTAR CARDS.]
Two altar cards with Latin text and images of Christ and St John.
'A Paris, chez I. Baudemont', second half of seventeenth century.
Two cards (30.5 x 21.5 cm) each comprising a hand-painted engraved image by J. Baudemont of Paris, with separate printed Latin text below (with imprint obscured by border), set within composite hand-painted engraved floral and foliate border, the whole pasted to board bound in polished calf, gilt border to verso, gilt dentelles to turn-ins; several drops of wax to both, a few small losses, some rubbing; a little staining to calf versos and rubbing to turn-ins.
£2750 + VAT

Approximately:
US $3412
€3179
Added to your basket:
Two altar cards with Latin text and images of Christ and St John.
Two seemingly unrecorded hand-coloured prompt cards for priests, bearing readings and prayers, and devotional images of Jesus and St John, comprising separately printed images, text and borders arranged together in collage fashion.

Carrying essential Latin texts for the celebration of the Mass, such altar cards – known as a canons d'autel in French and cartaglorie in Italian – were intended as a memory aid for priests officiating at the altar, and may also, given their essentially visual aspect, have served a secondary function for the purposes of private devotion. Most surviving examples date from the seventeenth century onwards and vary in appearance and format, being presented as triptychs or as individual cards. These examples are unusual in being composed of separate elements rather than image, text and border being printed as a single whole; the presence of an imprint on the printed texts, obscured by the borders, is proof that the sheets were purposely printed pieces of ephemera, rather than being cuttings from a devotional text. Both cards bear several wax marks, evidence of their repeated use in the proximity of candles.

The first card bears an image of St John with quill and ink pot writing into an open book resting upon his lap, his eagle by his side and a winged angel in a mandorla in the sky. The Latin text below comprises the first fourteen verses of St John's Gospel under the heading Initium Sancti Evangelii secundum Ioannem. The second shows Christ washing the feet of the Apostles below which are two Offertory prayers, Deus qui humanae substantiae dignitatem and Lavabo inter innocentes manus meas, under the heading Cibavit illum dominus panae vitae et intellectus. The illustrations are both signed by J. Baudemont, a Parisian engraver and print publisher active in the capital between 1635 and 1672 according to Benezit.
You may also be interested in...
A HUSBAND AND A COACH FOR FORTY SHILLINGS [LOTTERY SATIRE.] 
A Scheme for a New Lottery: or, a Husband and Coach and Six for forty Shillings.  Being very advantageous to both Sexes; where a Man may have a Coach and Six, and a Wife for Nothing.  Here's a Whim Wham newly come over, and who will prick at my Lottery-Book?  With a Scheme to prevent the Downfal of the Ch[aritab]le Cor[poratio]n.  By an old Sportsman … To which is prefix'd the Author's Picture drawn to the Life; being fit to be hung in the Lodgings of all Ladies of Pleasure, as a Memento Mori.  With a recommendatory Poem in favour of the said Lottery, to encourage Maids, Widows, single Women, Batchelors and Widowers to put in.  Also a Scheme scored in Lines, with the several prizes, where Ladies may divert themselves by pricking Blindfold in the said Lottery before the Time of Drawing, to try their Fortunes.  And likewise a View of the Town by the Highgate Spy, taken thro' a Glass of the Projector's own making … in which you may see those who can't see themselves: with an Account of what Persons of both Sexes are excluded the Advantage of putting into the said Lottery. 
First edition of this facetious proposal to match, for the fee of forty shillings each, 50,000 'maids and widows' with a similar number of 'gentlemen and tradesmen', by lottery.  The 'gentlemen and tradesmen' include '500 Lawyers, 200 Petty-foggers … 2 Scotchmen, both Pedlars, 500 Broken Booksellers' and an astonishing '21,000 Publishers'.  Many of these professions appear on an inserted folding game sheet on which ladies may try their luck in advance (blindfolded, with a pin).  The text includes a ludicrous multiplicity of technical conditions pertaining to the scheme, some of which involve allusions to such contemporary figures as Colley Cibber, Alexander Pope, and the eccentric 'Orator' Henley.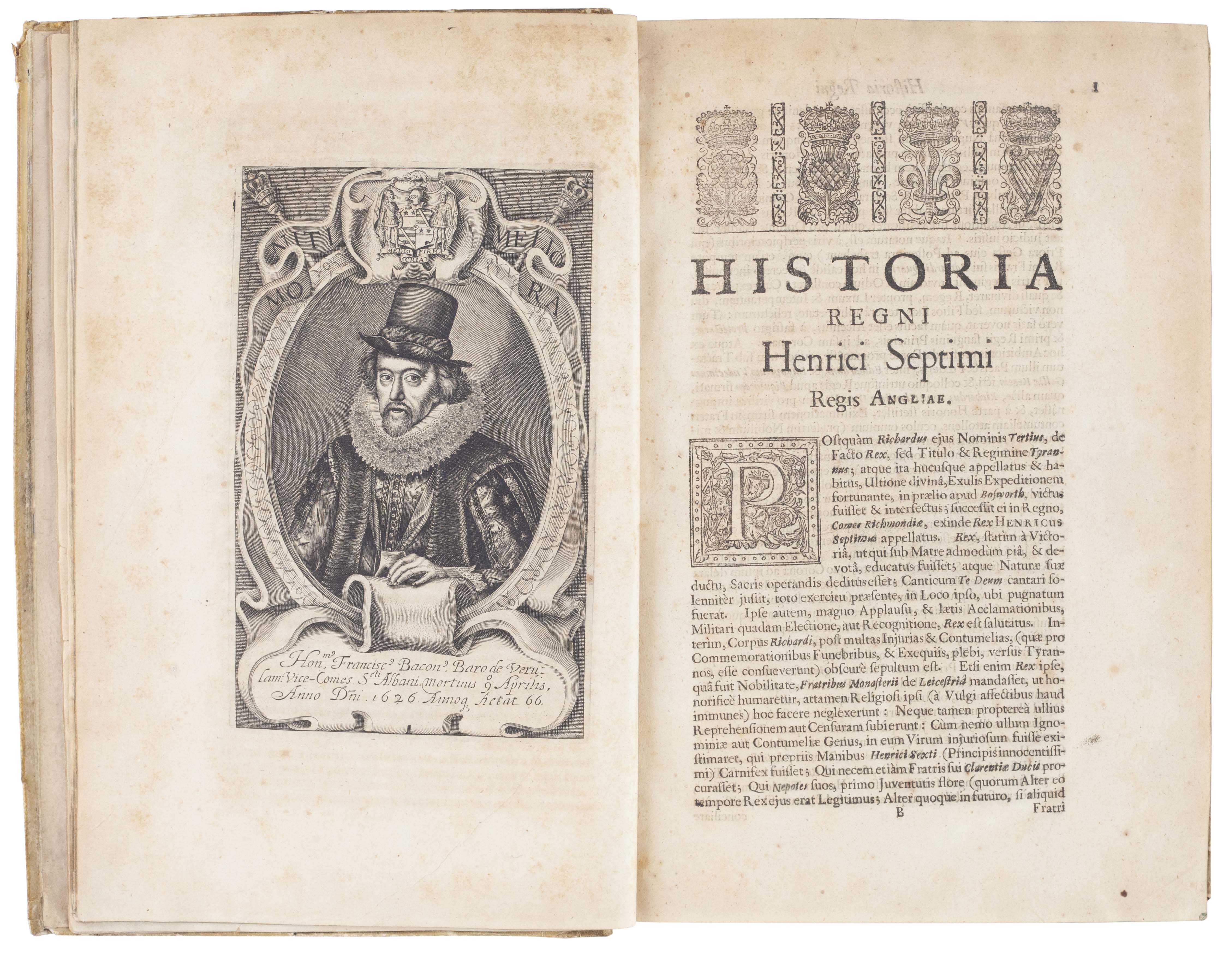 BACON, Francis. 
Francisci Baconi, Baronis de Verulamio, Vice-Comitis Sancti Albani, operum moralium et civilium tomus … cura et fide Guilielmi Rawley …
First edition, first issue, a copy from the celebrated Albani library: tangible witness to the early and fecund reception of Bacon's thought in the circles of Galilean science in Italy.