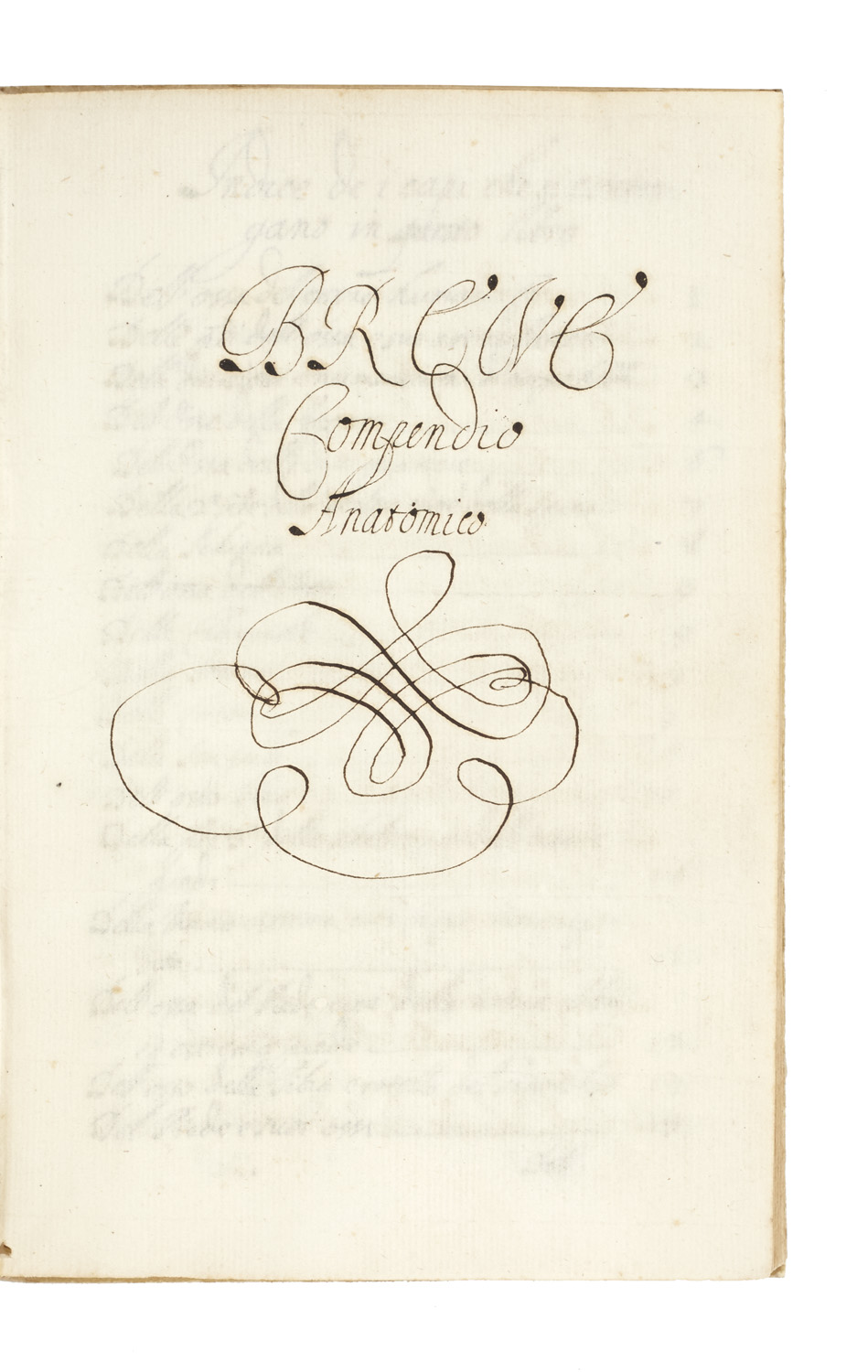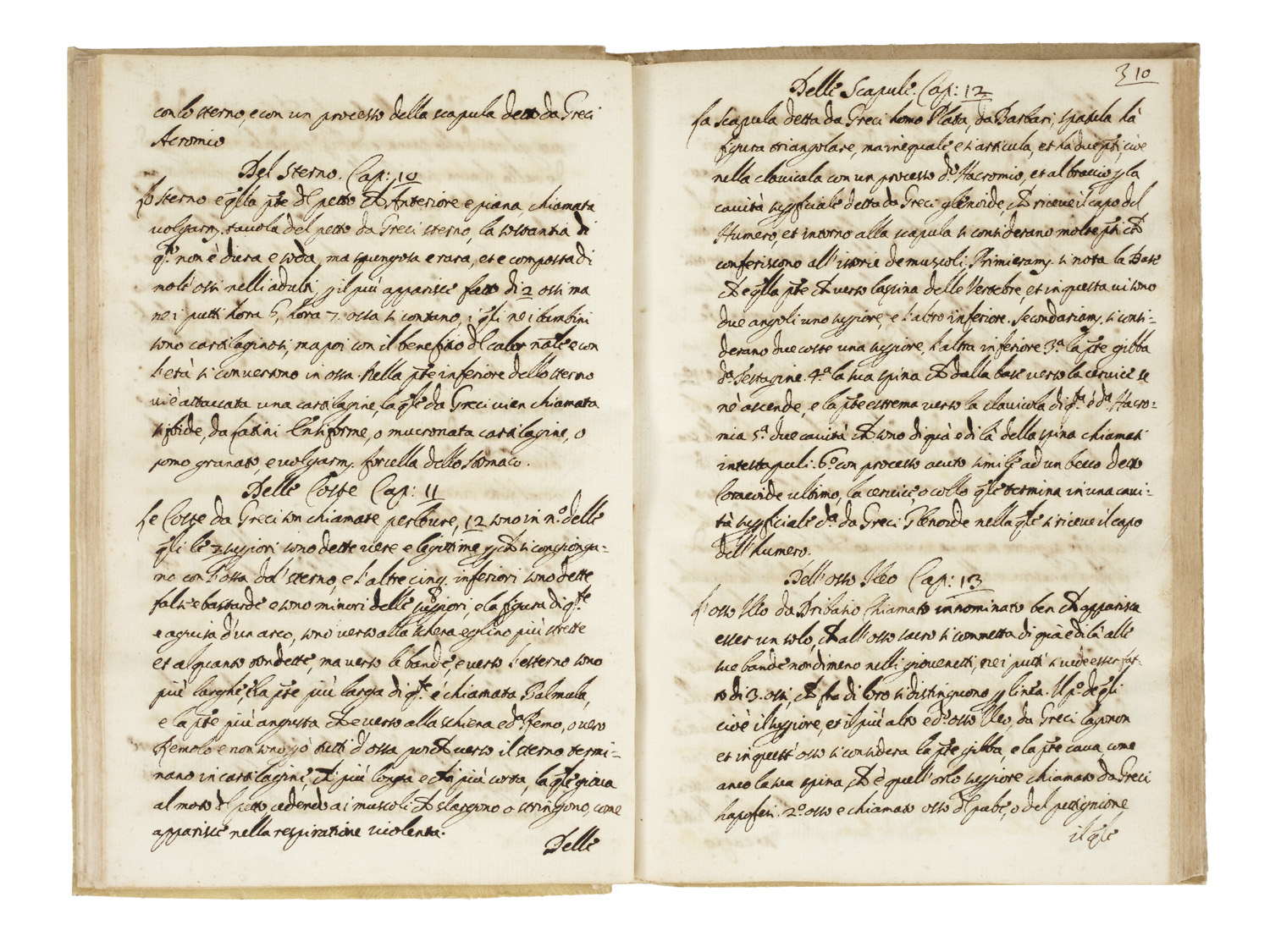 BONES FOR BEGINNERS
[ANATOMY.]
'Breve compendio anatomico'.
[Italy, c. 1720.]
Manuscript on paper, in Italian, 8vo (200 x 135 mm), ff. [5, including index], 73; neatly written in dark brown ink in a single hand, pen flourishes to title and colophon, 25 lines per page; very well preserved in contemporary limp vellum, title inked to head of spine, later paper label with shelf mark at foot of spine.
£1750

Approximately:
US $2152
€2041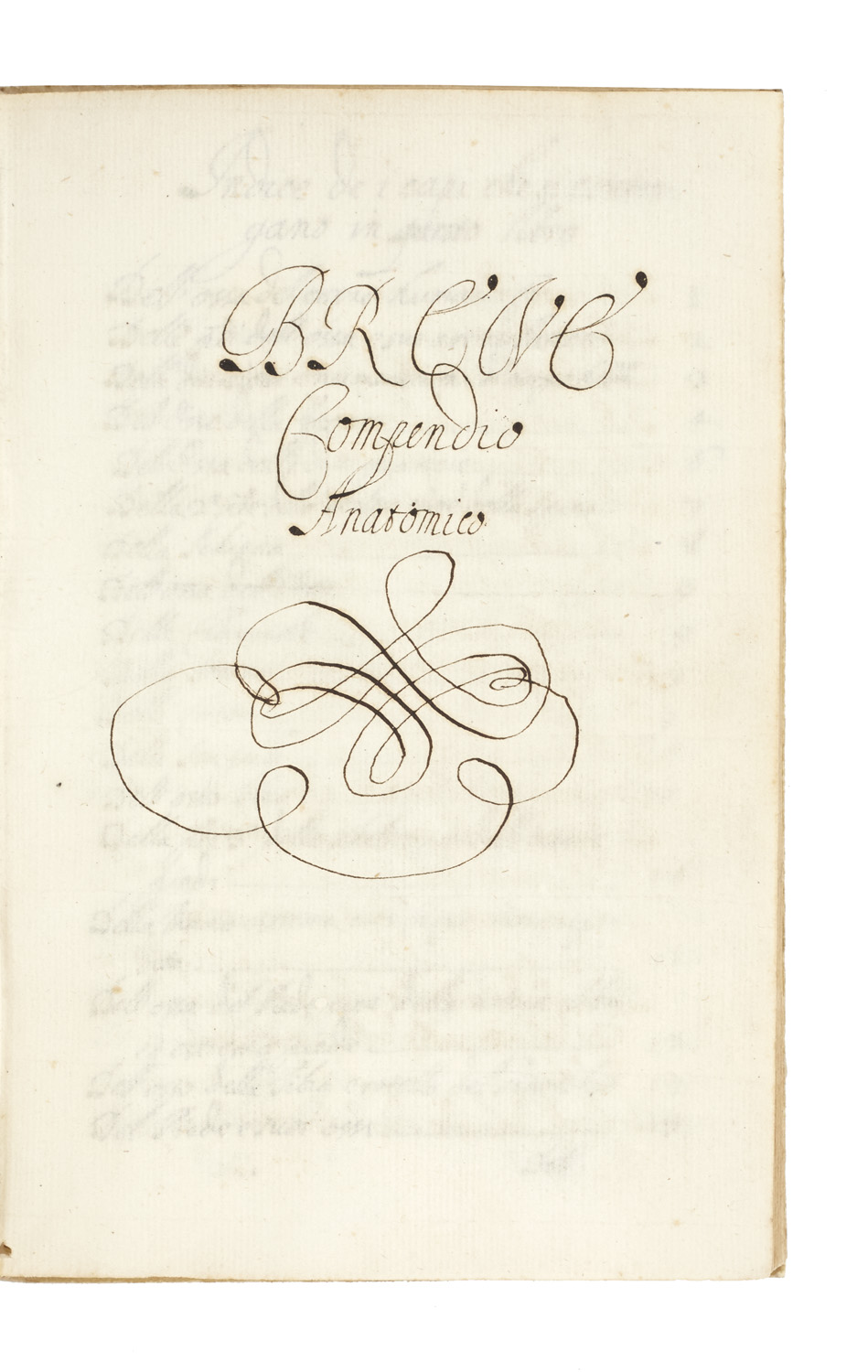 Added to your basket:
'Breve compendio anatomico'.
A handsome set of apparently unpublished notes on orthopaedics by an anonymous medical student, compiled in Italy in the early eighteenth century, covering bones, cartilage, ligaments and muscles. The manuscript opens with a detailed analysis of the human skeleton, its bones and articulation, from head to toe, including the spine, clavicle, sternum, ribs, scapulae, hip bone, and hyoid bone, before discussing cartilage (ears, nose, spine &c.) and ligaments (e.g. shoulders and elbows, legs, fingers and toes). The section on muscles covers, inter alia, the eyelids, nose, ears, lips, jaw, tongue, head and neck, and back. Other areas covered by the author include the peritoneum, ventricles, intestines, vena cava, heart, larynx, pericranium, pia, brain, and nerves.

In addition to citing Aristotle, Avicenna, Galen and Hippocrates, the author refers to the sixteenth-century Italian anatomists Niccolo Massa and Realdo Colombo, and to the French physician André du Laurens (1558–1609), who served as personal physician to Marie de' Medici and then to her husband Henry IV of France.
You may also be interested in...
SICILIAN SMILAX FOR SYPHILIS GALEANO, Giuseppe.
An smilax aspera eadem sit pro lue venerea curanda cum salsa parilla. Quaestio botano-medica in unum collecta, digesta, amplificata … Decerpta ab eodem ex co[n]sultatione publice habita in Aula Xenodochij Incurabilium Divi Bartholomei … 
[bound with:]
[—.] Smilacis asperae, et salsae parillae causa iam coram Francisco Galifi … agitata, exactiori rursus certamine …  Palermo, apud Decium Cirillum, 1653.
'CELESTIAL SCENERY, ELEGIES, TALES' BY A BERMONDSEY RHYMESTER HOGG, John.
Autograph poetical manuscript, apparently unpublished, comprising a preface dated 3 April 1825 and some forty long poems.
A fascinating volume of manuscript verse by an otherwise unknown poetaster, probably based in Southwark. In his grandiloquent Preface, Hogg explains that his poems are designed to excite in the reader the pleasurable contemplation of heaven, via 'the Study of Nature' and of our souls. 'Celestial Scenery, Elegies, Tales, &c will be found in this little work!'