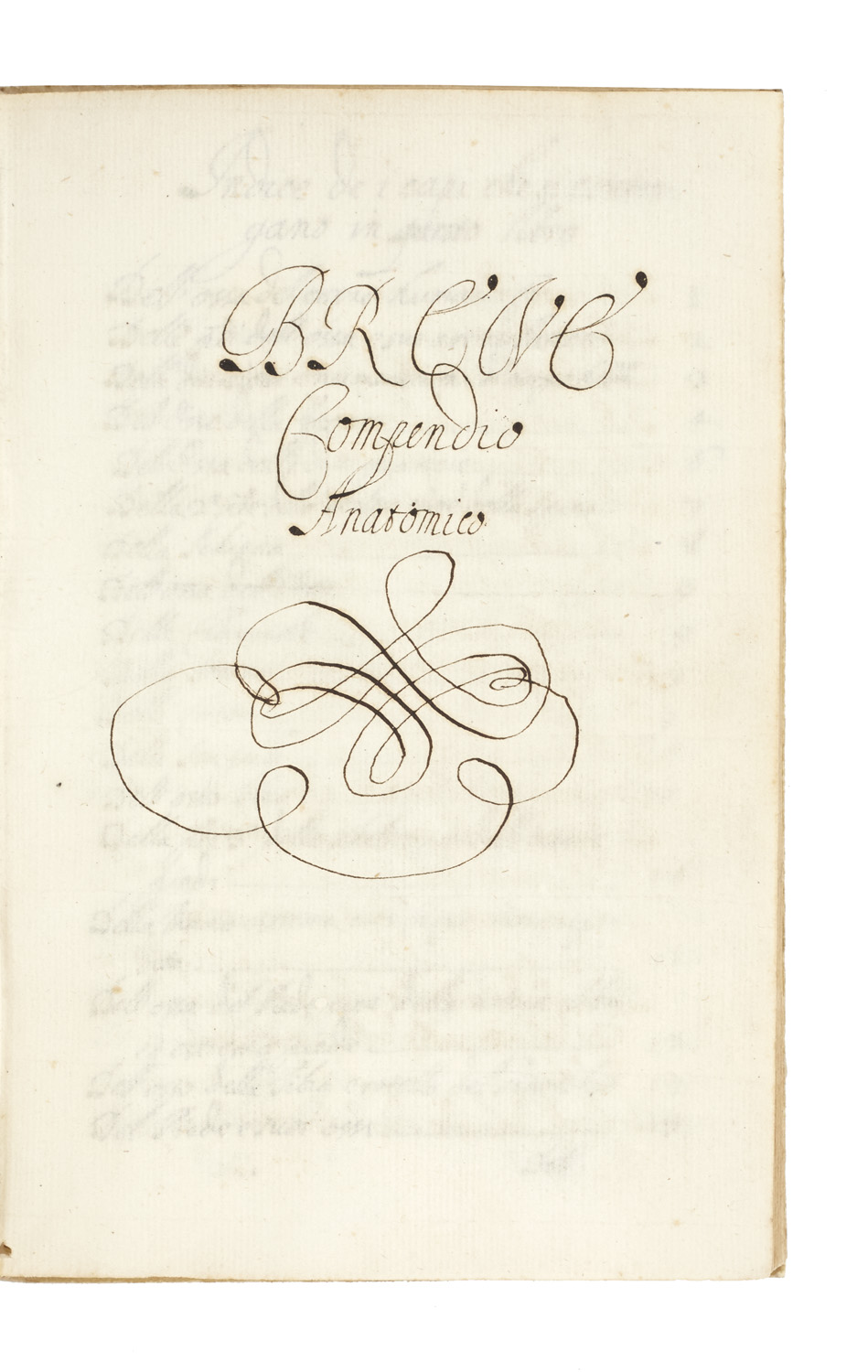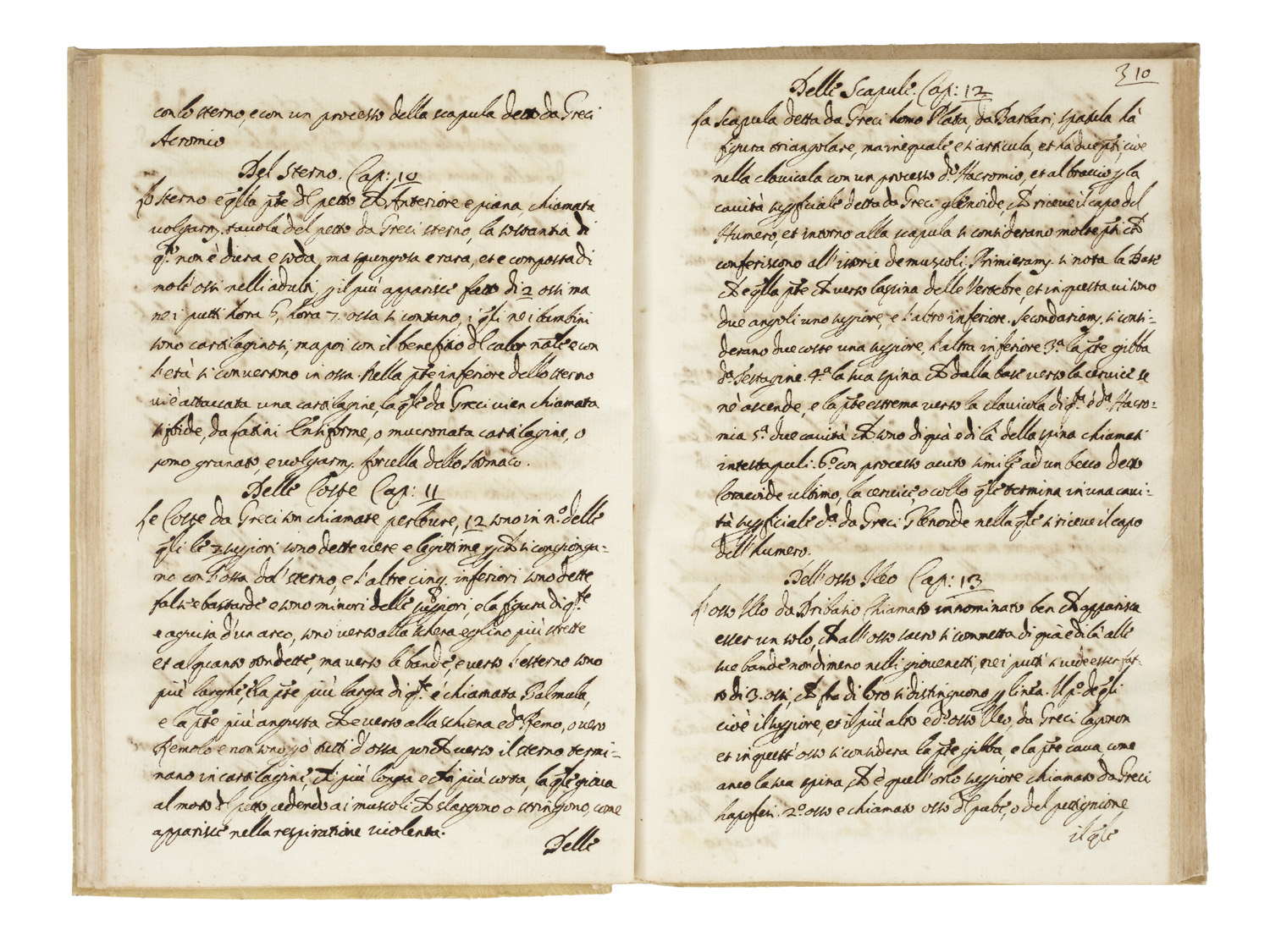 BONES FOR BEGINNERS
[ANATOMY.]
'Breve compendio anatomico'.
[Italy, c. 1720.]
Manuscript on paper, in Italian, 8vo (200 x 135 mm), ff. [5, including index], 73; neatly written in dark brown ink in a single hand, pen flourishes to title and colophon, 25 lines per page; very well preserved in contemporary limp vellum, title inked to head of spine, later paper label with shelf mark at foot of spine.
£1750

Approximately:
US $2121
€2023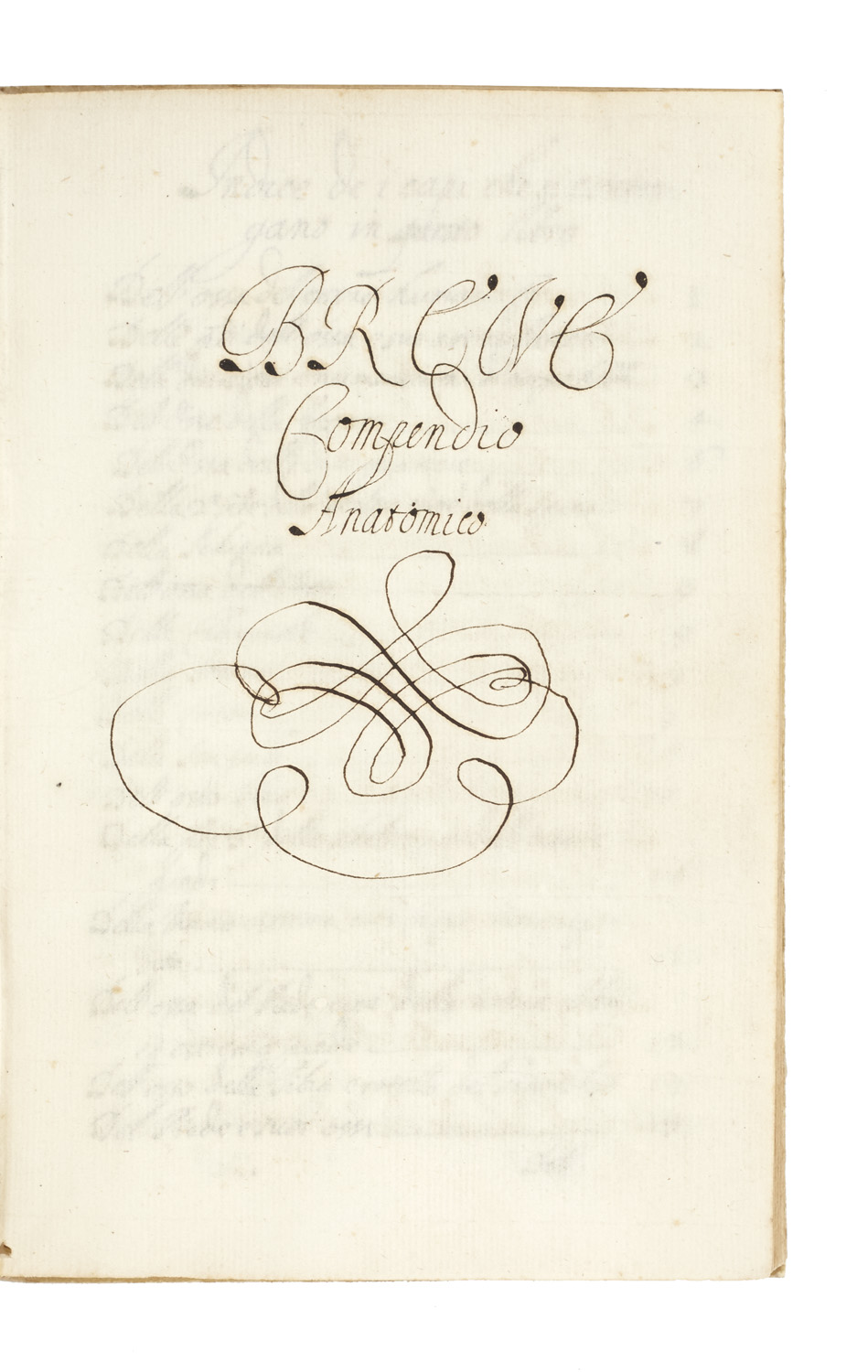 Added to your basket:
'Breve compendio anatomico'.
A handsome set of apparently unpublished notes on orthopaedics by an anonymous medical student, compiled in Italy in the early eighteenth century, covering bones, cartilage, ligaments and muscles. The manuscript opens with a detailed analysis of the human skeleton, its bones and articulation, from head to toe, including the spine, clavicle, sternum, ribs, scapulae, hip bone, and hyoid bone, before discussing cartilage (ears, nose, spine &c.) and ligaments (e.g. shoulders and elbows, legs, fingers and toes). The section on muscles covers, inter alia, the eyelids, nose, ears, lips, jaw, tongue, head and neck, and back. Other areas covered by the author include the peritoneum, ventricles, intestines, vena cava, heart, larynx, pericranium, pia, brain, and nerves.

In addition to citing Aristotle, Avicenna, Galen and Hippocrates, the author refers to the sixteenth-century Italian anatomists Niccolo Massa and Realdo Colombo, and to the French physician André du Laurens (1558–1609), who served as personal physician to Marie de' Medici and then to her husband Henry IV of France.
You may also be interested in...
MANUSCRIPT WITH JACOBITE CONNECTIONS LAFFREY.
'Abregé de l'histoire ancienne avec des reflexions philosophiques & politiques par Mr. Laffrey.'
A charming manuscript summary of ancient history, compiled for a young female member of the Bellew family, and once in the library of the eminent Scottish Jacobite Andrew Lumisden (1720–1801).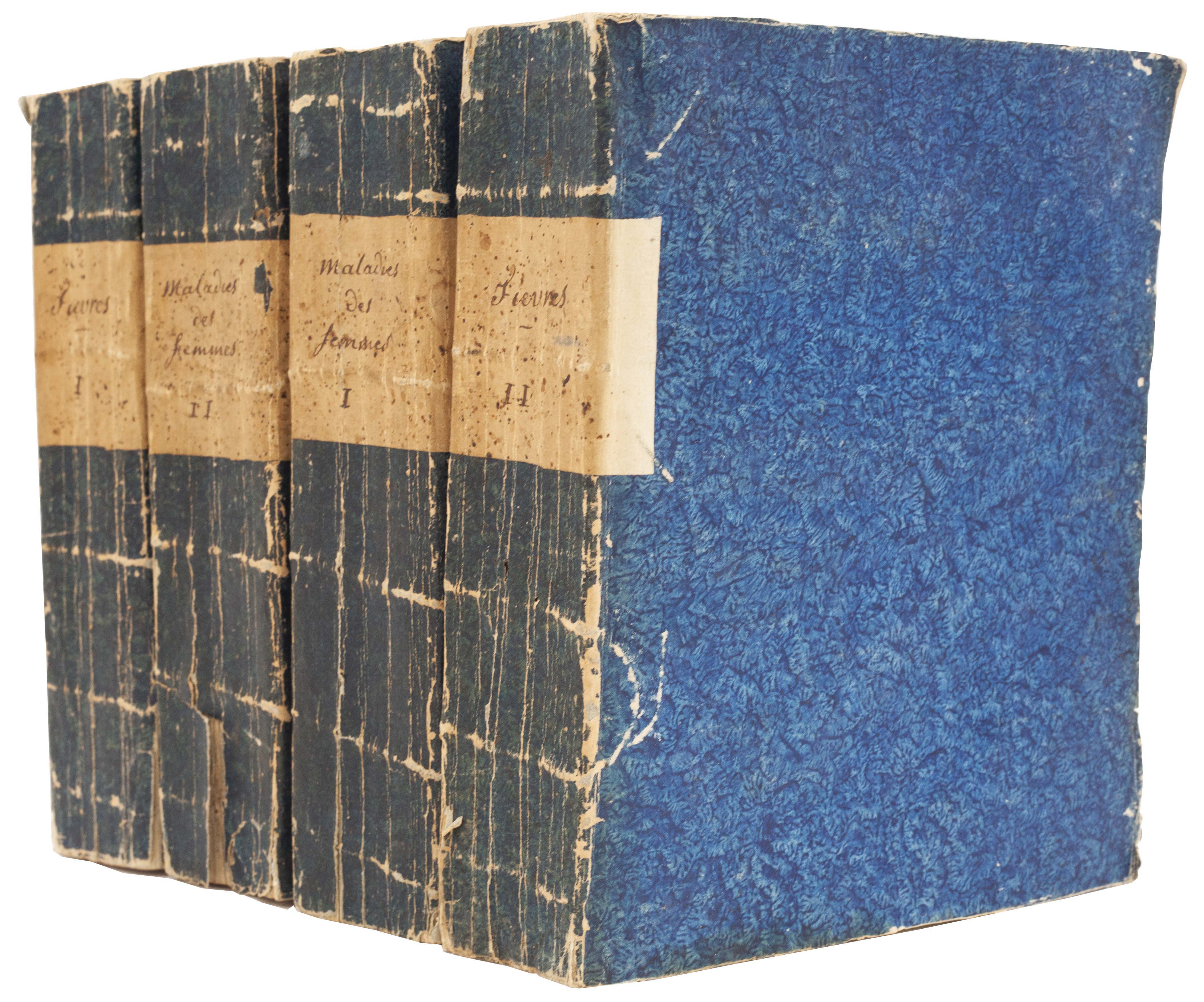 University Dissertations on Fevers and Gynaecology ECOLE DE MEDECINE DE MONTPELLIER.
A collection of eighty-seven doctoral dissertations presented to and defended at the Medical School in Montpellier.
An extraordinary collection, bound up very soon after the last was published, of eighty-seven doctoral dissertations presented to the ancient medical school at Montpellier in the first ten years of the nineteenth century. The four volumes are divided into two sets, the first containing theses on fevers (including a number on yellow fever and tropical diseases), and the second on gynaecology, including a number of studies of puberty in girls, on puerperal fever, and on pregnancy. The doctors presenting their theses (almost all, if the dedications are to go by, from medical families) come from all over France and beyond; a thesis on typhus, dated 1803, is by Thomas S. Crawford of Baltimore, demonstrating some of the links between Napoleonic France and the still new United States.