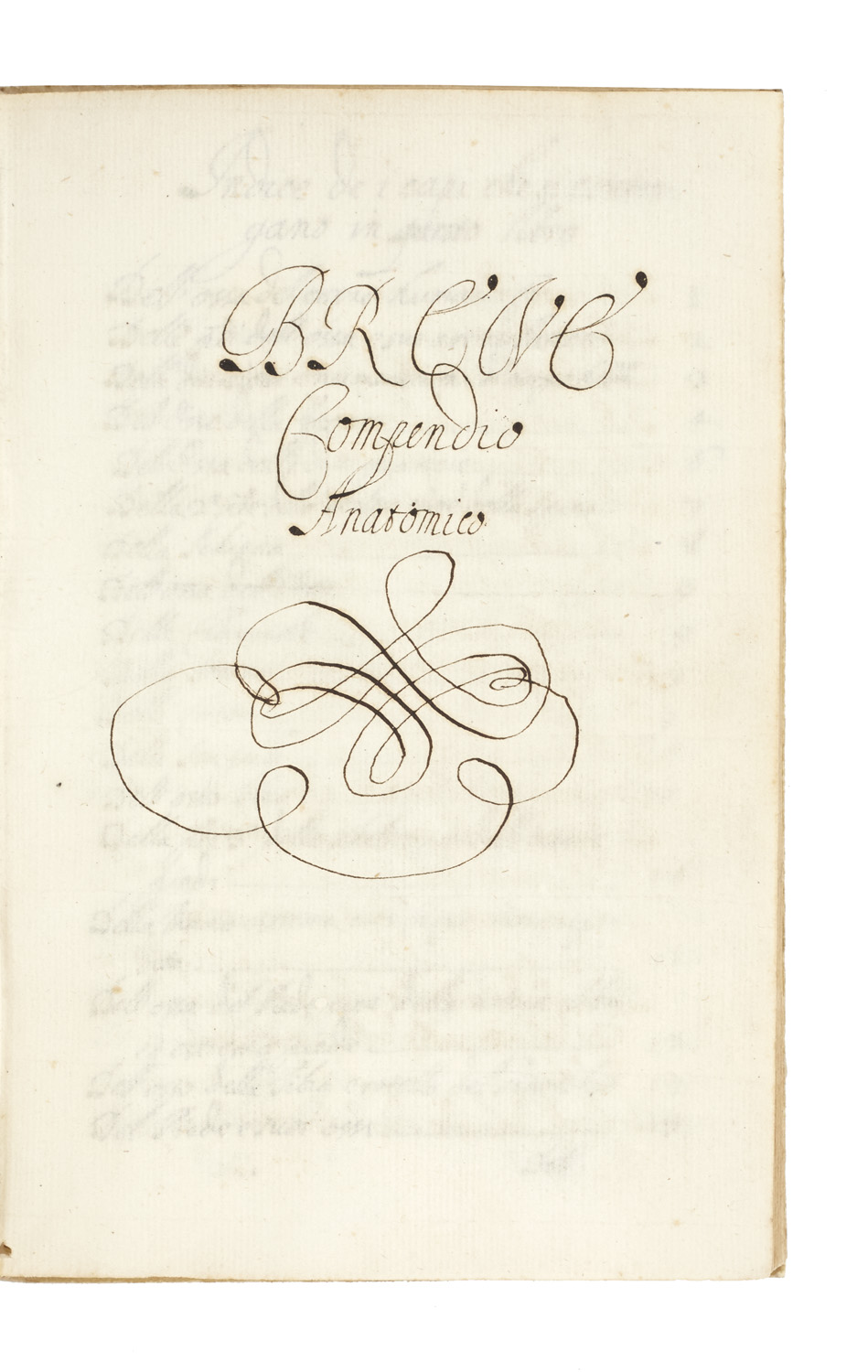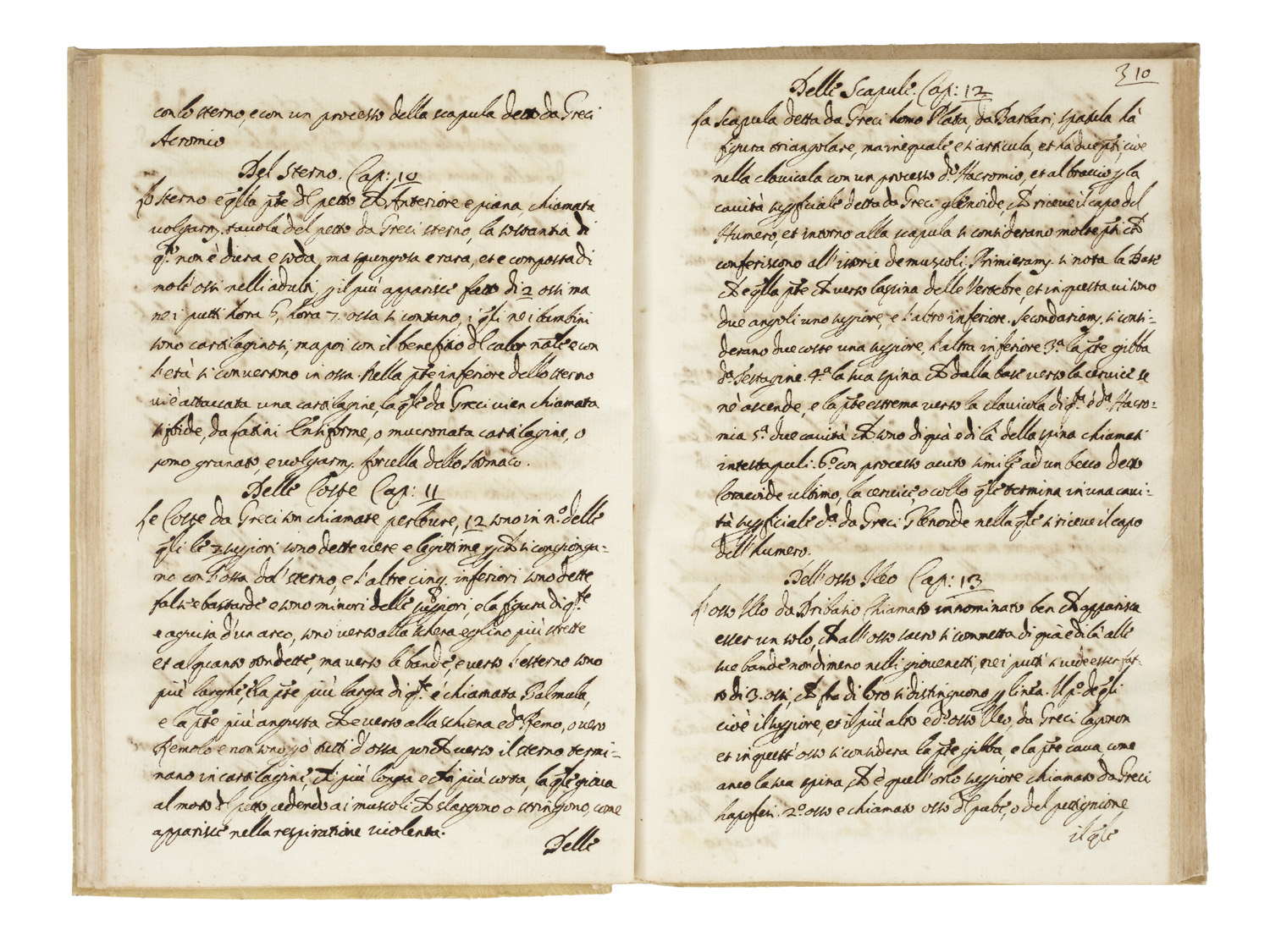 BONES FOR BEGINNERS
[ANATOMY.]
'Breve compendio anatomico'.
[Italy, c. 1720.]
Manuscript on paper, in Italian, 8vo (200 x 135 mm), ff. [5, including index], 73; neatly written in dark brown ink in a single hand, pen flourishes to title and colophon, 25 lines per page; very well preserved in contemporary limp vellum, title inked to head of spine, later paper label with shelf mark at foot of spine.
£1750

Approximately:
US $2372
€2091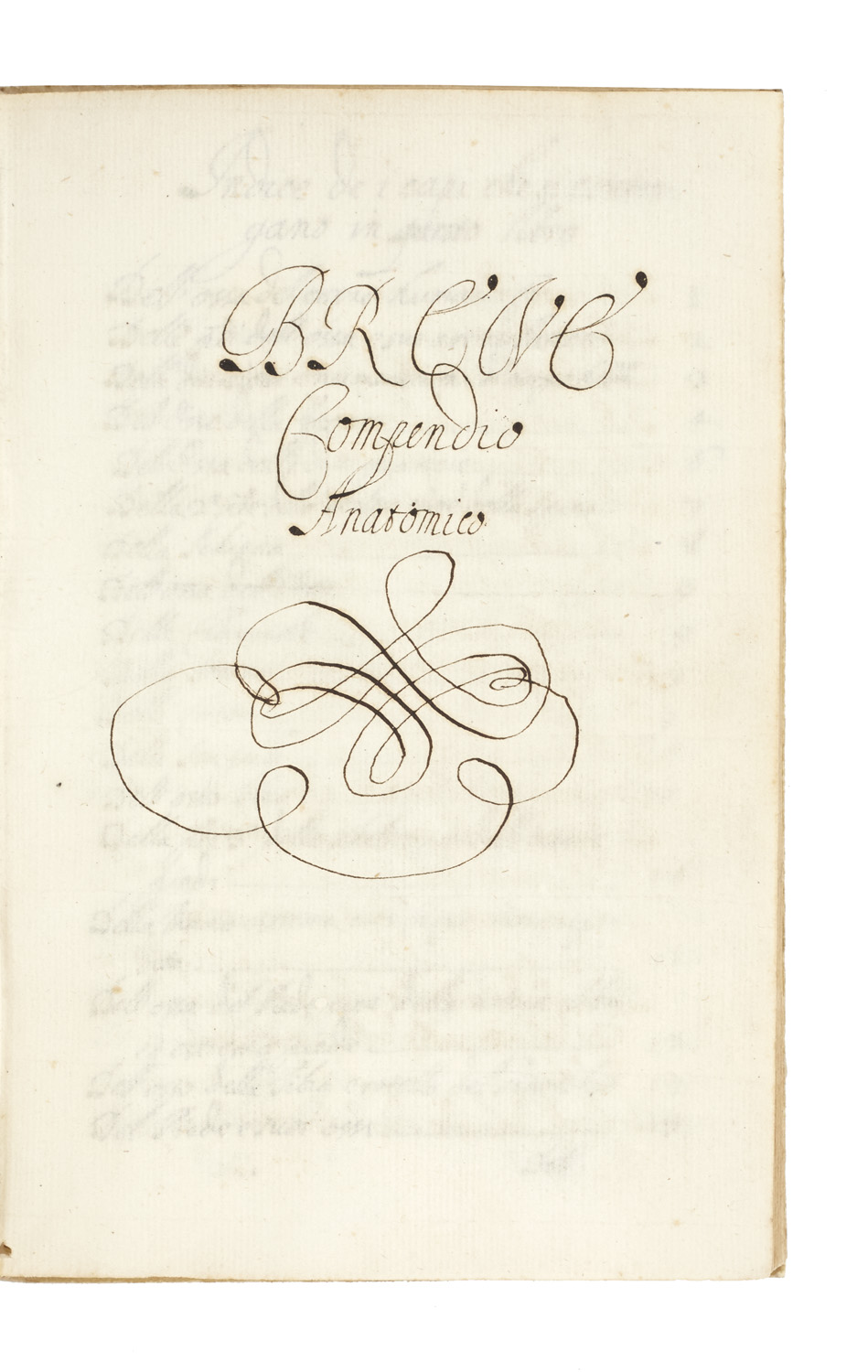 Added to your basket:
'Breve compendio anatomico'.
A handsome set of apparently unpublished notes on orthopaedics by an anonymous medical student, compiled in Italy in the early eighteenth century, covering bones, cartilage, ligaments and muscles. The manuscript opens with a detailed analysis of the human skeleton, its bones and articulation, from head to toe, including the spine, clavicle, sternum, ribs, scapulae, hip bone, and hyoid bone, before discussing cartilage (ears, nose, spine &c.) and ligaments (e.g. shoulders and elbows, legs, fingers and toes). The section on muscles covers, inter alia, the eyelids, nose, ears, lips, jaw, tongue, head and neck, and back. Other areas covered by the author include the peritoneum, ventricles, intestines, vena cava, heart, larynx, pericranium, pia, brain, and nerves.

In addition to citing Aristotle, Avicenna, Galen and Hippocrates, the author refers to the sixteenth-century Italian anatomists Niccolo Massa and Realdo Colombo, and to the French physician André du Laurens (1558–1609), who served as personal physician to Marie de' Medici and then to her husband Henry IV of France.
You may also be interested in...
PHARMACOLOGY AND SURGERY [CERVINI, Michael Antonio.]
'Methodus medendi medicine partem complectens', 'Appendix de preiudiciis evitandis in methodo'; 'Pharmaciae prospectus Michael Ant[on]io Medico Cervini Patrono'; 'Chirurgia Michaeli Antoni Medico Cervini Castagnoliaru[m]'.
A substantial and highly interesting manuscript compendium, apparently unpublished, compiled by a medical student in Turin, in northern Italy, by the name of Michael Antonio Cervini, including numerous medical receipts and a treatise on surgery.
Latinising Galen STEPHANUS.
Stephani Atheniensis philosophi explanationes in Galeni priorem librum therapeuticum ad Glauconem, Augustino Gadaldino Mutinensi interprete ...
First edition of Agostino Gadaldini's Latin translation of Galen's medical treatise Ad Glauconem and of Stephanus' commentary upon it, enhanced with his own scholia. Galen's Ad Glauconem is a concise introduction to the basics of diagnosis and the treatment of fevers. The work was at the heart of the medical curriculum at Alexandria and the sixth/seventh-century Alexandrian physician Stephanus naturally made it the subject of a commentary (his commentaries on the Prognostics and Aphorisms of Hippocrates also survive).