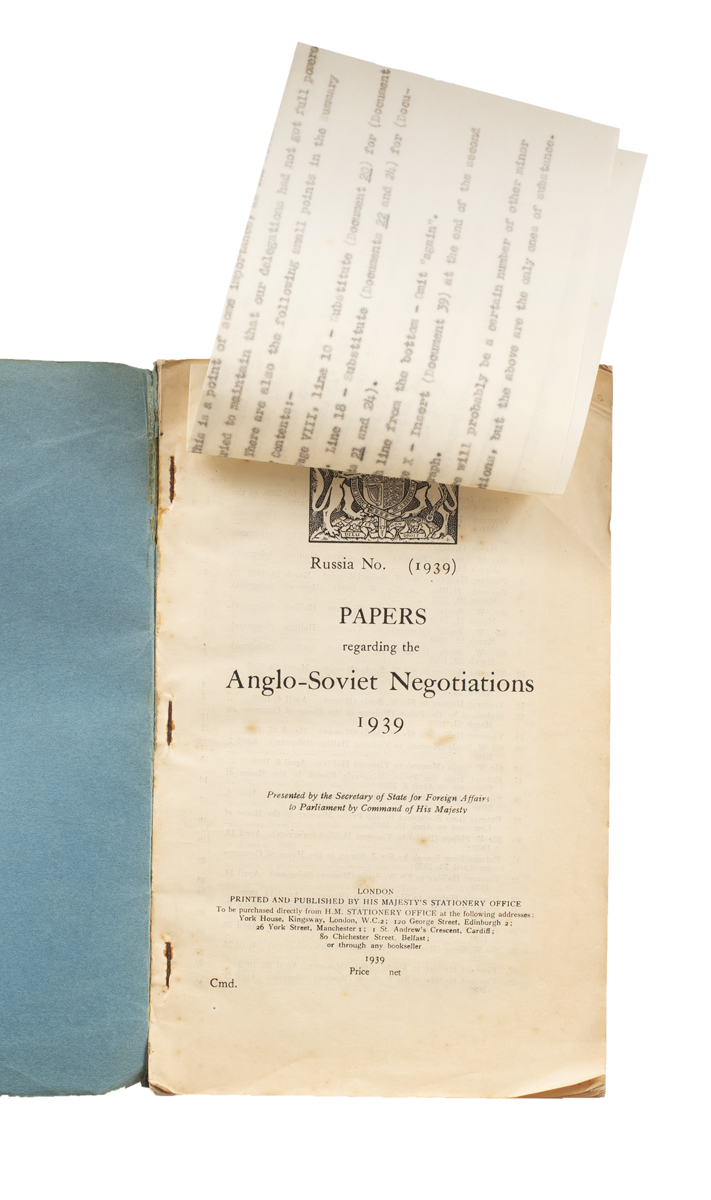 [ANGLO-SOVIET DIPLOMACY.] 
Papers regarding the Anglo-Soviet Negotiations 1939.  Presented by the Secretary of State for Foreign Affairs to Parliament by Command of his Majesty. 
London, His Majesty's Stationery Office, 1939. 
8vo, pp. xvi, 150; typed errata sheet attached by rusty paperclip to title, with rust mark on p. iii; stapled as issued in the publisher's blue printed wrappers, with 'PROOF' stamped at head of upper wrapper; staples rusted, some light wear and fraying to extremities.
£750

Approximately:
US $915
€864
Added to your basket:
Papers regarding the Anglo-Soviet Negotiations 1939.  Presented by the Secretary of State for Foreign Affairs to Parliament by Command of his Majesty. 
A proof copy, complete with typed errata attached, of this collection of ninety-five papers relating to the negotiations between the Soviet and British governments between March and December 1939. 

Prompted by Stalin's speech of 10 March 1939, in which he said that the USSR stood 'for the support of nations which were the victims of aggression and were fighting for the independence of their country', the British government was encouraged 'to hope that the Soviet were prepared to co-operate in an effort to restrain further aggression in Europe'.  The present collection of papers opens with Stalin's speech and then consists largely of telegrams between the prime minister Neville Chamberlain, the Foreign Secretary Lord Halifax, and Sir William Seeds, British Ambassador in Moscow, interspersed with parliamentary speeches, the texts of proposed Anglo-French-Soviet agreements, and finally the resolutions of the Council of the League of Nations in December 1939; they detail the negotiations between Britain, France, Poland, and the USSR, the increasing mutual distrust which resulted in the Molotov-Ribbentrop Pact of 23 August, and the events and negotiations leading up to the Soviet invasion of Finland on 30 November and the USSR's consequent expulsion from the League of Nations. 

This proof copy, owned by a civil servant directly involved in the negotiations, includes a typed errata sheet, fastened to the title-page with a paperclip; although the imprint notes, as usual, that it can be purchased from H.M.S.O, or through any bookseller, we have not managed to locate any copies of a final version. 

Not in OCLC or LibraryHub. 
You may also be interested in...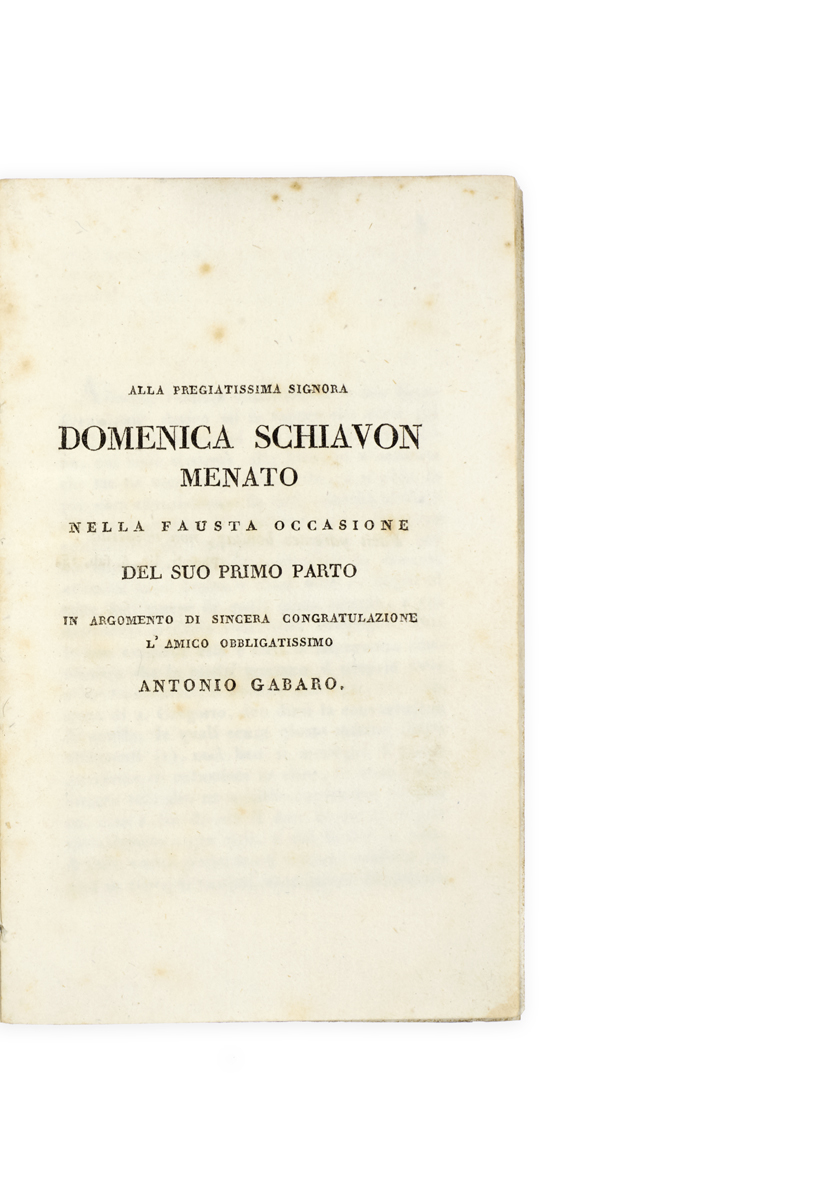 BREAST PRACTICE GABARO, Antonio. 
Alla pregiatissima Signora Domenica Schiavon Menato nella fausta occasione del suo primo parto, in argomento di sincera congratulazione l'amico obbligatissmo Antonio Gabaro. 
First and only edition, very rare, of a scathing and sexist condemnation of 'inhuman' women who do not breastfeed their own children, dedicated to Domenica Schiavon Menato, 'an example to all women', on the occasion of the birth of her first child.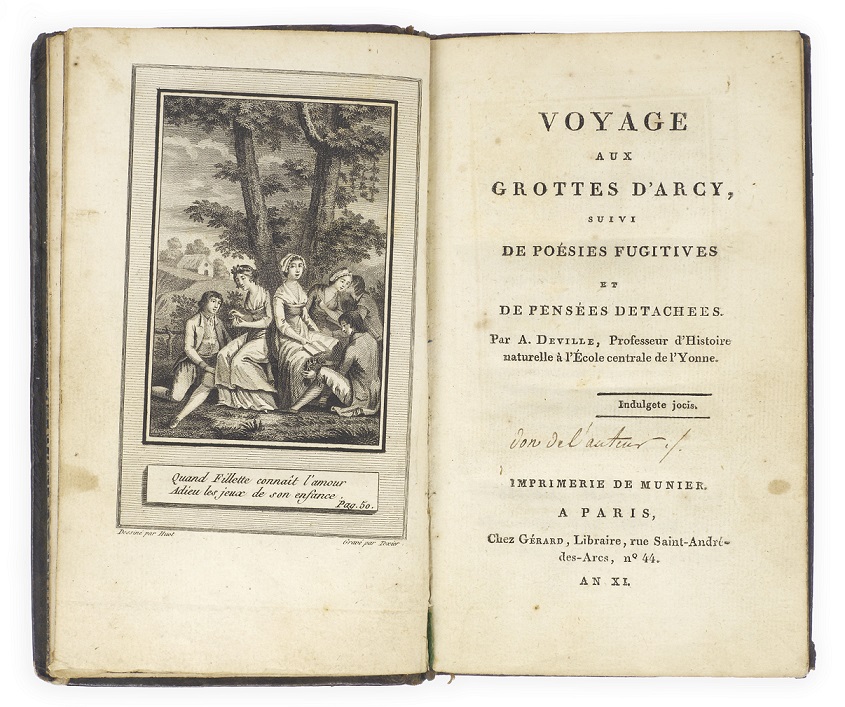 POTHOLER AND POET DEVILLE, Albéric.
Voyage aux grottes d'Arcy, suivi de poésies fugitives et de pensées détachées. Par A. Deville, professeur d'histoire naturelle à l'école centrale de l'Yonne.
Scarce first edition, presented by the author, of this curious work comprising a description of the famous caves at Arcy-sur-Cure in France, alongside various poetical fancies, by the natural history professor and versifier Albéric Deville (1774–1832).