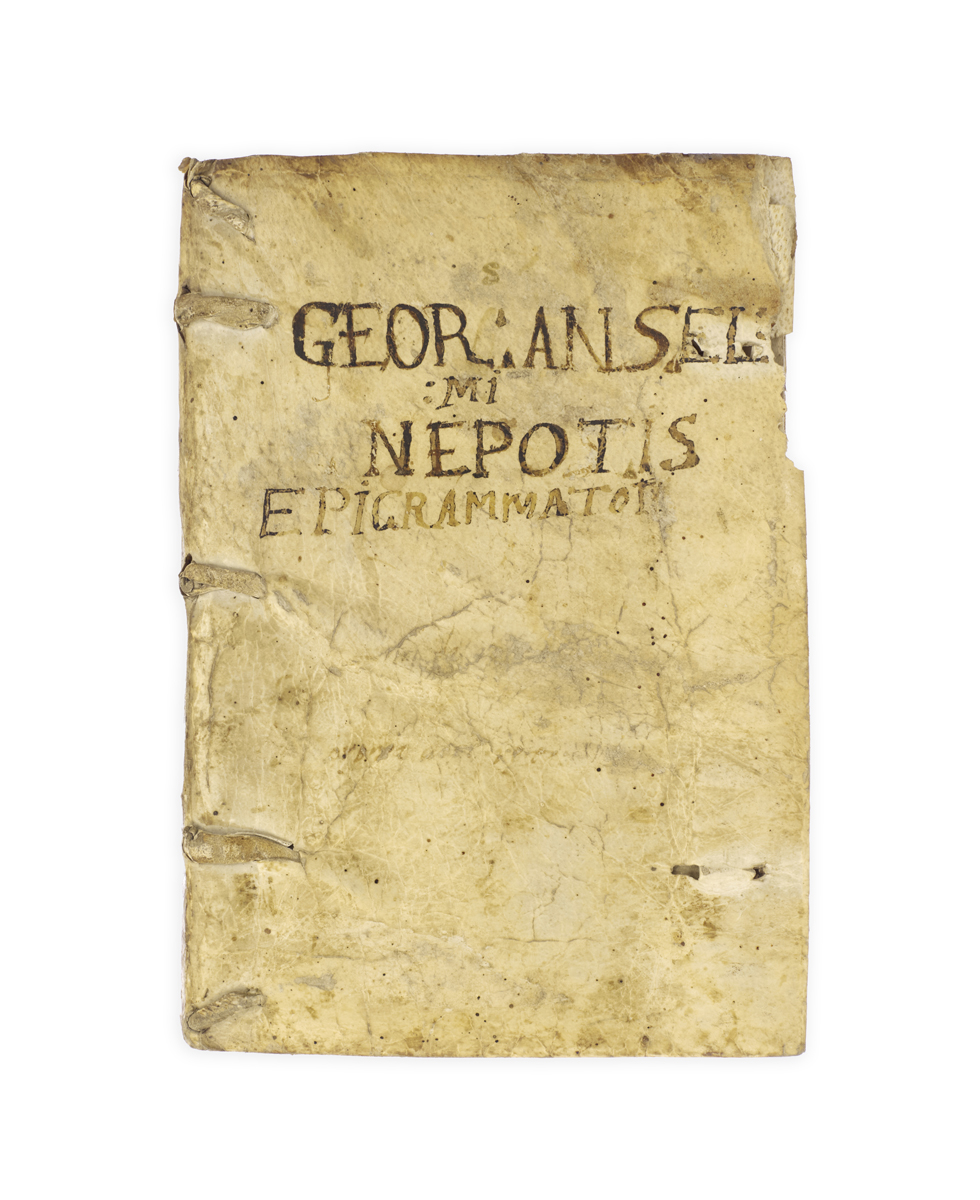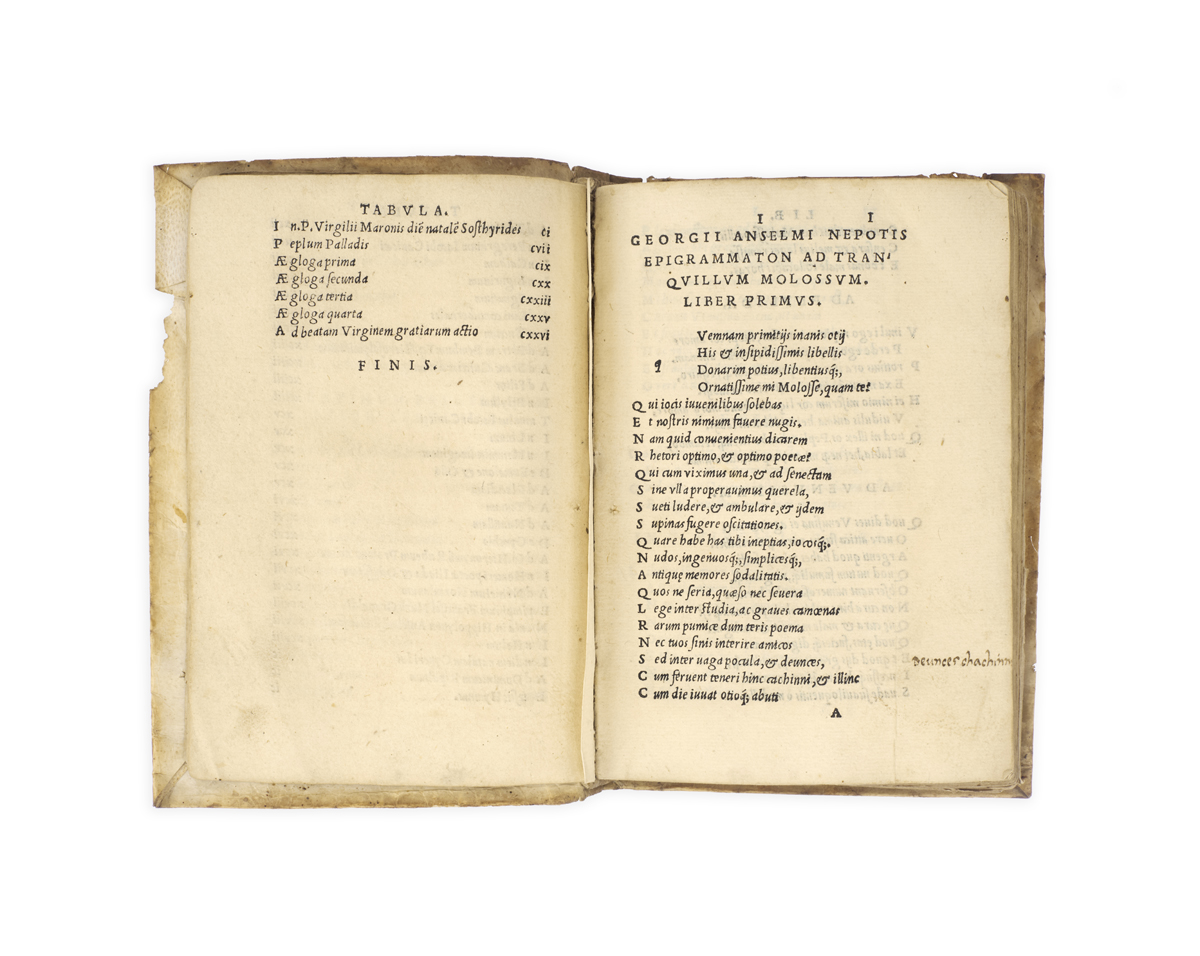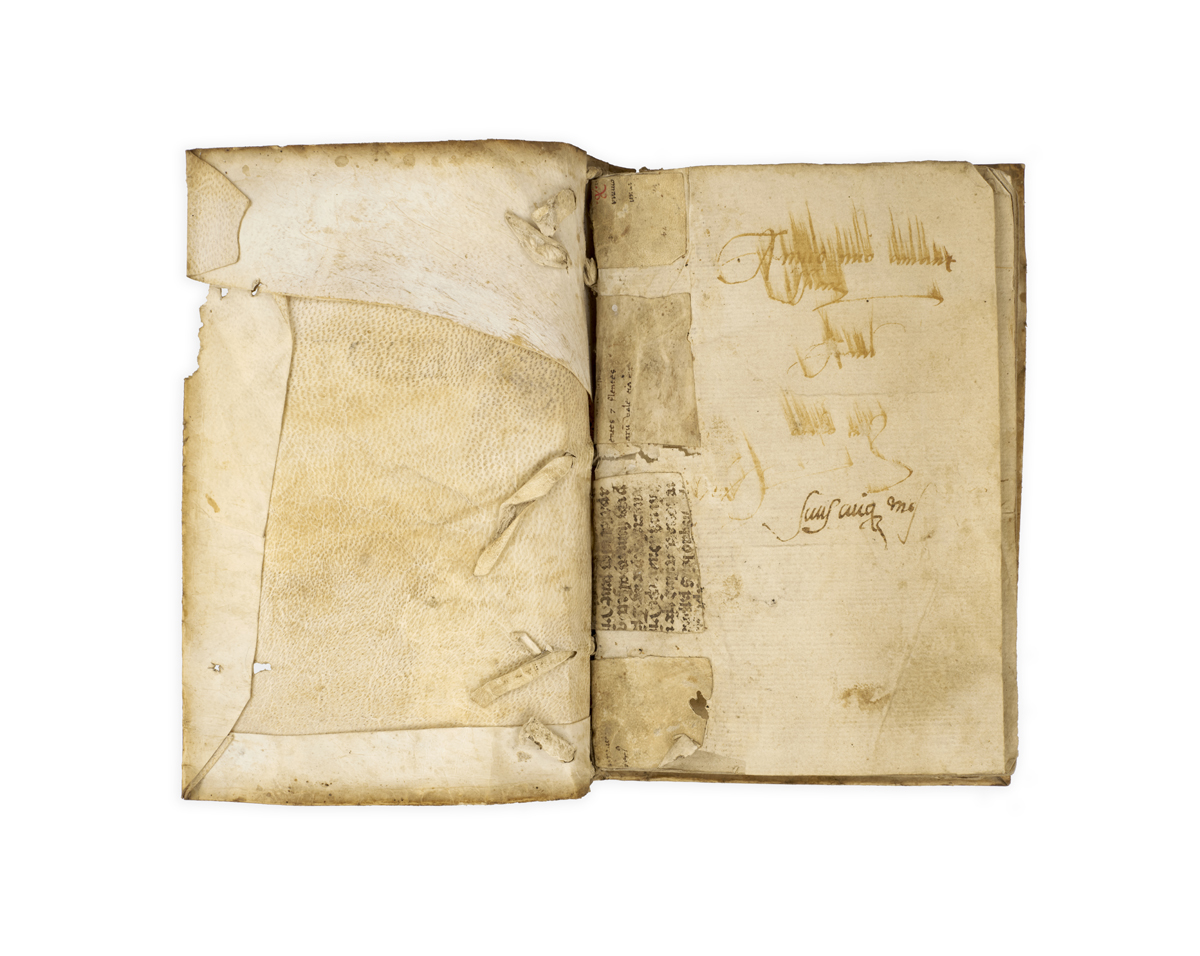 THE MAGICIAN'S GRANDSON
ANSELMI, Giorgio, the younger. 

Georgii Anselmi nepotis Epigrammaton libri septem. Sosthyrides. Peplum Palladis. Aeglogae quattuor. 
Venice, Maffeo Pasini, September 1528. 
8vo, ff. [viii], CXXVIII; occasional errors in foliation, M1 signed 'N'; a few creased corners and the occasional mark, but a very good copy; bound in contemporary limp vellum, upper cover and tail-edge lettered in ink, vestigial ties to fore-edge, sewn on 3 tawed thongs laced-in, spine lined with vellum waste from two manuscripts; somewhat worn, outer edge of upper cover gnawed; near-contemporary ink inscription to first blank, 'Amico mio amantissimo …', seventeenth-century ownership inscription 'Joanis Bap. Anigomi [i.e. Amigoni?] liber emptus L i β 10' to preliminary blank, 31 pages of annotation in the same hand correcting errata.
£875

Approximately:
US $1062
€1010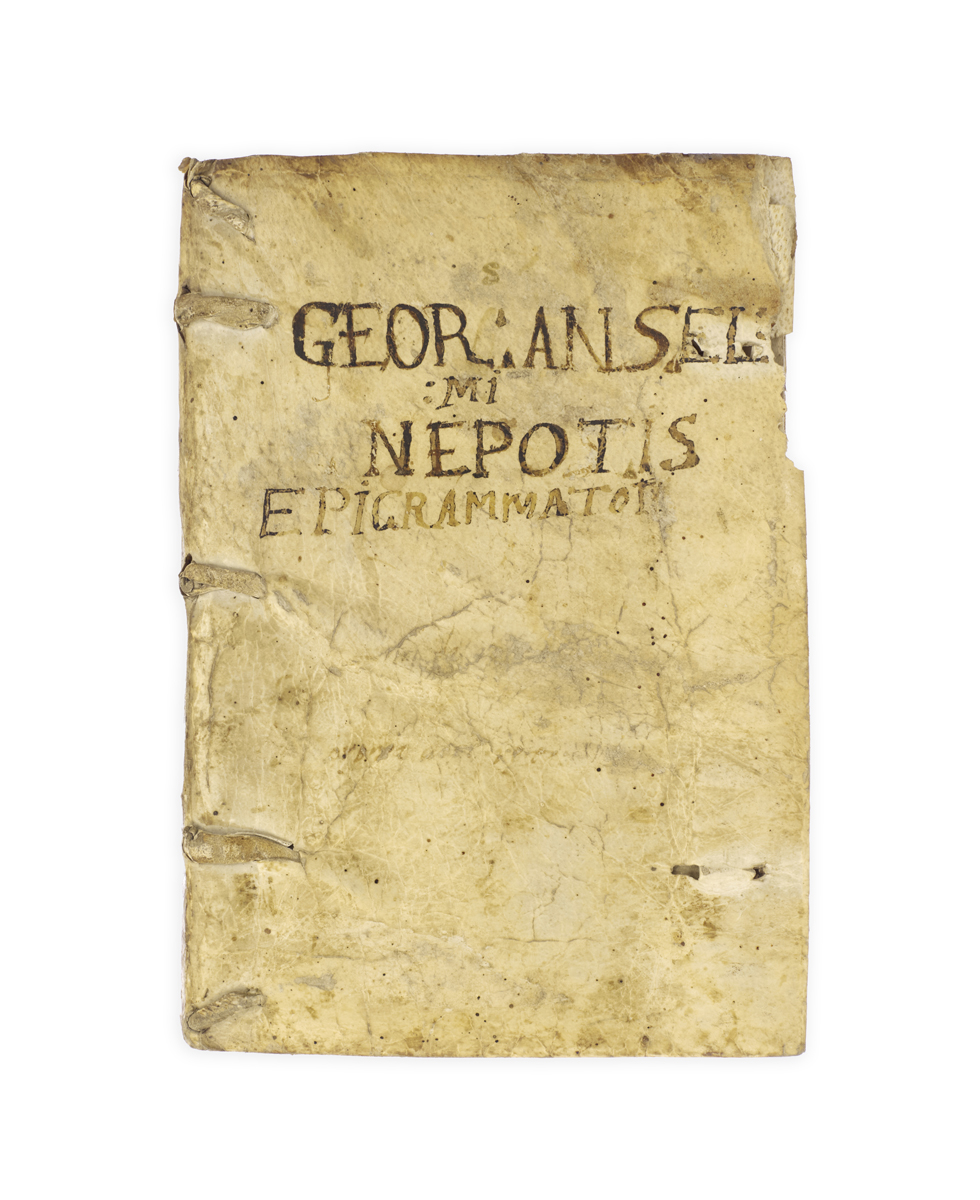 Added to your basket:
Georgii Anselmi nepotis Epigrammaton libri septem. Sosthyrides. Peplum Palladis. Aeglogae quattuor. 
The definitive edition of the epigrams of Giorgio Anselmi, grandson of the astrologer and music theorist of the same name, with several epigrams on his grandfather's lost works on magic and the occult. 

Born into a family of physicians in Parma, Giorgio Anselmi of Parma (d. 1440) produced one of the most substantial magical texts of the Renaissance, the Divinum opus de magia disciplina, concerned primarily with necromancy, divination, and spells for summoning demons, extant in a single manuscript at the Laurenziana.  Only two of his other extant works, equally scarce, survive: De musica, a treatise on celestial and instrumental harmonies, at the Ambrosiana, and Theoremata radicalia, on astronomy, at the Vatican. 

His grandson, the author of the present volume (c. 1459–1528), was a scholar of classics, philosophy, and medicine whose works received high praise from the likes of Andrea Navagero and Francesco Carpesano, to whom several epigrams are dedicated.  In his Epigrammaton, Anselmi the younger displays an extraordinary degree of familiarity with his grandfather's work, including several epigrams dedicated to astrological and poetic works which have since been lost.  Alongside an epitaph for his grandfather (VI), Anselmi the younger dedicates epigrams explicitly to De musica (XLI),  the Theoremata (IIII), the now-lost Silvam de solis (XXXI), and In libros septem Astrologicarum Institutionum (XLVIII). 

The author, together with the eminent scholars and astrologers Ramberto Malatesta (1475–1532), Luigi Guicciardini (1478–1551), and likely Agrippa, attempted to have Anselmi's works secretly printed at Venice: in a 1521 letter to Guicciardini, Malatesta writes that the original manuscripts of Anselmi's seven books on astrology lay in the hands of his grandson, and that he was 'certain that this work alone is worth more than all the other works of the Greeks, Arabs, Chaldeans, and Romans combined' (in I Guicciardini e le scienze occulte, pp. 268-9). 

Printed in the year of the author's death, the present edition is the first to contain the author's Eclogues as well as the compositions Sosthyrides and Peplum Palladis. 

Manuscript fragments: The spine lining comprises four fragments from two different manuscripts.  One fragment is from a fourteenth-century theological text written in a rounded Italian bookhand, while the other three come from a Breviary of remarkably small dimensions (c. 70 mm in height; the upper and lower margins appear not to have been trimmed).  Two of these three fragments, written in a tiny but neat Italian bookhand of the second half of the fifteenth century, bear contemporary leaf-numbers ('74' and '81') in what would have been the upper right-hand corner of the rectos.  The text includes part of the Salve Regina. 

Rare outside Italy; OCLC and Library Hub together find only three copies in the UK (BL, CUL, All Souls Oxford); OCLC adds three copies in the US (Harvard, Brown, and Illinois). 

Adams A-1180; BM STC Italian 31; EDIT16 1958; Graesse I: 139; USTC 809584.  See Thorndike IV, pp. 242-6; Zambelli, Magia bianca, magia nera (2004). 
You may also be interested in...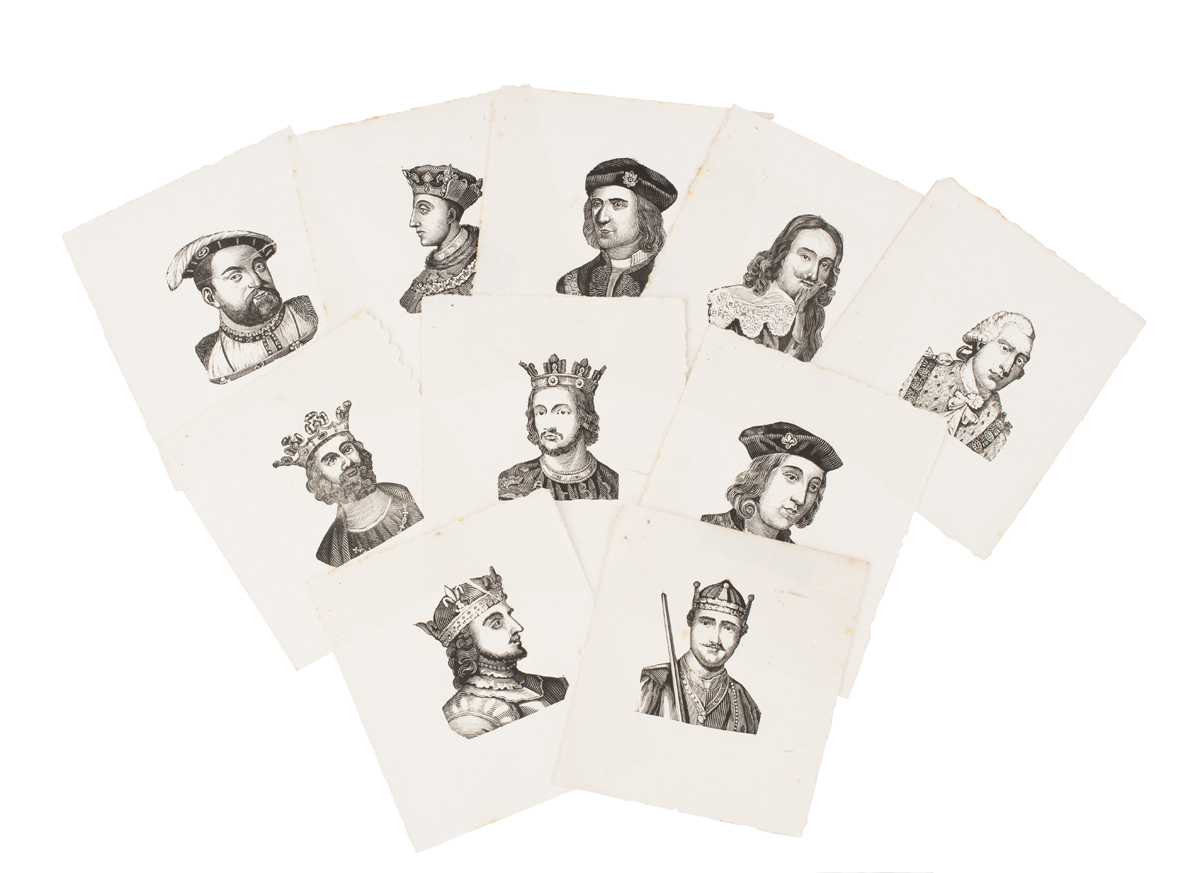 UNIQUE? [BEWICK, Thomas?]
Twenty-six rubbings from engraved woodblocks of the heads of Kings and Queens and England, apparently never published in this form.
Twenty-six apparently unrecorded wood-engravings – heads of the monarchs of England from William the Conqueror to George III – these images taken by rubbing from the blocks rather than printing. The engravings bear strong similarity to the 26 which appear in An Abridgement of the History of England … by Dr. Goldsmith … with Heads by Bewick (London, 1803), of which Thomas Bewick apparently bought a copy on 20 April of that year: his account book records a 'Parcel / Goldsmith Hisy Engd / Grafton Piccy 4s d.' (A Provisional Checklist of the Library of Thomas Bewick, by David Gardner-Medwin, item 1, online).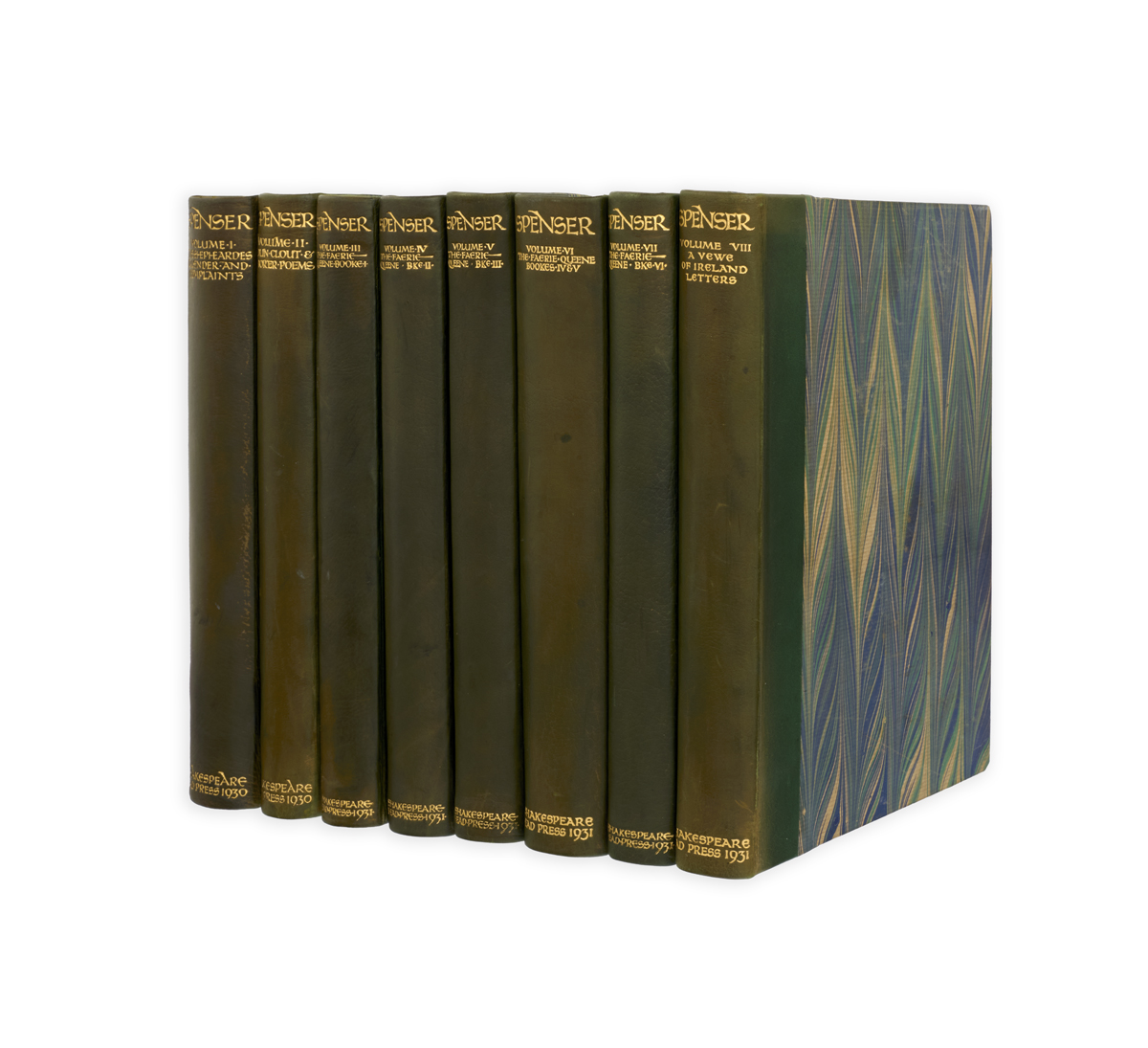 SPENSER, Edmund. 
The Works of Edmund Spenser. 
Limited edition, numbered 123 of 375 copies, of the handsome Shakespeare Head Spenser, one of the most significant works of the press.