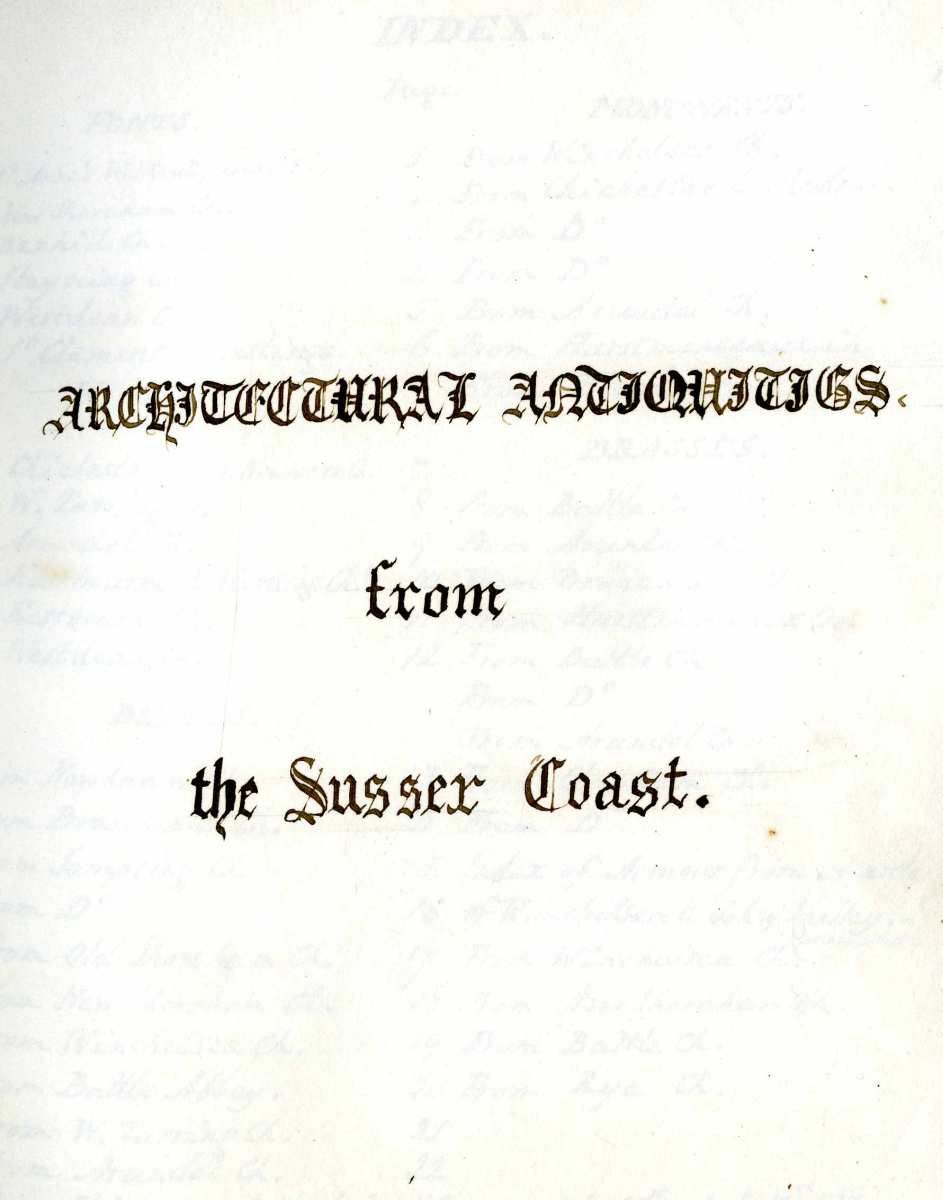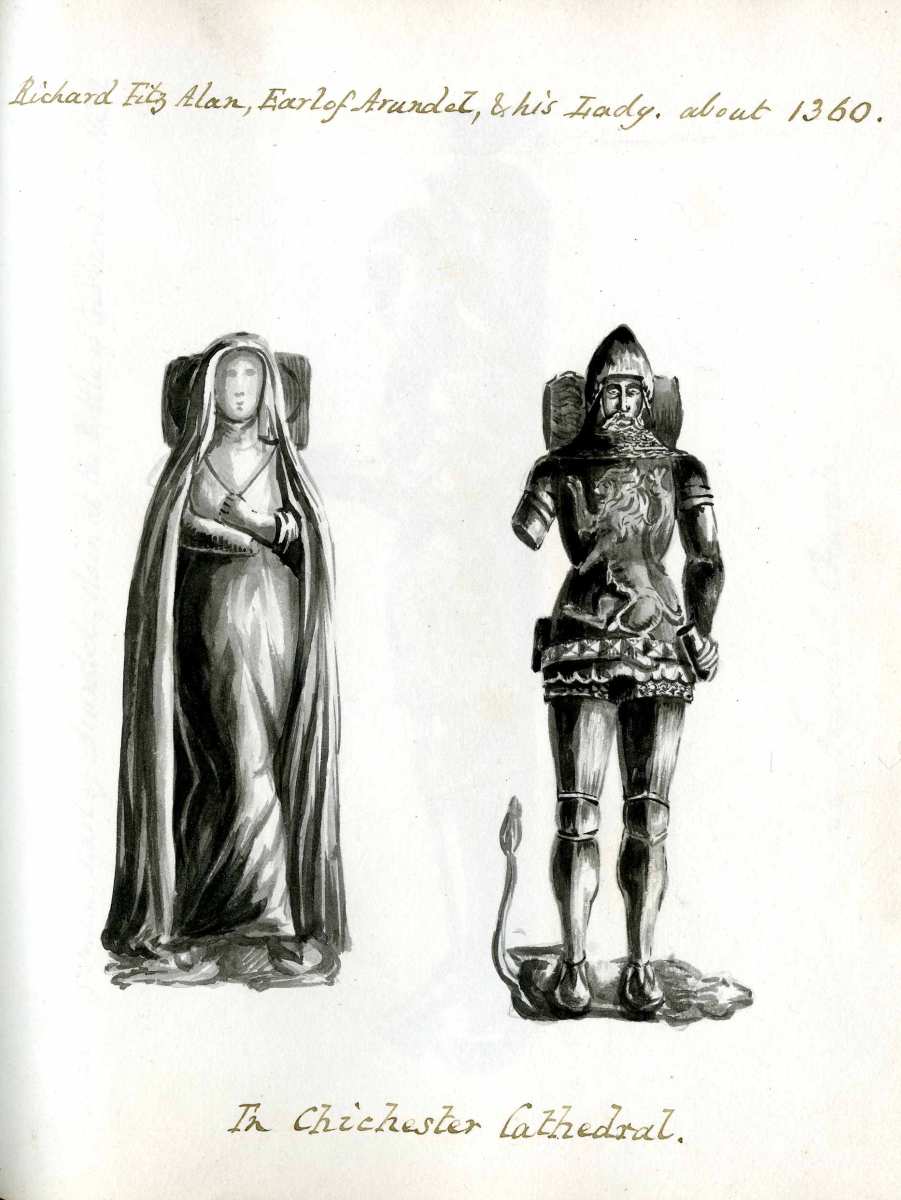 [ANTIQUARIAN]
Architectural Antiquities from the Sussex Coast.
[Sussex], July 21st – 10th August 1837.
Small 4to (218 x 180 mm), manuscript in pen, black ink and wash, text in brown ink in the same hand, ff. [4] (first blank), 44, of drawings and some manuscript text; in very good, clean and crisp condition; in contemporary half calf and marbled boards, front cover with decorated black morocco label, lettered in gilt 'Antiquities'.
£950

Approximately:
US $1148
€1096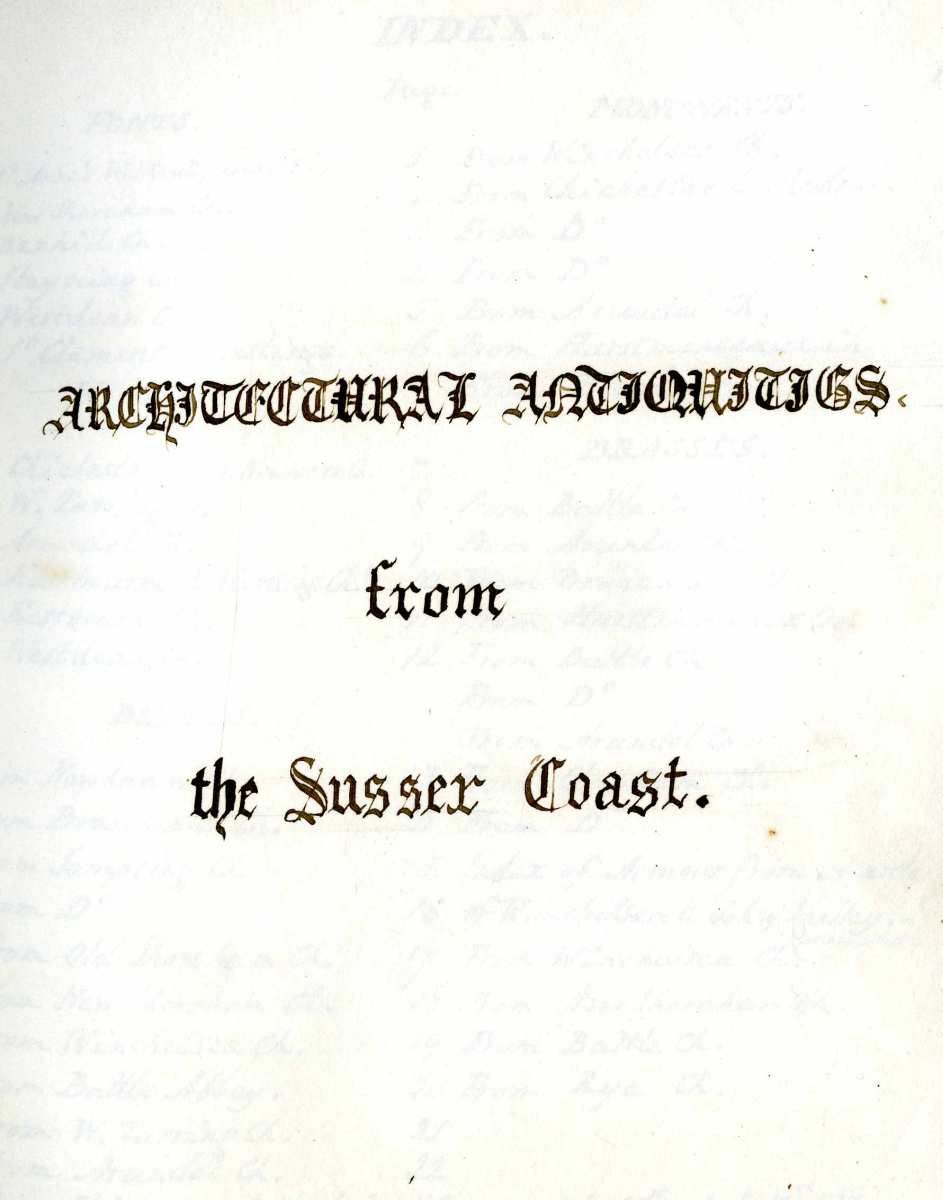 Added to your basket:
Architectural Antiquities from the Sussex Coast.
An interesting and charming antiquarian manuscript illustrating medieval fonts, gothic windows, brasses, architectural details, and funerary sculptures found in churches along the Sussex coast. The anonymous author/draughtsman gives provenances and historical detail to the drawings, which capture the medieval artefacts before enthusiastic Victorian do-gooders got to them and over-restored them. The volume records much detail now lost or worn to obliteration. Churches visited are in Lewes, Arundel, Bexhill, Steying, Westdean, Hastings, Battle, Chichester, Eastbourne, Winchelsea, and Rye.
You may also be interested in...
FROM CLASSICS TO CIRCUMCISION AUSONIUS, Decimus Magnus.
Ausonii Burdigalensis, viri consularis, omnia, quae adhuc in veteribus bibliothecis inveniri potuerunt, opera … cuncta ad varia, vetera, novaque exemplaria, emendata, commentariisque illustrata per Eliam Vinetum …
First Vinet edition of the works of the fourth-century poet Ausonius, with interesting annotations by two early readers. Ausonius taught rhetoric in his native Bordeaux for thirty years before serving as tutor and then consul to the emperor Gratian. He was a prolific poet, employing a variety of metres with great technical flair, his most important works being the Ephemeris, describing a normal day in his life, and the Mosella, detailing the beauties of the river Moselle and the life that goes on around it. The noted French classical scholar Élie Vinet (1509–1587) compiled this edition of Ausonius' works between 1575 and 1580, his extraordinary commentary occupying over half the volume and featuring several woodcuts, including a full-page plan of Bordeaux.
AN ASSOCIATION COPY, FROM THE LIBRARY OF A GOVERNMENTAL COLLEAGUE OF 'ATHENIAN ABERDEEN' GORDON, George Hamilton, Fourth Earl of Aberdeen.
An Inquiry into the Principles of Beauty in Grecian Architecture; with An Historical View of the Rise and Progress of the Art in Greece.
First separate edition. The scholar and politician Gordon (1784–1860) was educated at Harrow School and St John's College, Cambridge, and succeeded to the earldom of Aberdeen in 1801. He undertook a Grand tour through Europe to the Levant in 1802-1804, travelling to Constantinople with William Drummond, who would replace Lord Elgin as the British ambassador. On his return, he was elected to the Society of Dilettanti and the Society of Antiquaries in 1805 (becoming president of the latter in 1811, remaining in office until 1846), became a Fellow of the Royal Society in 1808, and was appointed a Trustee of the British Museum in 1812. Indeed, such was his fame as an antiquarian that Byron, his cousin, described him as 'the travelled Thane, Athenian Aberdeen' (English Bards and Scotch Reviewers (London: 1809), p. 39). In 1808 Aberdeen acquired Argyll House, off Oxford Street, London, and undertook major alterations with the assistance of his friend and collaborator, the architect and antiquarian William Wilkins. An Inquiry into the Principles of Beauty in Grecian Architecture was first published in 1812 as an introduction to Wilkins' translation The Civil Architecture of Vitruvius (London: 1812-1817), which was dedicated to Aberdeen. It was then revised and reprinted in this edition – as the 'Advertisement' states, '[v]arious additions and corrections have […] been made, in the hope of rendering the whole less imperfect' – which was reprinted in 1860 by John Weale.