APULEIUS (Julien FLEURY, editor).

Lucii Apuleii Madaurensis Platonici philosophi opera interpretatione et notis illustravit Julianus Floridus ... in usum serenissimi Delphini.
Paris, Frederic Leonard, 1688.
Two vols in one, 4to, pp. [xlviii], 564, [2, title to 'tomus alter'), 565-848, 256 (indexes); engraved frontispiece, woodcut device to title, head- and tail-pieces and initials, engraving of sistrum to p. 64, diagram to p. 638; small damp stain at upper inner corners of first few leaves, occasional light damp staining to upper margins elsewhere most noticeably to pp. 201-256 of the indexes, small loss at lower blank corner of L2, occasional very light toning or foxing, otherwise a good copy; early 19th-century red morocco, spine gilt and lettered in compartments, gilt edges; spine sunned, extremities slightly worn, a few abrasions to covers; book labels of William O'Brien and Milltown Park library to front pastedown and Milltown ink stamp to title; annotation to p. 833.
£350

Approximately:
US $477
€393
Added to your basket:
Lucii Apuleii Madaurensis Platonici philosophi opera interpretatione et notis illustravit Julianus Floridus ... in usum serenissimi Delphini.
First Delphin edition of the works of Apuleius, 'une des meillures éditions qui soient dans la collection des Ad usum' according to Brunet, comprising the Metamorphoses, his popularisations of Platonic philosophy, and excerpts from his lectures known as the Florida. The Delphin classics were a landmark series of editions of Latin classical texts prepared between 1670 and 1698 for the use of the Grand Dauphin, the son of Louis XIV of France, editions which combined scholarship with high standards of production. Passages deemed to be obscene were expurgated and added as an appendix (here pp. 833-844). A 19th-century owner of this volume has added an apposite quote from Byron's Don Juan to p. 833: 'For here we have them all at one fell swoop, / Instead of being scattered thro' the pages: / They shewed forth, marshalled in a handsome troop, / To meet the ingenuous youth of future ages.'

The present copy belonged to the Irish judge and renowned bibliophile William O'Brien (1832-1899), who presided at the trials arising from the infamous Phoenix Park Murders of 1882. He bequeathed his library to the Jesuit community of Milltown upon his death.

Brunet I, 363.
You may also be interested in...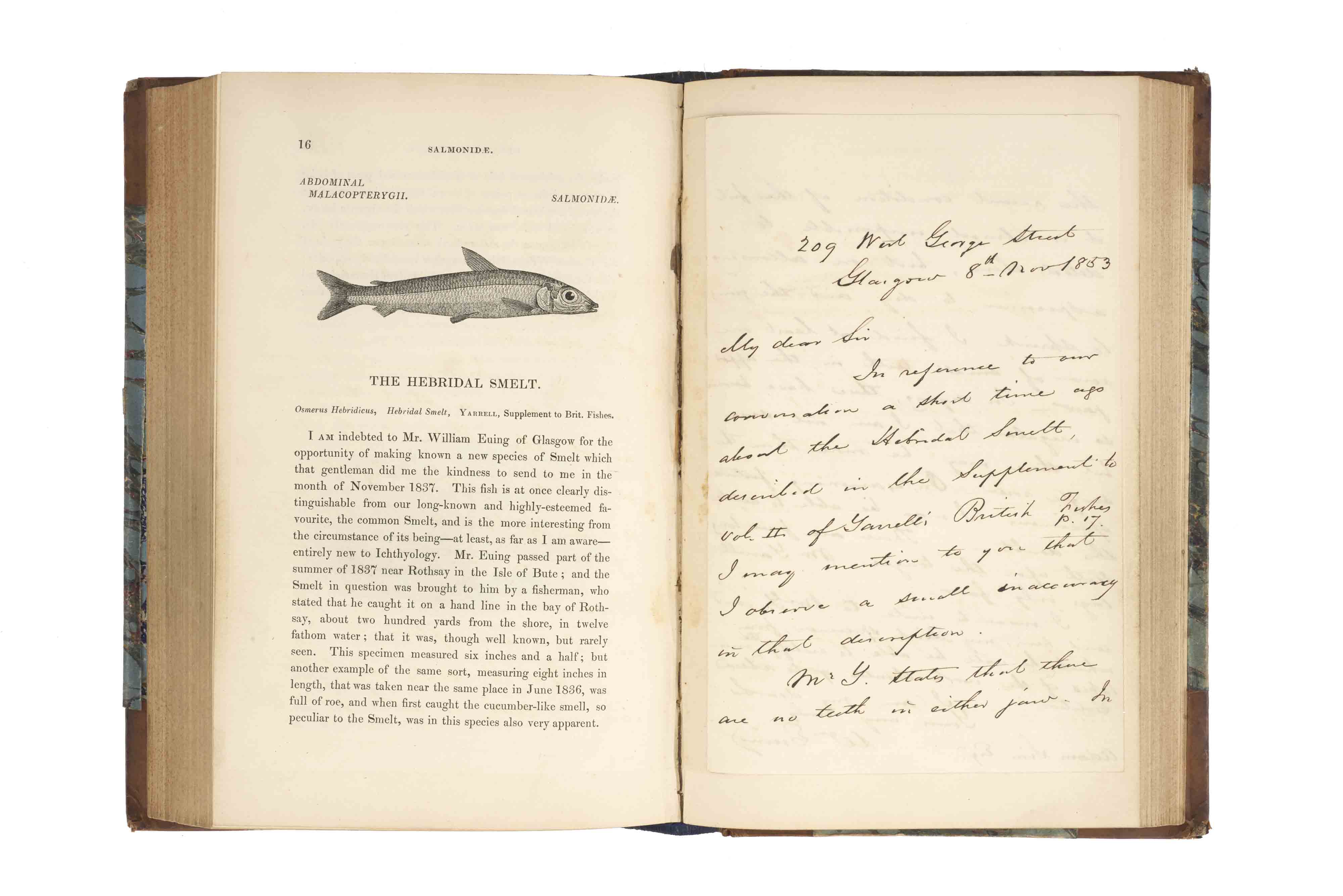 HEBRIDAL SMELT YARRELL, William.
A History of British Fishes … illustrated by nearly 400 Woodcuts.
First collected editions, with an autograph letter on the Hebridal smelt from the species' discoverer. Published serially from 1835 to 1836, Yarrell's History of British Fishes was reprinted within a year, and followed soon after by Thomas Bell's British Reptiles in 1839 and his own British Birds in 1843 published by van Voorst and together forming a comprehensive survey of British wildlife. Though noted for his careful observations, Yarrell is here corrected on several points in an autograph letter to the antiquarian Adam Sim (1805–1868) from William Euing (1788–1874), who had discovered the Hebridal smelt (first included in the Supplement) in November 1837.
Despite this contribution to Scottish ichthyology, Euing, a Fellow of the Royal Society of Edinburgh and President of the Glasgow Archaeological Society, is best remembered for his fine library, of which some twelve thousand volumes now belong to Glasgow University.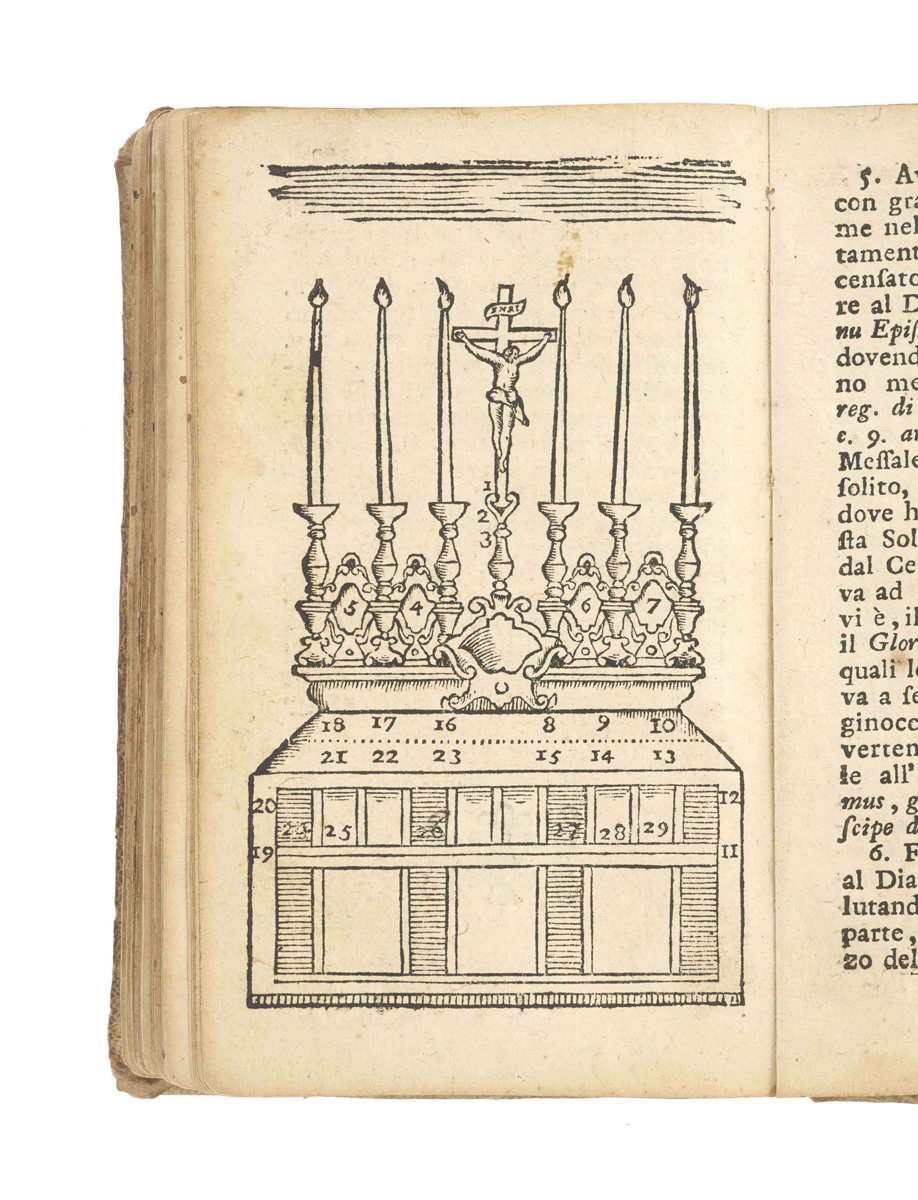 [LITURGY.]
Cerimonie piu' notabili della messa privata; Cavate dalle rubriche del Missale, ed altri autori da un Sacerdote D.C.D.M. Coll'aggiunta di quelle della messa, e vespri solenni si pei vivi, che pei defunti, col modo di servire alla messa privata. Da un'Alunno del Seminario di Torino.
As far as we are aware unrecorded edition of this uncommon treatise on the celebration of the mass and its associated rituals. Dealing both with private (low) masses and with solemn mass and solemn vespers, the work explains the meaning and performance of the non-verbal aspects of the liturgy: genuflection, the sign of the cross, the communion of the faithful, the movements of the celebrant's hands, the role of acolytes and thurifers (also during requiem masses), the office of the subdeacon and deacon, the use of incense, and instructions for serving at the missa private. The woodcut on page 200 depicts the altar, annotated with numbers referring to the relevant parts of the text.
The text itself appears first to have been published around the turn of the century; the earliest issue in SBN is a Naples printing of 1701, but that claims to be 'novamente riviste, ed accresciute', and is only of 134 pages in 12s. Other editions appeared in Pavia, Turin, and Modena, while Venetian printings were issued in 1739 and 1750. All seem very scarce.
Not in OCLC, which records only a Venice printing of the same year (in the Polish Union Catalogue); SBN does not record this edition.