APULEIUS (Julien FLEURY, editor).

Lucii Apuleii Madaurensis Platonici philosophi opera interpretatione et notis illustravit Julianus Floridus ... in usum serenissimi Delphini.
Paris, Frederic Leonard, 1688.
Two vols in one, 4to, pp. [xlviii], 564, [2, title to 'tomus alter'), 565-848, 256 (indexes); engraved frontispiece, woodcut device to title, head- and tail-pieces and initials, engraving of sistrum to p. 64, diagram to p. 638; small damp stain at upper inner corners of first few leaves, occasional light damp staining to upper margins elsewhere most noticeably to pp. 201-256 of the indexes, small loss at lower blank corner of L2, occasional very light toning or foxing, otherwise a good copy; early 19th-century red morocco, spine gilt and lettered in compartments, gilt edges; spine sunned, extremities slightly worn, a few abrasions to covers; book labels of William O'Brien and Milltown Park library to front pastedown and Milltown ink stamp to title; annotation to p. 833.
£350

Approximately:
US $455
€388
Added to your basket:
Lucii Apuleii Madaurensis Platonici philosophi opera interpretatione et notis illustravit Julianus Floridus ... in usum serenissimi Delphini.
First Delphin edition of the works of Apuleius, 'une des meillures éditions qui soient dans la collection des Ad usum' according to Brunet, comprising the Metamorphoses, his popularisations of Platonic philosophy, and excerpts from his lectures known as the Florida. The Delphin classics were a landmark series of editions of Latin classical texts prepared between 1670 and 1698 for the use of the Grand Dauphin, the son of Louis XIV of France, editions which combined scholarship with high standards of production. Passages deemed to be obscene were expurgated and added as an appendix (here pp. 833-844). A 19th-century owner of this volume has added an apposite quote from Byron's Don Juan to p. 833: 'For here we have them all at one fell swoop, / Instead of being scattered thro' the pages: / They shewed forth, marshalled in a handsome troop, / To meet the ingenuous youth of future ages.'

The present copy belonged to the Irish judge and renowned bibliophile William O'Brien (1832-1899), who presided at the trials arising from the infamous Phoenix Park Murders of 1882. He bequeathed his library to the Jesuit community of Milltown upon his death.

Brunet I, 363.
You may also be interested in...
SECOND, ENLARGED EDITION OF A BEST-SELLING ACCOUNT OF RUSSIA AND THE CRIMEA ON THE EVE OF THE CRIMEA OLIPHANT, Laurence.
The Russian Shores of the Black Sea in the Autumn of 1852 with a Voyage down the Volga, and a Tour through the Country of the Don Cossacks ... Second Edition – Revised and Enlarged.
Second edition, revised and enlarged. The diplomat and traveller Oliphant (1829-1888) and his companion Oswald Smith journeyed through Russia and the Crimea shortly before the outbreak of the Crimean War, and his overview of the region also includes details of visits to Nizhnii Novgorod (which is depicted in the frontispiece) and other Russian cities, including Sevastapol, which Oliphant and Smith entered in disguise in order to map its fortifications. Nerhood considers that Oliphant 'describes places and people in an informative way, especially the long journey down the Volga River, with its peculiar means of transportation and the peoples along its banks', and this, together with the approach of the Crimean War (which led Lord Raglan to approach Oliphant for information), ensured the work's popularity. The first edition appeared in late 1853 as the Crimean War broke out (an advertisement on p. 10 of The Times of 25 October 1853 describes it as 'preparing for publication') and this second edition was published shortly afterwards (the preface is dated December 1853), with an additional chapter, since '[t]he Eastern Question has now assumed so serious an aspect, that facts connected with the Russian Shores of the Black Sea, which at the period of my visit in 1852 were devoid of any special political interest, are invested with the utmost importance, for it is possible that the southern portion of the Empire may shortly become the theatre of war, and considerations, the value of which I scarcely appreciated a few months ago, have since occurred to me as possessing strong claims upon our attention' (p. [v]). Third and fourth editions, which were reprints of this second edition, appeared in 1854.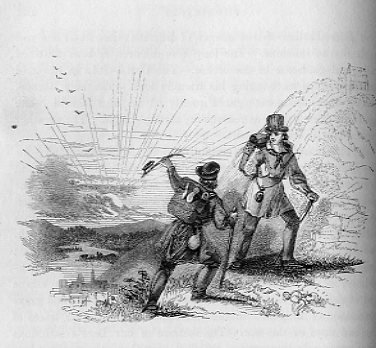 HOWITT, William.
The rural and domestic life of Germany: with characteristic sketches of its cities and scenery, collected in a general tour, and during a residence in the country in the years 1840-41 and 42.
A fine copy of the first edition of Howitt's account of his travels in Germany and Austria, and one of the best books in English about German life at the time. Howitt had moved with his family to Heidelberg in 1840 and stayed in Germany for more than two years on account of the education of his older children. According to a review of his book in the Allgemeine Zeitung 'The rural and domestic Life of Germany' contained the most accurate account of Germany written by a foreigner.