ARISTOTELIAN LOGIC
[ARISTOTLE.] 
Disputations on Aristotle's Organon. 
Milan, 1600-1601. 
Manuscript on paper, in Latin, small 4to (175 x 133 mm), ff. [3 (blank)], [448], [14 (blank)], a few leaves evidently excised; neatly written in brown ink in a single small hand, up to 17 lines per page, calligraphic headings, occasional marginal notes in the same hand, drawings of sacred hearts (e.g. ff. 28r and 336v); engraving of Christ crowning the Virgin by Pierre Firens bound in as frontispiece; a few small marginal wormholes, some light marginal dampstaining to last few quires, a few ink stains; overall very good in contemporary vellum, vestigial fabric ties to fore-edge, spine lined with printed waste; small losses to edges of upper cover, some staining.
£1250

Approximately:
US $1517
€1444
Added to your basket:
Disputations on Aristotle's Organon. 
An interesting manuscript comprising disputations on the first four works of Aristotle's Organon, covering logical analysis and dialectic, compiled by a Milanese student at the turn of the seventeenth century. 

Our manuscript was composed by 'Mattheus Oldellus' while studying in Milan under father 'Thomas Cerone'.  The compiler occasionally dates the progress of his studies: 'Finis tractatus de substantia die 3a mensis Julii Mediolani apud Patrem Thomam Ceroneam' (f. 50v); 'die 22 Maii 1601 Mattheus Oldellus scripsit sub Patre Thoma Ceroneo Mediolani' (f. 336r).  Mattheus was probably a member of the Oldelli family of notaries from Mendrisio and Lugano in Switzerland, just to the north of Milan.  The presence of several sacred hearts within the text (with flames at f. 28r and surmounted by a cross at f. 336v) suggests that Mattheus was studying within a Jesuit milieu, in all likelihood at Milan's Jesuit College.  Neither student nor teacher appear to have published anything, not being recorded in Sommervogel for example. 

The first part of the volume is devoted to Aristotle's Categories (ff. 1v-169v), beginning with discussion of equivocal and univocal words before moving on to the categories or praedicamenta themselves, with analysis of substance, quantity, relation, quality, action and affection, time and place, position and condition.  The next section is devoted to On interpretation (ff. 181r-245v) discussing, for example, nouns and verbs, enunciation, truth and falsity, and future propositions.  In the remainder of the manuscript the text provides a thorough analysis of the syllogisms of the Prior Analytics (ff. 246r-300v), and of precognition and demonstration as detailed in the Posterior Analytics (ff. 301r ad finem). 
You may also be interested in...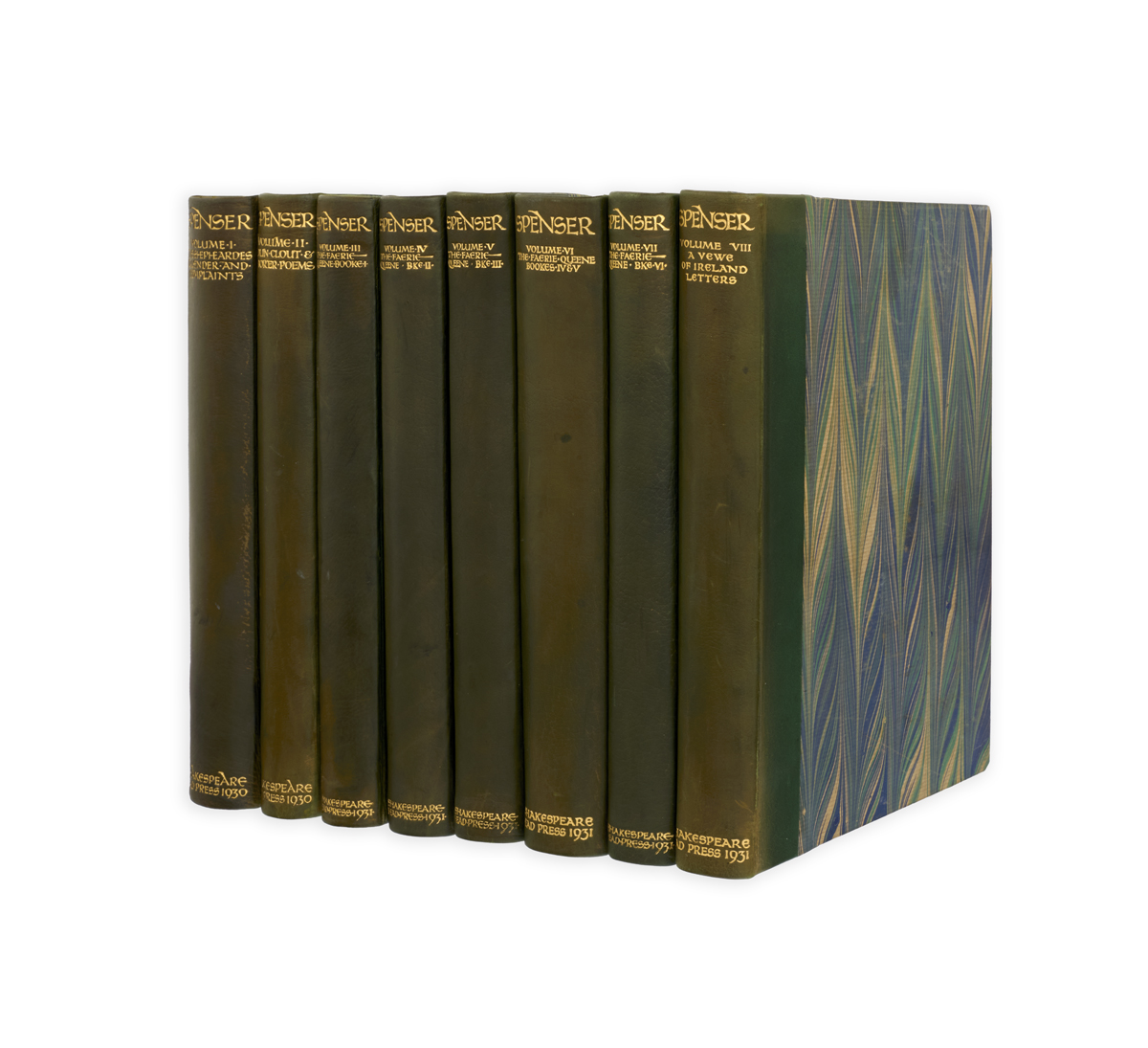 SPENSER, Edmund. 
The Works of Edmund Spenser. 
Limited edition, numbered 123 of 375 copies, of the handsome Shakespeare Head Spenser, one of the most significant works of the press.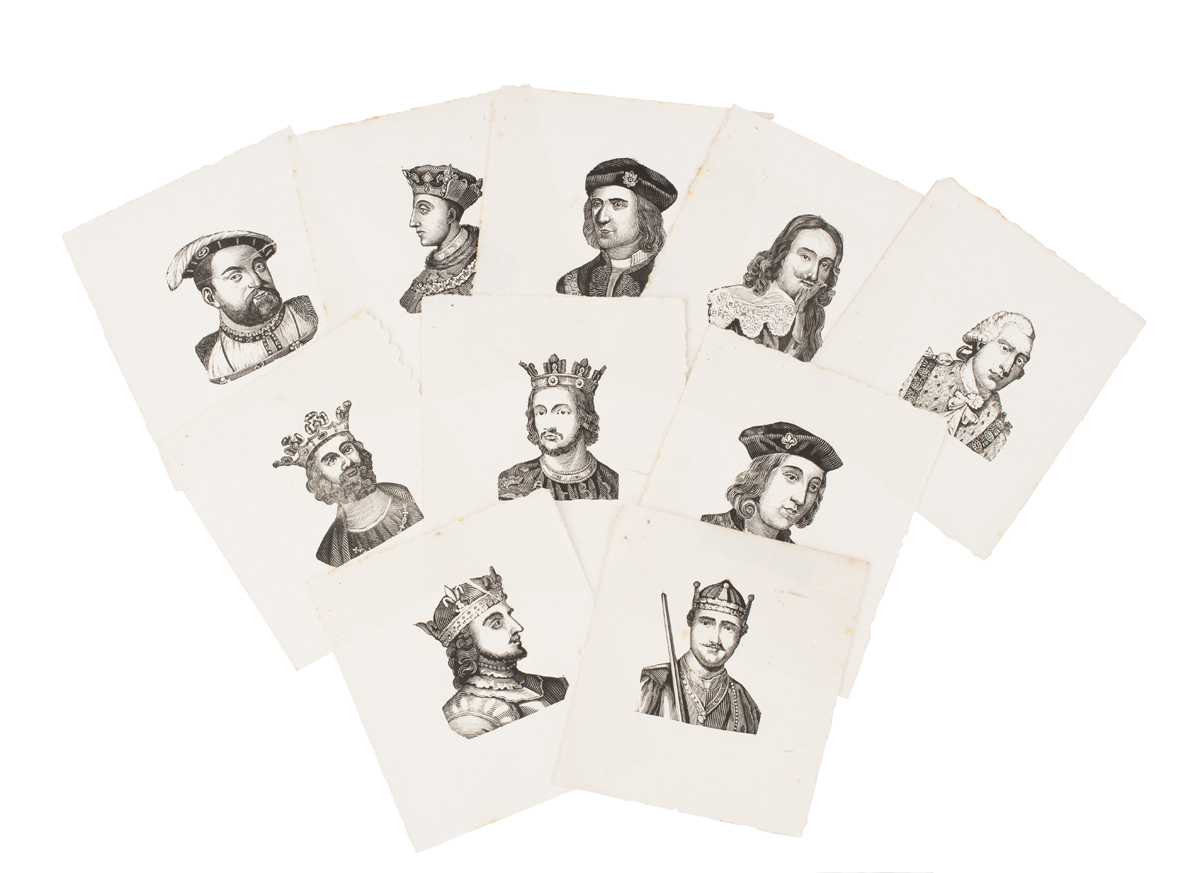 UNIQUE? [BEWICK, Thomas?]
Twenty-six rubbings from engraved woodblocks of the heads of Kings and Queens and England, apparently never published in this form.
Twenty-six apparently unrecorded wood-engravings – heads of the monarchs of England from William the Conqueror to George III – these images taken by rubbing from the blocks rather than printing. The engravings bear strong similarity to the 26 which appear in An Abridgement of the History of England … by Dr. Goldsmith … with Heads by Bewick (London, 1803), of which Thomas Bewick apparently bought a copy on 20 April of that year: his account book records a 'Parcel / Goldsmith Hisy Engd / Grafton Piccy 4s d.' (A Provisional Checklist of the Library of Thomas Bewick, by David Gardner-Medwin, item 1, online).