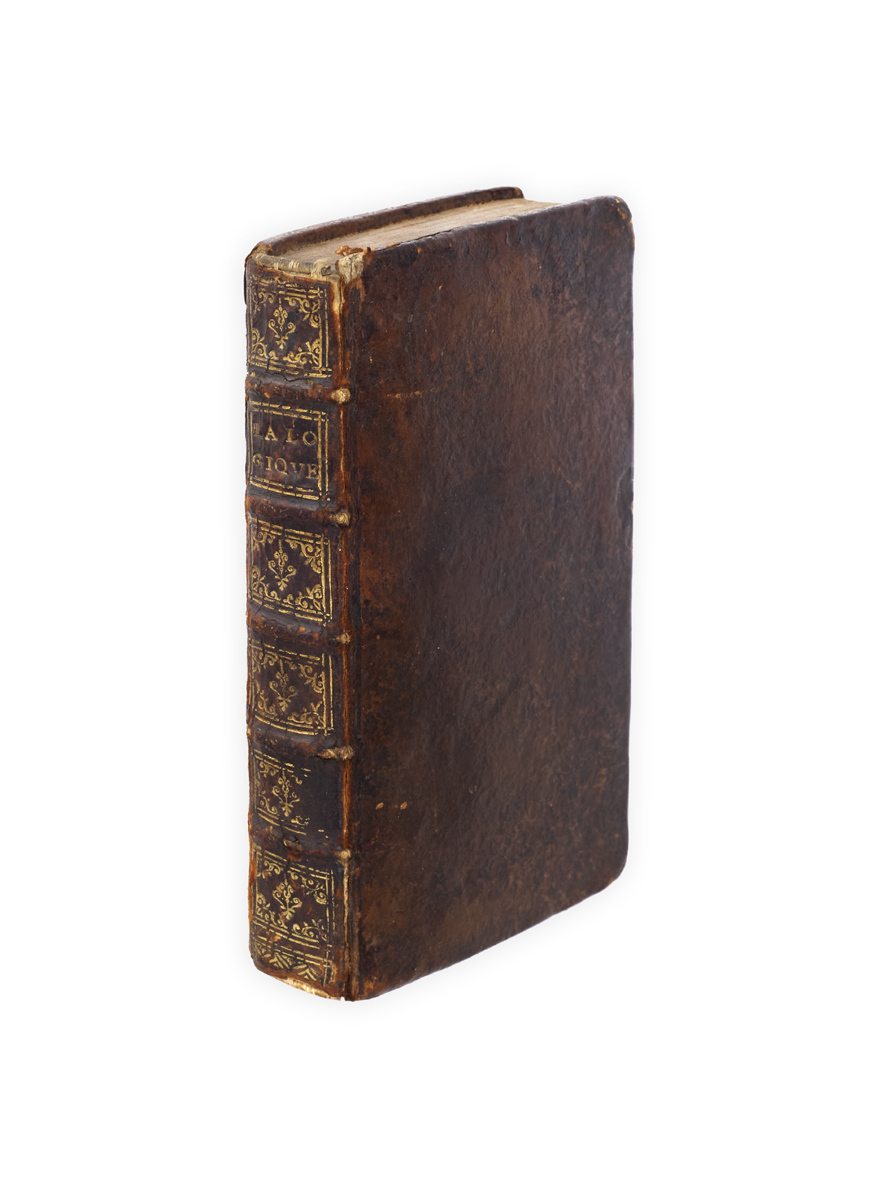 THE PORT ROYAL LOGIC
[ARNAULD, Antoine, and Pierre NICOLE.]

La logique ou l'art de penser, contenant, outre les regles communes, plusieurs observations nouvelles propres à former le iugement.
Paris, Jean Guignart, Charles Savreaux, and Jean de Launay, 1662.
12mo, pp. 473, [7, table of contents, errata, privilege]; light toning, light damp-staining to upper outer corners at beginning, small burn hole to pp. 429-434 repaired and lost words supplied in manuscript; otherwise a very good copy in contemporary calf, spine gilt in compartments, sprinkled edges; joints and extremities a little worn; inscription 'Emile Calais 1852' to rear endpaper.
£2000

Approximately:
US $2446
€2318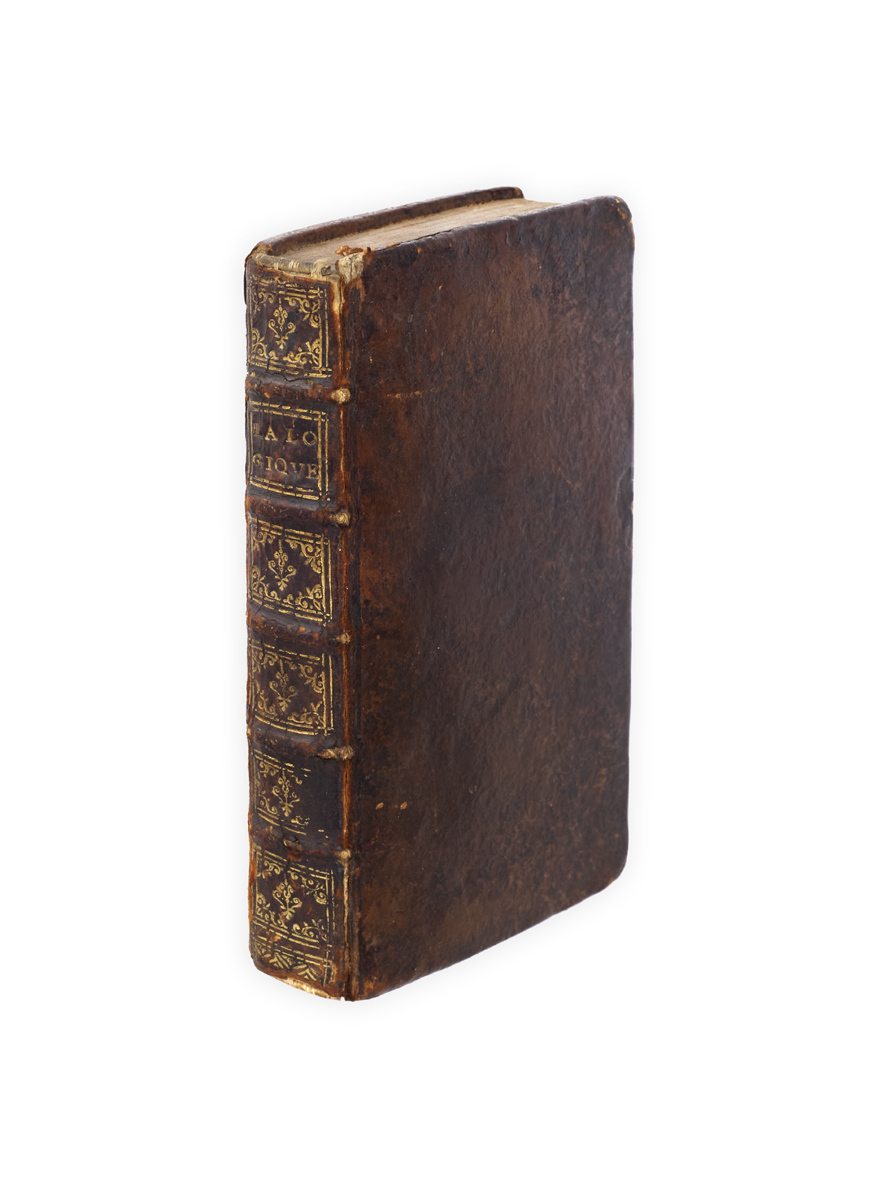 Added to your basket:
La logique ou l'art de penser, contenant, outre les regles communes, plusieurs observations nouvelles propres à former le iugement.
Scarce first edition of the work known as the Port Royal Logic. The authors were leaders of the Port Royal movement, and the book displays the distinctive tone of earnest piety for which the movement became famous. La Logique was the most famous logic text of the seventeenth century and set the form of manuals of logic for the next two hundred years. In particular, its division of the subject into the theory of conception, of judgment, of reasoning, and of method established a psychologistic approach which dominated the field until the time of Frege.

A handbook on method rather than a study of formal logic in the strict sense, La Logique was strongly and consciously Cartesian: a development from Descartes' Regulae rather than Aristotle's Prior Analytics. It nevertheless made important technical advances, most notably in its distinction between the comprehension and extension of a term (a development of the medieval distinction between significatio and suppositio and a forerunner of Hamilton's distinction between intension and extension); in its quasi-mathematical treatment of the rules of distribution, conversion and syllogistic; and in its formulation of the deduction theorem.

BM STC French 1601-1700, p. 333; Risse I, p. 153.
You may also be interested in...
'UTILITY CAN ONLY BE RELATIVE' LE TROSNE, Guillaume-François.
De l'intérêt social, par rapport à la valeur, à la circulation, à l'industrie, et au commerce intérieur et extérieur: ouvrage élémentaire, dans lequel on discute quelques principes de M. l'Abbé de Condillac.
Rare first edition of Le Trosne's most specifically economic work, which also appeared as the second part of De l'ordre social and was issued in conjunction with it (with the title-page of De L'ordre modified to contain reference to this). De l'intérêt social is, among Le Trosne's publications, one bearing 'major economic content, with its discussion of value, circulation, money, industry, and domestic, foreign and colonial trade […]. [It] is particularly noted for its theory of value, which distinguishes its various determinants such as usefulness, tastes, relative scarcity and competition but which identifies necessary expenses of production as the major influence on value, hence the name fundamental price. To analyze value effects on production and wealth Le Trosne distinguishes various value forms linking, for example, the excess of the price received for produce by the farmer over costs, to accumulation and the increase of wealth. Other roles for these complex value relationships are illustrated in Le Trosne's perceptive discussion of exchange, money, circulation, the sterility of industry and the benefits of trade for an agricultural nation' (Palgrave).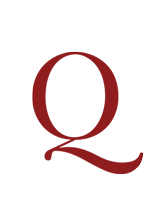 'THE BOOKSELLERS GROW RICHWITHOUT UNDERSTANDING THE BOOKS THEY SELL' LETTERS ON THE FRENCH NATION
: by a Sicilian Gentleman resident in Paris, to his Friend in his own Country. Containing an useful and impartial Critique on that City, and the French Nation. Translated from the Original.
First edition of this translation, very rare, of a work first printed in French in Paris in 1700 (see below) and, in a different translation, in English in 1704 as An agreeable Criticism of the City of Paris.