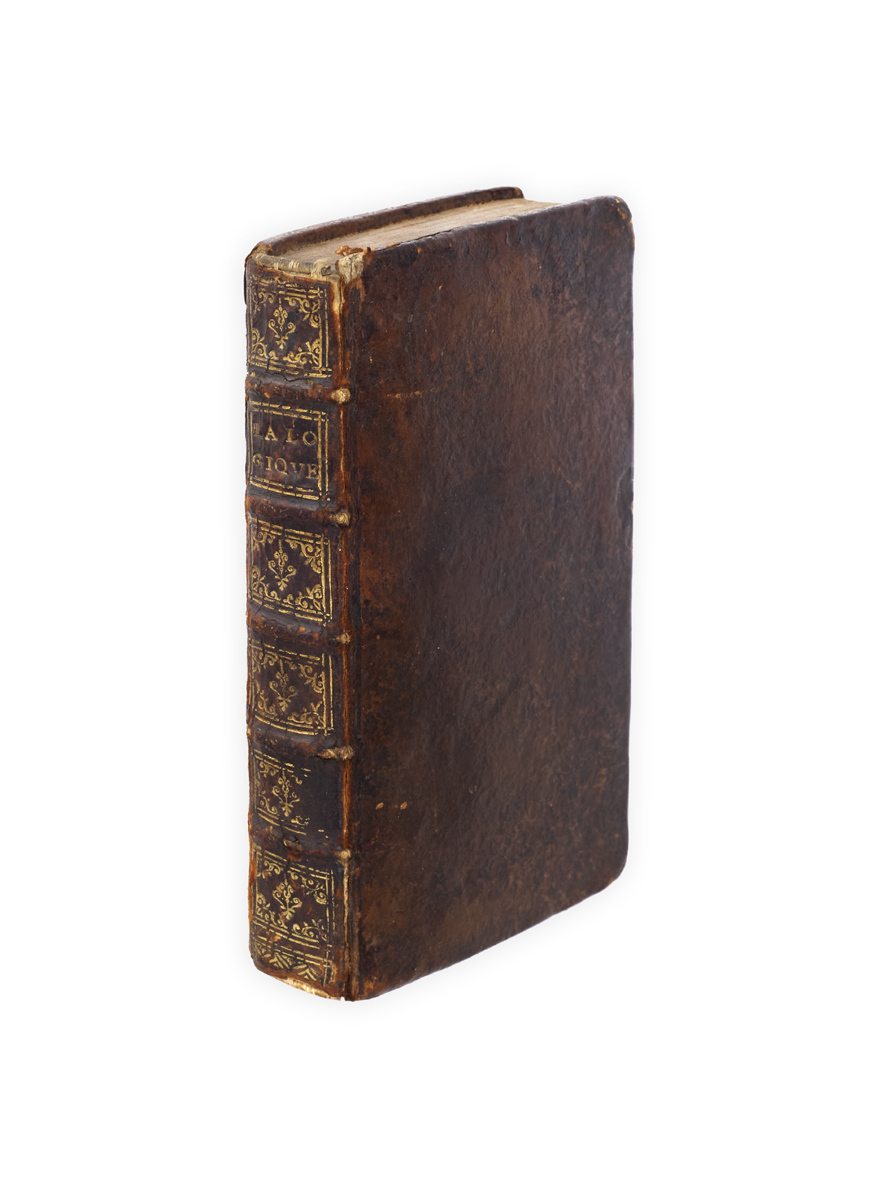 THE PORT ROYAL LOGIC
[ARNAULD, Antoine; Pierre NICOLE.]
La logique ou l'art de penser, contenant, outre les regles communes, plusieurs observations nouvelles propres à former le iugement.
Paris, Jean Guignart, Charles Savreaux, Jean de Launay, 1662.
12mo, pp. 473, [7, table of contents, errata, privilege]; light toning, light damp staining to upper outer corners at beginning, small burn hole to pp. 429-434 repaired and lost words supplied in manuscript; otherwise a very good copy in contemporary calf, spine gilt in compartments, sprinkled edges; joints and extremities a little worn; inscription 'Emile Calais 1852' to rear endpaper.
£2500

Approximately:
US $3102
€2812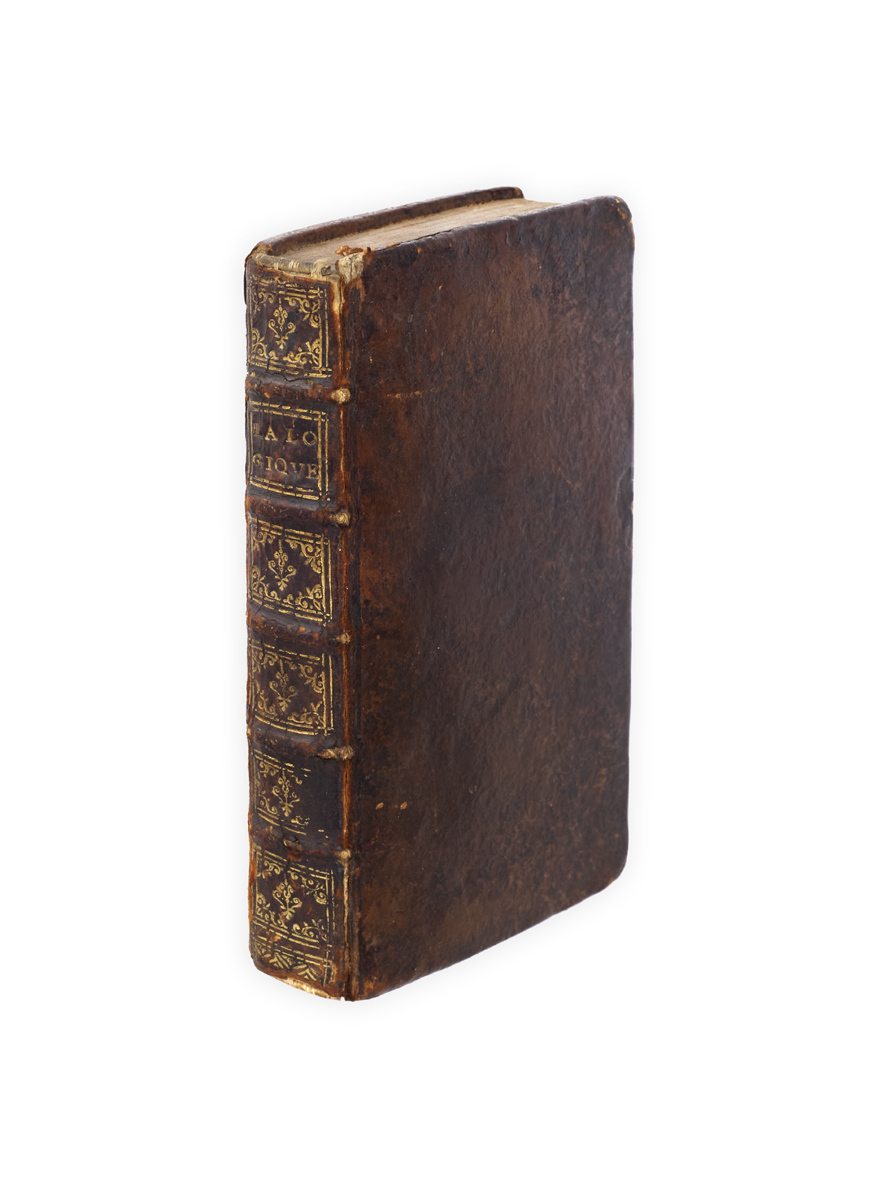 Added to your basket:
La logique ou l'art de penser, contenant, outre les regles communes, plusieurs observations nouvelles propres à former le iugement.
Scarce first edition of the work known as the Port Royal Logic. The authors were leaders of the Port Royal movement, and the book displays the distinctive tone of earnest piety for which the movement became famous. La Logique was the most famous logic text of the seventeenth century and set the form of manuals of logic for the next two hundred years. In particular, its division of the subject into the theory of conception, of judgment, of reasoning and of method established a psychologistic approach which dominated the field until the time of Frege. A handbook on method rather than a study of formal logic in the strict sense, La Logique was strongly and consciously Cartesian: a development from Descartes' Regulae rather than Aristotle's Prior Analytics. It nevertheless made important technical advances, most notably its distinction between the comprehension and extension of a term (a development of the medieval distinction between significatio and suppositio and a forerunner of Hamilton's distinction between intension and extension); its quasi-mathematical treatment of the rules of distribution, conversion and syllogistic; and its formulation of the deduction theorem.

BM STC French 1601-1700, p. 333; Risse I, p.153.
You may also be interested in...
LECTIONARY,
in French and Latin, with readings from the Gospel of John, the Book of Wisdom, and Ephesians; a partial bifolium (leaves not consecutive), double columns of 30 lines written in a good formal gothic bookhand in brown ink, ruled lightly with ink, five two-line initials delicately painted in pink or blue against burnished gold grounds and with ivyleaf extensions, ten one-line initials in burnished gold against pink and blue grounds, capitals touched in yellow, Latin passages underlined in red, original numbering in red at head of each leaf 'xii. xix.' and 'xiii. iiii.', rubrics; trimmed at foot, without loss of text, and at fore-margins, occasionally affecting a letter or two, but in excellent condition. 202 x 141 mm (172 x 120 mm)
The use of French indicates that the parent manuscript was intended for a lay reader or audience, while the quality of the script and illumination points to a prestigious commission. The passages in French are each preceded by the first few words of the original Latin text, underlined in red.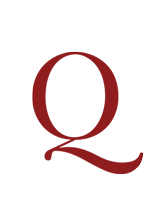 [LE MERCIER DE LA RIVIÈRE, Pierre Paul].
Die glückliche Nation, oder der Staat von Felizien. Ein Muster der vollkommensten Freyheit unter der unbedingten Herrschaft der Gesetze. Aus dem Französischen. Erster [– Zweiter] Theil.
First edition in German, originally published as L'Heureuse Nation, ou Relation du gouvernement des Féliciens, peuple souverainement libre et heureux sous l'empire absolu des lois in 1792. Le Mercier de la Rivière (1720–1793/4) was a colleague of Quesnay and Mirabeau, whose physiocratic views he shared. This utopia, according to Daire, is a variation of the material in Le Mercier's Théorie du despotisme légal and De l'Ordre naturel et essentiel des sociétés politiques.