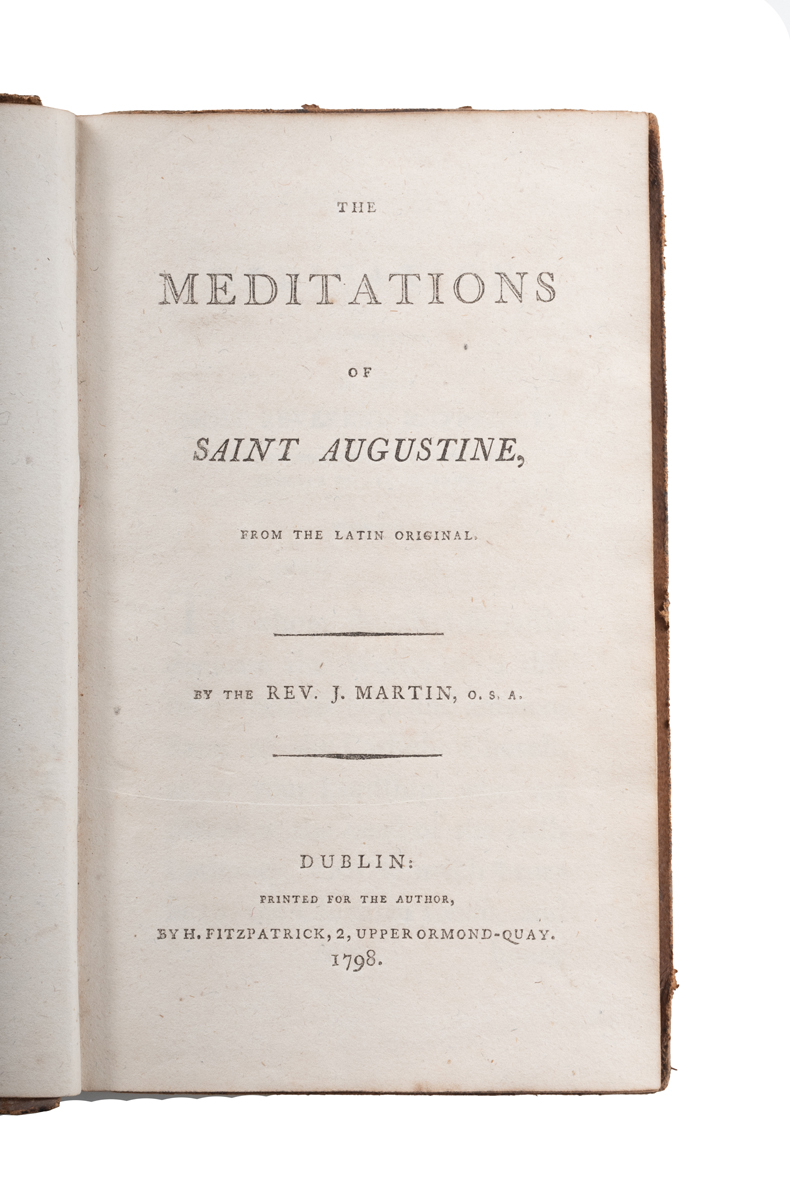 TRANSLATED BY A 'UNITED IRISHMAN'
[AUGUSTINE, Saint, attributed author.]

The Meditations of Saint Augustine, from the Latin Original. By the Rev. J. Martin, O.S.A. …
Dublin: Printed for the Author, by H. Fitzpatrick … 1798.
12mo, pp. [12], 183, [9, index]; lightly foxed but a good copy in contemporary sheep, spine with remains of paper label; boards chipped, joints starting; inscription on front pastedown: 'Hassop Mission [Derbyshire] 11 March 1852'.
£1250

Approximately:
US $1536
€1441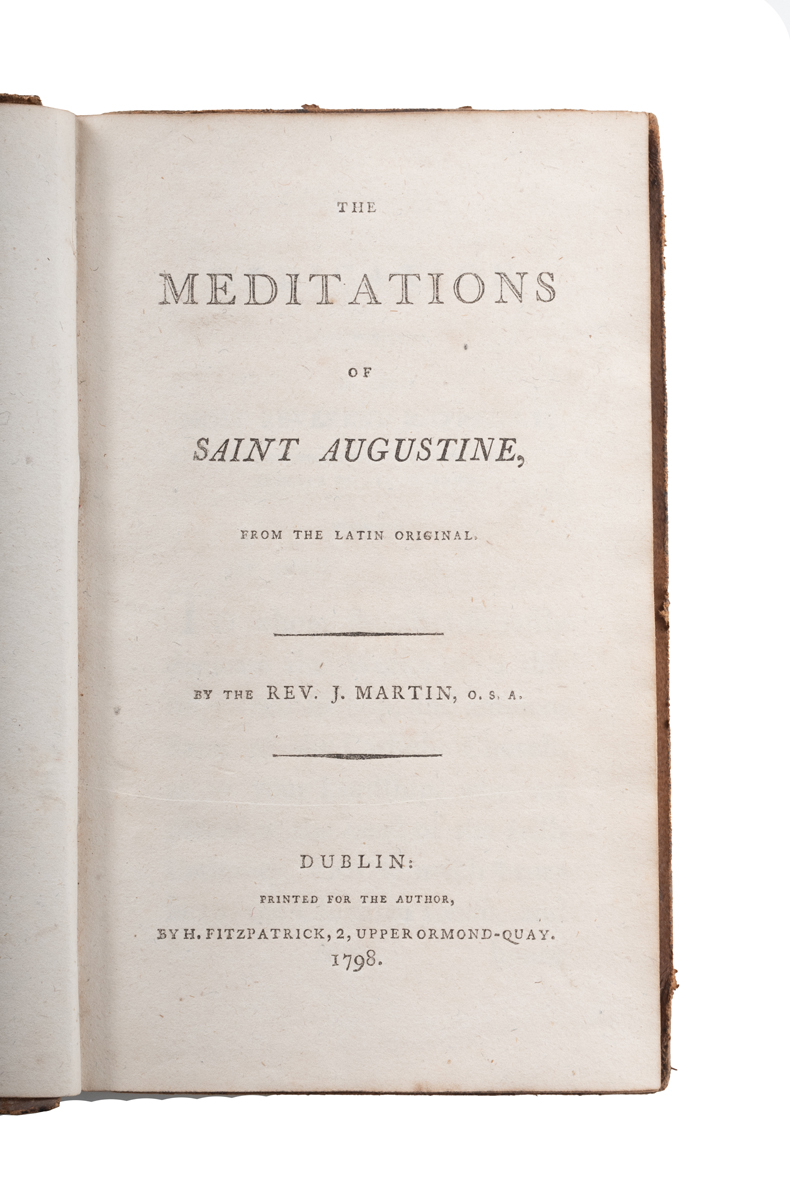 Added to your basket:
The Meditations of Saint Augustine, from the Latin Original. By the Rev. J. Martin, O.S.A. …
First edition of this rare translation of the pseudo-Augustinian Meditationum Liber, an eleventh-century devotional text very popular in the Middle Ages.

The translator, John Martin, was an Augustinian friar who became a fervent activist within the Society of United Irishmen. His political conversion (and this book) coincided with the outbreak of the rebellion of 1798, in which he took a number of increasingly dangerous commissions from the Dublin United Irish Committee, but he has been largely neglected in the historiography of the rebellion; his stance suited neither loyalists nor rebel apologists, and he remains an enigmatic figure.

Daire Keogh, '"The most dangerous villain in society"; Fr. John Martin's Mission to the United Irishmen of Wicklow in 1798', Eighteenth-Century Ireland, 7, (1992), pp. 115-135.

ESTC records copies at the British Library, National Library of Ireland, and Illinois only.
You may also be interested in...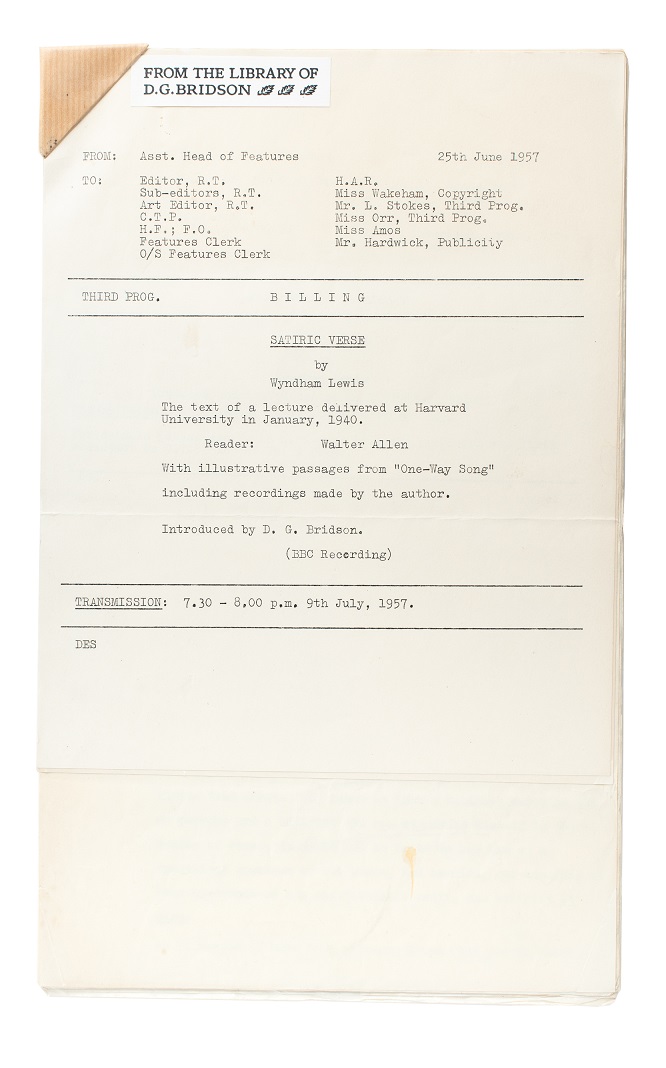 CORRECTED BROADCAST SCRIPT LEWIS, Wyndham, and D. G. BRIDSON.
Typescript for broadcast: 'Satiric Verse … The text of a lecture delivered at Harvard University in January, 1940'.
Although a recording of Lewis reading from 'One Way Song' was made at Harvard in 1940, the lecture that accompanied it, 'Satiric Verse', was not then recorded. For the 1957 broadcast it was read by Walter Allen 'from Lewis's own manuscript notes'. Several other sections were read by Stephen Murray. Bridson produced, and provided an introduction and some linking remarks between sections.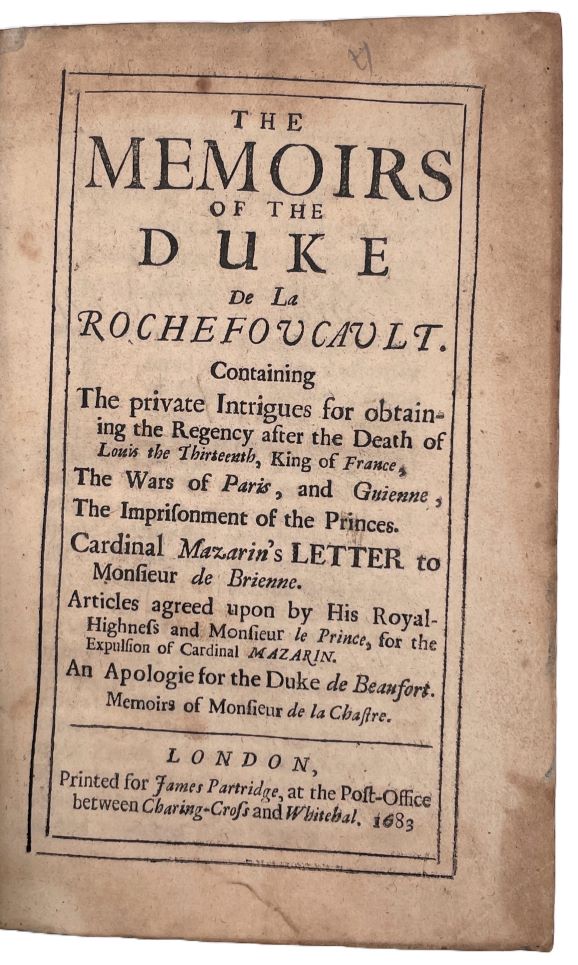 LA ROCHEFOUCAULD, François, Duc de.
The Memoirs of the Duke de La Rochefoucault. Containing the private Intrigues for obtaining the Regency after the Death of Louis the Thirteenth, King of France, the Wars of Paris, and Guienne, the Imprisonment of the Princes. Cardinal Mazarin's Letter to Monsieur de Brienne. Articles agreed upon by His Royal Highness and Monsieur le Prince, for the Expulsion of Cardinal Mazarin. An Apologie for the Duke de Beaufort. Memoirs of Monsieur de la Chastre.
First edition in English, translated from Mémoires de M. D.L.R. sur les brigues à la mort de Louys XIII (1662). At court in his earlier years La Rochefoucauld (1613-1680) took an active part in the cabals and rivalries that surrounded Richelieu and Louis XIII, and subsequently in the Fronde rebellion against Mazarin. His political activities came to an end after he was wounded in the fighting in Paris in 1652. Living in retirement he began to write his Mémoires, not so much an autobiography as an account of the court intrigues and a portrait of his fellow aristocrats. Mémoires circulated privately among his friends until its unauthorized printing in 1662 brought the author both fame and trouble.