WITH ORIGINAL LANDSCAPE VIGNETTES
AZAÏS, Gabriel, and Charles LABOR.
Illustrated manuscript volume of poetry, comprising 'Vingt-six janvier 1836' by Azaïs, and 'Marie' by Labor.
Béziers, c. 1836?
4to. manuscript, ff. [20], with ruled borders, in brown ink, with 30 landscape vignettes in black ink, 19 encorporating initials; in fine condition in contemporary red polished calf, covers tooled with gilt central panel and roll-tool borders at head and foot, geometric lozenge pattern painted in black; both poems inscribed 'A Madame Donadieu'.
£1750

Approximately:
US $2152
€2041
Added to your basket:
Illustrated manuscript volume of poetry, comprising 'Vingt-six janvier 1836' by Azaïs, and 'Marie' by Labor.
An attractive presentation volume, with poems by Azaïs (1805-1888) and Labor (1813-1900), and fine vignette sketches. Azaïs, later author of Les Troubadours de Béziers (1869) was a member of the Félibrige, the literary organization founded by Frédéric Mistral to promote Occitan language and culture. Labor was a landscape painter, a secretary and close friend of Lamartine, author of a novel (Marguerite, 1837), and the founder and first conservator of the Musée des Beaux Arts de Béziers; the vignettes are presumably by him.
You may also be interested in...
JESUIT LOGIC AND PHYSICS [LALANDE, Fr.] 
[Philosophy course.] 
Fair manuscript copy of a course of philosophy for the use of clerical students offering a systematic treatment of Aristotelian Logic and Physics.  The initial inscription states that this course was given by a Jesuit, Fr. Lalande, to Jacques Becheau of Périgord in 1681.  The course is articulated in the disputationes dealing in depth with logics and metaphysics at first, then physics and astrology in the second part.  A fair example of Jesuit Aristotelianism with significant departures from Aquinas's interpretation, this manuscript offers an insight into the Jesuit order's agility in adapting the received 'calculations' of syllogism and deduction to early-modern challenges coming from the emergence of experimental science in the age of Galileo.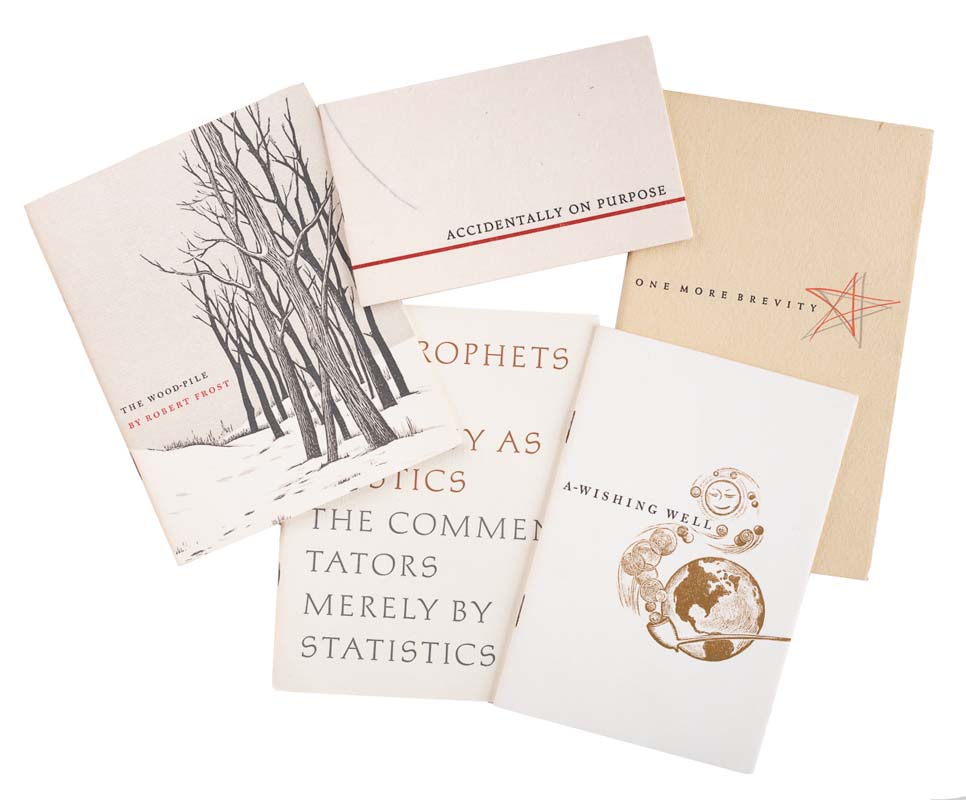 CHRISTMAS CARDS FROM FROST TO D.G. BRIDSON, ONE INSCRIBED FROST, Robert.
A collection of five Christmas Poems 1953, 1959, 1960, 1961 and 1963, all in the issues printed for distribution by Frost himself.
'Though I only met Frost on three occasions, I felt the warmest affection for him … The Christmas poems which he sent his friends each year were ever welcome reminders of Frost's genial good nature. The last I received from arrived on the morning that I read of his death in the newspaper. Sad as it was to me, I think he would have appreciated the irony of that' (Bridson, Prospero and Ariel).