WITH ORIGINAL LANDSCAPE VIGNETTES
AZAÏS, Gabriel, and Charles LABOR.
Illustrated manuscript volume of poetry, comprising 'Vingt-six janvier 1836' by Azaïs, and 'Marie' by Labor.
Béziers, c. 1836?
4to. manuscript, ff. [20], with ruled borders, in brown ink, with 30 landscape vignettes in black ink, 19 encorporating initials; in fine condition in contemporary red polished calf, covers tooled with gilt central panel and roll-tool borders at head and foot, geometric lozenge pattern painted in black; both poems inscribed 'A Madame Donadieu'.
£1750

Approximately:
US $2468
€2038
Added to your basket:
Illustrated manuscript volume of poetry, comprising 'Vingt-six janvier 1836' by Azaïs, and 'Marie' by Labor.
An attractive presentation volume, with poems by Azaïs (1805-1888) and Labor (1813-1900), and fine vignette sketches. Azaïs, later author of Les Troubadours de Béziers (1869) was a member of the Félibrige, the literary organization founded by Frédéric Mistral to promote Occitan language and culture. Labor was a landscape painter, a secretary and close friend of Lamartine, author of a novel (Marguerite, 1837), and the founder and first conservator of the Musée des Beaux Arts de Béziers; the vignettes are presumably by him.
You may also be interested in...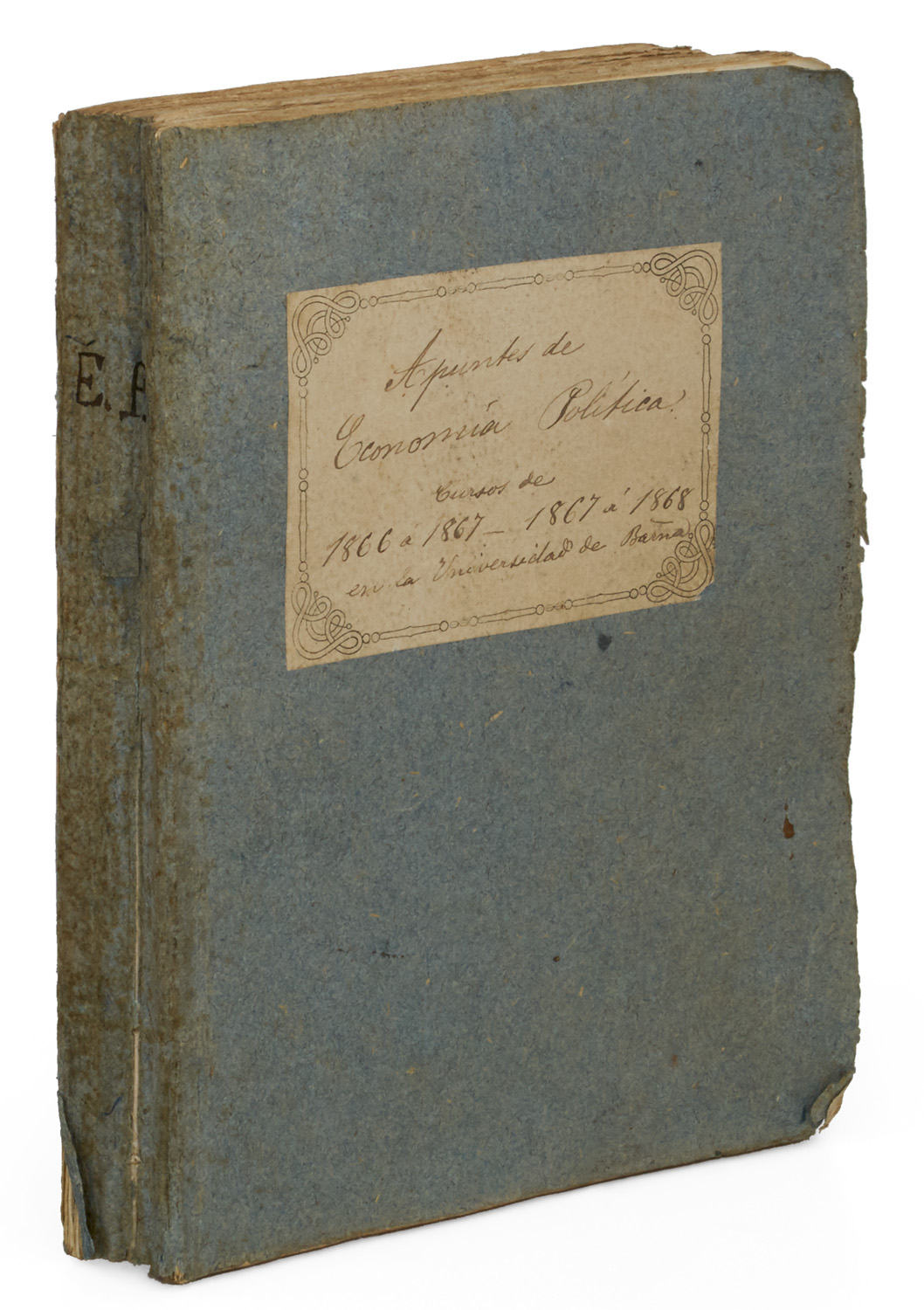 GUASP Y PUJOL, Manuel.
Apuntes de Economia Política. Cursos de 1866 a 1867 – 1867 a 1868. University of Barcelona.
Unique witness to the lectures of political economy taught by Manuel Guasp y Pujol at Barcelona in the mid 1860s: a ponderous manuscript, endowed with the depth of numerous corrections and additions, amounting to an unpublished full-blown treatise on political economy, with topics such as labour, capital, theory of value and ownership at its core.
WITH AN AUTOGRAPH LETTER OFFERING A READING LIST ON MATHEMATICAL LOGIC CARNAP, Rudolf.
Introduction to semantics.
First edition. The letter inserted in this copy, dated February 26th 1947, is one leaf, penned and signed by Carnap, and addressed to R.P. Brady, a graduate student whose idea of a new introduction to Principia Mathematica Carnap finds 'very interesting'. In response to Brady's request, Carnap offers a reading list on mathematical logic with brief comments, adding Cramer's Mathematical methods in statistics as a final suggestion in the field of probability and statistics.