WITH ORIGINAL LANDSCAPE VIGNETTES
AZAÏS, Gabriel, and Charles LABOR.
Illustrated manuscript volume of poetry, comprising 'Vingt-six janvier 1836' by Azaïs, and 'Marie' by Labor.
Béziers, c. 1836?
4to. manuscript, ff. [20], with ruled borders, in brown ink, with 30 landscape vignettes in black ink, 19 encorporating initials; in fine condition in contemporary red polished calf, covers tooled with gilt central panel and roll-tool borders at head and foot, geometric lozenge pattern painted in black; both poems inscribed 'A Madame Donadieu'.
£1750

Approximately:
US $2372
€2090
Added to your basket:
Illustrated manuscript volume of poetry, comprising 'Vingt-six janvier 1836' by Azaïs, and 'Marie' by Labor.
An attractive presentation volume, with poems by Azaïs (1805-1888) and Labor (1813-1900), and fine vignette sketches. Azaïs, later author of Les Troubadours de Béziers (1869) was a member of the Félibrige, the literary organization founded by Frédéric Mistral to promote Occitan language and culture. Labor was a landscape painter, a secretary and close friend of Lamartine, author of a novel (Marguerite, 1837), and the founder and first conservator of the Musée des Beaux Arts de Béziers; the vignettes are presumably by him.
You may also be interested in...
ORIENTAL CAUTIONARY TALE BEAUHARNOIS, Félicité (pseudonym?).
Zoraïm, ou les aventures d'un musulman; traduit de l'Anglois, par la c. Félicité Beauharnois, auteur de la Dot de Suzette.
Very rare (only one copy traced) cautionary tale against ambition and vengeance, set in the Ottoman world, and penned during the French Revolution.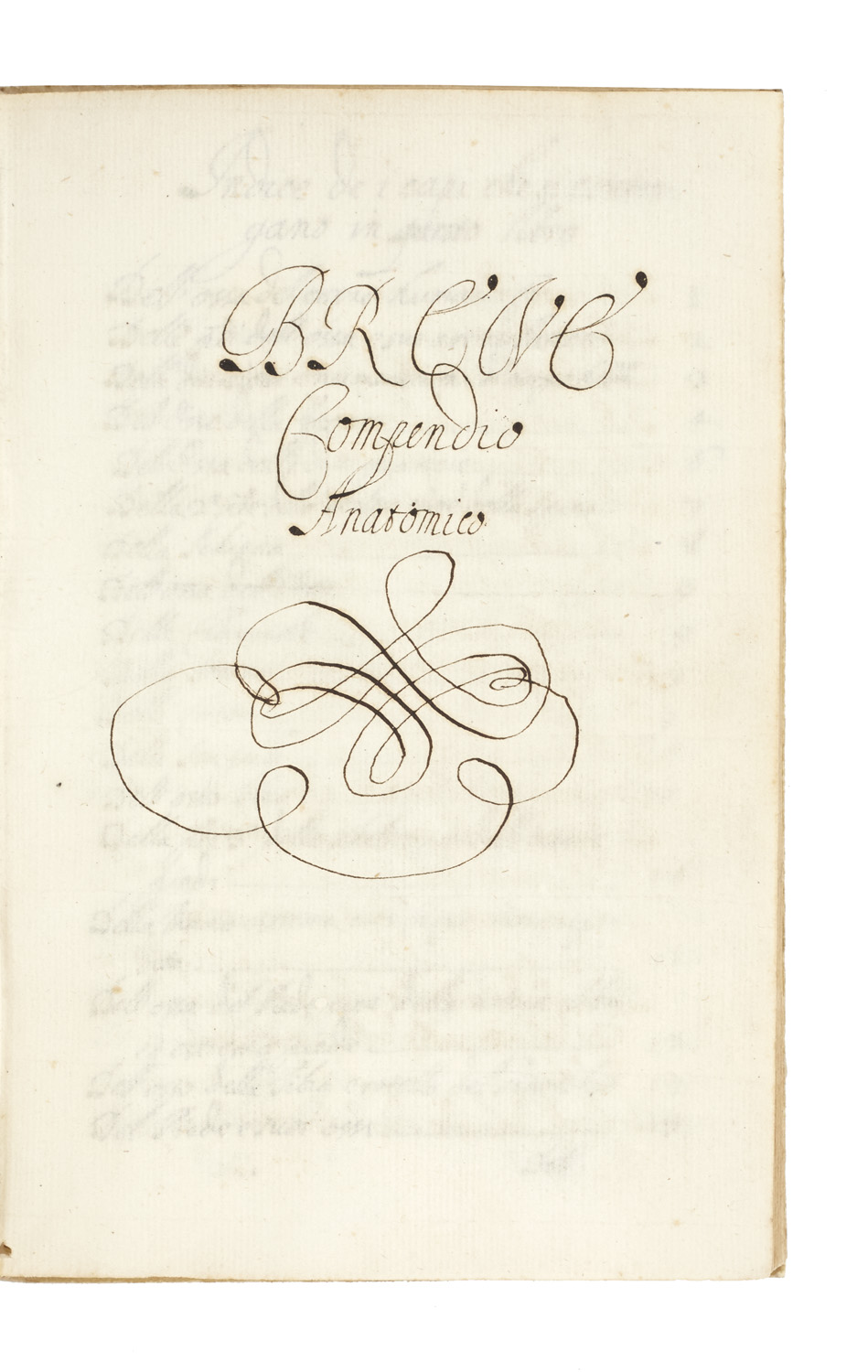 BONES FOR BEGINNERS [ANATOMY.]
'Breve compendio anatomico'.
A handsome set of apparently unpublished notes on orthopaedics by an anonymous medical student, compiled in Italy in the early eighteenth century, covering bones, cartilage, ligaments and muscles. The manuscript opens with a detailed analysis of the human skeleton, its bones and articulation, from head to toe, including the spine, clavicle, sternum, ribs, scapulae, hip bone, and hyoid bone, before discussing cartilage (ears, nose, spine &c.) and ligaments (e.g. shoulders and elbows, legs, fingers and toes). The section on muscles covers, inter alia, the eyelids, nose, ears, lips, jaw, tongue, head and neck, and back. Other areas covered by the author include the peritoneum, ventricles, intestines, vena cava, heart, larynx, pericranium, pia, brain, and nerves.