WITH ORIGINAL LANDSCAPE VIGNETTES
AZAÏS, Gabriel, and Charles LABOR.
Illustrated manuscript volume of poetry, comprising 'Vingt-six janvier 1836' by Azaïs, and 'Marie' by Labor.
Béziers, c. 1836?
4to. manuscript, ff. [20], with ruled borders, in brown ink, with 30 landscape vignettes in black ink, 19 encorporating initials; in fine condition in contemporary red polished calf, covers tooled with gilt central panel and roll-tool borders at head and foot, geometric lozenge pattern painted in black; both poems inscribed 'A Madame Donadieu'.
£1750

Approximately:
US $2240
€1990
Added to your basket:
Illustrated manuscript volume of poetry, comprising 'Vingt-six janvier 1836' by Azaïs, and 'Marie' by Labor.
An attractive presentation volume, with poems by Azaïs (1805-1888) and Labor (1813-1900), and fine vignette sketches. Azaïs, later author of Les Troubadours de Béziers (1869) was a member of the Félibrige, the literary organization founded by Frédéric Mistral to promote Occitan language and culture. Labor was a landscape painter, a secretary and close friend of Lamartine, author of a novel (Marguerite, 1837), and the founder and first conservator of the Musée des Beaux Arts de Béziers; the vignettes are presumably by him.
You may also be interested in...
BRANDED 'LE BLASPHÉMATEUR EUROPÉEN' FOR HIS CONTROVERSIAL LA VIE DE JÉSUS. RENAN, Ernest (1823-1892), French philologist and philosopher.
A collection of 26 autograph letters and notes signed, with one letter by an amanuensis signed, to various recipients, in French.
A fine collection of letters from Renan, providing an insight into the breadth of his academic pursuits, his publications, his contacts in France and abroad, and his personality.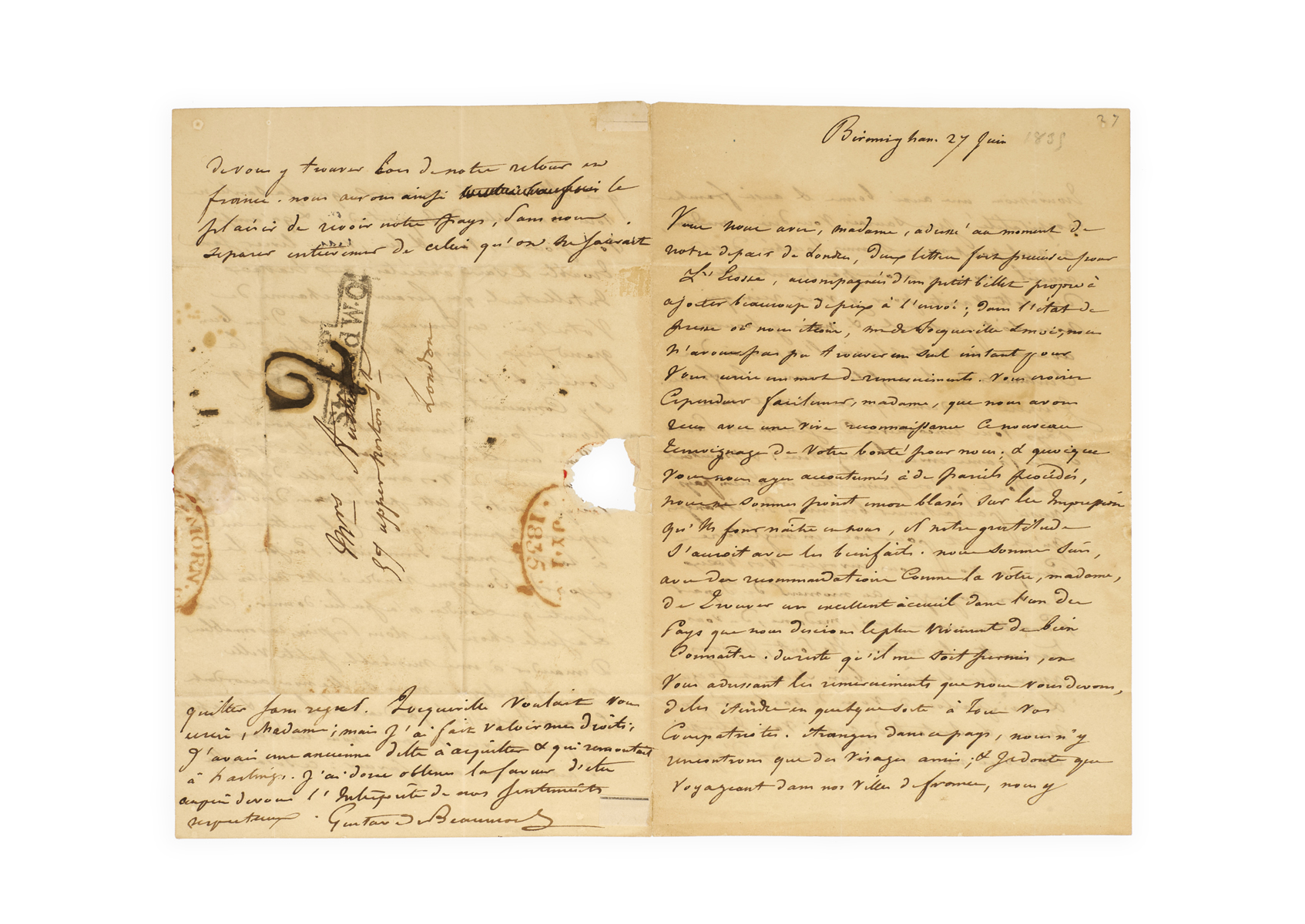 PRAISE FOR ENGLISH HOSPITALITY FROM TOCQUEVILLE AND BEAUMONT BEAUMONT, Gustave-Auguste de la Bonninière de (1802-1866), French prison reformer and travel companion to Alexis de Tocqueville.
Autograph letter signed ('Gustave de Beaumont') to Sarah Austin.
A warm and personal autograph documenting the relationship between the reformer Beaumont and one of the most accomplished contemporary catalysts of philosophical exchange, the translator Sarah Austin. In 1831 Beaumont was sent by the French government with his friend and colleague Alexis de Toqueville to study the prison system in America, a trip that resulted in several publications, not least Toqueville's De la démocratie en Amérique. Beaumont was particularly struck by the number of black slaves in America and in the same year as this letter wrote a novel on the subject.