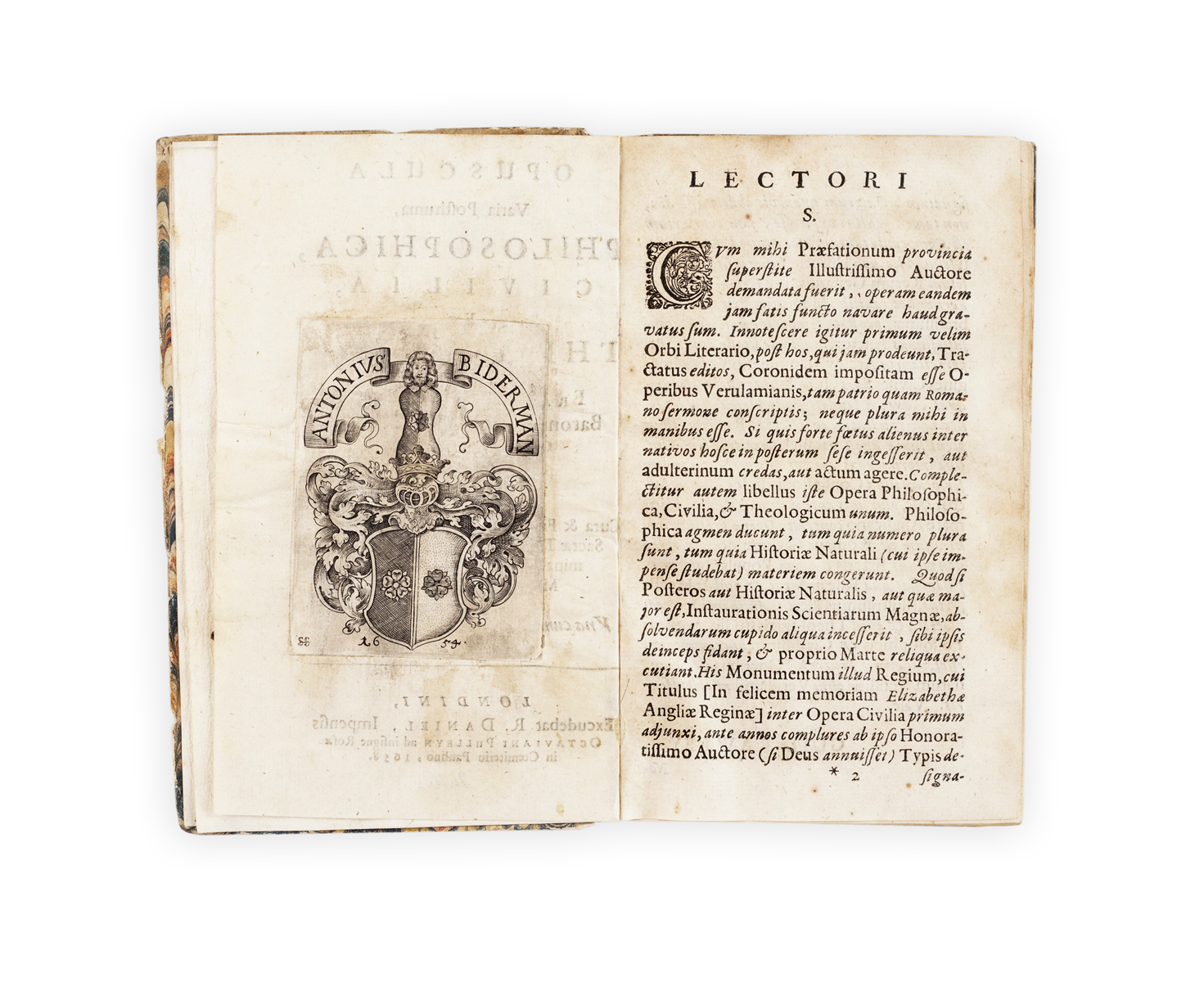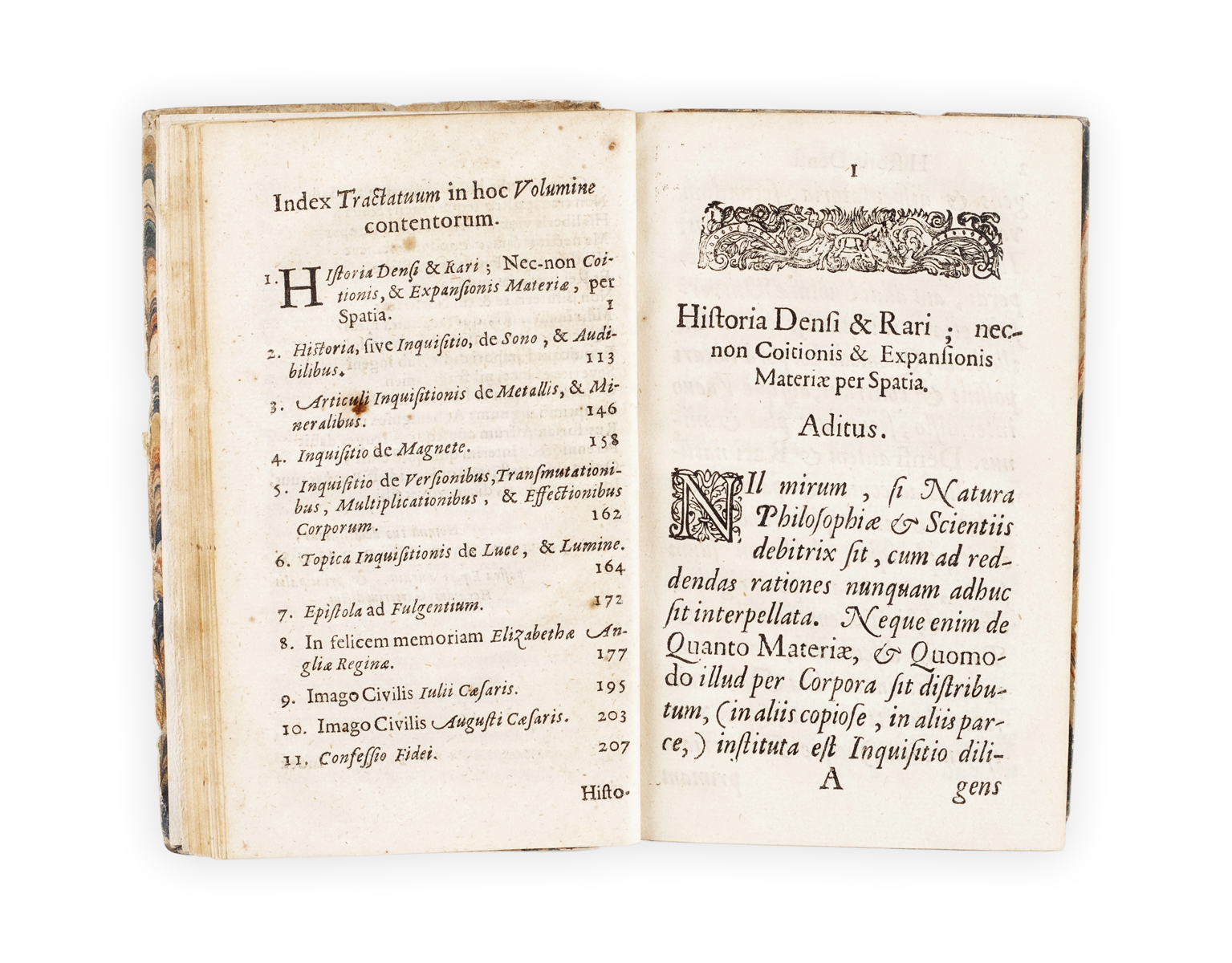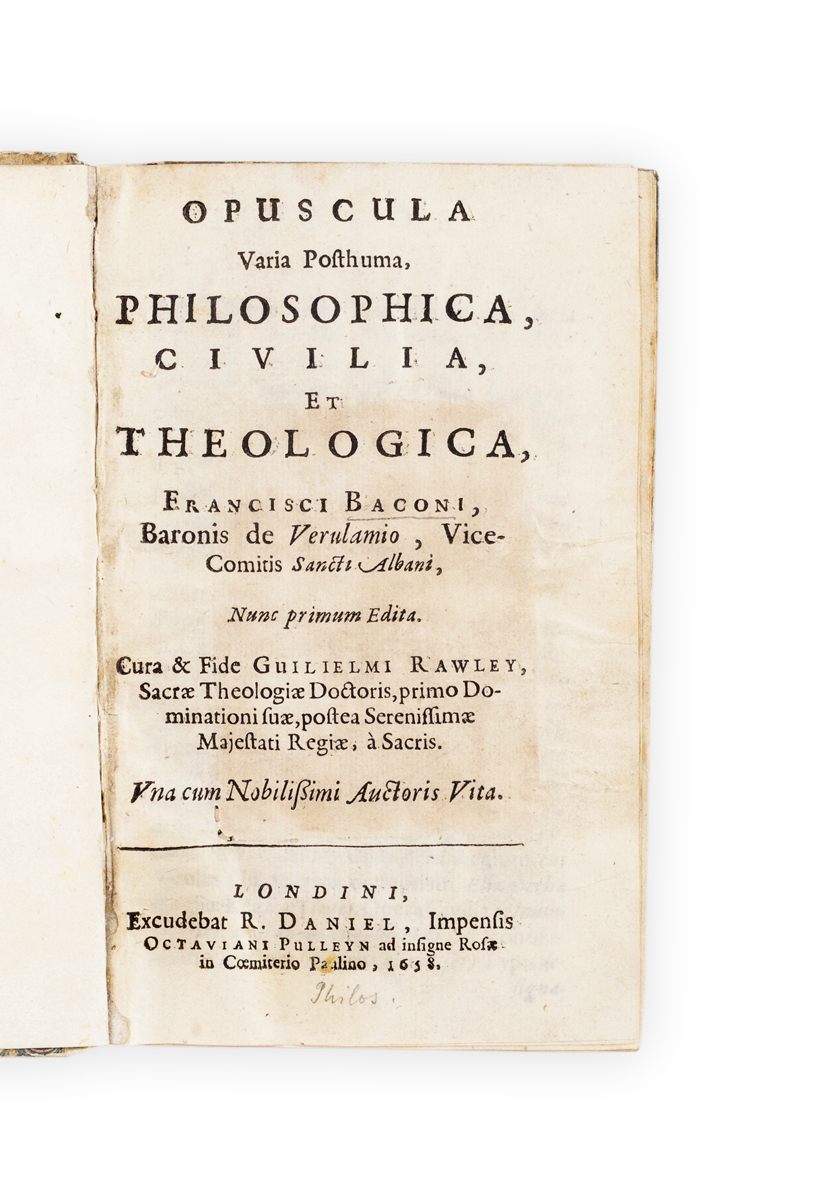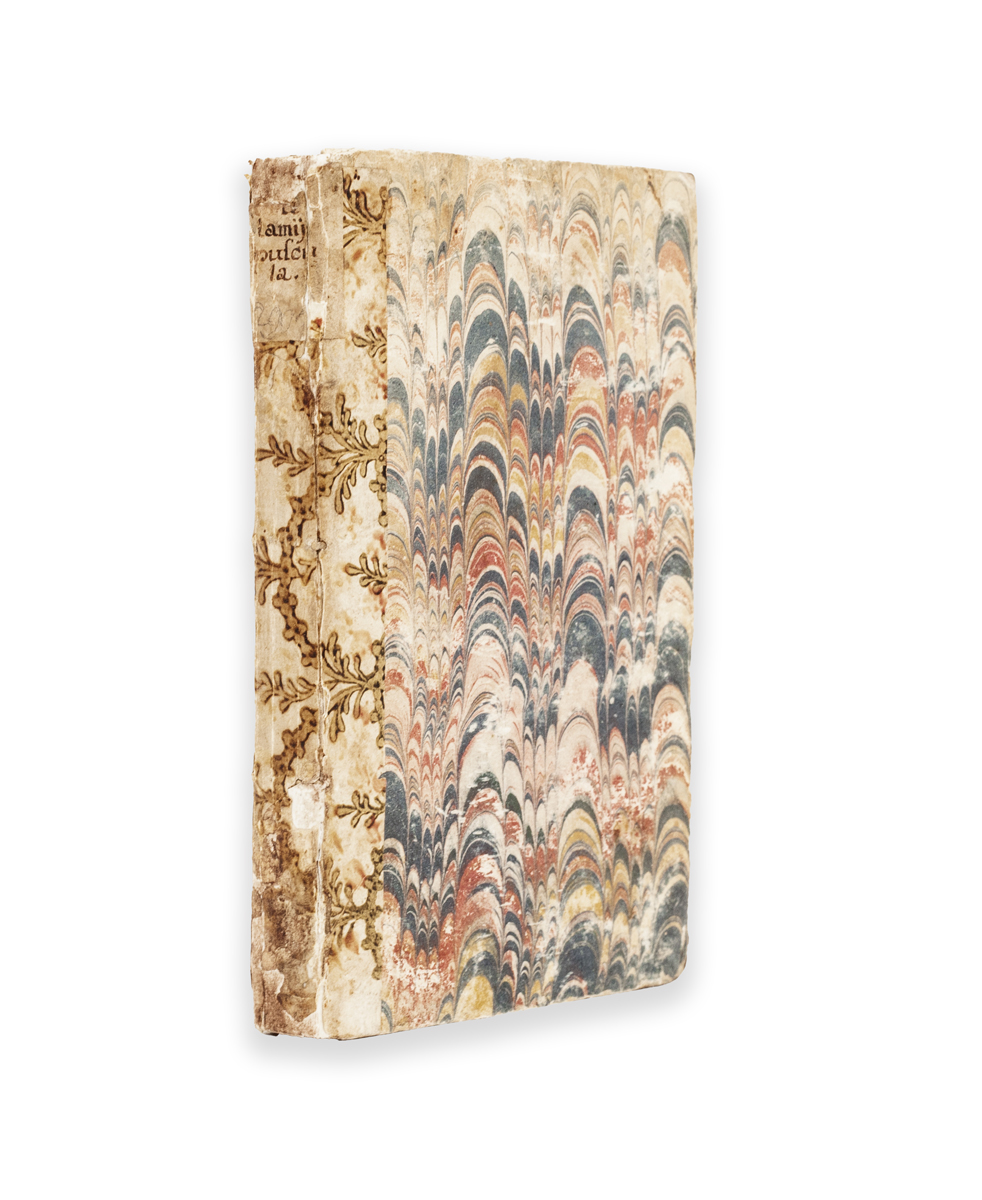 BACON, Francis.
Opuscula varia posthuma, philosophica, civilia, et theologica, nunc primum edita. Cura & fide Guilielmi Rawley… Una cum nobilissimi auctoris vitae.
London, R. Daniel, impensis Octaviani Pulleyn, 1658.
8vo, pp. [xxxvi], 216; woodcut headpieces and initials; some spotting and browning in places, but largely fresh; with seventeenth-century engraved bookplate of Antonius Biderman on verso of title (leading to small hole on title, not affecting text); in later marbled boards with floral paper spine, handwritten label at head of spine; later endpapers; some rubbing and wear to extremities.
£1250

Approximately:
US $1694
€1493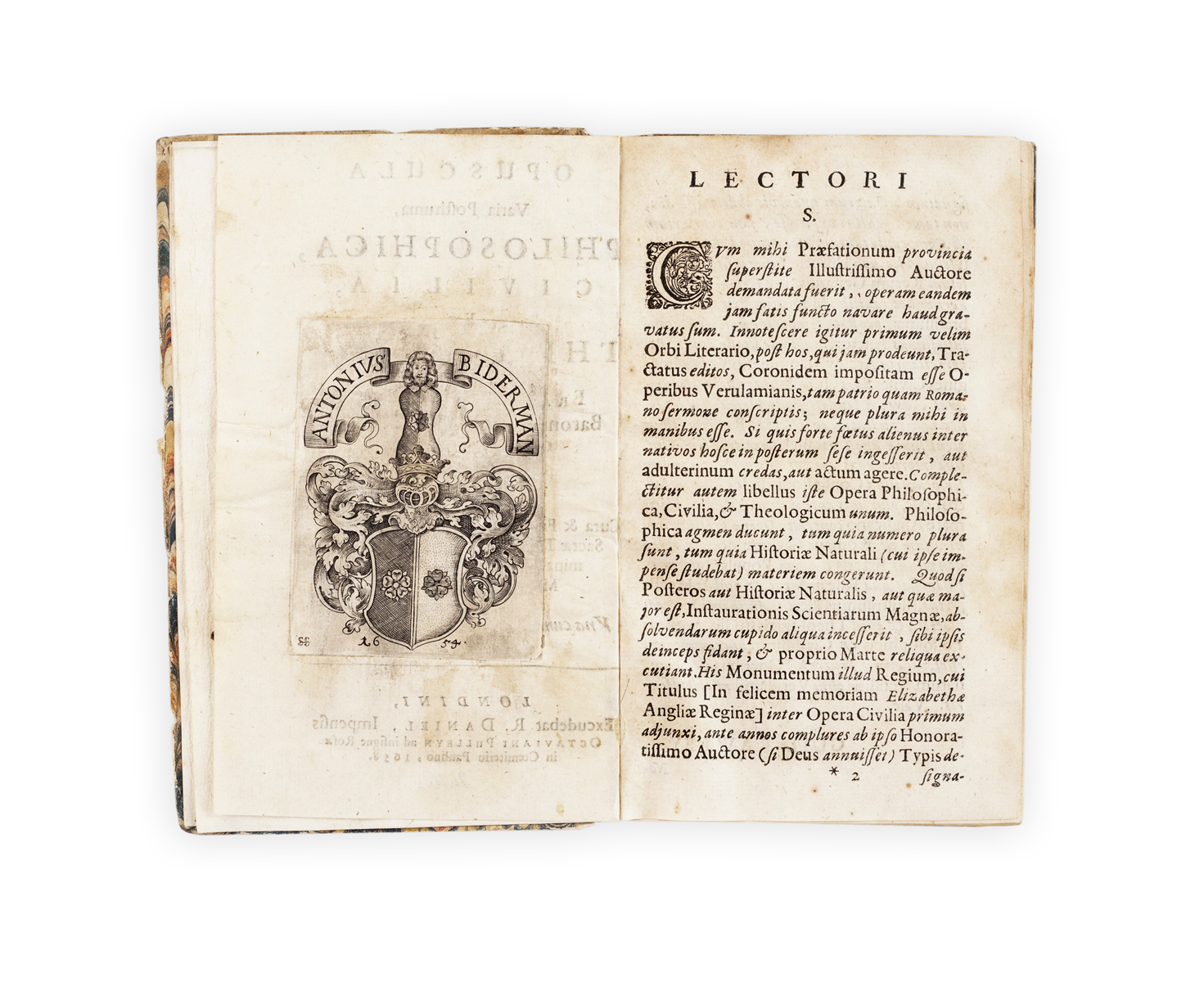 Added to your basket:
Opuscula varia posthuma, philosophica, civilia, et theologica, nunc primum edita. Cura & fide Guilielmi Rawley… Una cum nobilissimi auctoris vitae.
First edition, second issue (with the imprint R. Daniel, rather than R. Danielis) of this collection of the philosophical, political, and theological writings of Bacon, including numerous essays previously unpublished, and the first appearance of William Rawley's biographical sketch of the philosopher. Rawley, Bacon's literary executor, collects together eleven essays, some original and some appearing for the first time in Latin, including 'Historia densi et rari', 'Inquisitio de magnetate', 'Topica inquisitionis de luce et lumine', 'Confessio Fidei', and 'Inquisitio de versionibus, transmutationubus, multiplicationibus, et effectionibus corporum'; several have their own title-pages.

This copy bears the book-plate of Antonius Biderman (d. 1679), a governor in the service of the Fürstenberg family; the bulk of his collection went to that family's library at Donaueschingen on his death, although the present copy bears no Donaueschingen stamps.

See Gibson 230b; ESTC R12045, recording four locations in North America (Huntington, Southern Illinois, Rochester, and Toronto), with OCLC adding Rochester.
You may also be interested in...
THE DEATH BLOW TO JANSENISM IN ITALY GUSTA, Francesco.
L'Antico progetto di Borgo Fontana dai moderni Giansenisti continuato, e compito opera del signor abate D. Francesco Gusta in fine di cui si trova impressa la bolla pontificia, con la quale vien condannato il Sinodo Pistojese, tradotta in italiano idioma.
Scarce first edition, in an attractive binding, of this anti-Jansenist work by the Catalan Jesuit Gusta (1744-1816), who had moved to Italy following the expulsion of the Jesuits from Spain. Here he targets those involved in the controversial Synod of Pistoia of 1786, 'the most daring effort ever made to secure for Jansenism ... a foothold in Italy' (Catholic Encyclopedia). Summoned by the Bishop of Pistoia, Scipione de' Ricci, and influenced by Enlightenment thinking, the synod adopted a series of decrees, only to have them condemned in 1794 by Pope Pius VI in his bull Auctorem fidei. Gusta's text attacks both Ricci and the Jansenist theologian Pietro Tamburini, and ends with an Italian translation of the papal bull that 'dealt the death blow to the influence of ... Jansenism in Italy' (ibid.).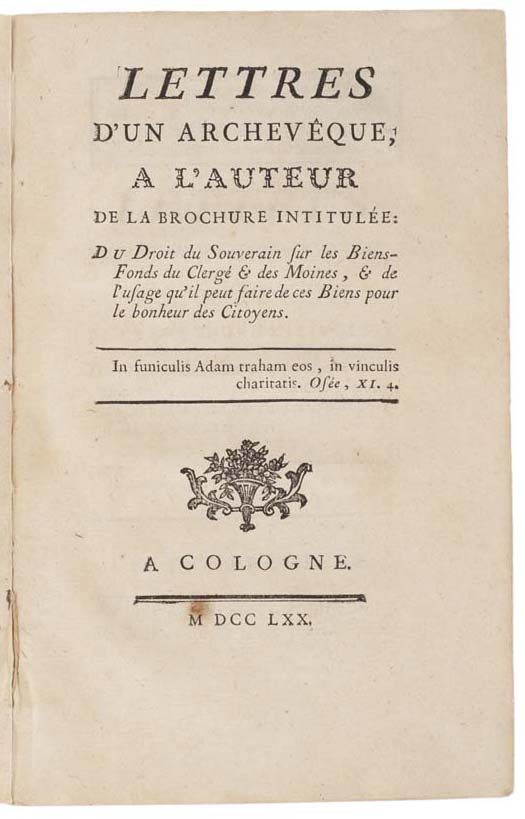 [RICHARD, Charles-Louis.]
Lettres d'un archevêque, a l'auteur de la brochure intitulée: Du droit du souverain sur les biens-fonds du clergé & des Moines, & de l'usage qu'il peut faire de ces biens pour le bonheur des citoyens.
First edition, uncommon, of this response to an anticlerical essay by the Chevalier de Cerfvol by the Dominican theologian and anti-philosophe Charles-Louis Richard (1711–1794). De Cherfvol had argued against the wealth of the clergy, and in particular of the religious orders, and proposed a means in which this could be better put to use for the wider population. Richard, who also wrote against Voltaire and met his end thanks to a Jacobin bullet, goes through de Cherfvol's essay, questioning his claims that the clergy had contributed little to the cultural and intellectual life of France, emphasising the ways in which the Church had provided a moral grounding for the country, and explaining the proper role of religion in society, and the appropriateness of financial (and other) donations to the Church, both from individuals and the state, and of the maintenance of the status of both secular and religious clergy.