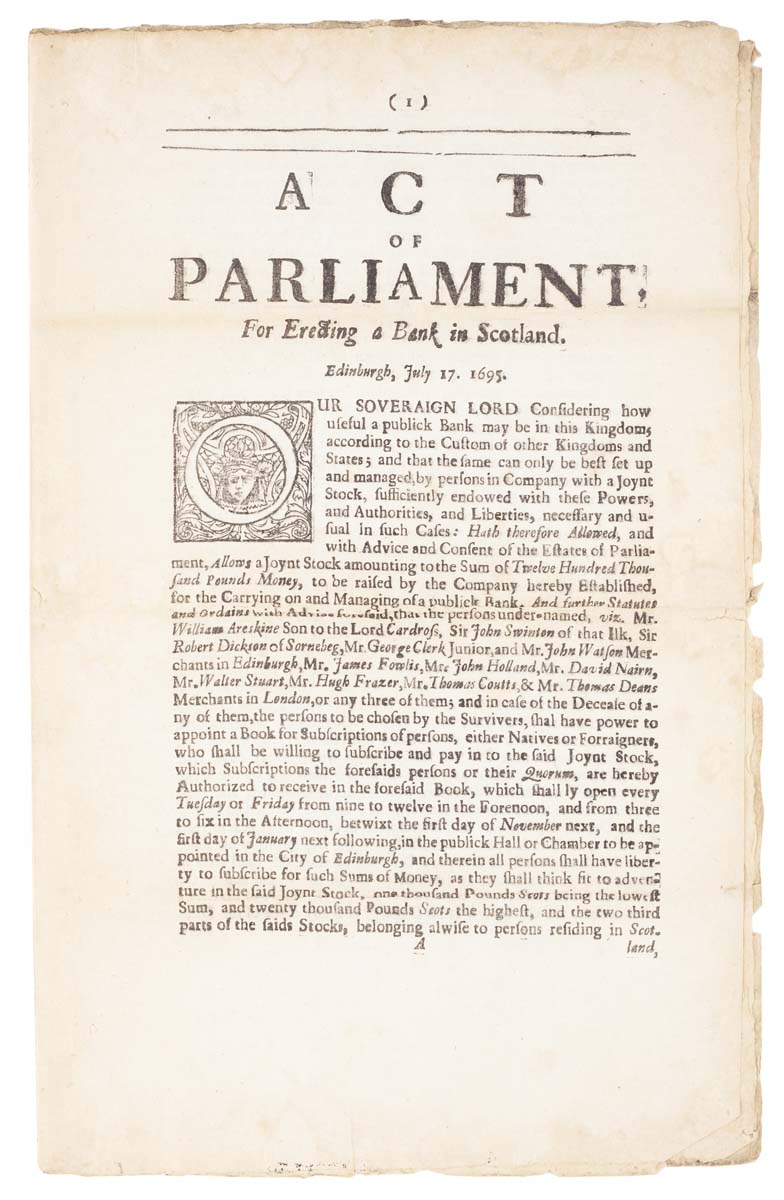 'FOR THE CARRYING ON AND MANAGING OF A PUBLICK BANK'
[BANK OF SCOTLAND.]
Act of Parliament for erecting a bank in Scotland. Edinburgh, July 17 1695.
Edinburgh, printed by the heirs and successors of Andrew Anderson, 1695.
Folio, pp. 6, [2 (blank)]; caption title, imprint from colophon, woodcut initial; loss to blank lower corner of A2, creases from folding, a few marginal chips, but overall good; loose in two quires.
£750

Approximately:
US $920
€872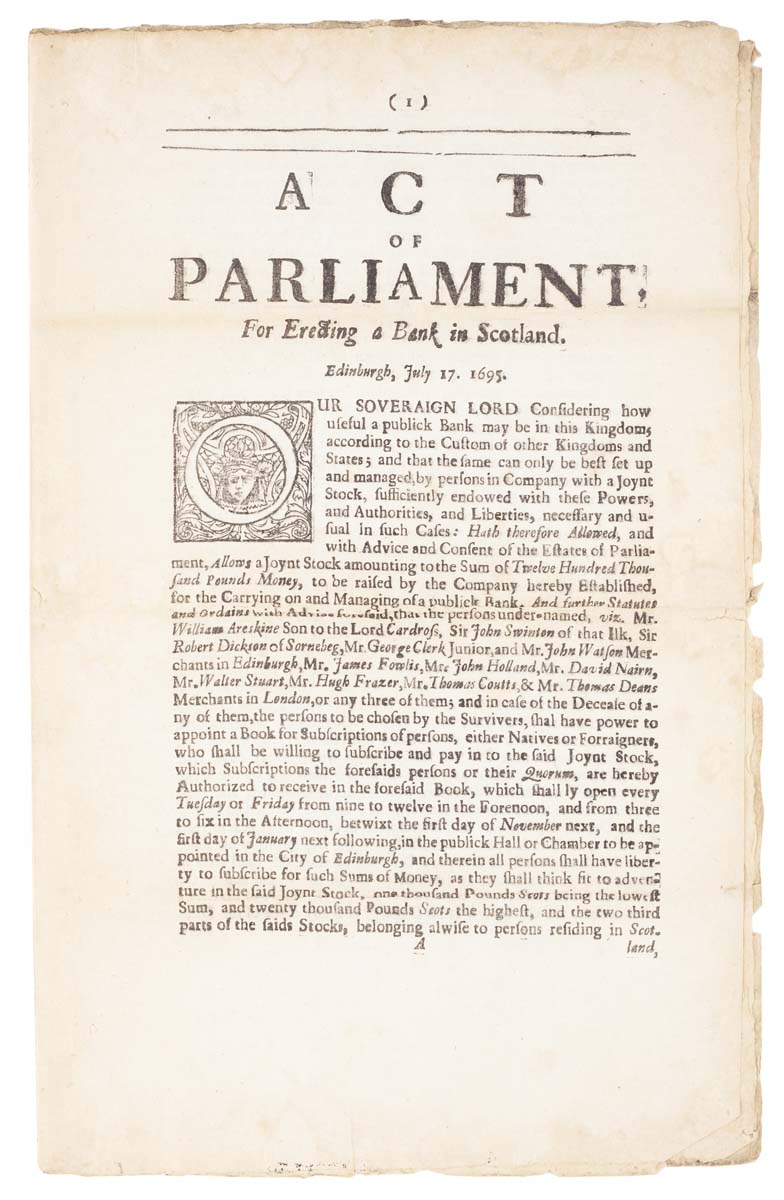 Added to your basket:
Act of Parliament for erecting a bank in Scotland. Edinburgh, July 17 1695.
Very rare edition of the Act of Parliament establishing Scotland's first and oldest bank, founded just one year after the Bank of England.

The Act provides for the establishment of a joint-stock company to run the bank with a capital of 120,000 pound Scots. A quorum of five named Edinburgh merchants and seven London merchants (including a member of the Coutts family) were to attract subscribers, 'either natives or forraigners', who could invest between 1000 and 20,000 pounds Scots in a subscribers book which was to 'lye open every Tuesday or Friday from nine to twelve in the forenoon, and from three to six in the afternoon … in the publick hall or chamber … in the city of Edinburgh' until 1 January 1696.

The text discusses the election of a governor, deputy-governor, and twenty-four directors, the number of votes per person depending on the size of their subscription, with candidates for the governorship required to have subscribed at least 8000 pounds Scots. The elected governor was to swear to 'give my best advice for the support of the Bank of Scotland; and in the said office, honestly demean my self to the best of my skill'. The remainder of the text covers the keeping of the bank's books and the responsibilities of its office holders, ending by stating that 'all forraigners, who shall join as partners of this bank shall thereby be and become naturalized Scots-men, to all intents and purposes whatsoever'.

The bank began business in February 1696 with 172 shareholders, drawn largely from Scotland's mercantile and political elite, becoming the first commercial bank in Europe to successfully issue paper currency. A few different editions of this Act appeared in the same year, in folio and quarto, all of which are scarce.

Aldis 3424.7; ESTC R507931, recording one copy only, at the National Library of Scotland.
You may also be interested in...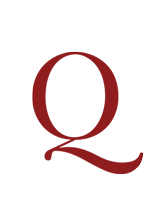 COMTE, Auguste, and Albert CROMPTON (editor).
Confessions and Testament of August Comte: and his correspondence with Clotilde de Vaux.
First edition in English of Comte's Confessions, which first appeared with his 'testament' in French in 1884. These take the form of 'Twelve Saint Clotildes', a series of annual confessions which he recited to his muse's grave. Clotilde de Vaux was a divorced woman whom Comte met in 1844 through one of his students; their first recorded letter was written in 1845, in which they are discussing Fielding's Tom Jones. Clotilde rejected Comte's love as a divorced woman and a devout Catholic, though they continued to correspond, until in the following year Clotilde died of tuberculosis, becoming a Saint of the Positivist religion. The 'Testament' is simply Comte's legal will, in which can be found the details of the bequest of his books to various disciples, including the 'small edition of the Divina Commedia, which serves me for daily use'.
LIVY, Titus, and Thomas RUDDIMAN (editor).
Historiarum ab urbe condita libri qui supersunt, cum omnium epitomis, ac deperditorum fragmentis, ad optimas editiones castigati. Edinburgh, Thomas & Walter Ruddiman for G. Hamilton, A.
A very attractive set of the first Ruddiman edition. One of the last works prepared by Thomas Ruddiman (1674–1757), this 'superb edition of Livy' (ODNB) was highly praised for its accuracy and is a fine testament both to his classical scholarship and to his printing house. The son of a Banffshire farmer, Ruddiman excelled in literary Edinburgh, establishing his own printing business in 1712, serving as Advocates Librarian (where he greatly expanded the library and was succeeded by David Hume), and publishing works of classical scholarship ranging from the Rudiments of the Latin Tongue, the standard schoolbook on grammar throughout the eighteenth century, to the Grammaticae latinae institutiones, the authoritative text for scholars.