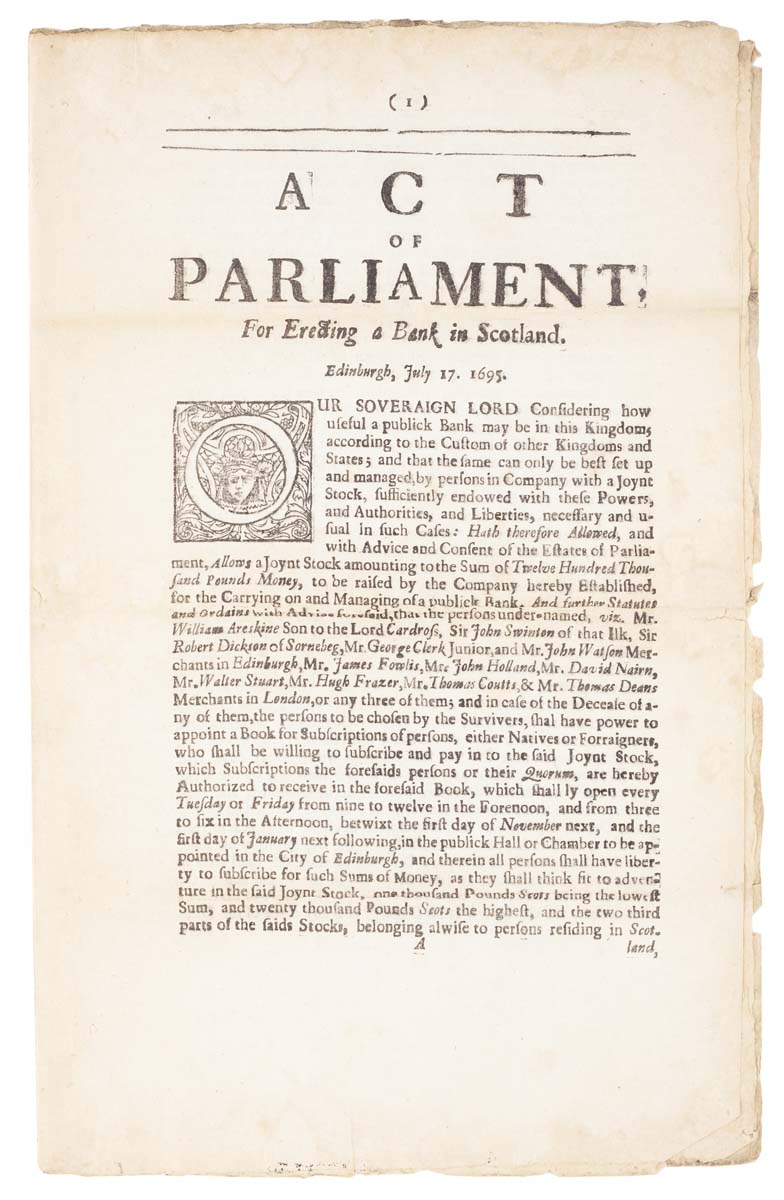 'FOR THE CARRYING ON AND MANAGING OF A PUBLICK BANK'
[BANK OF SCOTLAND.]
Act of Parliament for erecting a bank in Scotland. Edinburgh, July 17 1695.
Edinburgh, printed by the heirs and successors of Andrew Anderson, 1695.
Folio, pp. 6, [2 (blank)]; caption title, imprint from colophon, woodcut initial; loss to blank lower corner of A2, creases from folding, a few marginal chips, but overall good; loose in two quires.
£750

Approximately:
US $1017
€896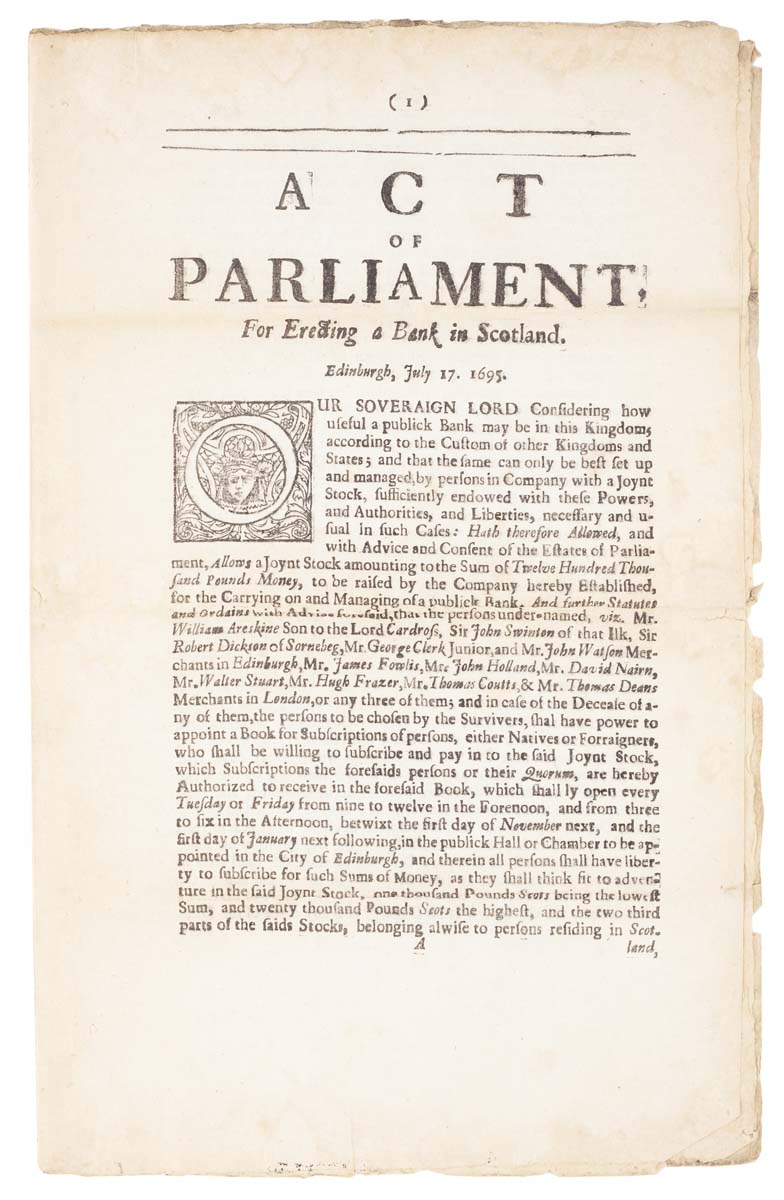 Added to your basket:
Act of Parliament for erecting a bank in Scotland. Edinburgh, July 17 1695.
Very rare edition of the Act of Parliament establishing Scotland's first and oldest bank, founded just one year after the Bank of England.

The Act provides for the establishment of a joint-stock company to run the bank with a capital of 120,000 pound Scots. A quorum of five named Edinburgh merchants and seven London merchants (including a member of the Coutts family) were to attract subscribers, 'either natives or forraigners', who could invest between 1000 and 20,000 pounds Scots in a subscribers book which was to 'lye open every Tuesday or Friday from nine to twelve in the forenoon, and from three to six in the afternoon … in the publick hall or chamber … in the city of Edinburgh' until 1 January 1696.

The text discusses the election of a governor, deputy-governor, and twenty-four directors, the number of votes per person depending on the size of their subscription, with candidates for the governorship required to have subscribed at least 8000 pounds Scots. The elected governor was to swear to 'give my best advice for the support of the Bank of Scotland; and in the said office, honestly demean my self to the best of my skill'. The remainder of the text covers the keeping of the bank's books and the responsibilities of its office holders, ending by stating that 'all forraigners, who shall join as partners of this bank shall thereby be and become naturalized Scots-men, to all intents and purposes whatsoever'.

The bank began business in February 1696 with 172 shareholders, drawn largely from Scotland's mercantile and political elite, becoming the first commercial bank in Europe to successfully issue paper currency. A few different editions of this Act appeared in the same year, in folio and quarto, all of which are scarce.

Aldis 3424.7; ESTC R507931, recording one copy only, at the National Library of Scotland.
You may also be interested in...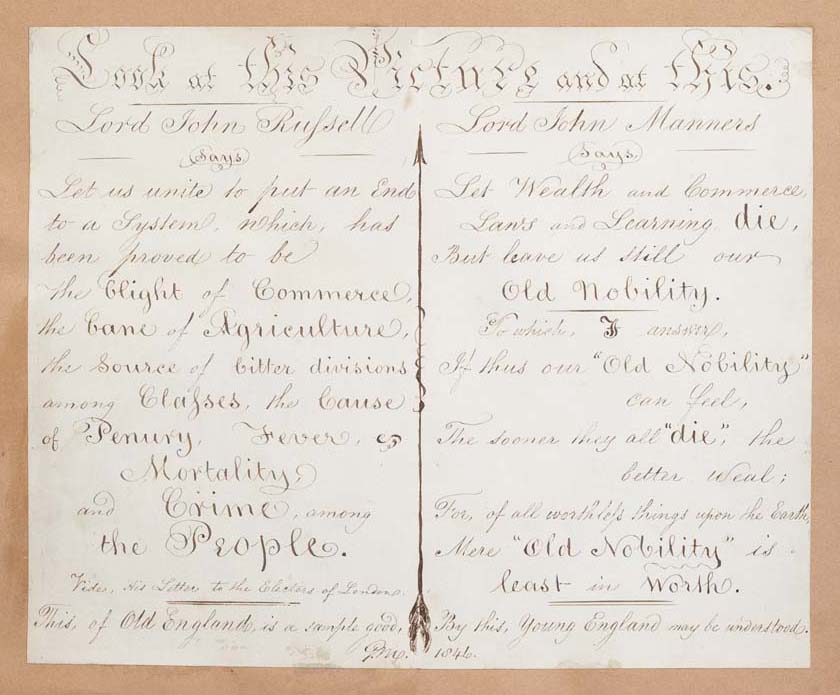 MURDERED IN LONDON BY A FRENCH REVOLUTIONARY MOORE, George.
Manuscript commonplace book of poems, songs, prayers, and letters.
An appealing commonplace book of verses and songs, with occasional prayers and letters, mostly written by George Moore (1794–1854), a London soda water manufacturer and amateur poet who was murdered by the notorious French revolutionary Emmanuel Barthélemy (1823–1855).
THROUGH SYRIA AND LEBANON LA ROQUE, Jean de.
Voyage de Syrie et du Mont-Liban. Contenant la description de tout le pays compris sous le nom de Liban et d'Anti-Liban, Kesroan, etc. ... la description des ruines d'Heliopolis ... avec un abregé de la vie de Monsieur de Chasteuil ... Tome I [– II].
Second edition (first Paris 1722) of La Roque's account of his first journey to the Arab world, undertaken in 1689 when he visited Syria and Lebanon. The son of a Marseille coffee merchant, La Roque (1661–1745) was a journalist, traveller, and one of the founders of the Académie de Marseille. Here he describes local customs and geography, the ancient ruins at Baalbek, the Maronites, and the French hermit François de Chasteuil.